In the world of dining, change is inevitable. But over the past year, change has also become a lifeline, even for long-running eateries. 

Among them is Mekong Cafe, 5930 W. North Ave., a family-owned restaurant which has been serving up a menu of Lao, Thai and Vietnamese fare for over 13 years.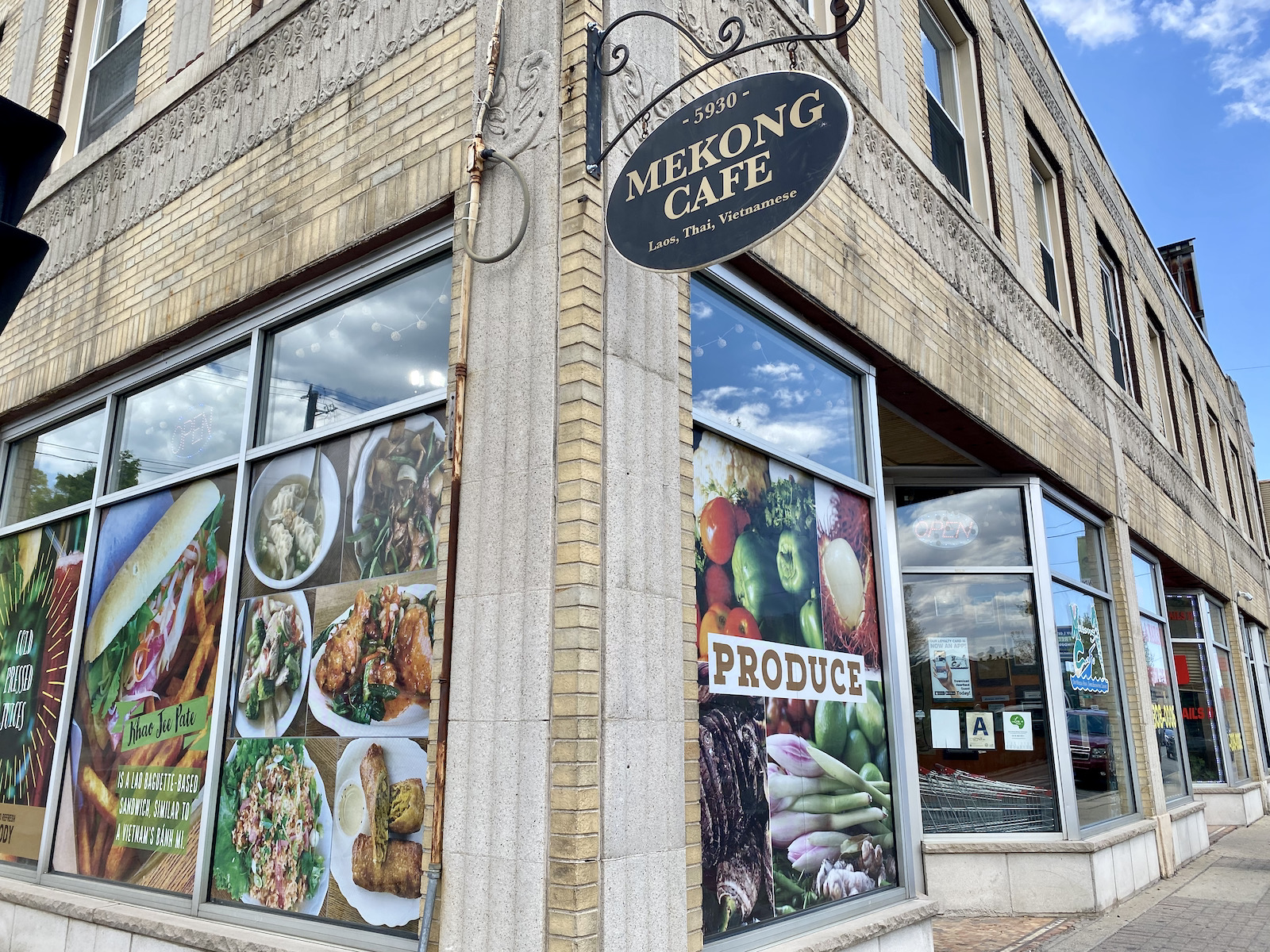 Founded by Banh Phongsavat in  2008, the restaurant was named in homage to the Mekong River, a life-giving geographical element in her homeland of Laos. And it has been carried on for over a decade with the assistance of Phongsavat's daughter and co-owner Sichanh Volp, Volp's brother Bountanh Phongsavat and her sister-in-law Boualoy Phongsavat. 

In February, the restaurant made a big shift, permanently eliminating their buffet and converting their dining room into a grocery store featuring Asian ingredients, grocery staples, grab-and-go items. The restaurant also rolled out an updated menu of dishes available for carry-out and local delivery.

"This is a permanent shift for us," Volp says. "In December, when our license was up for renewal, we had to make  a choice. We were playing a premium for rent, but had an empty dining room. We had to reduce staffing  and we also had some employees who quit. It just made more business sense to pivot entirely."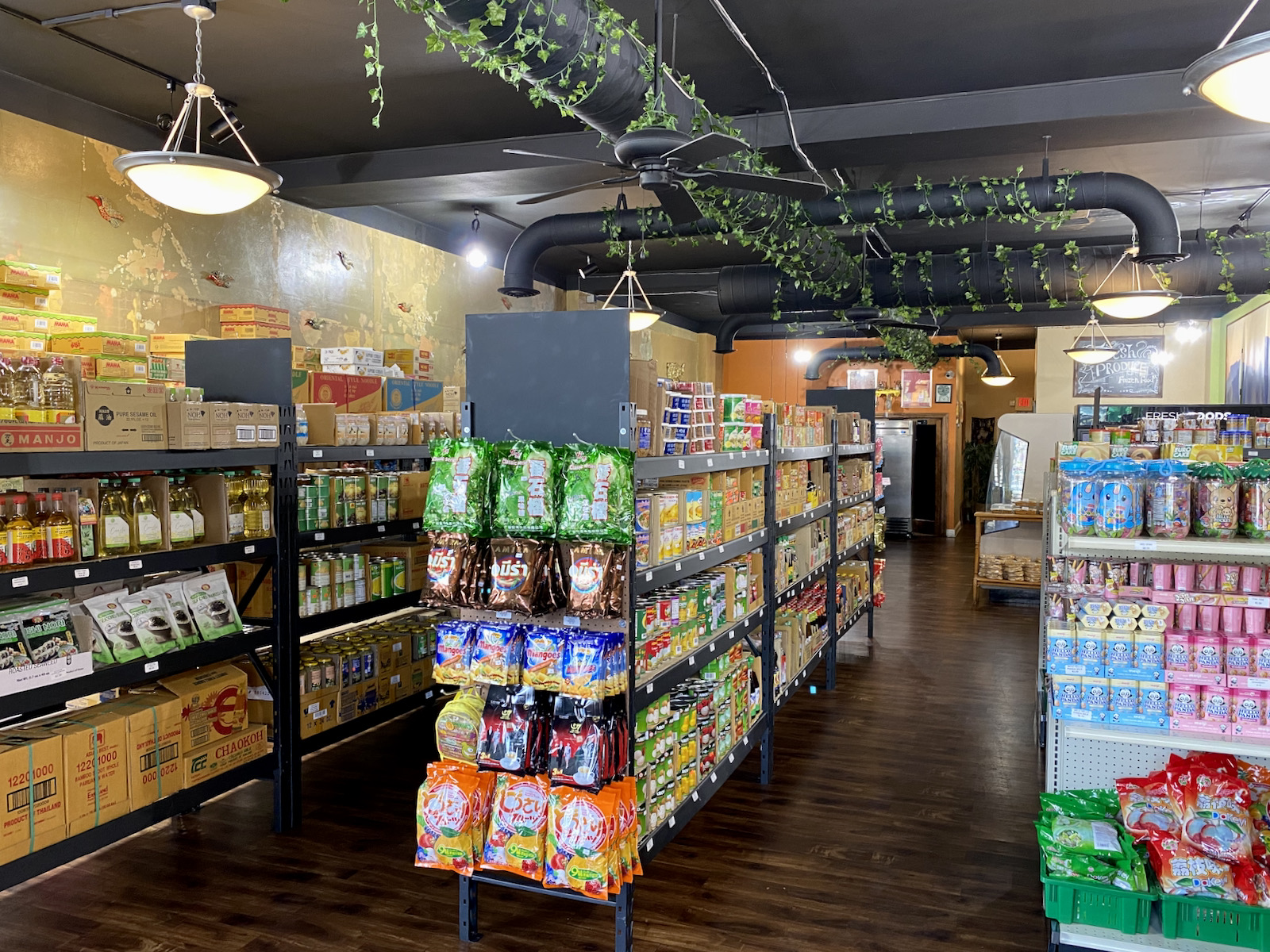 Since the shift, the retail portion of the business has expanded significantly. Shoppers can find staples like flour, rice and eggs, along with select fresh produce including items like bananas, papaya, potatoes, avocados and Asian greens..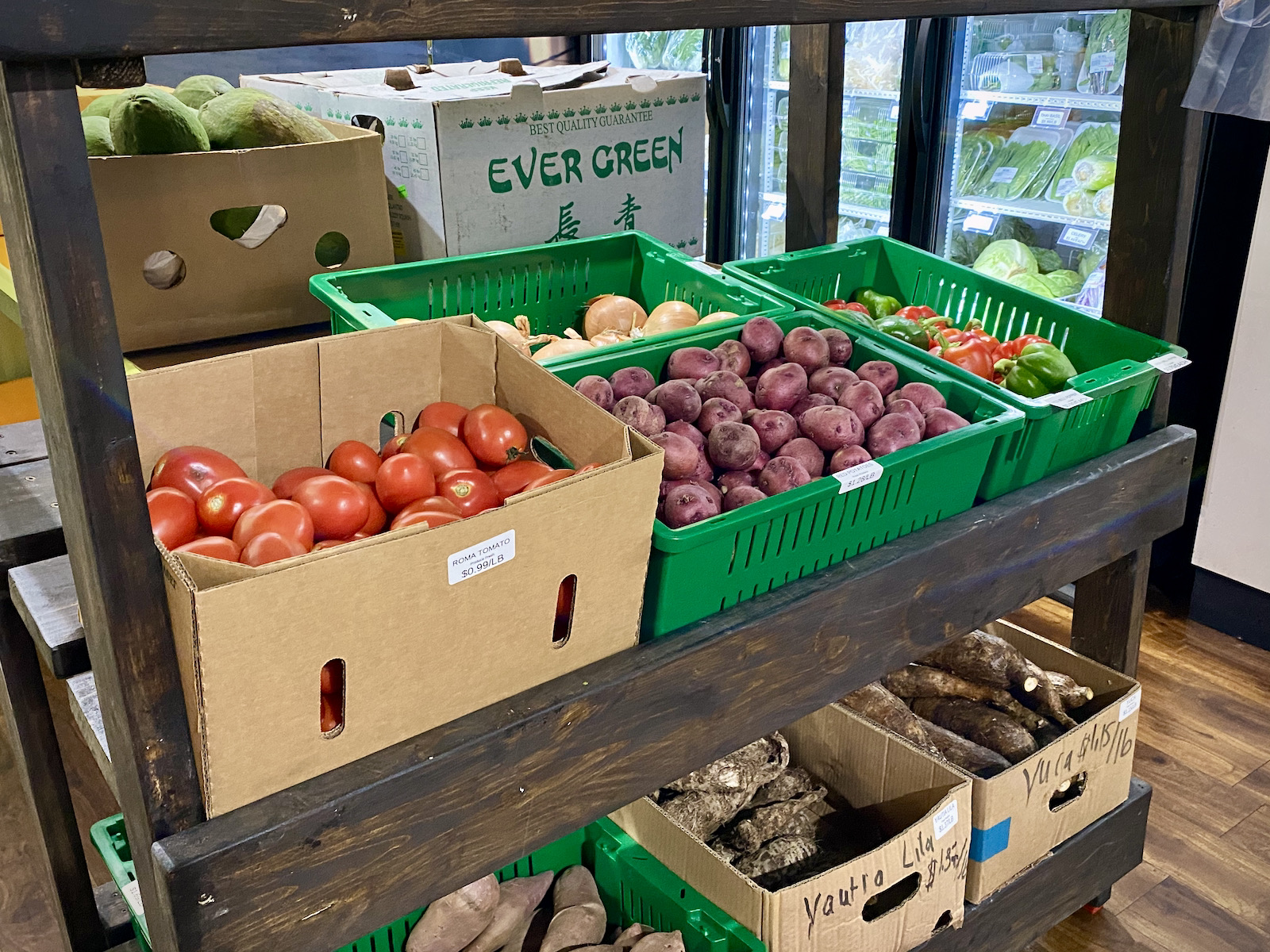 Shelves are also stocked with cooking oils, condiments and sauces (including a variety of soy sauces, Shark Sriracha and flavoring pastes), plus canned goods including fruits, vegetables and coconut milk (purchase brands like Chaokoh for curries and Mae Ploy coconut cream for sweet applications). You'll  also find a wide variety of Maesri brand Thai curry pastes, which among the best on the market for creating richly flavored aromatic curries at home.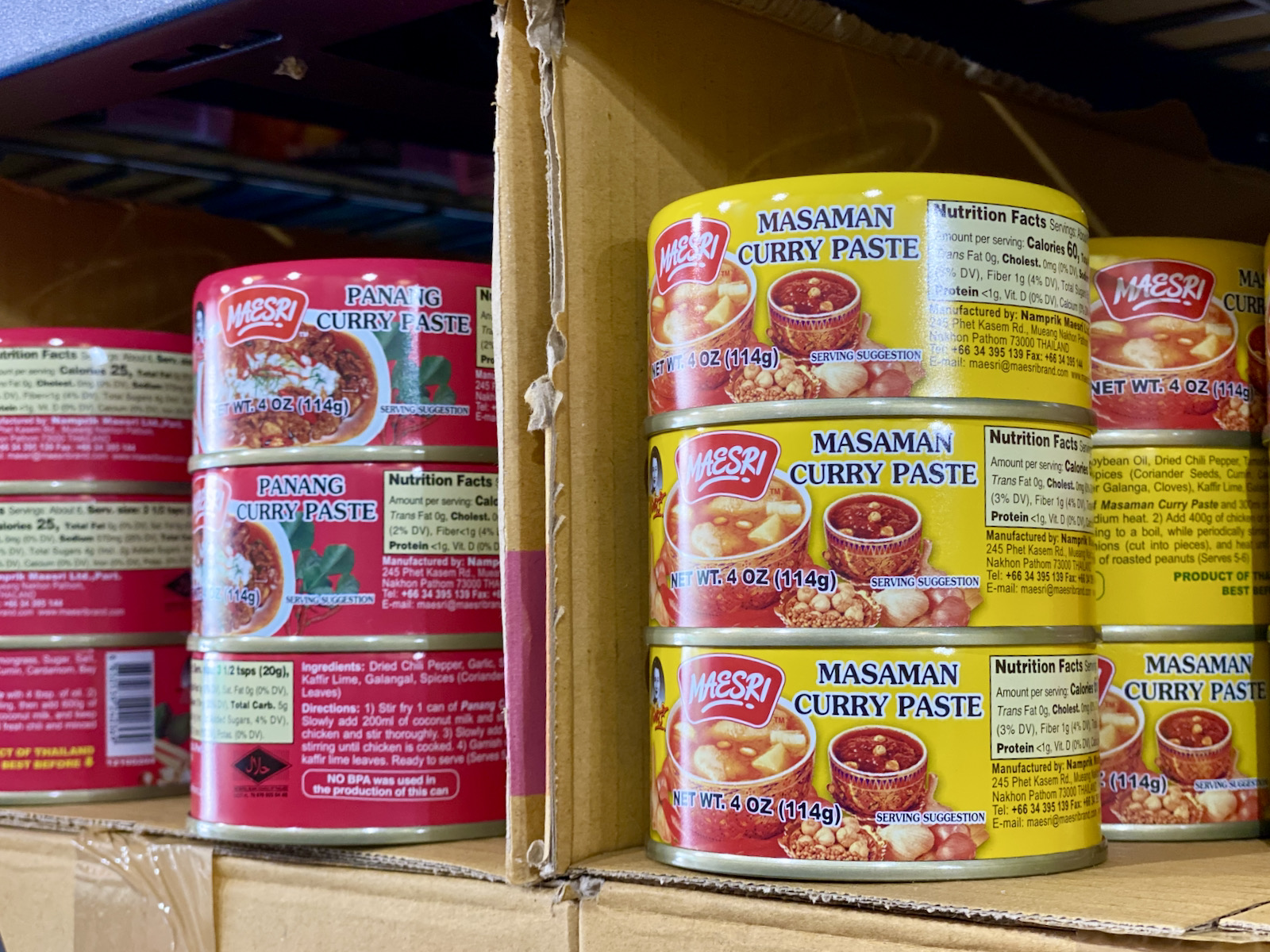 There are cold cases filled with fruit cups, heat-and-eat options and delicious conveniences like fresh Asian noodles. 

There are also packages of dried mushrooms, seaweed and shrimp, along with fun packaged treats and snacks from Japanese Pocky to tasty Tao Kae Noi seaweed chips in flavors like Tom Yum Goong and Mala (which incorporates Szechuan peppercorns).
"We carry items that we use," says Volp, "And we have a limited selection, so we have good turnover. It's one of the advantages to being a smaller store. We can really track our inventory and make sure everything stays fresh."

They have also gotten creative in using up any surplus of produce or other ingredients they might encounter, sometimes making them into unexpected American treats. Take these delicious mini banana breads, for instance. They were made using a surplus of ripe bananas with Volp's mother-in-law's recipe.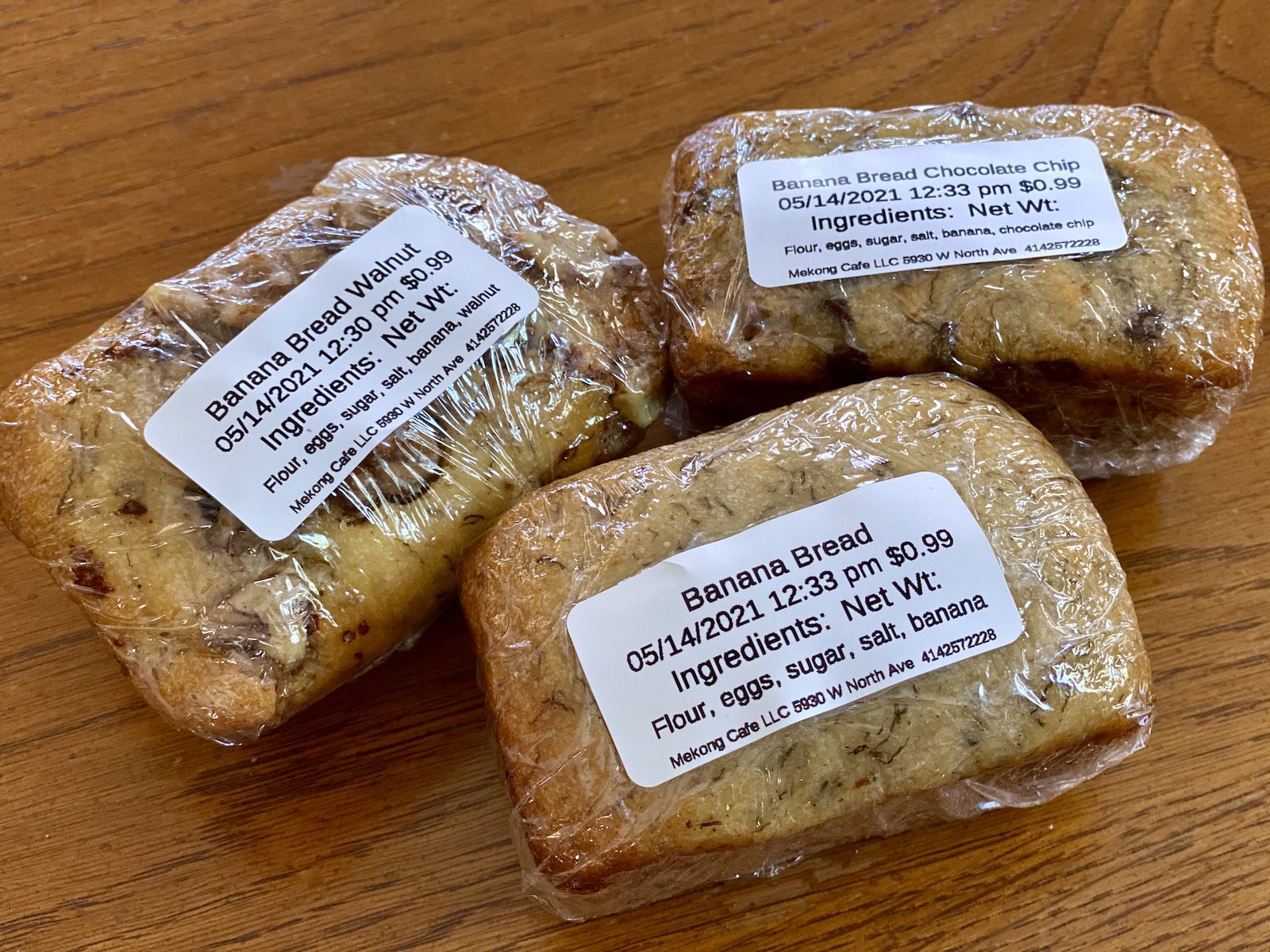 But, customers can procure far more than groceries at the MeKong market.

"Adding the grocery store and moving to carry-out and delivery has been a real advantage for us," says Volp. "We've had more time to make different foods that we didn't have time for before, including more authentic Lao food."

That includes a variety of grab and go dishes, including spring rolls, sticky rice, grilled lemongrass chicken and delicious Thai street food finds like sago moo, delightfully sticky steamed tapioca pork dumplings boasting a filling of flavorful ground pork, wood ear mushrooms, onions and garlic.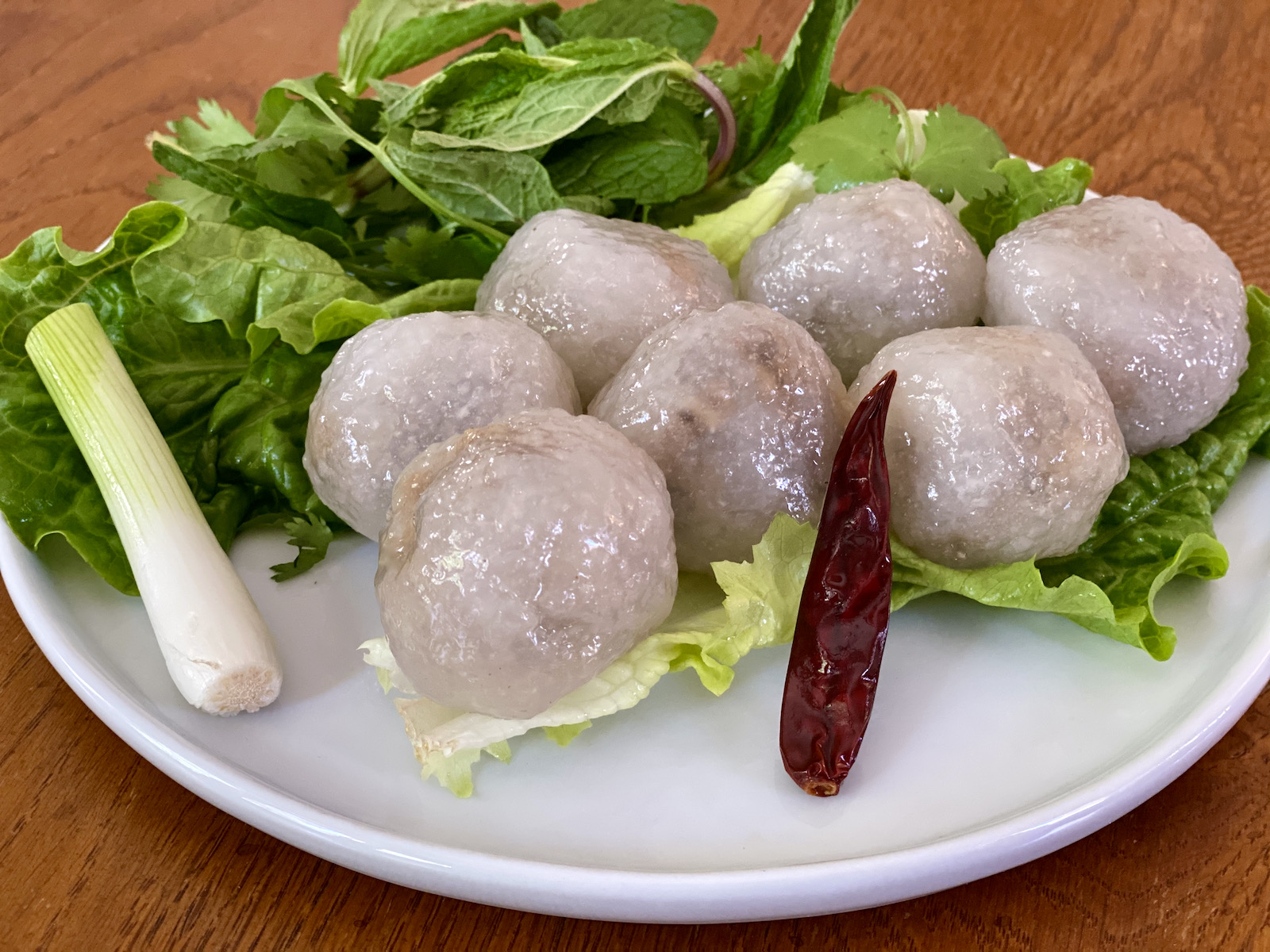 You can also find Lao accompaniments like pickled vegetables and the time-consuming but flavor-packed jeow, a fish sauce based dipping sauces that are an essential at any Lao meal.

"We can make almost anything into a jeow," says Volp. "It keeps for months and it brings flavor to everything. Combined with sticky rice, it's a staple that traditionally allowed Lao people to stretch even the smallest amount of ingredients and feed entire families."

Varieties of jeow offered at Mekong in the grab and go section include jeow niew (a sticky chili sauce made with charred dried peppers that are painstakingly pounded with a mortar and pestle); jeow kapi (made with chiles, lime and shrimp paste); jeow mak len (made with charred tomato, chilies, garlic and cilantro) and jeow bong, a sweet spicy sauce that incorporates shallots and chilies. Each one is sold by the pint for $7.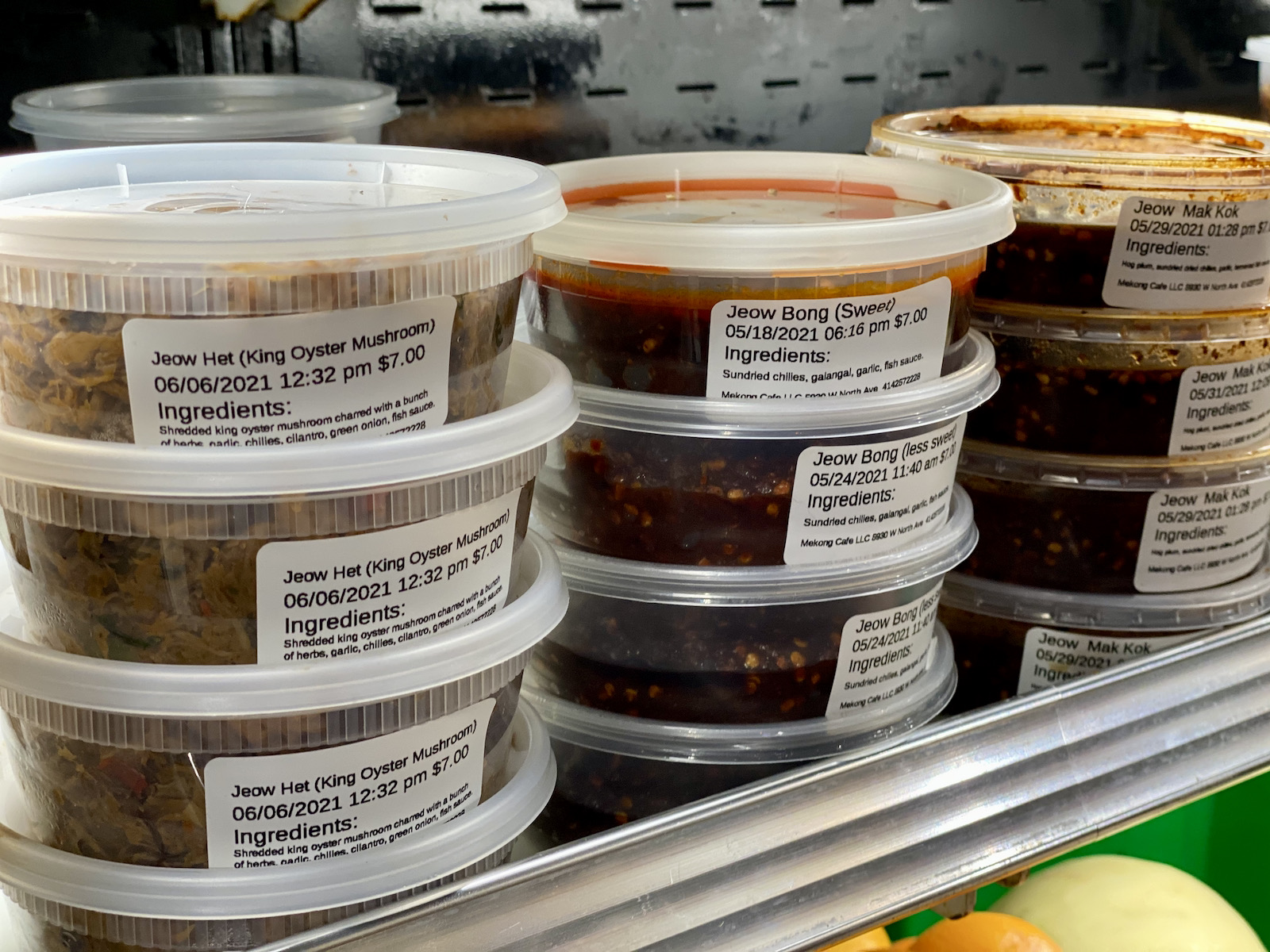 When Volp says that jeow bring flavor to anything, she's not exaggerating. The ones I've tried make delicious accompaniments to many things from scrambled eggs to barbequed meats and sandwiches.
In fact, the MeKong Cafe menu now includes far more dishes than ever before, offering guests a variety of new items, specials and amazing desserts. 

Among the offerings are housemade khao jee patê, a Lao street food sandwich that's similar to the Vietnamese banh mi. Both use distinctive baguette style buns with an almost shatteringly crisp light exterior and a very soft, slightly sweet interior, and both make liberal use of pickled vegetables and cilantro. But the Lao version often incorporates chili sauce along with fillings like  Lao sausage. And MeKong is serving up 12 distinctive variations.

Mekong's selection of sandwiches is worthy of exploration. The Bang Bang, for instance,  features silky housemade patê, slices of Vietnamese style ham roll, sliced housemade barbequed pork roast, pork floss (delicious dried strands of pork), pickled carrots and daikon, green onion, Shark Sriracha and Maggie sauce. It's phenomenal.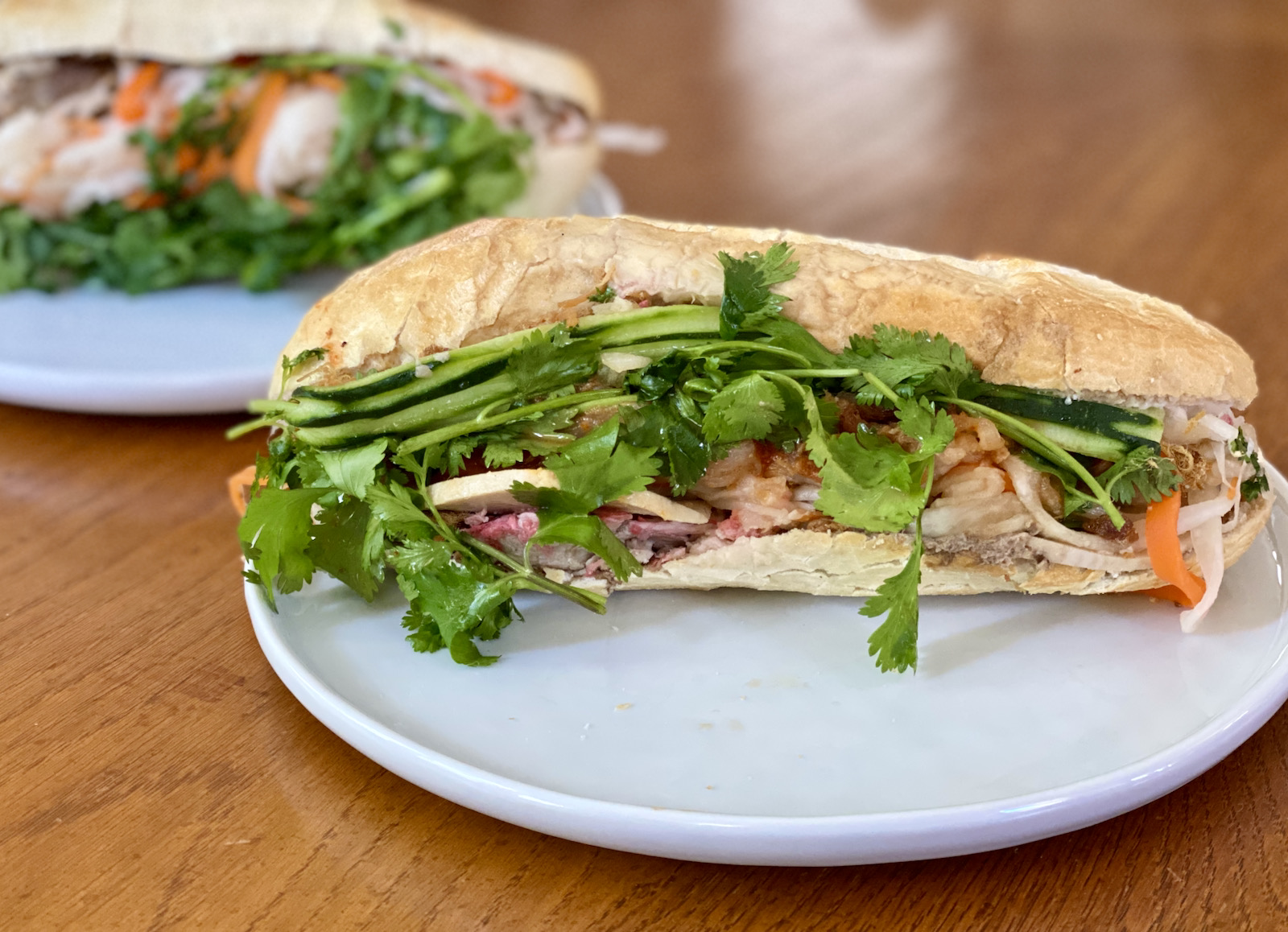 But so is the amazing Sai-Oua, which features a modified version of Mekong's housemade Lao sausage made with a family recipe from Volp's grandmother Chantha Keovileysone (it's also available as an entree served with Lao papaya salad or steamed vegetables).  

"She taught my mother how to make the sausage," Volp says, noting that each family's sausage is a bit different. "Our recipe uses makrut lime leaves, lemongrass and rice, so it has a very distinctive texture. And for the sandwich, we pulled some of the herbs out, making into more of a sweet sausage that complements the flavors of the pickled daikon and carrots."

Guests also have the opportunity to taste special dishes like salapao pork, handcrafted steamed buns with a filling of pork, cabbage, hard boiled eggs and sweet sausage ($2.50 each).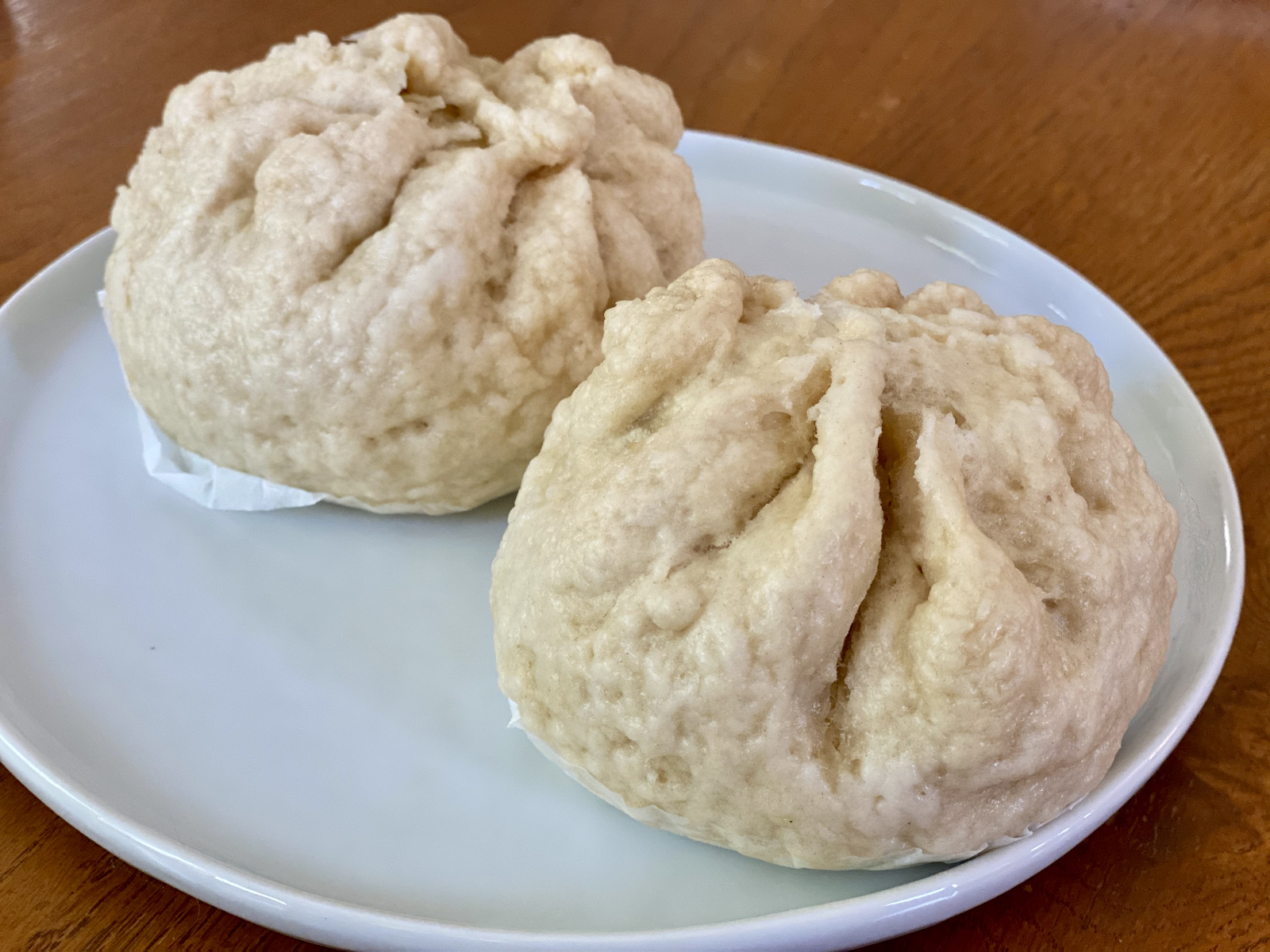 The dough for the buns is slightly sweet and supple, with a savory filling that's rounded out by the sweet sausage. They're a real treat, and – based on their size alone – almost a small meal unto themselves (and yes, they taste great with jeow!).

"This isn't really a typical Lao dish," says Volp. "It has roots in China, but was also adopted in Vietnamese culture. In Laos, my mother would buy Vietnamese buns like these at the market, and they inspired her to create her own."

On the sweeter side, you'll also find a variety of desserts, including kanom nab, a Lao dessert featuring caramelized fresh coconut wrapped in a dough made from sticky rice that's wrapped in banana leaves and steamed ($7).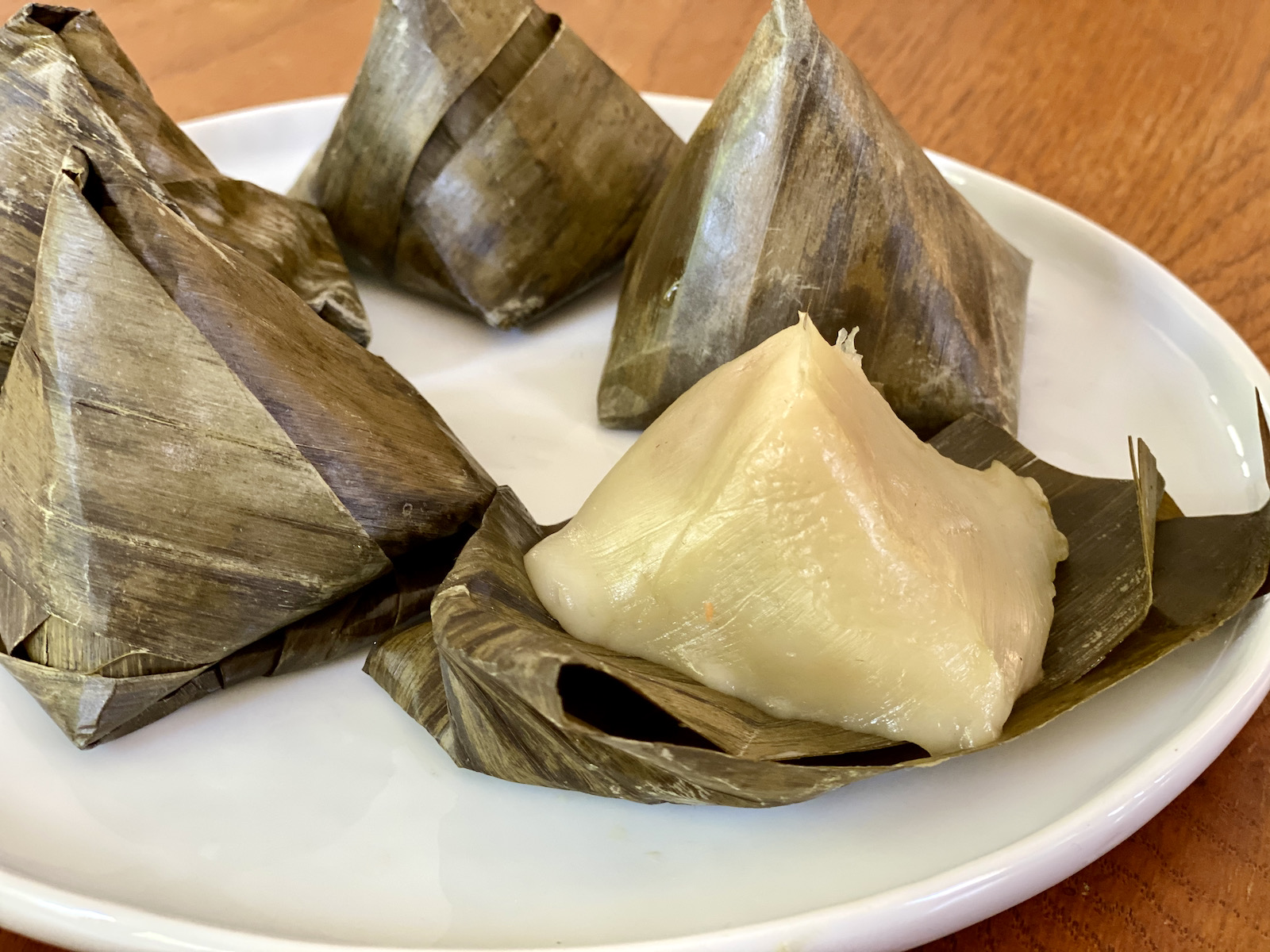 "It's like mochi with a coconut filling," says Volp, noting that the pleasantly chewy dessert is one of her favorite desserts from childhood.

"My father is no longer with us," she says, "And when I was a child we were living on welfare. As refugees, my mother was working multiple jobs to provide for us. At the end of the day, she would come home from work and make this dessert to sell to others in the community. She taught me to fold the banana leaves. It was one of the many skills that she passed down to me, and that means so much."

Not fond of coconut? Try the khao tom glua, a similar dessert filled with bananas ($7).

Overall, Volp says the transition for the restaurant has met with success, and they are working every day to make it better and better.

She  says they hope to start stocking packaged meat products very soon, and they are also slowly building an inventory of wines including sakes and plum wines. They are also in the process of getting approved for EBT so that they can accommodate customers using SNAP and WIC.

"The support from the community has been so awesome," she says. "It's become really evident how many friends and family we have here in the neighborhood."

Mekong Cafe is open Wednesday through Monday from 11 a.m. to 9 p.m. (closed on Tuesdays). Orders can be placed online for convenient pick-up or local delivery.