Each week, we'll be highlighting take-out from restaurants across the city. Follow along for a new take-out adventure every Thursday. Click here for a delectable repast of all the take-out we've enjoyed!

This week's take-out feature highlights a restaurant that opened just three months before the pandemic hit. Triciclo Peru is also this week's featured restaurant for "Cash Mob MKE," an initiative created to give Milwaukee restaurants a boost during these tough times. To participate, order up a dish or three from Triciclo Peru  on Wednesday (Jan. 27) and share photos of your Thursday night meal with us on social media using #CashMobMKE. [More info here]

Triciclo Peru

3801 W. Vliet St., (414) 239-8388
Tricicloperumke.com

Triciclo Peru might be best known for their delicious Peruvian empanadas, which they introduced to Milwaukee via a mobile food cart in 2017. The empanadas showcase a deliciously flakey crust that envelopes your choice of ten inventive fillings, from Peruvian classics to takes with a bit more Midwestern flair (as well as vegetarian and gluten-free options). They are available both hot and ready-to-eat as well as as a take-and-bake option (amazing to have on hand for easy impromptu meals).

But, there are so many more Peruvian dishes to try, all of which are available at the Vliet Street location. And it seems every one offers a pleasant escape from the usual: a culinary vacation, if you will. Honestly, that's a more-than-welcome thrill as we make our way through the chill of our pandemic winter.

For this week's take-out, we ordered an amazing spread of options from the restaurant, from fresh, bright ceviche to soul-warming comfort food, all of which hit the spot on a cold winter evening.

The ceviche de pulpo took me to a more summery place with its tender steamed octopus,  marinated in bright lime with pickled red onion ($19).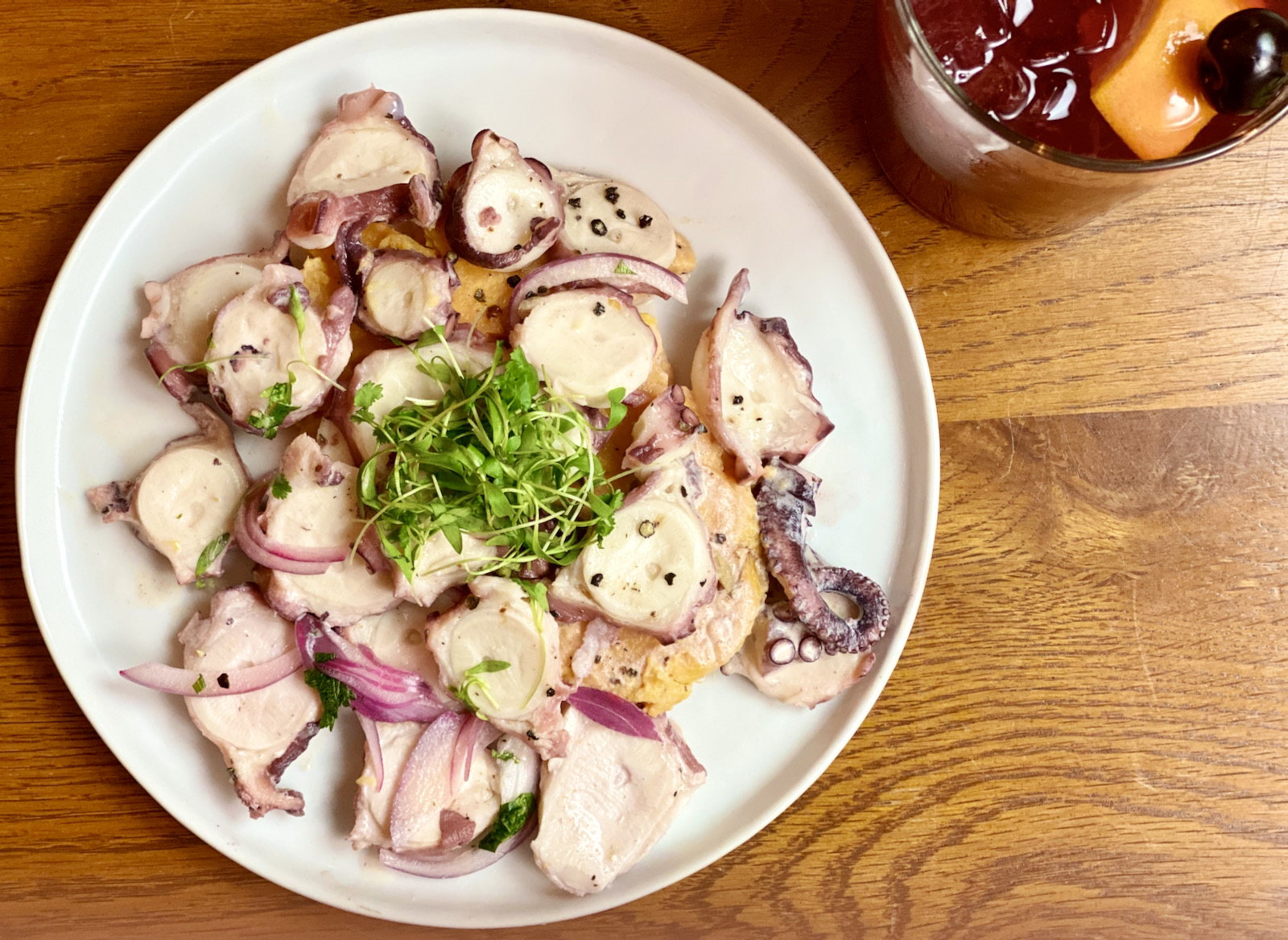 X

The sweet brininess of the octopus was boosted with the savory flavors of Triciclo's olive sauce and balanced by the earthy sweetness of tender sweet potato. The serving was generous and more than enough for two.
Meanwhile, the anticuchos could have been a meal in themselves, served traditionally with starchy Peruvian corn, potatoes and both bright rocoto salsa and chimichurri for dipping ($9).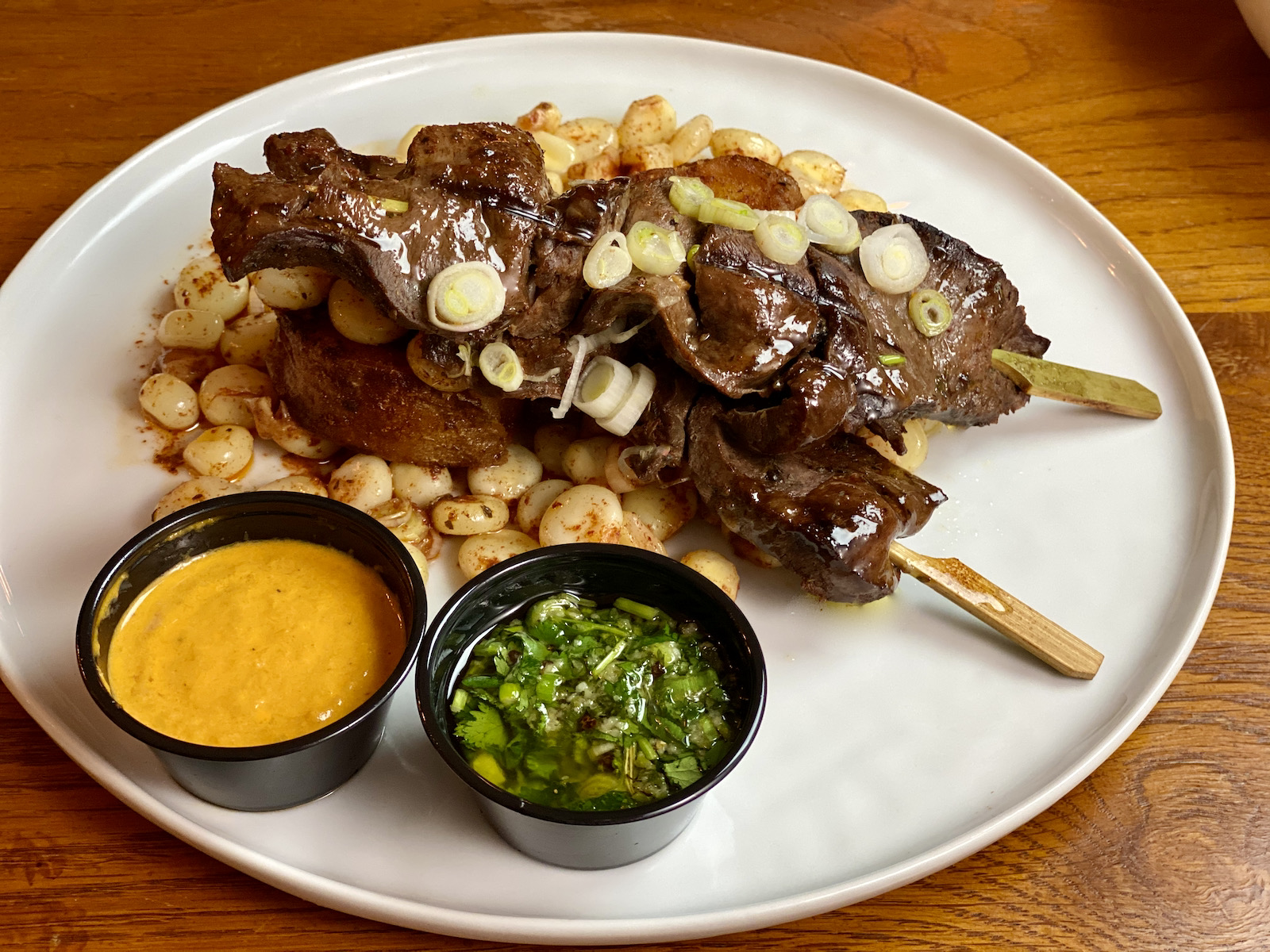 The generous skewers of sliced heart are deeply flavorful and beef-forward with a signature toothiness; I loved them with the bright, vegetal notes of the chimichurri. Meanwhile, the beautifully crispy potatoes (so good!) were nice with the rocoto salsa.
X

We also ordered one of the  most familiar items on the menu: the fried chicken wings, a Peruvian take on the American favorite. They are served atop a generous portion of thick-cut fried potatoes (crisp on the exterior and fluffy in the center) and a tasty onion-forward Peruvian tartar sauce with mayonnaise, green onion, yellow onion, cilantro and chopped boiled egg whites ($13).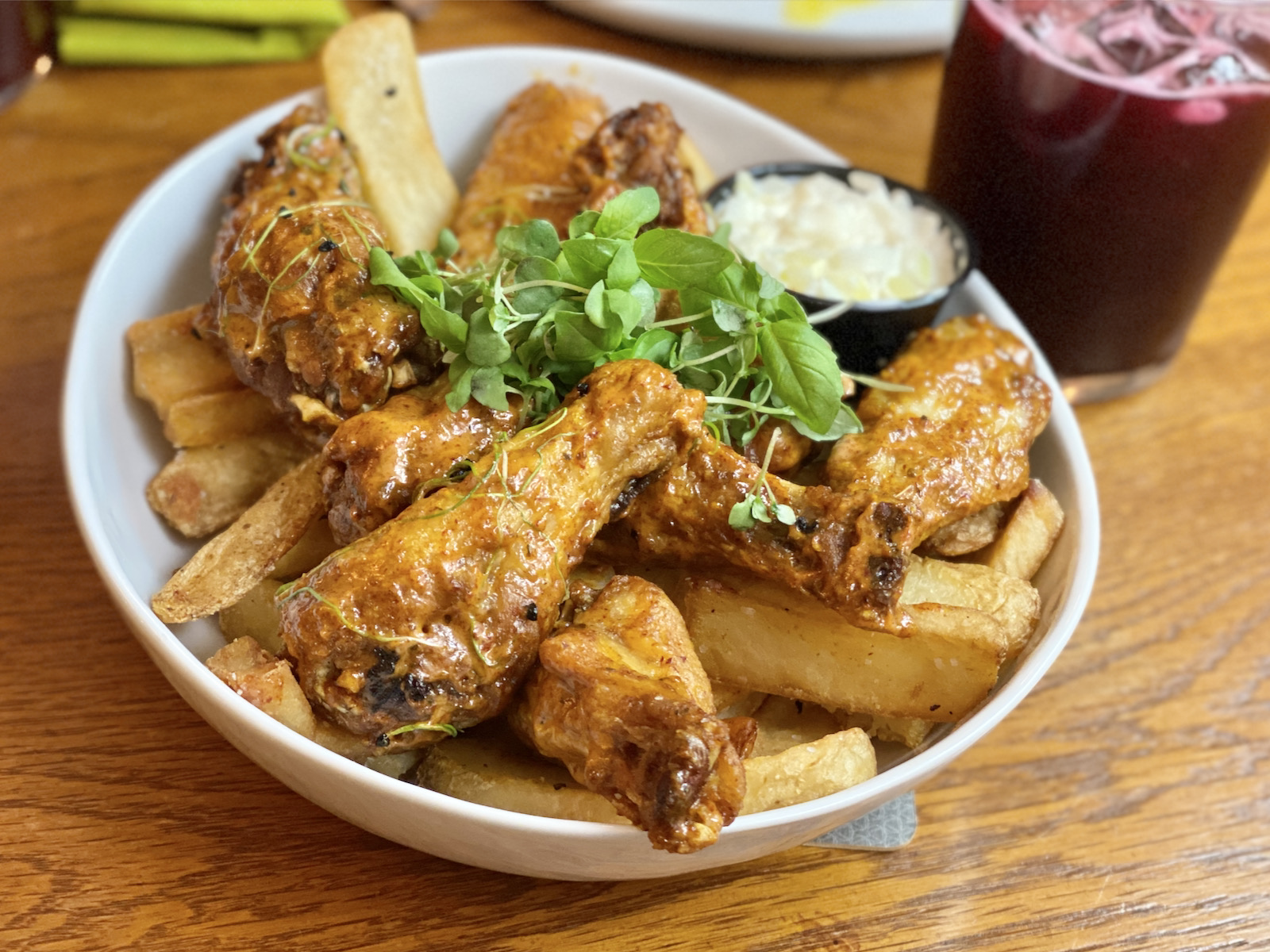 X

The sauce is spicy, but not overpowering with a balanced flavor that incorporates three Peruvian peppers including the bright sweet ají amarillo, smoky sweet ají panca and the more incendiary rocoto pepper. It's balanced and creamy (with a very balanced heat) that offers a nice variation on the usual wing sauces. I loved nibbling the fries with the accompanying tartar sauce.

All of the above paired nicely with two newer Pisco-based cocktails:  the Pisco old fashioned sour (which gave a nice nod to the Wisconsin classic, while drinking a bit like a really good sangria); and the Purple Corn Bramble, which was redolent with fruit and citrus notes with a gorgeous color derived from Peruvian purple corn). Both are $10 each.

We also ordered one of my all-time favorites, ají de gallina, a casserole-style dish featuring shredded chicken bathed in a creamy ají amarillo sauce and served atop baked cannelloni filled with goat cheese bechamel. It's topped with toasted pecans, parmesan cheese and gratinéed eggs ($15).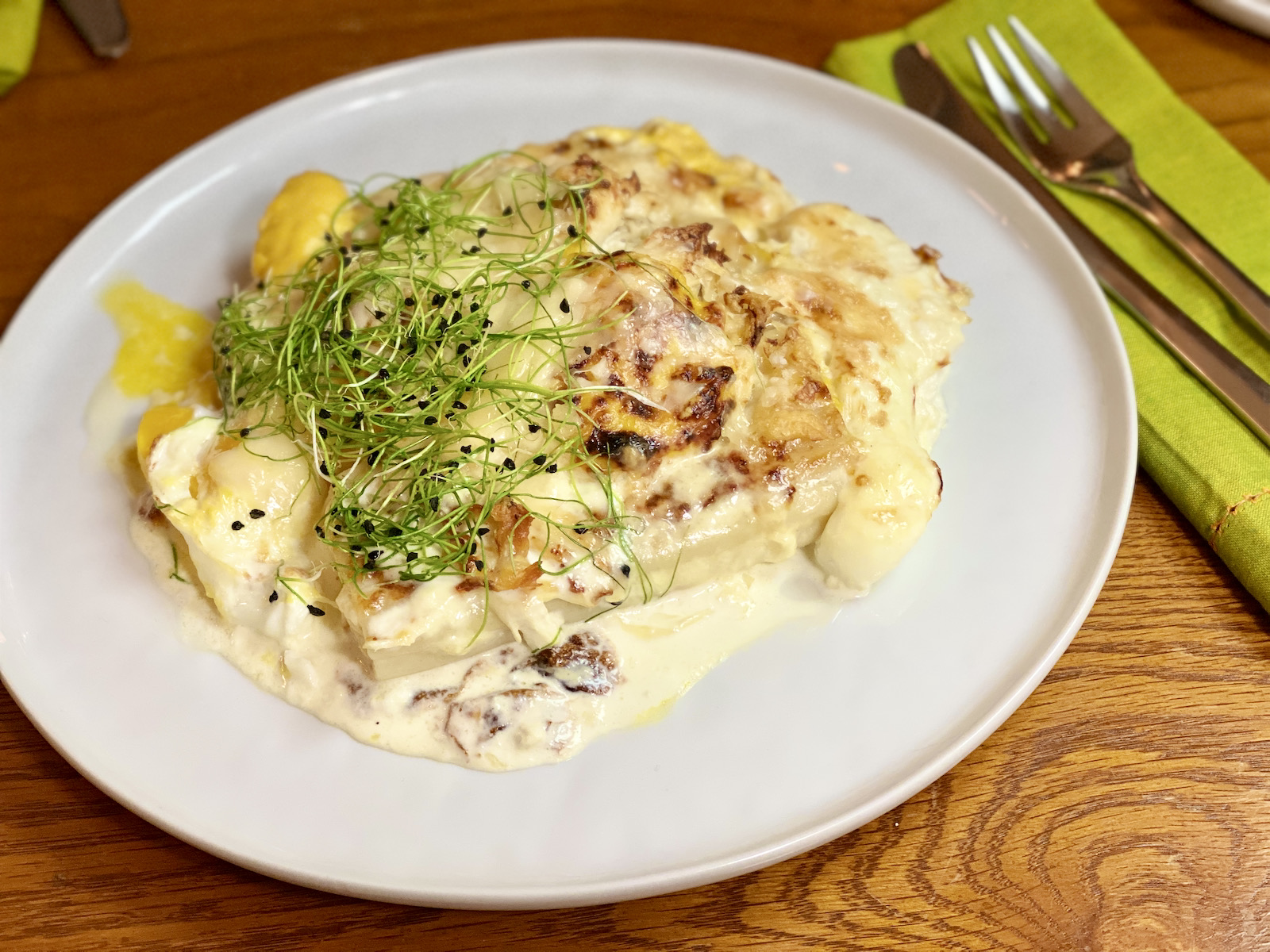 X
The dish is creamy, a little spicy and infinitely comforting. It also reheats well, if you happen to have leftovers.

Don't sleep on the dessert options. I'm particularly fond of the arroz con leche, an ultra creamy Peruvian take on rice pudding, laced with warming spices ($8). If you like rice pudding, it's a winning version (and a nice warming dessert for the winter months).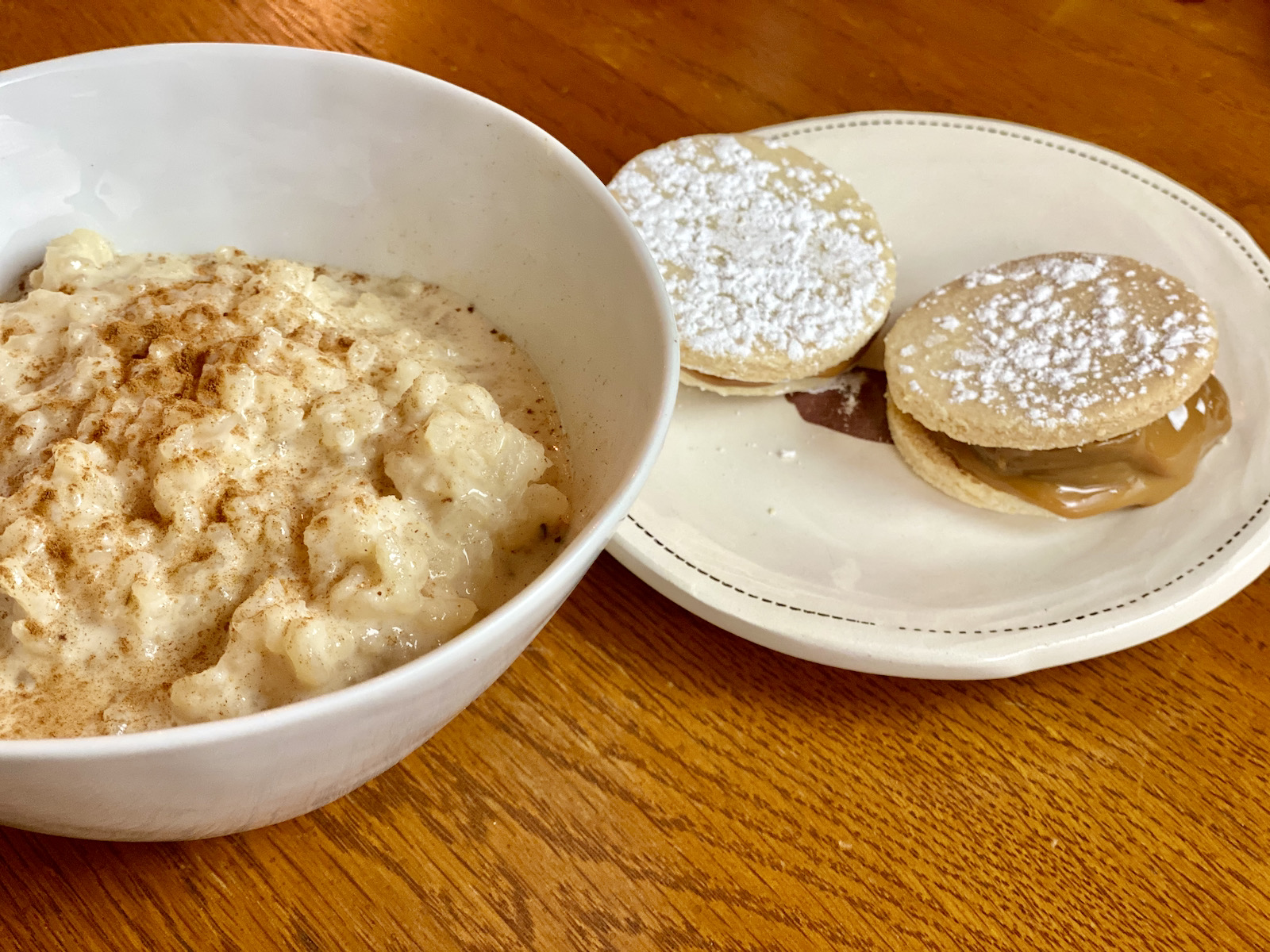 X

We paired ours with the indulgent alfajor. Imagine delicate, thin, buttery shortbread cookies generously filled with creamy sweet dulce de leche and you've hit these sweet treats square on the head ($2 each).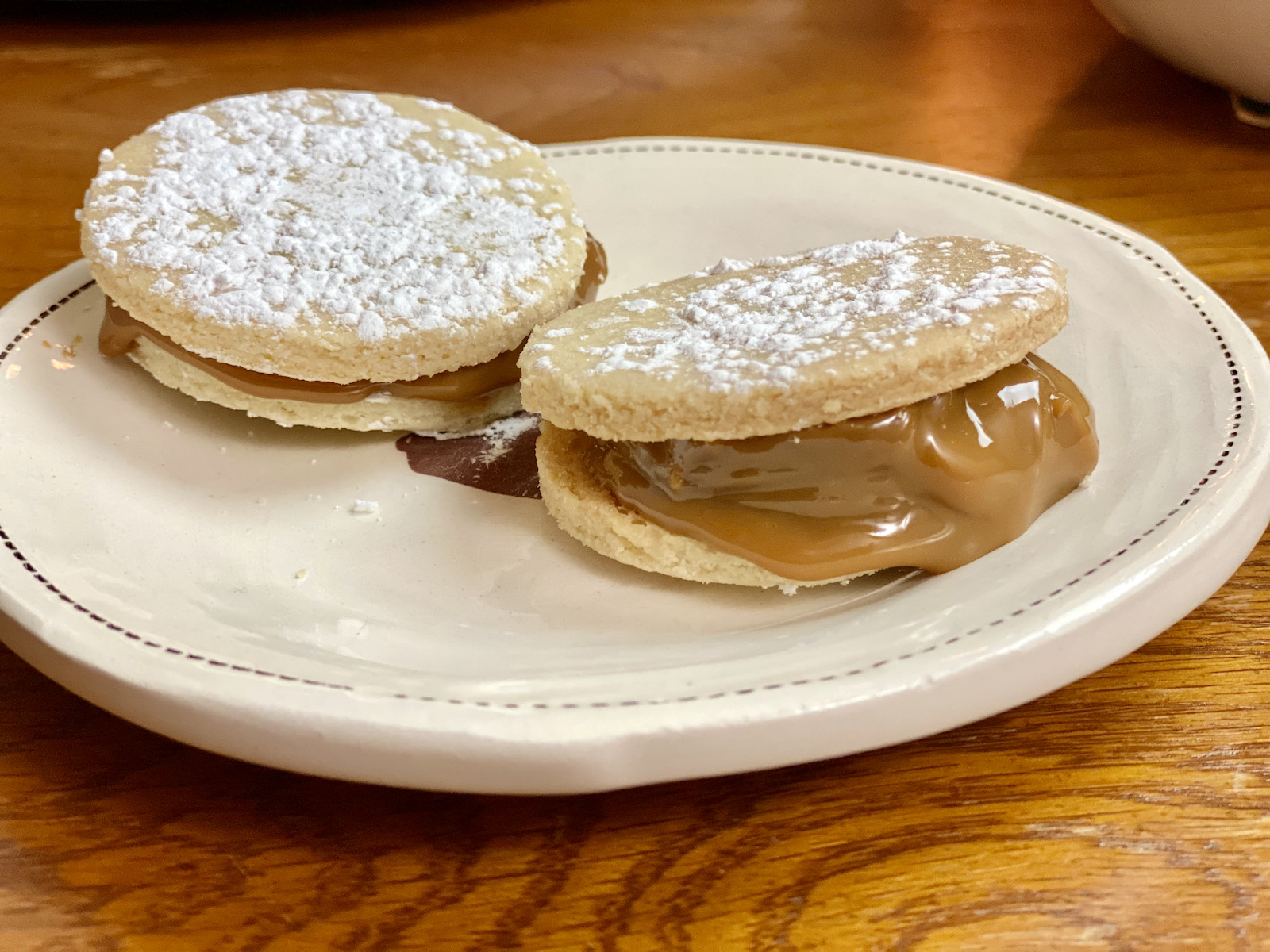 X

The cookies were a particular hit with my husband, who enthusiastically suggested we place another order for "more drinks and cookies!" even after we'd more than had our fill.

Triciclo Peru is open Tuesday through Sunday from 3:30 to 10:30 p.m., with very limited dine-in (by reservation only) and curbside pick-up available. For curbside pick-up, just place your order online during operating hours and you'll get a text with your expected pick-up time. From there, just follow the instructions to pull up to the restaurant and pick up your order.