The so-called "Bean Dad" says he's "deeply sorry."
John Roderick has issued an apology in response to the immense backlash that he's received, after he shared a story about a time when he withheld food from his daughter.
In a lengthy open letter shared on his website on Tuesday, the musician—who was recently dubbed "Bean Dad" by the internet—explained that he deactivated his Twitter account on Monday "in a panic" and took a moment to "reflect on what I'd done and the hurt I'd caused."
"I want to acknowledge and make amends for the injuries I caused. I have many things to atone for. My parenting story's insensitivity and the legacy of hurtful language in my past are both profound failures. I want to confront them directly," Roderick wrote.
Roderick, who co-hosts the podcast Omnibus, alongside Jeopardy! hall-of-famer Ken Jennings, admitted in his statement that he "poorly told" the story about a time when he refused to let his 9-year-old daughter eat until she figured out how to open a can of beans.
"I didn't share how much laughing we were doing, how we had a bowl of pistachios between us all day as we worked on the problem, or that we'd both had a full breakfast together a few hours before," Roderick explained. "Her mother was in the room with us all day and alternately laughing at us and telling us to be quiet while she worked on her laptop. We all took turns on the jigsaw puzzle."
He added: "I framed the story with me as the a**hole dad because that's my comedic persona and my fans and friends know it's 'a bit.'"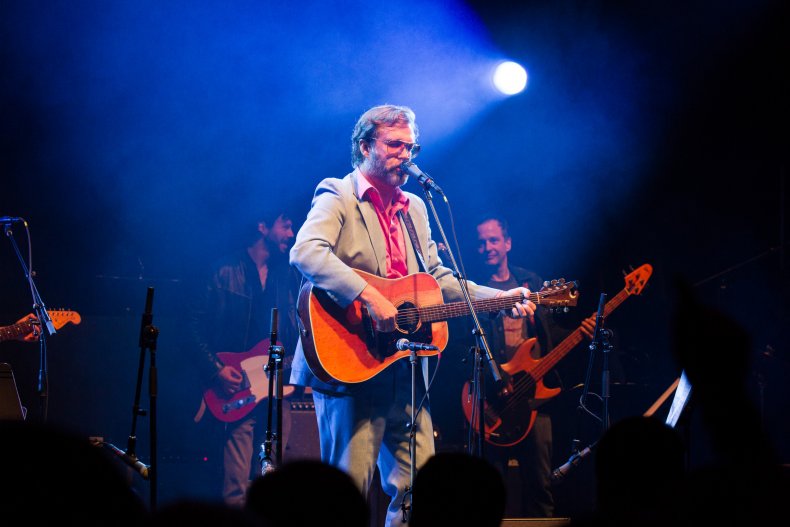 In the initial Twitter thread that he originally shared on Saturday, Roderick claimed that the incident—which became a flashpoint on social media—was a mere "Teaching Moment," and that he viewed the situation as a means for his daughter to "figure out what the can-opener inventor was thinking when they tried to solve this problem." The lesson continued on and off for six hours, Roderick said, and he acknowledged that his daughter was frustrated and hungry for most of it.
Roderick was heavily criticized for his actions and was nicknamed "Bean Dad" by upset spectators online who deemed his behavior as child abuse. People also dug up old tweets from Roderick featuring offensive and bigoted language, compounding the controversy. In an immediate response to the backlash, Roderick deleted the string of tweets, then deactivated his Twitter account entirely.
Looking back on the matter, the 52-year-old rocker said that he realized where he'd gone wrong in sharing the bean story and "that a lot of the language I used reminded people very viscerally of abuse they'd experienced at the hand of a parent."
"The idea that I would withhold food from her, or force her to solve a puzzle while she cried, or bind her to the task for hours without a break all were images of child abuse that affected many people very deeply. Rereading my story, I can see what I'd done," he wrote in his Tuesday apology. "I was ignorant, insensitive to the message that my 'pedant dad' comedic persona was indistinguishable from how abusive dads act, talk and think."
Roderick wrote that he was "deeply sorry for having precipitated more hurt in the world."
"I wish the parents I modeled didn't exist; I wish no one had to grow up with a parent who tortured them physically or emotionally. I would never intentionally make light of those experiences and I'll never underestimate again the pain I can cause with some poorly chosen words and by acting defensively when challenged," Roderick continued.
The musician also addressed the "many racist, anti-Semitic, hurtful and slur-filled tweets" from him that resurfaced amid the "Bean Dad" controversy. "I can say only this: all of those tweets were intended to be ironic, sarcastic," Roderick wrote.
"I thought then that being an ally meant taking the slurs of the oppressors and flipping them to mock racism, sexism, homophobia, and bigotry," he continued. "I am humiliated by my incredibly insensitive use of the language of sexual assault in casual banter."
Roderick added: "I'm a middle-aged, middle-class straight white male and I try to be cognizant of that and of the responsibility my privileges entail in everything I do. In this case, it was precisely my privilege of not living in an abusive family, of not being a member of a community that routinely experiences real trauma, that caused me to so grossly misjudge the impact of the language I chose."
Newsweek has reached out to Roderick for further comment.