The final words of Brandon Bernard, who was killed by lethal injection Thursday in one of the last federal executions of the Trump presidency, and whose impending death had triggered a nationwide campaign for clemency, came as an apology to the family of the couple he played a role in killing.
The death row inmate, who was in his teens when his crime was committed, died by lethal injection of phenobarbital at a U.S. prison in Indiana.
"I wish I could take it all back, but I can't," he said, referring to his part in the 1999 kidnapping and killing of youth ministers Todd and Stacie Bagley.
"I'm sorry," he said as he lifted his head and turned to look towards the windows of the witness room. "That's the only words that I can say that completely capture how I feel now and how I felt that day."
A pool report provided by the Associated Press said Bernard showed no obvious signs of fear or distress as he spoke, talking for more than three minutes.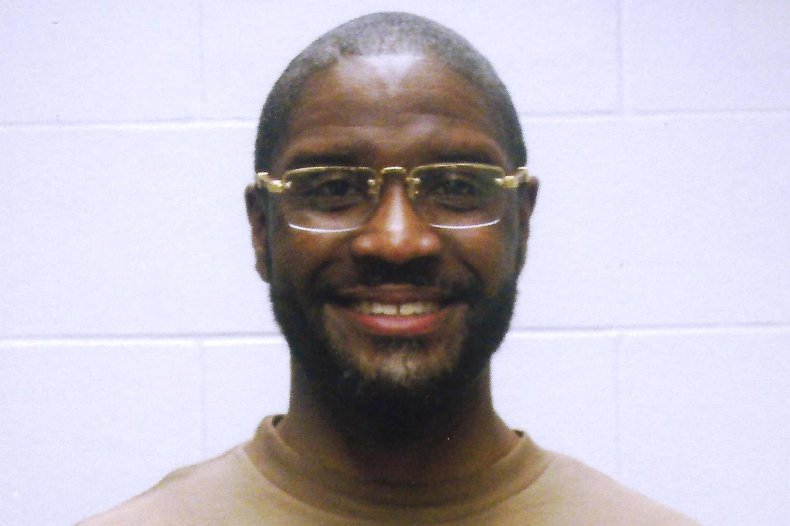 He said he had been waiting to say sorry, both to the victims' family and his own for the pain his involvement in the crime had caused them.
He was pronounced dead at 9:27 p.m. ET, 20 minutes after phenobarbital was intravenously administered.
His co-defendant, Christopher Vialva, was executed on September 22. Three other accomplices weren't eligible for the death penalty, though, because they were minors at the time of the crime. Since the murders took place on Fort Hood's military reservation, it was deemed a federal crime.
Speaking after Bernard's death, Todd Bagley's mother, Georgia, said: "The apology and remorse… helped very much heal my heart. I can very much say: I forgive them."
Bernard's execution was fiercely opposed by campaigners and human rights groups. An online petition for Donald Trump to halt the execution reached more than 652,000 signatures.
Those calling for Bernard's life to be spared included Kim Kardashian West, who posted a series of appeals on Twitter urging Trump to grant him clemency.
Ashley Kincaid Eve, an attorney who opposes capital punishment and had campaigned against his death, told Indiana television station WTHI: "We are the only country that does this. I think that when you're trying to set values and you're trying to teach a society to value life, I think that it is so important to show that you value life so much that even in your punishment you will not employ the same, horrible practices that you're punishing."
Death Penalty Action, which is campaigning to abolish the federal death penalty, said: "After a 17 year hiatus, the U.S. Department of Justice has carried out seven executions since July 2020 – an unprecedented pace – with at least five more on the way. These make president Trump the most-executing president since the 1950's.
"To resume federal executions once again, especially at this time and at this rate during a global pandemic, is an affront to the progress this country has made in eliminating the death penalty state-by-state and bringing the United States in-line with international human rights standards."
Critics have also warned against the use of phenobarbital, which they say could lead to botched executions that cause pain before death owing to a bad batch of the drug, or its improper use.
Some 22 states in the U.S.—and two-thirds of the countries in the world—have abolished the death penalty.
Amnesty International describes the death penalty as the "ultimate cruel, inhuman and degrading punishment," not least because it is irreversible and legal mistakes can and do happen.
Amnesty says the practice is equally flawed because it does not stop crime being committed and is applied in a discriminatory way, with people of color disproportionately targeted.