California lawmakers are pushing for gender-neutral retail sections in big stores so that clothes, toys and childcare items are not separated into products traditionally marketed for boys or girls.
Assembly Members Evan Low and Cristina Garcia have co-authored a new bill that would require department stores with 500 or more employees to make sure all items for children are not segregated by gender.
The bill, which is currently in the committee stage, would apply to departments that sell children's clothes, toys and childcare items.
The stores would also be barred from using any signs indicating that an item is meant for either boys or girls.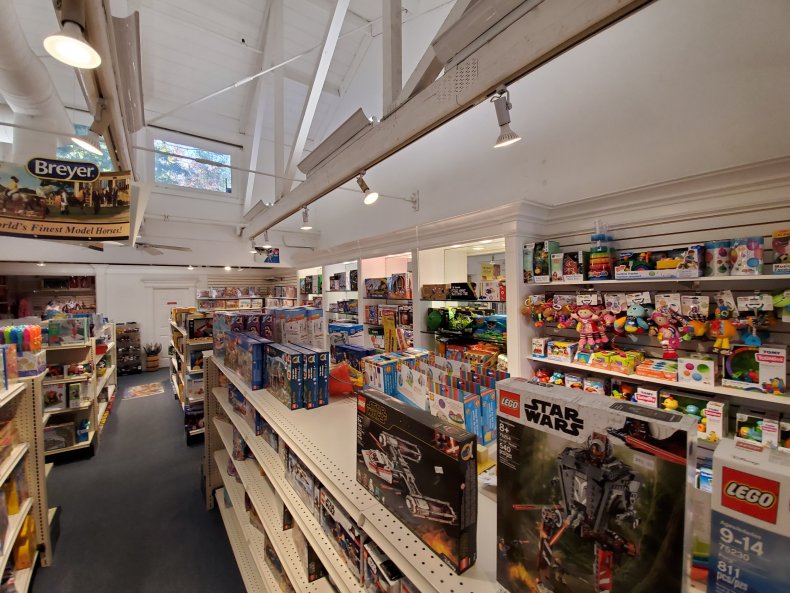 If passed by lawmakers, the legislation would come into effect in January 2024, making large stores liable for a $1,000 fine if they don't desegregate the sections within 30 days of receiving a written notice of a violation.
Garcia told the L.A. Times: "Playtime is fun, but it's also about developing a skill set. It's about ideas and being creative. We want to make sure we're not limiting a kid's creativity."
Low added: "In the state of California, where we hope to inspire, for example, more girls to get into science and engineering and mathematics, we want to ensure that those periodic tables and dinosaurs are not in the boys' section. We just want to let kids be kids."
He told the publication that the bill was inspired by his staffer's 9-year-old daughter, who loves science and math but had complained about always having to go to the boys' section to find the toys she wanted.
He said: "At a young age, why would we want to prevent a young girl from getting into wood shop or being a firefighter? All of these items might be listed in the boys' section."
The assemblyman also said that the first draft of the bill says that the measure would extend to online sales but the wording is currently being amended.
However, Chapman University Law Professor Marisa Chincharoolo, who taught gender studies, was not as convinced by the idea, saying that the bill could risk further polarizing voters.
He told Fox19: "I think it's a very well-intentioned bill. I think there are more effective, more consensus-building ways to achieve progressive values than this type of legislation that says we are just gonna penalize anyone who doesn't agree with those values."
The bill itself currently reads: "This bill would require a retail department store with 500 or more employees that sells childcare items, children's clothing, or toys, to maintain undivided areas of its sales floor where the majority of those items being offered are displayed, regardless of whether an item has traditionally been marketed for either girls or for boys.
"The bill would prohibit the use of signage within each undivided area indicating that particular items are for either girls or for boys.
"If a retail department store places a childcare item, an article of children's clothing, a toy, or anything that could be considered a combination thereof, in an area of its sales floor outside of the undivided areas where the majority of like items are sold, the bill would prohibit the use of any signage with respect to the item that indicates that it is either for girls or for boys."
Newsweek has contacted both Low and Garcia for comment.