On January 5, Pastor Brian Gibson stood on a platform in Washington, D.C., in front of about 8,000 cheering onlookers and proclaimed, "Tomorrow we're going to have the greatest day together."
The following day, he listened to President Donald Trump give his infamous speech where he encouraged lawmakers not to certify Joe Biden's electoral victory and he encouraged tens of thousands of protesters to "fight like hell" against "election fraud."
Gibson listened, hung out for a bit afterward with some of the protesters, then headed back to his hotel room, where he learned that a few dozen—or a few hundred, depending on who you believe—bashed their way into the Capitol.
Since that day, he's been traveling from one hidden location to the next with his wife and three children, surrounded by a security staff of five former special-ops military vets, each of them armed, with instructions to protect them from angry far-left activists. On Saturday alone, he and his family spent time in three different hotels.
His perceived sin is not his failed prophesy of a great day but, that months earlier at a pro-Trump rally in Arizona, he spotted a man wearing what appeared to be a Viking outfit and snapped a selfie with him, just as he's done a thousand times with others while stumping for Trump and religious freedom over the past year. This particular man turned out to be the infamous, horn-hatted and bare-chested Jake Angeli, aka Jacob Chansley, who has become the face of the riots and was arrested Saturday for "violent entry and disorderly conduct on Capitol grounds," according to the U.S. Justice Department.
Now, Gibson worries that these guilt-by-association attacks will spill over into Christianity in general. He's not alone, as more and more people online are sharing the Christian images seen at the riots and drawing damning conclusions from them.
David French, for example, in an article at The Dispatch that was accompanied by a photo of a man carrying a giant wooden cross, called the riots a "a violent Christian insurrection," italicizing the word "Christian" for emphasis. The Atlantic also called the riots a "Christian Insurrection" while Religion News Service reported that rioters were "Christian Nationalists." Patheos, meanwhile, has claimed riots were the work of "White Christian Nationalists." And when Trump supporters erected a cross the day of the riots but 600 miles away in front of the Michigan state house, Vanity Fair wrote that "they did not need to set it aflame to make its Christian nationalism plain."
Beyond the big cross featured with French's story, Religion Unplugged reported that a Christian flag featuring a Latin cross was carried by a rioter to the House floor, right past Capitol police who had drawn their firearms. Also, two protesters carried flags featuring the ichthys, better known as the Jesus fish; one carried an altered American flag with the words "Make America Godly Again" scrolled across it; and seen near a mob kicking in the Capitol door was a flag with the words "Jesus is my savior" on one side and "Trump is my President" on the other.
"Absolutely, 100 percent, they'll go after Christians for this," Gibson told Newsweek. "They've been waiting for this moment and licking their chops, and now they have it. The spin of the outrage proves what they're doing—they weren't outraged when BLM burned cities, but the Christian conservatives at the capital, they put a bullseye on the church."
Also at the riots was a yellow banner hung that read, "Jesus saves" and several participants wore clothing proclaiming "Jesus" and "Cry to God," while one protester held a flag with the phrase, "An Appeal to Heaven," mimicking a rallying cry carried by rebels who fought in the Revolutionary War.
Photos don't suggest that these folks were violent, but outlets are using the images in story after story about bad behavior at the Capitol that day. For several days at the powerful Drudge Report, for example, right above its bank of stories about the Capitol riots was a photo of the wooden cross, implying Christians were somehow responsible for the mayhem.
"It's very easy to find the worst of your opponents and position them as if they characterize the whole group," said Jeff Myers, the president of Summit Ministries and author of the book, 20 Things to Say and Do to Fight the Cancel Culture.
"Evangelicals believe in the power of prayer, so they will very often go to places where they'll be in the center of influence, and their purpose is to pray. They're perfectly peaceful," said Myers. "Secularists may view them as nuts, but they are not a threat. I'll be very curious to see when the FBI starts indicting people how many are chosen for their Christian convictions."
"No doubt anti-Christian animus will increase as will hostility to social conservatism," added Mark Tooley, president of the Institute on Religion and Democracy. "The January 6 putsch and earlier insanity will tragically set back good causes that many traditional Christians support."
Republican congressman Adam Kinzinger of Illinois also seems to be blaming Christians for the January 6 riots where a Capitol Police officer died after being struck in the head with a fire extinguisher and a protester was shot dead by a different officer. "There's a huge burden now on pastors and clergy who openly spread the conspiracies of a stolen election," he tweeted, calling on evangelist Franklin Graham and many others "to admit their mistakes and lead their flocks out of the darkness to truth."
"I have no idea what he's talking about. I wasn't even there and I never encouraged people to go to Washington," Graham told Newsweek.
"I saw plenty of video from inside the Capitol. There were lots of Trump and American flags, but no Christian imagery. I did see the crazy guy with the horns praying, but I don't know who he was praying to," Graham said.
"The lion's share of people in the media have a great appetite to paint Christians in a bad light," he said. "They hate God and they hate Jesus Christ. It's as simple as that. They'd love to pin this on people who follow Christ, but this was not a Christian revolt; it was a swath of America that is mad."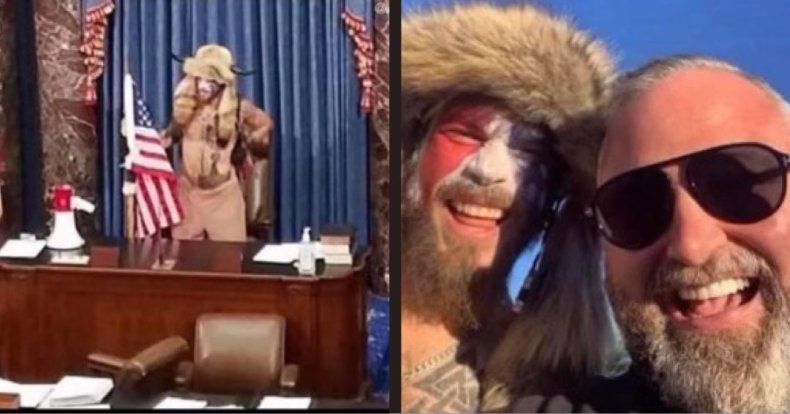 Steve Deace, a Christian who hosts a TV show for The Blaze, said it's not surprising that the faithful are being maligned and, in fact, it's the latest in a trend going back to 2013 when A&E suspended Duck Dynasty star Phil Robertson after he cast "homosexuality offenders" as sinners who "won't inherit the kingdom of God."
Since then, there's been a slew of what detractors characterize as a legal but immoral attack on Christian values that include attempting to force charitable organizations like Little Sisters of the Poor, run by Catholic nuns, and Christian-run companies like Hobby Lobby to pay for abortions, while bakers and florists have been made to sell cakes and flowers celebrating gay marriage, or risk fines and bankruptcy if they refuse.
Thus Deace, along with Franklin and many other Christians worry that the Capitol riots will be used as leverage to fast-track the so-called Equality Act, which the Christian legal group Liberty Counsel calls the "most extreme threat to religious freedom, free speech, privacy, and to women's rights that has ever been proposed by Congress."
Christians note that the act prohibiting discrimination based on "gender indentity" and "sexual orientation" states that religious freedom is no excuse, therefore churches, schools and adoption agencies will lose accreditation, tax-free status and even their ability to remain open if they do not affirm same-sex marriage or allow men who identify as women access to their restrooms and changing areas; and the law will not allow churches to counsel members seeking guidance about gender dysphoria if it involves discouraging transgenderism.
"If they paint Christians negatively, it makes it much easier to target them with legislation," said Graham.
"There's a long history of statists not letting a good crisis go to waste at the expense of the Christian church, way back to Nero blaming Christians for a fire he started," Deace told Newsweek. "So this is nothing new. The responsibility we as believers have is to acknowledge this history and not play into it. It only takes a few nitwits and thugs to damage the reputations of everyone else.… Government is the substitute savior. If you preach a gospel contrary to the statist one, they'll want you silenced."
And churches that have already been shuttered and moved online due to coronavirus will have more to contend with as more and more detractors note the alleged involvement of Christians in the attack on the Capitol.
"Because freedom of speech and conscience are fading from the public square under the pretense of preserving safety, it is certain churches that do not endorse official narratives will become targets," said Jon Harris, author of Social Justice Goes to Church: The New Left in Modern American Evangelicalism.
"Sure, churches will be vilified," said J.D. Hall, a preacher who runs Pulpit & Pen, a website visited by about 1 million Christians monthly. "We've been vilified for opposing wickedness for two millennia. However, speaking one's mind does not incite violence.… If someone attacks a church it's not because they've been incited by the church, but by 20 years of Democrat influence that glorifies political violence when it's done by their side."
As for Gibson, he's still in hiding due to his poorly timed selfie with a guy dressed "like a Disney character," as he put it, though he appeared unannounced at a church on Sunday to preach the gospel. At one church where he often preaches, cops on Sunday escorted protesters off the grounds, he told Newsweek.
"Nobody should have ever touched that building. Tearing up the capitol is like tearing up your mother's house," Gibson said of the January 6 riots. "A lot of people there just were praying and some were singing "God Bless America," but what the media is doing is taking the actions of a few to represent all Christianity; they're using it to hit the church."
The pastor showed Newsweek several threatening emails and posts to social media and supplied audio of phone calls he's received. In one social media exchange, someone says, "I think we all need a road trip to a church in Kentucky for a little protest on traitors posing as false prophets," prompting the response: "sounds good… should we bring our guns?"
Another says the pastor is responsible for five deaths; many wish for him to "rot in hell;" some call him a "terrorist" and one says, "I hope someone breaks into your house or church." Several say they intend to "make him famous" and one man wrote he's an "evil racist" and that "we are going to put you on blast and let the world know what a terrible person you are."
"It's a nightmare but I can handle it," Gibson told Newsweek. "I don't scare easy; but on one occasion, my 10-year-old kid had to be whisked away. When he saw his parents again, he wept, because he thought we were dead."