In 1692, hysterical citizens of Salem, Massachusetts, hung 19 women for suspected witchcraft and let seven others rot to death in jail. Ever since, New England has been haunted with a reputation as a spooky place.
Old cemeteries. Towns with a solitary, hillside clapboard church that seems to outlast death itself.
Ancient, blistered maples whose branches stretch into a murky sky like a skeletal arm from an upright casket.
And of course, haunted houses. Any New England town worth its salt hosts a creepy house or two. Manchester has 104 Harrison St.
Vacant (at least officially) for years, the house is wrapped by unfettered vegetation whose tendrils reach up to its second floor. Paint chips peel away from window sills and an odd, shaft-like structure that runs the height of the building.
Its front door is wide open, and shadowy figures enter and exit the building, even during daylight hours.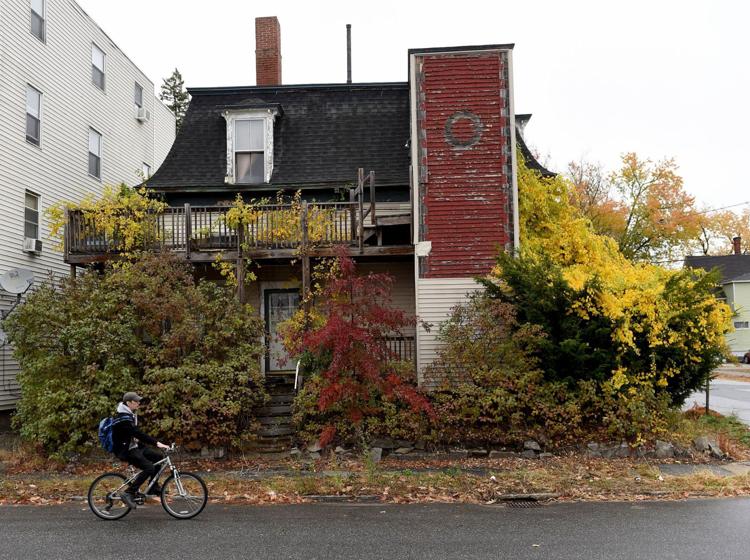 "It's creepy," said Patrick Lessard, co-owner of The Bike Barn, a bicycle shop located on the same Union Street block. "If that building caught on fire, the whole apartment building (next door) would burn down with it."
The apartment building he mentions is a nine-unit, four-story building that stands about 5 feet from the exterior rear stairs of the house.
"It's a fire hazard. People go in there, they smoke, they do their drugs," said a resident of the apartment building. It's hard to sleep at night, he said, worrying about what could happen.
City officials say they can't do much about the house.
Ordinarily, a building with such problems would eventually become city property. That happens because the owner doesn't pay taxes, the city takes possession through a tax deed, and then the city can tear it down, sell it, or do whatever it wants.
But the taxes on the house are current.
It's owned by Candia resident Todd Keating.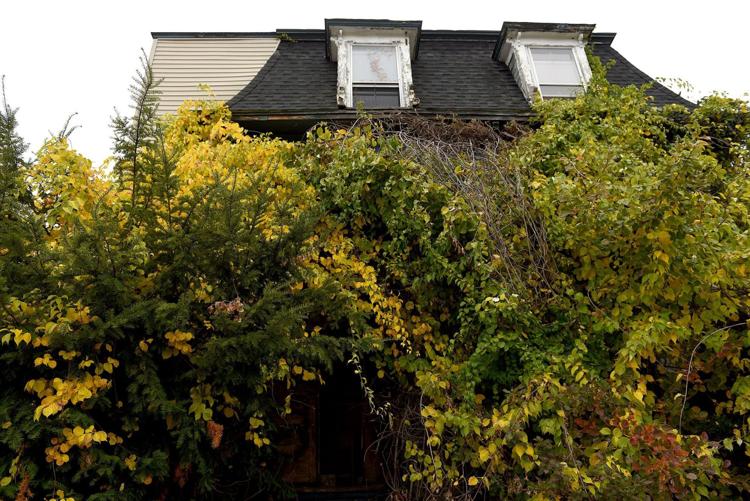 According to his LinkedIn profile, Keating is an account manager at Smithfield Foods. According to online records, Keating sits on the Candia town budget committee and lives in a $338,000 home with three bedrooms and a two-stall garage.
Efforts to reach him through his wife's telephone and his email were unsuccessful.
"He's a study," said David Albin, code enforcement supervisor for Manchester. A former firefighter, Albin answered a call in 2006 when police and the DEA busted a meth lab in the house.
In their limited conversations, Keating has said he faces obstacles to repairing the house, Albin said. But a couple of sheets of 3/4-inch plywood and a handful of 3-inch wood screws are all that's needed at this point, Albin said.
"I just want to get the door secured," Albin said.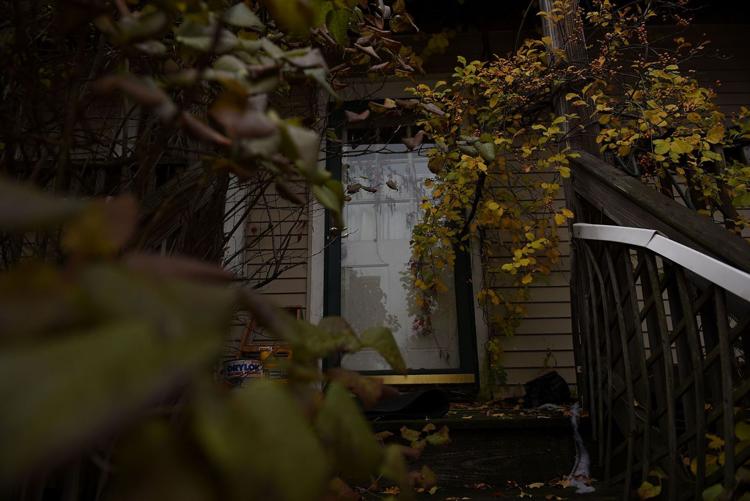 The front door, which faces Harrison Street, is an antique double door with glass panes. One side was off the hinges and resting sideways when I walked through and into a foyer last week.
"Hello," a voice responded from a room to the right.
I remained in the foyer, and the voice remained in the room. I never saw the owner of the voice, which added to the mystery of the situation. (Of course, I did this at midday. It would have been far creepier in a pitch-black house.)
"What are you doing here?"
"I stopped in," said the deep male voice, "trying to get out of the weather."
"I stopped in today (for the first time). I passed by a few times."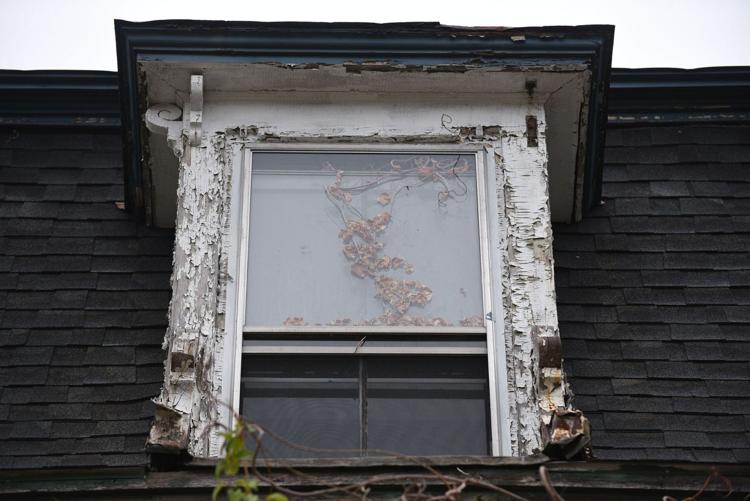 Fire Chief Dan Goonan said he went through the house after Alderman Will Stewart brought it to his attention.
"It was in terrible condition, but I've seen worse," Goonan said.
With shelters at capacity already, Goonan expects homeless people will make use of abandoned properties such as the house.
Neighbors tell me police often visit and roust people from the house, but they return once police leave.
"It's an utter source of frustration. All that overgrowth, it's basically kindling surrounding the building," Alderman Stewart said about the structure. With the city's vacancy rate so low, Keating could repair the building and rent it out, he said.
Albin said the city is limited as to what it can do. The Highway Department did cut back the bushes on the sidewalk, but city workers can't walk onto the property to cut the bushes or board up the front door.
"It's private property. It's like we're going on your porch and sealing your door. It's trespassing," Albin said.
The city can only step in and secure a building if it is in imminent danger of collapse. The house is not at that point, Albin said.
Meanwhile, cold weather approaches, and Goonan grows fearful.
On cold nights house guests will light fires — just a small one with a can of Sterno — to stay warm. But things may get out of hand.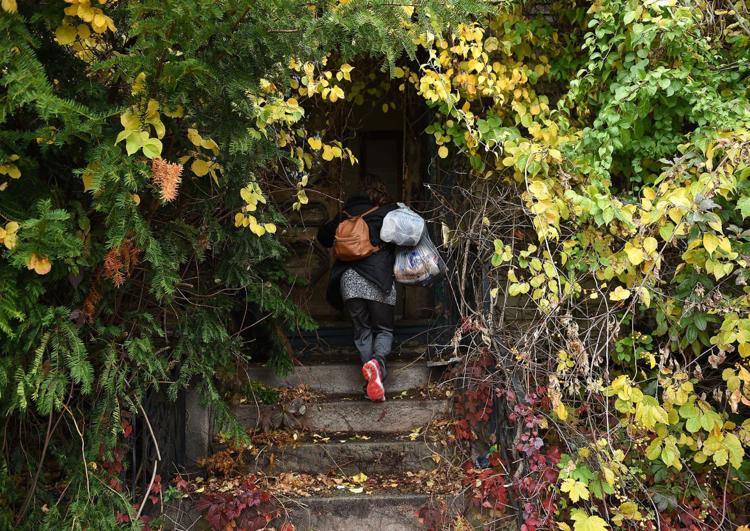 When firefighters respond to a flame-engulfed house on a frigid night at 2 a.m., no one will be around. All they will know is that destitute people have been living there.
That's what happened in December 1999, when six firefighters perished trying to rescue homeless people believed to be inside the Worcester Cold Storage and Warehouse Co., Goonan said.
"It's a tough call," he said, "but push comes to shove, our guys are going in."
And that is the scariest part of this story.
A house haunts a neighborhood