By Chris Andrews
BBC News NI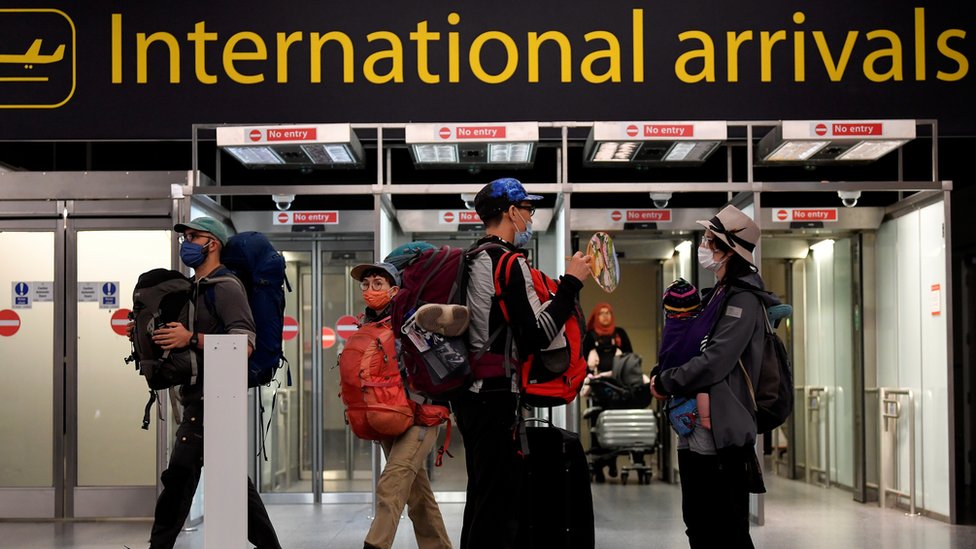 For many people Christmas is a time to be surrounded by family and friends, to give and receive gifts and to maintain age-old traditions.
While the festive period was always going to be different during a pandemic, for many it has meant they have never felt further away from home.
Some international students considered Christmas trips home too difficult amid tight Covid-19 restrictions and quarantine rules.
For others, who could travel but chose to stay, limits on gatherings and social distancing mean it will be a holiday like no other.
BBC News NI has spoken to some of those people making Northern Ireland home this Christmas.
'Dreading Christmas alone' – Ausby Rodrigues
Qatar-born Ausby Rodrigues said he is "dreading" spending Christmas Day alone.
The Ulster University student, in the final year of a sports studies degree, said his parents cried when he told them he would not be coming back for Christmas.
He said he returned to Belfast in November to concentrate on his studies, but now questions if he made the right decision.
"I would be surrounded by friends and family and having a good time, opening presents and going to church," he said.
"I'm sure in the long run it is the right decision, because it is my future, but for the time-being I am quite a bit homesick."
'I don't want to risk my parents' lives' – Nidhi Kumari
Second year computer science student Nidhi Kumari, from east India, wanted to go home to see her parents but feared for their health.
The Queen's University undergraduate spent Christmas 2019 in Belfast but promised her family she would return home in summer. However this was not possible due to Covid-19 travel restrictions.
So instead, she will spend Christmas with friends in her university flat.
"India is more happening on Christmas Day compared to Belfast," she said.
"It's more of a one-day festival where people go out – here people start well ahead of Christmas Day.
"Some of my flatmates will be going home, but a few of us will be here and we are thinking of doing a few things, like movie nights or crafts," she said.
'I normally don't get homesick' – Victoria Wilson
Victoria Wilson, from California in the United States, will not just be missing Christmas celebrations at home.
Christmas Day is also her birthday.
The third year Queen's medicine student left NI in March, spending six months at her home near Los Angeles, before returning.
"I normally don't get homesick, I love adventure, I love to travel, I really enjoy Northern Ireland, but this year has been so strange," she said.
"It was a year I was really looking forward to going home for the holidays because I love Christmas, Thanksgiving, the new year, it's just a really festive time."
Due to concerns about quarantine rules upon arriving into the UK post-Christmas, Victoria said it could be "tricky" with her university placements if she had to self-isolate.
She said her father, who is a doctor, understands the situation and during placement she has gained her own experience of how local hospitals have handled the pandemic.
"The system is overworked and under strain and I think the public has a bit of coronavirus fatigue so it is frustrating to see people not take it as seriously as you would hope, but it has been wonderful to learn from doctors, nurses, physios, lab guys, in the midst of them taking care of patients with coronavirus."
'I miss mum's Christmas cake' – Esther George
Esther George, from Sri Lanka, recently graduated with a master's degree in psychology on childhood adversity at Queen's University.
Now interning for the university's Presbyterian chaplaincy, she said the main thing she will miss at Christmas is the food in her native Sri Lanka.
She also misses having the opportunity to travel with friends.
"This is a different experience and I am quite an inquisitive person to experience new things," she said.
"One thing I will definitely miss is the Christmas cake that we make, my mum has a unique recipe.
"We still have virtual calls, so I don't miss family so much, but I would prefer to experience whatever is possible here, because this is probably my last Christmas away from home."
Through her work in the chaplaincy, Esther said she is planning to organise walks, dinners and movie nights for international students "to make sure they can get involved in some way" around Christmas.
But social distancing and limits on people gathering has made it difficult to reach out to students.
"Rather than complaining or looking at the negative side, I am just trying to look at the positives," said Esther.
University plans
Queen's University said more than 600 students, both home and international, have said they will be staying in its student accommodation over Christmas, with more living off-campus.
Ahead of Christmas Day, a food box containing breakfast and a three-course meal will be offered at no charge.
A carol concert, cook-along event and decoration-making is also on offer.
Caroline Young, director of Student Plus at Queen's, said the university wanted to ensure that students who stay around campus "have a positive experience and feel supported".
The university said it has been covering the cost of the PCR test (the Covid-19 test required for international travel), for those international students who decided they would like to travel.
Ulster University (UU) said 114 international students have indicated they are remaining in Northern Ireland over the Christmas period.
A spokesperson said virtual events and activities have been organised, including movie nights, quizzes and games nights, and staff will be there to provide support.
UU students are also to receive a Christmas hamper and students living in private accommodation will receive a shopping voucher, tree decoration and chocolate.
Ulster University

Christmas
Queen's University Belfast
NI education