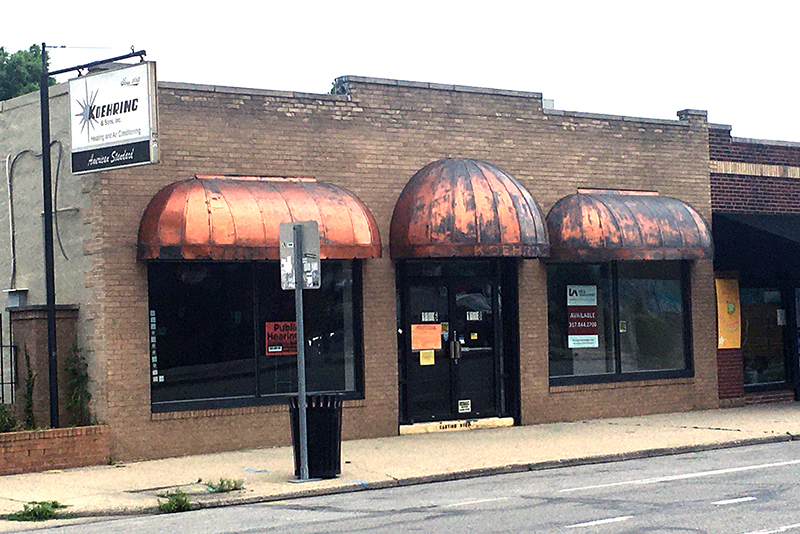 Crown Liquors hopes to open a store in the now-vacant Koehring and Sons building at 1126 Prospect St. (IBJ photo/Susan Orr)
Crown Liquors is seeking a liquor permit that would allow the retailer to open a 5,000-to-6,000-square foot store in a now-vacant building at 1126 Prospect St. in Fountain Square.
This would be the 19th location for Crown Liquors, which was founded in 1989 and currently operates 10 stores in Indianapolis; two each in Carmel, Fishers and Avon; and one each in Noblesville and Greenfield.
Last week, Crown secured city approval for two variances needed to operate at the Fountain Square location, despite opposition expressed by some of the neighborhood's residents and business owners.
Next, Crown Liquors must secure a liquor permit for the location. Its permit application is on the agenda of the Indiana Alcohol and Tobacco Commission's Marion County board meeting Aug. 2.
Crown Liquors is under contract to acquire the Prospect Street building, but the purchase is contingent on securing the liquor license first, said Jon Sinder, one of Crown Liquors' three partners.
The Fountain Square outpost would be second in size to Crown's largest store, located at 150 N. Delaware St., Sinder said. It would feature a large selection of fine wines, high-end spirits and craft beers, along with an in-store tasting counter.
"This is very far from an average liquor store," Sinder said of the planned Fountain Square location, which is within a block of the prime commercial intersection of Virginia Avenue, Prospect Street and Shelby Street.
Sinder said he's confident that a high-end liquor store would do well in Fountain Square, based on the delivery customers that Crown already has in that neighborhood.
"The last few years, delivery has really taken off," Sinder said. "We're delivering quite a bit into Fountain Square, and we're delivering high-end products to Fountain Square."
The Prospect Street property is a 12,855-square-foot building that formerly housed Koehring and Sons, a heating and air-conditioning service company. Crown would use a little more than half of the building for storage, with the retail store occupying between 5,000 and 6,000 square feet on the south side of the building.
The building needs numerous repairs and improvements, Sinder said, including exterior work on the building's north and west walls, and a new roof. Crown is budgeting $600,000 to cover the improvements and interior build-out, not including the purchase price of the building, Sinder said.
Crown's goal is to have the store open by year's end.
Last week, the Indianapolis Historic Preservation Commission unanimously approved two separate variances required to advance the project. One variance allows Crown to operate a package liquor store within 100 feet of a protected district—the north wall of the building is nine feet from the district's boundary—and the other relaxes the parking requirement for the site. Based on the building's size, city zoning requires that the property have 26 off-street parking spaces and four bike spaces. The property's on-site parking lot provides 12 spaces.
More than 70 people signed an online petition in support of Crown's plans, but the project also has opponents.
The Fountain Square Merchants Association and the Fountain Square Neighborhood Association both submitted letters to the city opposing Crown's planned store. Both letters cited a variety of concerns, among them traffic and safety issues.
"Package liquor stores frequently bring with them issues of loitering, litter, security and increased traffic which are particularly detrimental to the quality of life for residents adjacent to the property," the Fountain Square Merchants Association letter said.
But city staffers supported both of the variances, noting that the liquor store would be on the south side of the building, which would reduce its impact on the residences to the north. Staff also said the available parking should be adequate to handle the amount of traffic that the liquor store would likely generate.
In a show of goodwill, Crown has made a written pledge to operate the Fountain Store under certain restrictions. It has promised to, among other things, close by 11 p.m. and avoid selling items including fortified wines, single-serve containers of malt liquor and lottery tickets. Crown has also pledged to make a $3,000 annual contribution to support the arts in Fountain Square.
Sinder said Crown made a similar pledge when it opened its Delaware Street store, and it has been effective at minimizing problems at that location.