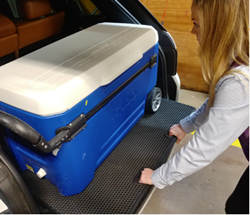 PITTSBURGH (PRWEB)
July 02, 2021
Davison Inventions is proud to announce a new invention that will make storing items for transport in a personal vehicle easier than ever before: The Cargo Slider. This industrial-strength mat slides out of the trunk of any car or truck for easy loading onto its platform and into the vehicle. Travelers will also appreciate that the mat serves as a shield for the vehicle's bumper when storing cargo, which will prevent unexpected damage to the exterior.
The Cargo Slider makes for an easier and more efficient packing experience when setting out for a family trip, tailgate, or or any other type of long-term road travel. The flexible design of the mat itself allows the Cargo Slider to accommodate the trunk of any vehicle; regardless of make, model, or year. Its twin handles allow for easy placement and retrieval from the vehicle as well.
This slider works great for parents and elderly travelers that need to store various items for their trip, but want to reduce the strain that comes with loading a car or truck. The mat's design reliably holds traditionally heavy objects—such as coolers—which will allow traveling folks to avoid potentially straining themselves by having to reach into their trunk to load weighty items.
Pets will love the Cargo Slider too! Rather than riding around in a cramped seat or on a dirty and uncomfortable trunk surface, dogs and other furry travel companions will love the cozy comfort of resting on the slider mat. The soft material is not only comfortable and secure for whatever animals or items rest on it, but also easy to rinse down and clean off.
The Cargo Slider originated from a Davison employee that felt frustrated with his packing experience while preparing for a family road trip. While loading his car with a week's worth of luggage for four people, he began to feel great strain and also noticed he may have accidentally dented his bumper. This prompted him to begin brainstorming ideas to help reduce the bending and stretching required when loading heavy items into a vehicle. Now, the Cargo Slider serves as one of the most cherished inventions among Davison's staff and corporate family.
More About Davison Inventions
The Cargo Slider is just one of Davison's success stories. The company has aided its clients with conceptualizing, designing, developing, and licensing products for the past 30 years. Although the typical client project is not sold in stores, Davison's products and its clients' products have sold in more than 1,200 online stores and retailers. The company has also won several design awards for its product designs.
"Davison has a very effective way of presenting new products to our firm," a representative of Koller Enterprises, Inc. said of the company. "They truly understand what is needed when considering a new product. We value the open line of communication that we have with a corporation of their caliber."
For over 30 years, Davison Inventions has helped new and seasoned inventors to transform their ideas from a thought to a finished product. This industry innovation has broken the barrier for our clients, resulting in an industry-leading number of products for sale in both online and brick and mortar stores across the globe. Contact Davison Inventions today or call 1-800-544-3327 to start bringing your idea to life.
Share article on social media or email: