When Whitney Mai first saw the historic house at 815 N. Locust St. listed online nine years ago, she and her now-husband, Cuong, were fresh out of college and not in a position to purchase a commercial space. But when Mai noticed it for sale again two years ago, they decided to pull the trigger on the Victorian home — and transform it into an eclectic bed-and-breakfast and destination wedding venue known as The Brownlow House.
Purchased by the Mais in February 2020, the 3,900-square-foot home, built in 1912, had operated as a bed-and-breakfast, The Heritage Inns, for more than two decades under former owner Donna Morris, Whitney said. It was part of a sprawling three-property B&B suite and venue made up of the house at 815 and the two next door, which are now Giuseppe's Italian Restaurant and Home Instead Senior Care, respectively. Another owner bought the property and owned it for seven years before selling to the Mais.
But the plan wasn't always to make the house on Locust a B&B. Mai's mother, Laurel Dewell, is an interior designer who helped Whitney's grandmother design her home. When Dewell's mother died two summers ago, she did not want the pieces that had been so carefully curated and cared for to be sold at garage sales.
"She kept them in storage for a little while because she couldn't decide what to do with them since there was no market for them, and I thought, you know, there is, but Facebook Marketplace might not be the market — maybe there's a different market of people," Whitney said.
Whitney and Dewell discussed opening a store, but with the Mais having just become foster parents — they now have four children, three adopted sons and one biological daughter — the timing wasn't right. But when Whitney saw the property on Locust was for sale again, she and her family thought another kind of business — one the house already had a history with — might be the answer.
"I saw that, and I said, that's kind of ironic that it's on there again like the next time I go to look for Denton real estate for a business," Whitney said. "I thought, 'What if we had something like that, and then we could put those types of pieces that my grandmother left and the decor and things in a place like this?'"
The Mais have a long history in the hospitality and fine dining business. Cuong, who will handle breakfast at Brownlow and is the chef and owner of Vietnamese food truck The Pickled Carrot, studied hospitality at the University of North Texas and has experience in everything from room service to bartending at major hotel chains such as Hilton. Whitney also has worked at fine dining establishments and in the service industry. In fact, the couple's first jobs were public-facing — they first met at a miniature golf course and have been together 14 years.
Those experiences have informed their plans for Brownlow, the Mais said. They envision the space as a flexible, customizable destination for couples looking for an intimate wedding or reception, out-of-towners here for a weekend trip or locals looking for a staycation.
The Brownlow has four bedrooms, including a bridal suite and groom's suite, which double as guest rooms. Complete with private bathrooms that feature clawfoot tubs, each room offers a unique feel that blends the classic with the contemporary.
That flexibility and focus on ambiance is behind many of the design choices, Mai said. Dewell designed the interior space with Whitney's help, emphasizing pieces that could both elevate the venue's curated feel and make the most of its intimate spaces. Outdoor spaces like the wraparound back porch and side nook offer opportunities for lawn games, outdoor receptions and even occasional food truck parking, depending on guests' desires. From the library, which features wingback armchairs and dramatic, enveloping tones, to the dining room, which offers bright natural light and gold accents, Whitney said Brownlow aims for accessible Southern elegance.
"One thing I love about the space that my mom has been able to do so well is kind of show how you can mix traditional styles in without it feeling like stuffy," Whitney said.
Two staff will stay on-site overnight to help manage events and the grounds — there is an apartment out back of the main house — but the Mais will be involved in the day-to-day at Brownlow. They want the B&B to remain highly customizable, offering those hosting weddings and other events the option to design their occasion themselves or work with Whitney and Dewell to plan and outfit their ceremonies. With plans to also offer some of the antique furniture in the space for sale so they can continue to keep decor updated, the family hopes Brownlow can be a place of endless possibility.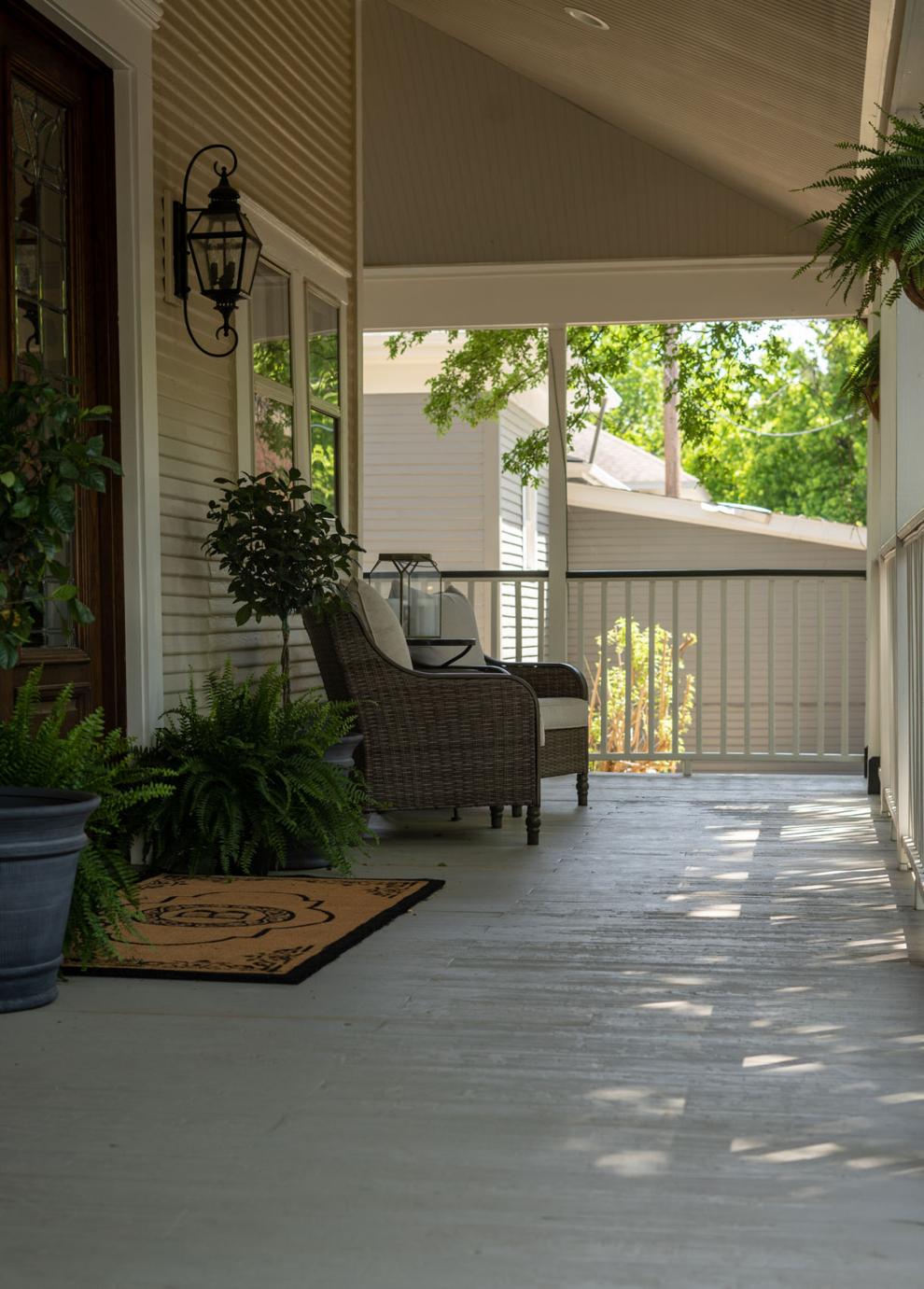 "The rooms are not going to be the exact same for the next 10 years — they are going to evolve continuously, especially as we find new things," Whitney said. "My mom and I love the hunt of the decor, so we will not stop doing that."
Though COVID-19 has delayed the opening date — the Mais originally hoped to open in October 2020 and have had to push back opening amid the pandemic and delays in getting certain supplies — they have already given tours and received inquiries about future stays. With just a few projects being finished, they hope to open within the next couple of months.
The finishing touches will be worth the wait, the Mais said, as they are all part of creating a unique, charming getaway in the heart of downtown Denton.
"To be able to go somewhere where it gives you that feeling and you don't even know why, but it just feels good — we wanted to do that," Whitney said.
AMBER GAUDET can be reached at 940-566-6889 and via Twitter at @amb_balam.