California Gov. Gavin Newsom is facing new criticism online following his Thanksgiving rules—this time regarding his own children's in-person education.
Critics lashed out at the Democratic governor on Twitter after he revealed on Friday that he was sending his four kids—ages 4 to 11—back to in-person learning under a "phased-in approach" at a private school in Sacramento County, while public schools in the state are still waiting to reopen.
"They're phasing back into school and we are phasing out of our very challenging distance learning that we've been doing, so many parents are doing up and down the state," Newsom said at a Friday press conference.
The private school currently offers a hybrid schedule for students before it'll fully reopen classroom instruction next month, a source told Politico on Friday.
In July, Newsom enacted $5.3 billion in state and federal funding for schools during the COVID-19 outbreak and provided two months' worth of PPE to districts. He's consistently pushed for schools to reopen safely across the state, but has allowed local districts to make their own decisions on reopening.
Sacramento County is allowed to open classrooms under Newsom's reopening plan, which has given counties the green light to move to a less restrictive reopening tier and resume indoor activities, including in-person instruction. But several large public school districts, including San Juan Unified where the governor lives and Sacramento City Unified, have yet to reopen.
"We absolutely believe that the social-emotional learning that occurs in the classroom is the best place for our kids, certainly the best place for their parents as well," said Newsom at the press conference. "And so it is absolutely incumbent to do everything in our power to provide support to our districts so that they can safely reopen, emphasis on safely reopen."
According to an EdSource analysis published this week, 21 of California's 58 counties have been holding in-person instruction to some capacity, or plan to soon. However, although many schools are able to phase back into a reopening process, many teachers cite concerns about testing, tracing and PPE that prevent schools in large districts from reopening safely.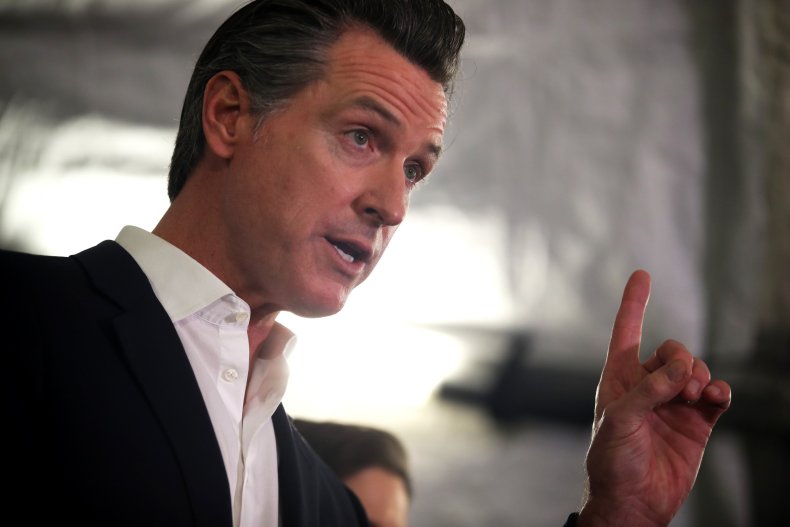 But critics are concerned that the reopening of private schools compared to continuously shuttered public schools in the state is a "double-standard."
"Will say again, we haven't come close to fully grappling with the fact that in many parts of America we now have private-school kids receiving in-person instruction, while public-school kids do Zoom," tweeted ProPublica reporter Alec MacGillis in response to Newsom's announcement.
GOP California State Senator Melissa Melendez also chimed in, tweeting: "Kids across California are locked down at home, struggling to get an education. So glad Newsom has been relieved of his 'challenging distance learning' situation."
She added: "Talk about white privilege."
"This is yet another instance of the political elitism in CA," wrote Republican congressional candidate Buzz Patterson. "Our kids are still unable to attend but Gavin's kids can? 'Let them eat cake.'"
California assembly members have called for the governor to propose more safety measures to reopen schools, including more testing. Newsom announced on Friday the opening of a $25 million laboratory that'll increase the state's COVID testing and thus help schools get back on track to reopen safely. The move comes a month after the California Teachers Association sent a letter to Newsom, Superintendent of Public Instruction Tony Thurmond, Assembly Speaker Anthony Rendon, and Senate Pro Tem Toni Atkins outlining their concerns about plans to resume in-person instruction.
Newsom is no stranger to criticism this week as Californians—including several celebrities—fired back at the strict restrictions imposed by the governor for Thanksgiving. The restrictions include gatherings having no more than three households; masks should be on after eating and drinking; and singing and chanting and shouting are "strongly discouraged."
"Dear Emperor @GavinNewsom. During our allotted 3 family limit this Thanksgiving, if my Aunt comes over, can I throw her a slice of turkey from the window?" comedian Rob Schneider tweeted. "We promise NOT to sing… we will all just whisper, 'PLEASE RECALL DIPS*** GAVIN NEWSON!'"
"Hey @GavinNewsom as a new California resident. I live in a condo," tweeted country singer Cody Wolfe, who has since deleted the tweet.
He added: "So therefore I can't have my Thanksgiving outside, but its okay I'm coming over to your place to spread some holiday cheer all over your dining room table."
The state reported 5,087 new COVID-19 cases on Saturday, bringing the total number of cases to 922,005. It has also added 55 more COVID-related deaths with the death toll reaching 17,626 since the start of the pandemic.
Newsweek reached out to Newsom's office for comment, but did not receive a response in time for publication.