Christmas is just two weeks away, so now is a great time to get decorating your home, if you haven't started already. A fun, traditional element of Christmas decorating is hanging up stockings over the fireplace, ready for Santa Claus to place some treats on Christmas Eve.
But this year, why not learn to make your own Christmas stockings?
Designing and creating your own Christmas stocking is the ideal way to add some personality to your Christmas decorations. Plus, a personalized stocking—perhaps filled with treats—would make for a great Christmas gift.
Additionally, once you've learned how to make a stocking, you'll be able to incorporate the design into the rest of your Christmas decorations—think mini stocking tree ornaments or a garland made from little Christmas stockings.
Not only will these projects bring some festive flair into your home, but they could be a great way to use up any leftover fabric from your main Christmas stocking project.
How to Make Christmas Stockings
First of all, to make your own Christmas stockings, you will need to gather your materials. Michaels has plenty of festive fabric to choose from this blue glitter cotton with Christmas trees to this berries and bells red glitter fabric, both for $12.99 a yard.
Next, you will need a Christmas stocking pattern. There are plenty to choose from online, including this Happy Hexie stocking pattern from Love Sewing magazine, which is free to download once you have signed up. Happiest Camper also has a downloadable stocking pattern, as does The Spruce Craft, though its pattern is for a fleece stocking.
A Christmas stocking is a fairly straightforward project to sew as it only uses two pieces of fabric, or a couple more if you choose to make a lining. More ambitious sewers can also choose to sew a cuff, but this is also pretty simple if you're an experienced sewer.
Take your two sides of patterned fabric and place them right sides together. Then, pin the stocking pattern to the fabric and cut around it. With the pieces of fabric still right sides together, sew around the edge, leaving enough space for a seam, and leave the top open.
Simply turn the stocking inside out and you have your basic shape. Sew along the edges at the top to neaten it up if you're not making a cuff.
Cut out a strip of fabric long enough for the loop. Fold it lengthways with the right side together and sew down the edge, before turning it inside out, joining the ends together, and sewing it to the top of the stocking. And there you have it!
If you want to involve children in this project, there are plenty of kid-friendly alternatives that they can get stuck into as you make your own stocking. How about this Snowman Christmas Stocking idea from Michaels? It's ideal for children aged six and over and only takes around 30 minutes.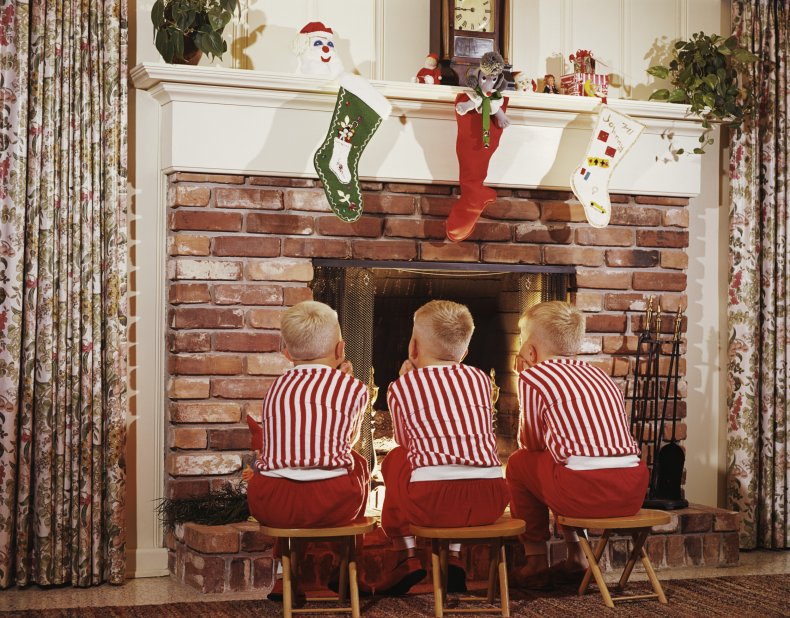 Top Decoration Tips
Now you know how to make stockings, you may be wondering how to decorate with them.
First of all, why not make sure the stockings match the color scheme of your holiday decor? This will ensure that the Christmas stockings look much more cohesive next to the tree.
The most traditional way to display stockings is by hanging them up above the fireplace. Alternatively, you could tie them to the stairs, or hang them on bedroom doors.
If the stockings you have made are small enough, you could hang them from the Christmas tree. Or, make as many small stockings as you can, and sew them together to create a garland that can be hung up on your walls.
Newsweek has affiliate partnerships. If you make a purchase using our links, we may earn a share of the sale.