I applied for my absentee ballot in August when I moved back to Washington D.C for the fall semester of college. I grew up in Arlington, Texas but I moved to Washington D.C. for university, where I'm in my third year studying political science. I didn't give it much more thought, because I've voted absentee before in other elections over the past few years.
But after some time, I still hadn't received my ballot, and when I checked the Tarrant County database online, my request hadn't been processed and my name wasn't in the system. And the county isn't able to issue an absentee ballot unless they receive the original signed application document by mail.
Because I'm a political science major, I spend so much of my time and energy telling all my friends and family how important it is to vote. I tell everyone; voting matters. This is your voice. It's the easiest way to participate in our electoral system. So, the idea of not being able to vote myself was awful. It felt hypocritical to spend so much of my time telling other people to vote and then not do it myself. I had to have my actions aligned with my values.
After a few more days I still hadn't heard anything. Then, on the afternoon of October 25, I was eating lunch with my friend Zach, talking about how we might not be able to vote. Zach is from Austin, Texas and we met in our Freshman year during welcome week. He had also not received his absentee ballot, and I remember that we just looked at each other and one of us said: "Do you want to drive to Texas?" We immediately decided that we should.
From that point we were just full of adrenaline because it was a very impulsive decision. We rented a car really quickly, emailed our professors and printed out school work we needed to do in the car. The time between making our decision and being on the road was just two hours.
I'd actually done the long drive before when school had to shut down because of the pandemic. I was at home in Texas for Spring break, so I had to drive back to D.C. and get all of my things. So I knew what I was in for! Zach and I left at 4pm and we drove for around 11 hours until we just got too tired.
At around 3am eastern time, we stopped at a motel in the middle of nowhere in Tennessee. The next morning I woke up and opened the door of the motel room and was faced with a giant field of cows. It was this feeling of: "We're in Tennessee, what the heck happened?!"
From there we had around nine hours left of the journey to get to Arlington. All in all, with sleeping, the journey was 27 hours for me to get to Arlington on October 26 and 30 hours for Zach to get to Austin.
I was worried that it would be a problem to vote in person, because I had requested my absentee ballot. But I had called Tarrant County elections administration in the car on the way to cancel it and I was able to turn up in the middle of the day on October 28. It was raining, so there wasn't a line. I just provided my ID and voted.
On one hand I was really glad to have done it. I felt really satisfied and that my mission was accomplished. But on the other hand, I was frustrated. It should not be this hard to vote. I live in a democracy and I still had to go all this way and spend my time and money to be able to vote. It should never be that hard to have your voice heard in an electoral system.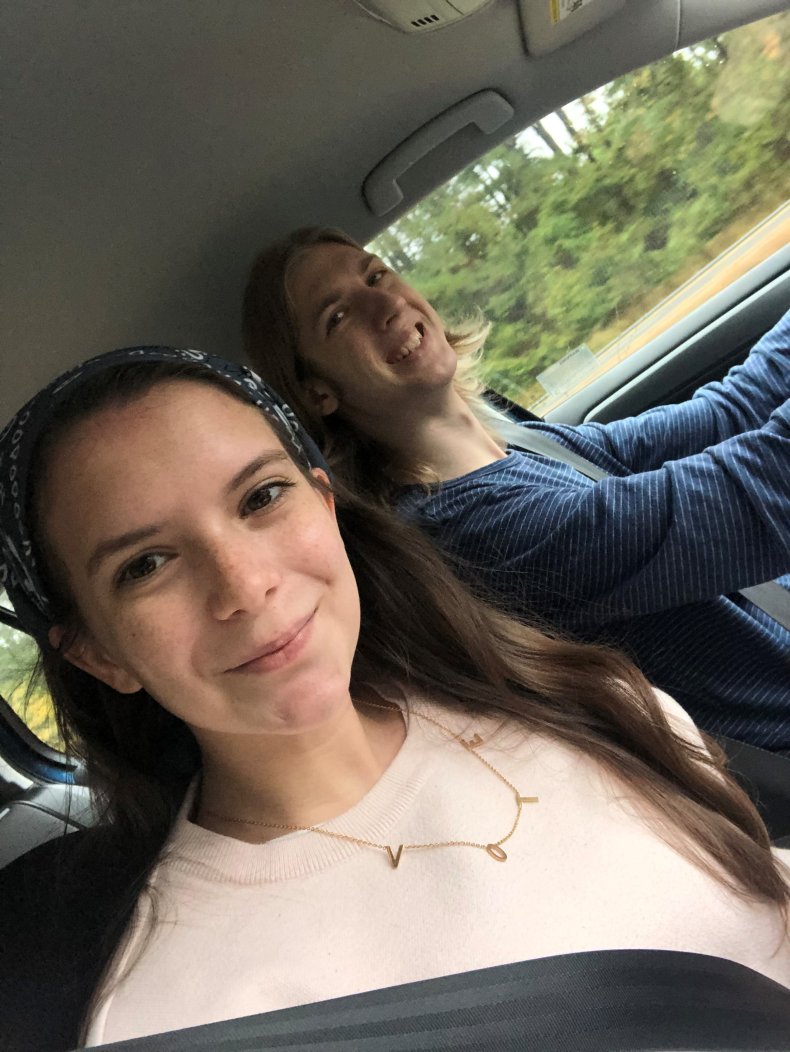 I have the privilege of having the time and money to make this trip. But the majority of people who request an absentee ballot and don't get it are going to run the risk of not being able to vote. They may not have the means to take time off work or school or be able to pay for the gas and motels to make a journey. And they shouldn't have to.
Last week, noone I knew who had voted via absentee ballot in my county had seen their votes processed yet. In Texas if there is an issue with the signature on your ballot, it can be rejected and there is no obligation to inform you until after election day. So it is a little unnerving for my friends and family some of them don't yet know if the vote they have sent in will count.
If people have the ability to vote in person, to make a long drive or spend an hour on hold with your elections administration, I would encourage those people to do that. If you have to fight for your vote, even though it's frustrating, it's worth it to put in that effort to make sure that your vote is counted. Even if you aren't sure whether you want to vote, because you don't want to stand in a long line, it will be worth it to have your voice heard.
I'm back in D.C. for election night, which is something I have looked forward to for years. Ever since I planned on going to school in D.C I've been excited to be in the capital on election night. I was here for the midterm elections and all the kids in my dorm were together in the lounge and everyone was just so excited.
So I'll be eagerly awaiting the result, glued to the news and looking at all the exit polls—I'll just be waiting it out like everybody else.
Meredith Reilly is a college student from Arlington, Texas. She is currently a junior studying political science at American University in Washington D.C.
All views expressed in this piece are the writer's own.
As told to Jenny Haward.