As I was a teenager, I had the opportunity to stay on a friend's private island in Georgian Bay, Ontario in Canada for a vacation. It had a number of smaller islands out in front of it and I remember that my friend and I were begging his parents to let us camp out there.
I fell in love with islands then, but I actually left home at a very young age—when I had just turned 14—and by 18 I had travelled through Europe and was staying in Germany. Every German I spoke to loved Canada, so I came up with the idea of starting a touring company in Canada. On one tour, a friend of mine with a sailboat offered to take my group sailing on St Lawrence River in Kingston, Ontario for a couple of hundred dollars—it would normally have cost thousands.
I remember sitting around a campfire with a group of German tourists, we were the only people on this Robinson Crusoe-style island and their eyes were just sparkling. That's when the seed was planted—I knew I had to get myself an island at some point. I was still a teenager with no money then, but I ended up travelling around Canada, looking for islands for sale.
As I was running a web design site at the time, I started a directory of private islands for sale on the site using all the images I had collected. I must have had 20 Canadian islands which led to some press attention. I then got a call from a guy in Panama who owned an island in Belize who wanted me to advertise his island for sale. We agreed on a commission—although I wasn't convinced I was ever going to get paid— and about six weeks later I got a check for US$60,000.
That day, I printed out the words "Private Islands" and stuck that on the door of my web design company.
I began to learn where the island regions were and what people were looking for. Unlike a holiday home, buyers were happy if they could get to their private island within a day and that really opened up the entire world. Canadians and Americans typically like islands in Central America and the Caribbean. Europeans like those areas too, but tend to also be into the Seychelles in the Indian Ocean, because of the direct flights.
Finding islands is never the problem, getting the buyers is the challenge. The typical island buyer usually has more money than most and they normally have a really entrepreneurial spirit and own their own businesses. They don't want to buy a ready made house they want to buy land to make their mark on. It's one of the reasons why picture perfect islands that are ready to go—known as "turn key" islands—are actually the hardest to sell. An island buyer who is looking for something out in the ocean that is going to require $100,000 to $500,000 in maintenance costs a year is looking for a project. Islands are very often second or third homes for these entrepreneurs. I have some very wealthy clients. Some celebrities also buy islands, but generally they tend to rent.
I had one guy who was a billionaire from the U.K. He was interested in buying one of the islands I own in Belize last year, but he wouldn't give his name. He flew in on a private jet but it was very important to him to travel anonymously. That's difficult to do when you need passports to book helicopters to get out to individual islands. I went along with it and we used his assistant's name. Housekeeping normally arranges flowers on the bed with the name of the people staying there. In this case the name was the assistant's name. But the billionaire loved it, although he didn't buy the island in the end.
I have another island in Belize and I just sold the majority share to the record producer Alex da Kid who has worked with Rihanna, Jay-Z and Nicki Minaj. He'd been on Richard Branson's Necker Island and was very influenced by that experience. He wanted a music studio on his island so he could have that island atmosphere to create music. He flew on his own on this huge private jet and we hit it off straight away. I showed him the island and he fell in love, he pretty much bought it right then and there.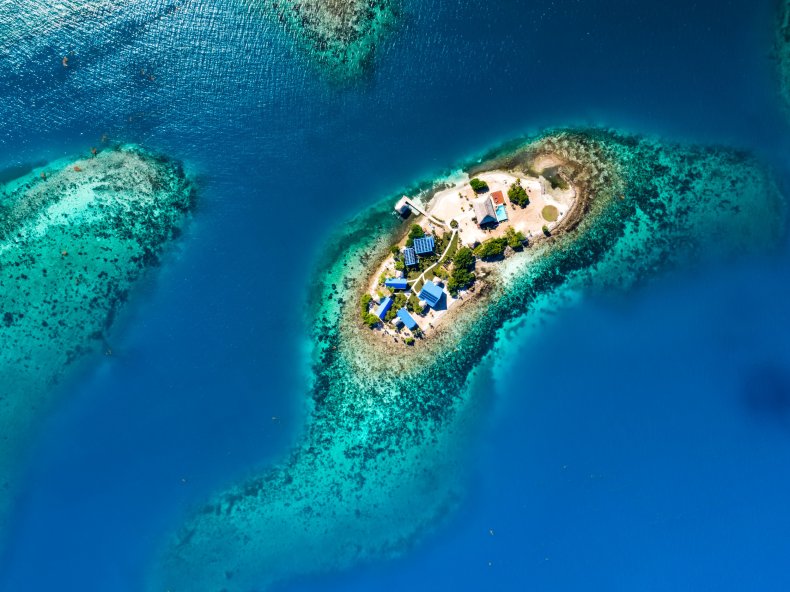 That's rare though, and we obviously rent a lot more islands than we sell. In Asia and the South Pacific all the very high end islands are for multiple groups to rent together, some have 12 or 20 villas. Some of these private islands to rent have everything from a spa, gym, restaurant and pool to a private chapel.
The Bahamas, Tahiti, the Maldives and more recently Belize have been popular areas for private island rentals with celebrities from the movie and music industry, as well as professional athletes. But we do full island rentals all the time and it's not always super wealthy people. Sometimes we'll have a number of families who will come together for a big family reunion. A villa for a couple on an island can be around $1,500 a night—you're talking about the lower end of the high end there! So if you hire out a private island with 20 villas as a group, usually you're getting to about that rate per villa.
But if an island is set up for 40 with 10 villas, multiple swimming pools and docks isn't really the ideal option for a couple if there is a smaller island with everything you need for two people. It's more intimate and wealthy people are wealthy for a reason—they're not wasting their money on empty villas. But, if you turned that island with ten villas into one huge villa with pools, a chef and spa for the same price, that's a whole different ball game.
The price range for buying an island is anywhere between $50million to $200million. We have an island for sale right now in Bora Bora for an asking price of $39million—but that's 9.60 acre island with 22 different structures including beach bungalows, a library, a photography studio, a great hall and staff quarters. The most expensive private island sale my company was involved in closed at around $130million.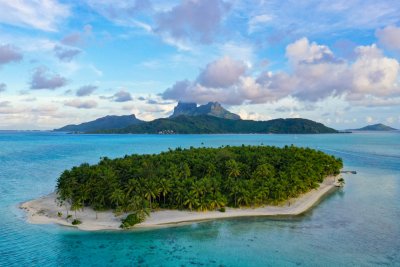 Generally speaking lake islands in Canada, the U.S. or northern Europe are cheaper, and the smaller the lake the lower the price. An island with a small cottage is likely to be a minimum of $200,000 and that would be on a lake with no running water or solar power. But on the east coast of Canada you have Nova Scotia and I've seen islands with no structures on sale there for $40-$50,000. Mind you, they are very remote and you're probably only going to be able to use it for eight to ten weeks out of the year. I was in Nova Scotia for five days to show an island to people and the weather was so bad, I couldn't get out there to show it for the whole five days straight. Imagine if you're living in Europe and you have an island in Nova Scotia and you travel there for a vacation and can't even get out to it.
The big change I've seen in the past 15 years is that even remote islands are much more habitable. The biggest problem on an ocean island has always been drinking water and a desalination system on a private island used to cost up to $200,000. But, over the years they have been scaled down and you can now buy a small desalination system for a two-bedroom house for around $10,000. Solar systems and batteries have also really come down in price and you can get high speed internet on islands in even the most remote locations.
We have seen a lot more interest since the pandemic began, but while privacy used to be the main thing, now telecommunications is. People want to know if they can work from an island or get there safely. But the interest isn't because people are worrying about another COVID-19 style pandemic happening and wanting an island like they would want a bomb shelter. It's more sense that everyone is looking to move out of the city, into the suburbs, and an island is just the extreme version of that. The reason we haven't had many sales is very simple—people can't travel, so they can't get out to see the islands.
To that point, we normally have 13 to 16 islands for sale at any one time in Georgian Bay, Ontario where many wealthy Canadians from Toronto have their islands. You can reach them by boat from the mainland, but usually they sell for a little less comparatively to other islands as it's a difficult body of water to navigate. Earlier this year, all available islands sold and all for full price.
The biggest lesson I have learned in 22 years of selling and renting private islands is not to judge a book by its cover. I received an email years ago in all caps saying "I WANT BUY ISLAND WIN LOTTERY" . We do get lots of crazy ones like that, but this was a real person. They ended up being one of my best clients and they have purchased three islands so far.
If you are an islomaniac—someone who obsessively loves islands—once you have been bitten by the island bug, it stays with you forever. I am definitely an islomaniac and not just because I make money through them.
My island in Georgian Bay has been my saving grace through the COVID-19 pandemic. It's a little bit of normalcy in a crazy world. On an island, it almost seems like time passes more slowly. If you've got kids it really enforces family time—anyone who wants to leave would have to get on a boat and you can even turn off the internet.
It takes me 1.5 hours to drive to the marina and 30 minutes by boat to get to my island. On a Friday afternoon I am on my island by dinnertime.
And when I'm there, I really am the ruler of my kingdom.
Chris Krolow is a Toronto-based entrepreneur who is the founder and CEO of Private Islands Inc. He owns two private islands in Belize, Gladden and Kanu both of which can be rented. He also owns a private island in Georgian Bay, Ontario. He has been selling and renting islands for 22 years and hosted the HGTV show Island Hunters since 2013.
All views expressed in this piece are the writer's own.
As told to Jenny Haward.