Ever since photographer and road-tripper Foster Huntington unknowingly spearheaded the "van life" movement in 2011 by living out of an '87 Volkswagen Syncro, many restless travelers have been inspired to follow in his footsteps. Foster's Instagram hashtag #vanlife, which has now been used over 8.5 million times, has fueled this idealistic outdoor lifestyle of freedom on the open road. And this was all before COVID-19's travel restrictions inspired 2020's year of the road trip.
Like other city dwellers, I have fantasized about jumping on the #vanlife bandwagon, but have been inhibited by the realities of the van life dream. With family and home obligations, most of us simply can't drop everything to live out of a van, and purchasing and converting a van to a mobile dwelling space is a costly undertaking, with estimates ranging from $10K–$100K.
Fortunately, there's another road-tripping trend out there in which people have forgone RVs and vans, and simply use gear to camp inside their cars—a movement that I've dubbed "Car Glamping" after having invested in it myself. As a travel writer, I used to fly off to faraway places, but the pandemic has forced me, and many other travelers, to seek adventures closer to home.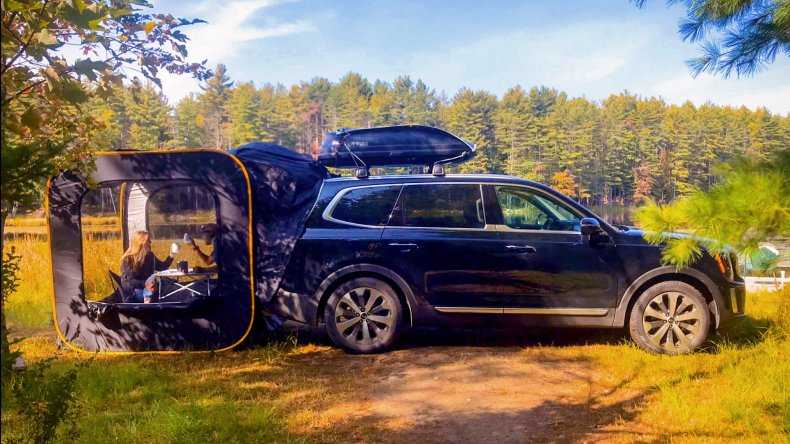 For me, the concept of car glamping has been a continual work in progress, researching the multitude of equipment on the market, and acquiring each component in piecemeal under the circumstances of this problematic year. I've managed to test all this gear through experience, having set up camp out of my Kia Telluride in coastal Maine, the Adirondacks, and the Catskill Mountains of New York on extended weekends. So far, I've come to discover what others have, that investing in camping gear fit for a car is a very viable substitute to a van conversion.
"Take the vehicle you already own and with a few thousand dollars, you can get pretty darn close the same experience you get with van life," says Sam Gross, CEO and founder of the Berkeley-based Nomad Kitchen Company, which manufactures mobile kitchen units fitted for SUVs.
Gross' vehicle-mounted kitchen, along with other gadgets in the growing car glamping market, have transformed the car to be less of a mere storage and transport vehicle parked on the side of a campsite, but rather the heart of the camp itself. Much of this gear has been invented out of a desire to elevate the car camping experience, by those who have already become aware of this van life alternative. Since roadtrips will continue to be trendy until a vaccine is widely distributed, you might as well camp out of your car with some comfort, convenience, and style.
Sleeping in a Car is No Longer an Act of Desperation
One existing option for using a car as the base of camp is a rooftop tent, so the interior cargo space can be used for storage. However, the issue with rooftop tents is that many car roofs aren't exactly designed to support a heavy load, and so, I simply sleep inside my car on an inflated mattress. I keep my gear in a rooftop cargo box, allowing me to fold the back seats down from the rear cargo space to make room for it, fitted with sheets, a blanket, and compressible pillows.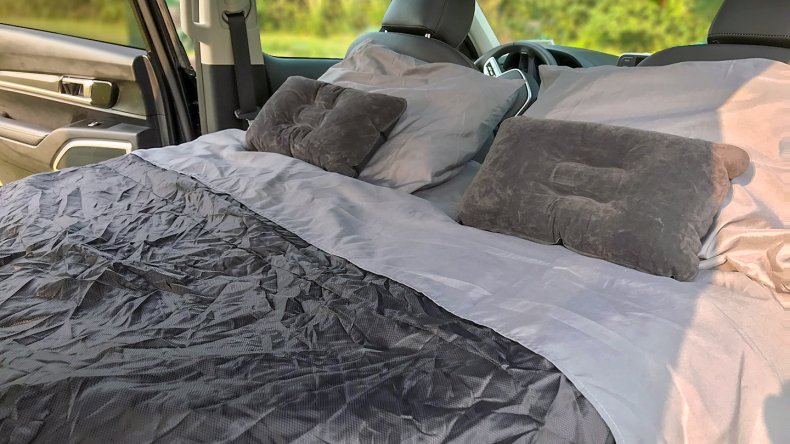 I'm not the first person to make a bed in a car. A quick search online reveals that there are plenty of inflatable car mattresses on the market, feeding the existing demand of people who have already come to realize what I have: sleeping in a car is no longer an act of desperation, but rather an easy, cost-effective solution for spending the night. However, I've learned over time that not all car beds are comfortable or durable, just as the founders of car mattress company Luno have.
"We all shared the experience of sleeping somewhat crammed in the back of our SUVs with thin sleeping pads, imagining that the experience could be a whole lot better than it was," says Allie Vaughn, Head of Product at the Santa Barbara-based company.
The results of their research to upgrade the car sleeping experience is now their line of durable car mattresses made of 300D Oxford Nylon, with a stock tailored to maximize the spaces of over 1,800 vehicles. Their goal is to deliver a better night's sleep to many car campers, no matter what make or model they have.
From SUV to Micro RV
Since the bed consumes most of the available area of my car's interior, I've had to explore ways to expand the dwelling space outwards—thus, converting my SUV into a makeshift "micro RV." There are packable awnings and tailgate tents, but I decided to augment my basecamp by opening the trunk's hatch door upward to help support a CARSULE, a 6-ft. cube-shaped tent that packs down to a 5-inch thick capsule, just 34 inches in diameter.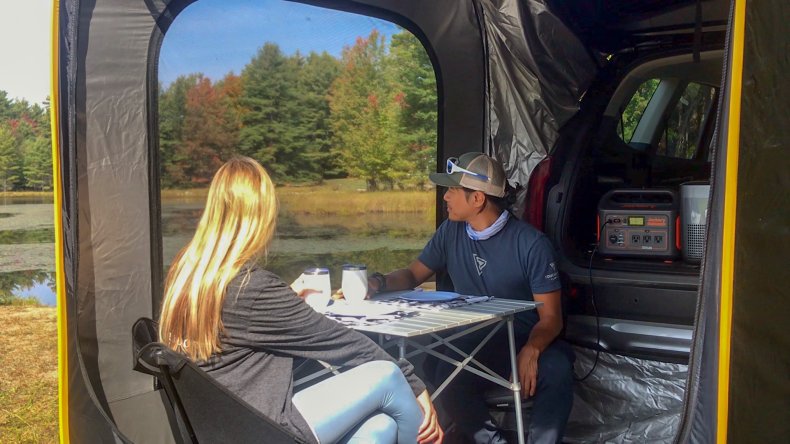 "With this design, you can reach places that are off limits to big RVs," says industrial designer Ack Lin of Singapore/Taiwan-based operation Mogics, CARSULE's creator, in their Kickstarter video. Lin shares that his infatuation with van life inspired him to invent a less expensive alternative to a van conversion. For about $300 USD, his CARSULE provides a rain- and UV-protected mobile hut, which addresses issues he found with many tailgate tents on the market.
"Current SUV tent assembly takes too long, and the view is not good enough," says Ivy Chen, spokesperson for the CARSULE.
I've had frustrating experiences setting up packable canopies with too many parts, but now I just place the CARSULE pack on the ground and pop it up with support poles in about five minutes. Installed, it becomes a relatively spacious shelter with maximized headroom and large mosquito net windows on three sides. It creates a "living room" for a table and chairs so that I can work remotely, project movies onto one of the walls (with a window zipped closed), or enjoy meals that I prepare with the mobile kitchen unit that conveniently slides out from the trunk.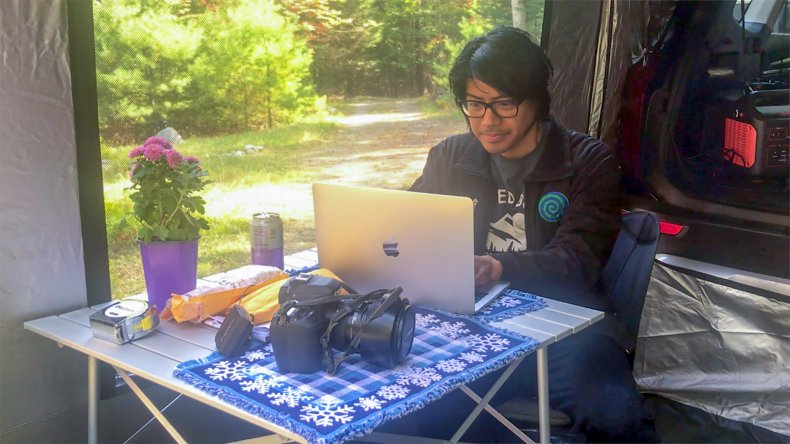 Everything and the Kitchen Sink
Cooking in camp for me used to be a disorderly task with propane bottles, camp stoves, and the many parts of a mess kit, plus all the ingredients—let alone having to clean up everything afterwards. Others have felt this frustration, including Sam Gross of the Nomad Kitchen Company.
"Setting up and taking down before and after each meal was alright, but it was a hassle," Gross says. "It took up time that I would have rather been hiking or enjoying time with friends. My trunk was a constant mess, and I never felt like my dishes were as clean as I'd have liked. As an engineer, I knew there was a better solution."
The outcome of his goal to elevate the road trip cooking experience is the Indiegogo-crowdfunded Nomad Kitchen, a low profile storage box that can be easily mounted into an SUV without tools. Supported by ratchet straps hooked onto existing cargo or carseat loops, the unit slides out to reveal a stainless-steel washbasin for a spigot-compatible water jug, a cutting board, a drying rack/storage bin, and a platform for a two-burner stove with a strap to support a propane bottle.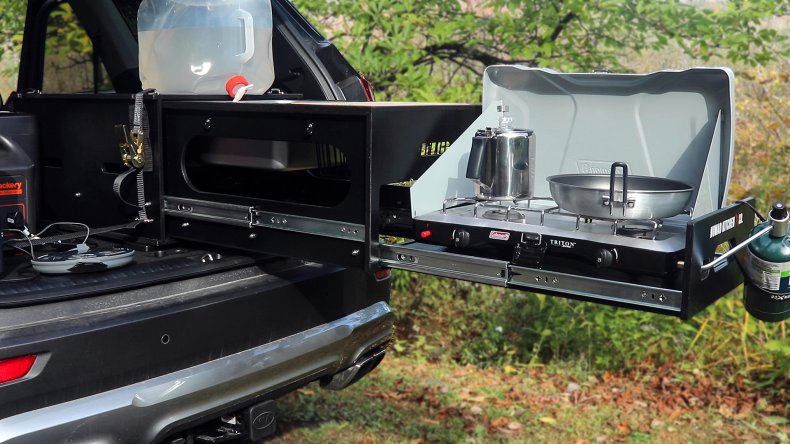 No kitchen is complete without a refrigerator, so next to Gross' invention I have the ICECO GO20 refrigerator/freezer, one of many vehicle-specific refrigerators on the market—another indicator of the growing car glamping trend. They're all designed to pull power from a standard 12V lighter socket—that is, when the engine is running. However, for those long durations idle in camp, there's a whole market of portable power sources.
Power Up
Gas-powered electric generators are a thing of the past now that there's an entire competitive industry of portable power stations—yet another solution in making mobile life more convenient. They're essentially Lithium ion battery-powered inverter generators with no emissions, and thus can be used safely indoors, vehicle or otherwise. I invested in the Jackery Explorer 1000, which can power my fridge for over four days on a single charge, while still recharging my phone, tablet, and camera batteries. It also powers the other gadgets of my car glamping life: a blender/coffee bean grinder, a cell signal booster, and a projector for movie nights.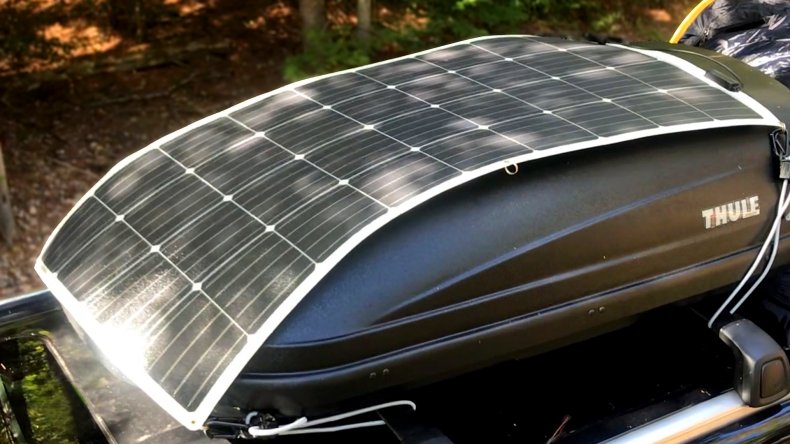 My power station allows me to get off the grid for days, if not longer; I've also invested in a Renogy solar panel that can continually provide me with renewable energy for as long as there are sunny days. Ultimately, I can extend my time out on the road almost indefinitely, just like a dedicated van lifer.
Pack It Up, Pack It In
All the gear of my car glamping life packs extremely well—and relatively quickly if all the dishes are already washed. With a little teamwork, it only takes roughly half an hour to get the mattress deflated and rolled, the CARSULE transformed back into a capsule, the Nomad Kitchen slid closed, and everything put away in my storage boxes. And when all my gadgets are compressed, folded, and stored, my car blends in as any ordinary SUV on the road.
"SUVs are discrete, not calling attention to yourself and belongings all the time. All the camping essentials can fit inside the car, or on roof storage, and you can still strap or latch bicycles to the back of a car," says John Devine, an outdoor enthusiast from Denver. "This is more realistic than a van life because not everyone has a van, but everyone has an SUV."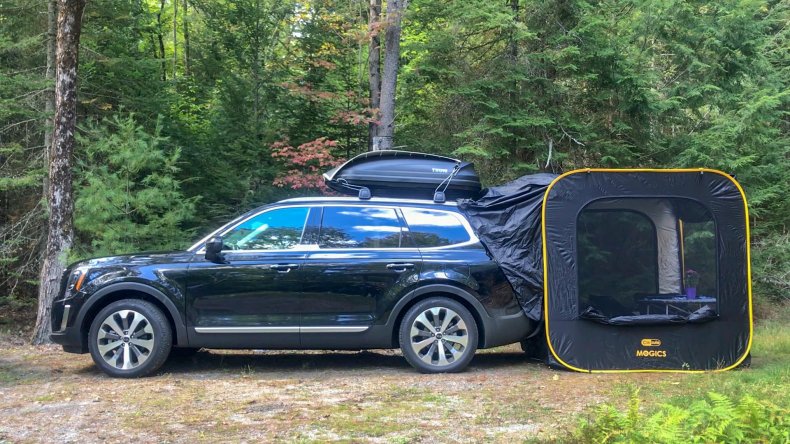 The car camping trend that I simply gave a name to—along with the eponymous hashtag #carglamping—was nothing new to him; he had already been camping out of his Chevy Equinox for over a year and a half, like many others in their own cars.
"I think those people are increasingly realizing the vehicle they currently own is enough to provide an awesome experience and a comfortable space to sleep," says Allie Vaughn.
My car glamping journey will continue to evolve with new destinations and new gadgets—all of it chronicled on my web series and site, CarGlamping.com—even after a vaccine is widely available. Currently, the only necessity I'm missing is a bathroom solution, but for now, I'm content with using a campground's facilities for its toilet and shower.
However, my initial research has revealed that there already exist various toilet solutions, and that someone has even invented a portable hot water heater, so that you have access to a hot shower, even in the middle of nowhere. It's yet another example of necessity being the mother of invention when it comes to elevating the camping experience. Van not required.
—
Erik Trinidad is a food and travel lifestyle writer who once lived out of a backpack while traveling around the world for a year and a half, years before he started camping out of his Kia Telluride on long weekends. Follow his #CarGlamping journey on CarGlamping.com and on Instagram @carglamping.