A Texan couple unable to make Thanksgiving have surprised their grandkids with life-sized cardboard cutouts made in their image to join them at the dinner table.
"My husband and I fall into the 'vulnerable age' category, so we made the decision a few weeks ago that we would not travel to either the Texas Hill Country where our son and family live or to California where our daughter's family live," Missy Buchanan told Newsweek.
Instead, the Rockwall couple brainstormed a creative way in which they could still celebrate the holiday with their grandchildren.
"With the rising COVID numbers, we thought it was a good opportunity to show younger generations that we could have fun 'celebrating' even though we were not together physically," Missy explained.
"For us, it's all in the attitude… and we chose to bring some laughter to a challenging situation. So my husband and I took a full-length photo on our porch and sent it off to an online service and had them ship the 6 ft-tall cutouts to where our adult children and grandchildren live."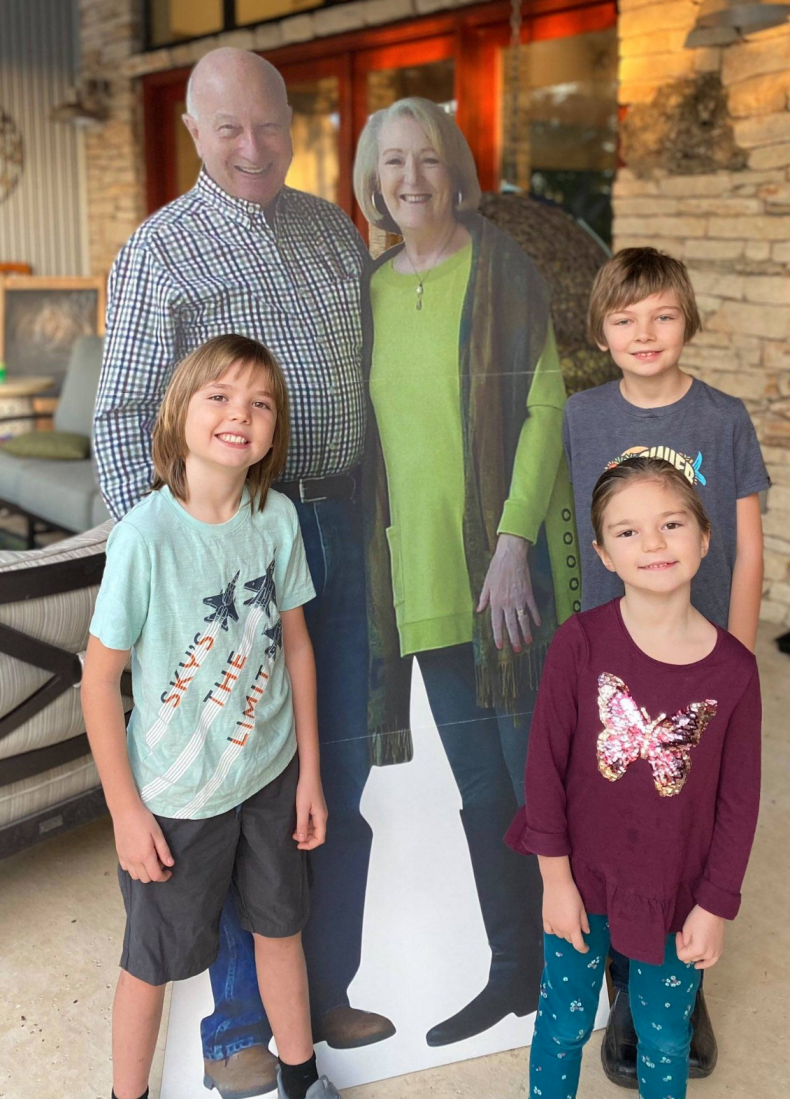 In preparation, Missy and Barry Buchanan warned the kids that "a rather large box" would be coming and that it was something for their Thanksgiving table.
"Oh my, they thought it was hilarious!" Missy said. "The three-year-old in California has 'propped' us up in his room and even talks to us."
Her daughter, Mindy Whittington, said that although she wished the family could all be together this year, she appreciated the fun prank.
"We all opened it up at the end of the day thinking it was going to be socks or pajamas or something like that," she told 12NewsNow. "We opened it up and it was hilarious."
All three grandkids also got a kick out of the amusing arrival.
"We walked up and we opened the door of our garage and they're like, right in front of us," granddaughter Clara said. "I thought it was the real Ama and Poppi, then I looked around and I'm like 'No.'"
"[It was] a little bit scary when I walked in the front door," grandson Quinton said. "They were just standing there. I got a little bit freaked out."
For Missy, the doting grandmother just wanted to make the celebration memorable and safe, with a little humor.
"I was just trying to think of something fun, I have really creative and fun kids and grandkids," she said. "I wanted to make it memorable.
"I want to show our younger generations that we can be apart, but we can still be a part of each other's lives in our celebrations."
"As COVID-19 numbers continue to rise, we wanted to show that you can have fun and help keep everyone safe, too. I have so many friends who have been impacted by COVID-19. For us, it's an act of love. And our kids and grandkids are having such fun with 'us.'"