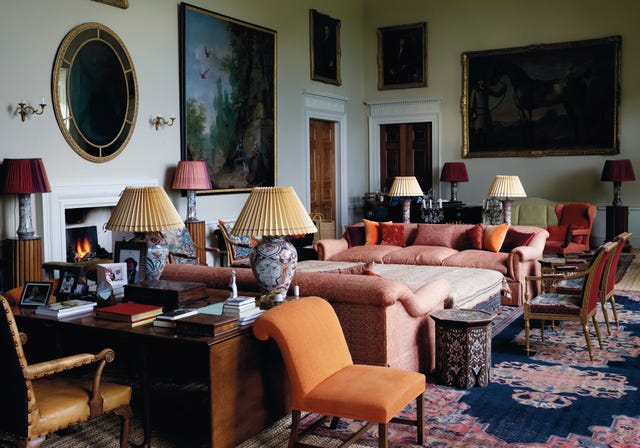 Simon Upton, Courtesy of Christie's London
English country style lovers, rejoice! Renowned fashion and homewares designer Jasper Conran is downsizing, trading his apartment at New Wardour Castle in Wiltshire for a smaller home in Southwest England. As part of the move, he's auctioning off his vast collection of furniture, art, and tableware at a sale with Christie's London, offering bidders a chance to snatch up a piece of his singular country house vision.
It's a vision he has refined over decades of residing in some of the most spectacular English manor homes, including Walpole House, Chiswick; Flemings Hall, Suffolk; Ven House, Somerset; and most recently New Wardour Castle, Wiltshire.
Designed by architect James Paine in 1769 for the Arundell family, the Palladian-style building is perhaps best known for its rotunda containing a double-cantilevered staircase. "You're just transported from something rather pedestrian into something incredibly magical," says Conran of his first encounter with the space in a video produced by Christie's for the sale. "It is like no other house I have seen. It has a theatricality — and an imposing theatricality to it at that."
The designer is no stranger to theatricality in design, having created a few spectacular fashion moments for Princess Diana and having designed sets and costumes for production by the Royal Ballet, as well as other opera and theatre productions. Conran has also served as Creative Director of The Conran Shop, founded by his father, designer Sir Terence Conrad; in 2016, he opened his first hotel, L'hotel Marrakech, which quickly climbed to the top of many luxury hotel must-stay lists.
Regardless of how global or glamorous Conran's work may seem, the designer has never lost affinity for the history-steeped aesthetic and sense of self-expression that pervades the most extraordinary English country homes, his appreciation for which he chronicled in Country, a lifestyle book he wrote and published in 2o12.
s
His narrative approach to furnishing a home is evident in the lots coming to auction at Christie's. "What I love is this collection of objects that come from all different parts of the world and this putting together over centuries the different elements that go up to make the furnishings of the country houses that fascinate me," he says. "Each of them has a story and a tale to tell."
Conran insists not a collector but an instinctive purchaser. "What I am involved in is an aesthetic marriage of objects," he says. "I don't lay any claim to being the world's greatest expert, but I do have a beady eye for the beautiful."
Conran's collection will come to auction in two parts: The Collection Part I, which will take place live on September 14 (lots 1-213), and The Collection Part II, which will occur online September 1-21 (lots 301-524). The items, which Conran has amassed over thirty years, span four centuries.
Christie's specialist Benedict Winter cites among the highlighted lots a George I 'angel bed' from Hawarden Castle in Wales that once belonged to the family of the Victorian Prime Minister William Gladstone. The bed, which is upholstered in chintz cotton and velvet and was made in 1725 (then reconstructed in the 1920s), derives its unusal name from its suspended canopy.
A pair of George III window seats featuring white painted simulated bamboo legs, which are dated 1764 and signed by William Strickland, nephew of 18th century cabinet maker William Vile, may find wider appeal among today's collectors for their versatility in style and use. "They are surprisingly modern for something made in 1764," notes Winter.
Beyond the highly pedigreed lots (which, in addition to those highlighted above include a pair of George III Giltwood Console Tables based on a design attributed to Thomas Chippendale from c. 1760 and early English portraiture masterpieces such as Robert Peake's 17th century Portrait of Cecelia Neville), the Christie's sale includes scores of lamps, lanterns, garden furniture, rugs, upholstery, mirrors, porcelain, and tableware that will lend English country house patina to any home.
"Jasper's collecting has been focused on English furniture and portraiture with which he has a natural affinity and appreciation. He has bought pieces for their rarity, provenance but also most importantly as decorative objects," says Winter. "In viewing his collection as decoration, and he lays no claim to being a great collector, he has effectively balanced connoisseurship with beauty, something which has defined his interiors over the last thirty years."
Conran acknowledges that he is sad to part with his vast collection but notes that he is "nothing if not pragmatic. I would much rather that, instead of being hidden away in some dark storage places, these lovely objects go on to have new lives in new homes. That, after all, is what they were made for."
This content is created and maintained by a third party, and imported onto this page to help users provide their email addresses. You may be able to find more information about this and similar content at piano.io