Life online has always come as second nature to Ludovic de Saint Sernin. Across his eponymous brands' two Instagram accounts — one being an, uhm, 'intimate' community-showcasing finsta — the Parisian designer engages his following with an endearing excitement and casual warmth that doubtless have large brands' social media managers frantically taking notes. The lack of the cloying mock-friendliness that we all know too well from many labels' socials accounts, though, owes little to any ingenious strategy on Ludovic's part — rather, he just sees each of the people that make up his loyal 150k following as part of a digital network of friends. 
Ludovic's URL savvy came in handy as soon as lockdown hit; when store orders were swiftly cancelled, "my boyfriend and I just shot all the stock, put it all up on our website, and sold it there," he says, with the LdSS community stepping in to support. "We were so grateful to see how the community showed up. It's one thing for people to like your pictures and comment saying they want to buy things, but for them to actually buy it was really humbling," Ludovic says. As such, his SS21 series of bright, characteristically sexy cross-laced bandeau and Swarovski-encrusted crop tops for boys, and eyelet bras and skimpy satin and rainbow crystal mini-dresses for girls is intended as "a huge thank you to the community, I really wanted to create something that was really for them." 
There is, however, a further online source of inspiration for the collection. Titled E-Boy, it's an unabashed love letter to TikTok chic — like for so many us, much of Ludovic's lockdown was spent scrolling the FYP — presented in a series of images that convey something we've either finessed over the past few months, or will have to over the months to come: turning looks for the world to see from the comfort of our bedrooms. Below, Ludovic fills us in on how he designed with digital in mind, creating a sense of community through nudes, and whether he sees himself returning to the runway.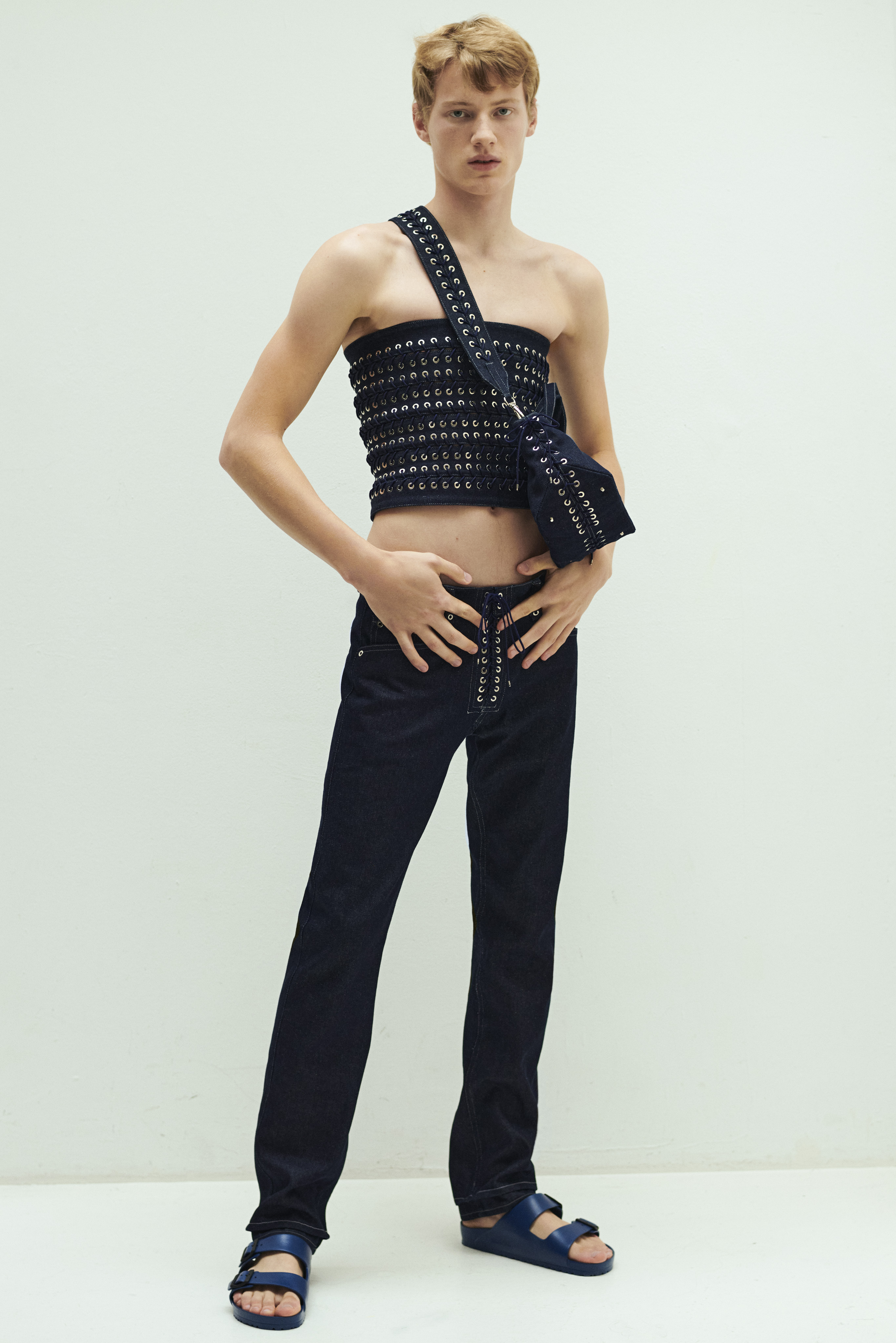 Your SS21 collection's called 'E-boy' — what's the story there? 
I actually came up the idea before I showed my AW20 collection! Doing my last show, I realised how expensive everything is, and that if you put on a show only a couple of hundred people can come. So I was originally thinking of doing something digital, something that's not a show, but that could have as much impact as one. I really wanted to shine a light on people that are in my community or people that inspire me on Instagram and TikTok, that create these amazing images and videos that allow you to discover their whole world. There's something so fascinating about this relationship that you have with Instagram nowadays — it's basically public diary for everyone to see — so this collection was really about that relationship with yourself and how you share it with the world. I find it so interesting that you can think you're all alone, and then find out that there are hundreds of thousands of people that love the way you dress. There were key things I picked up from either TikTok or Instagram that I thought were really cute — you'll usually see people wearing a vintage polo that's been cut out into a little crop top, so we did a Swarovski version of that. And then we wanted to create the perfect pair of LdSS jeans, because I wear jeans every day. I wanted to go in a direction that's a bit more wearable, but that also still keeps the fantasy alive– so you have the rainbow, and the collection's full of colours. And at the same time we've also created more women's looks, so it's been a really fun collection to design.
A couple of other brands have also turned to TikTok for inspiration this season. How did you approach putting your unique spin on the theme? 
The thing with LdSS is that I embody the brand, and I'm directly in touch with everyone. I take my inspiration from screen-grabbing looks on Instagram or TikTok, and I just value them so much, because I know how much thought has gone into what they're wearing. I just wanted to do this collection for me and for my friends, and I think that's when it becomes more real.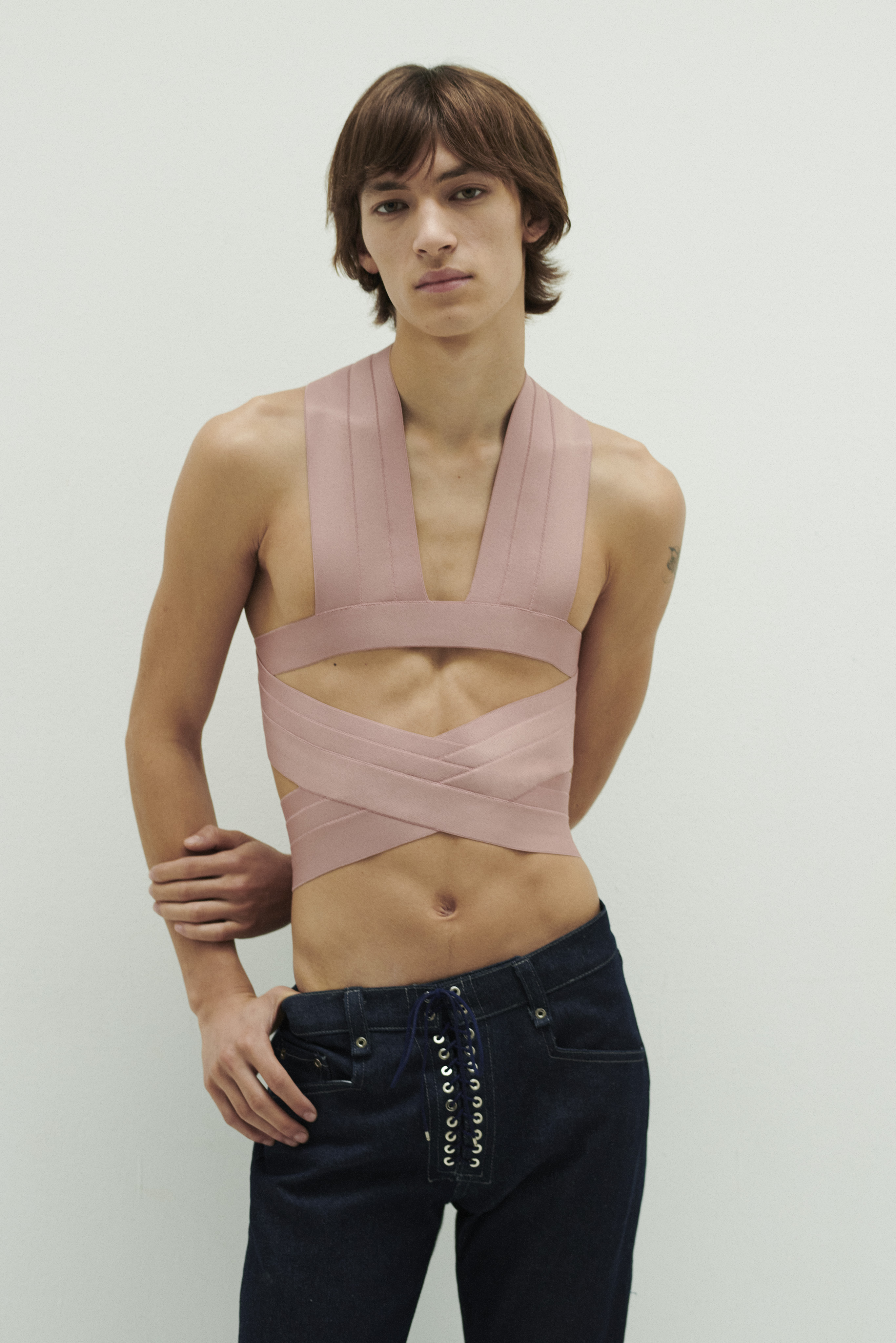 When you were designing the pieces, were you conscious of how they would translate on a screen? 
Totally, because I knew that I was going to show it digitally and that I would also be selling it digitally. When you do a show, you can have filler looks, just to let things breathe a little bit; or you have some styling pieces that are there to highlight other piece or whole looks. This season, though, there was no room for that — everything had to translate well in a picture. Beyond having a fashion brand, though, I love creating imagery, and it was really important to be able to take the time to do that this season, to ensure that the looks really came across the way I wanted them to. And there's more ability to do that than with a show, where the model is just walking down the runway. Even though it's such an amazing moment, looking through 30 pictures of someone walking can also feel a bit repetitive, even though they're all wearing different looks. Creating imagery for each one felt a bit more dynamic. 
There's a real 'party' feel to the collection, which is interesting in the current context. What inspired you to take it in that direction?
Well, every collection of mine is very much autobiographical, and I'm a late bloomer when it comes to partying — I only really started being more extroverted and enjoying nightlife just before lockdown. So when it began, it was so frustrating, because I'd just started exploring that and then all of a sudden everything closed down. So this was an optimistic vision for next summer, when, hopefully, we'll be able to put this all behind us. It also came after my AW20 collection — the heartbreak collection — which was very dark, with lots of black. This time, it was also about new love, and fun and friends.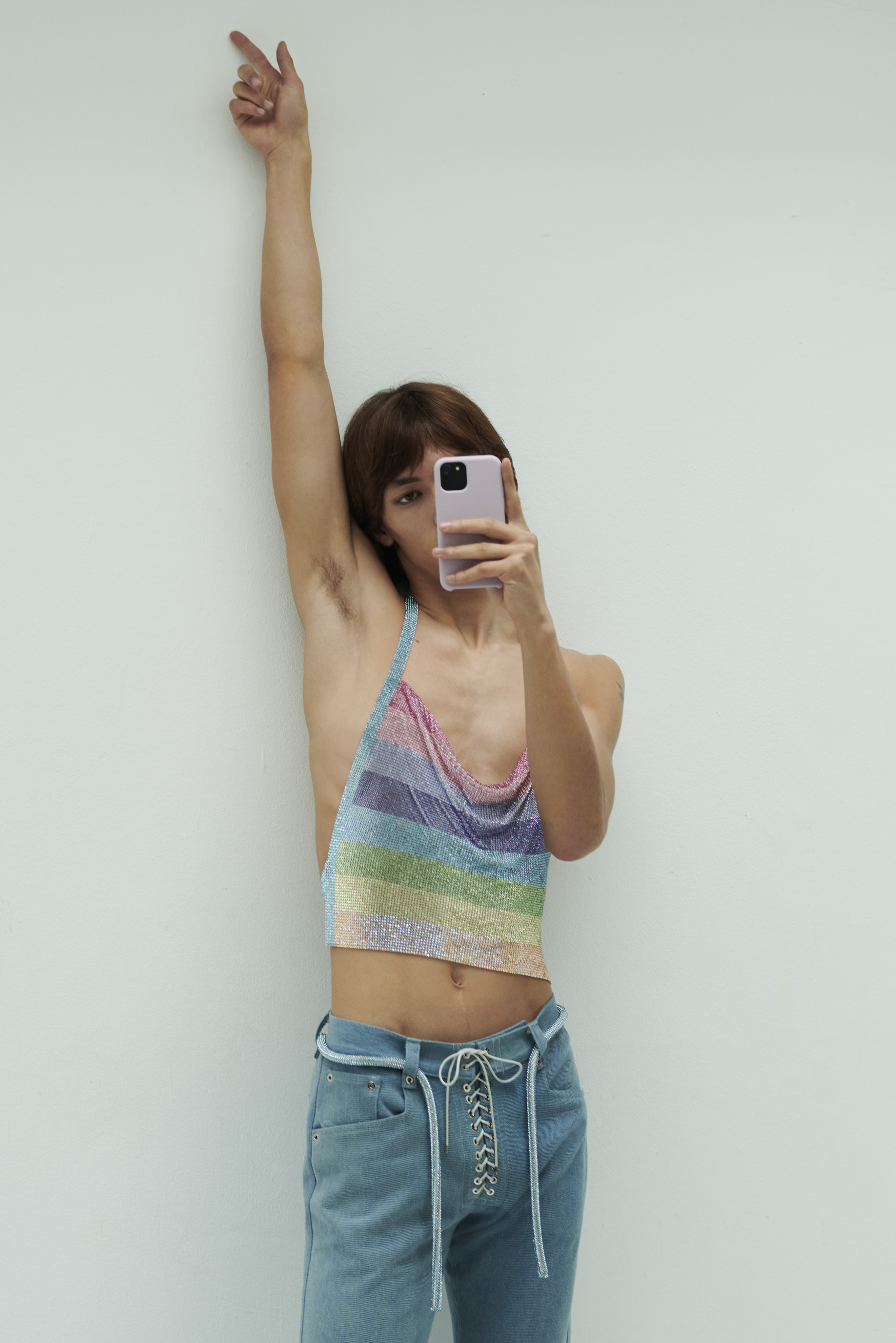 You've really pushed the brand's eyelet signature this season — the denim bandeau tops and the eyelet bra, for example. Why did you want to highlight that this season?
It's funny because when I started the brand, coming from Balmain, I wanted to do something quiet with very toned-down, natural colour palette. I had a few signatures already at the start, but I never wanted to go too crazy with them. I wanted to keep things a little understated, and for the people who recognised it to really be in the know. I know that everyone had been waiting for me to do something like this for a long time, so I just went for it this season. 
It sounds like this collection was really made with the brand's community in mind. Over lockdown, you also made a real effort to engage your @ludovicdesaintserninx following, creating fun, themed nude 'challenges', for example. Why was that so important to you? 
I think it's me being a Virgo — we love to support and just be present. And most of my friends aren't here in Paris, they're in LA, New York, London. Even though we can't travel, it's important to stay close to one another. And I think there's this whole aspect of the brand that's all about escapism — which doesn't mean denying what's currently going on, but rather trying to provide something that's dreamy and beautiful, that gives you good vibes.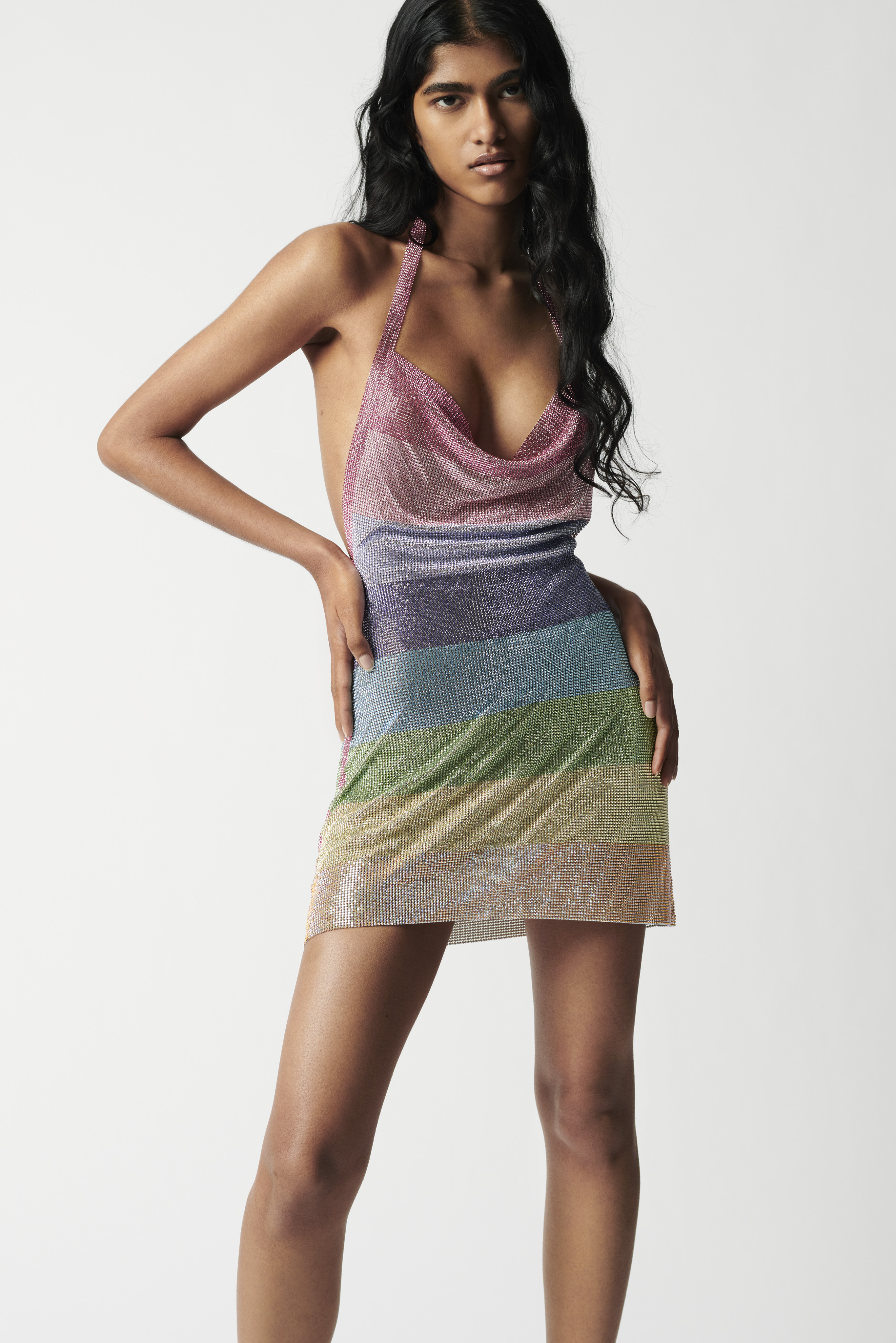 The idea of fantasy and escapism was the focus of your collaboration with artist Jack Taylor Lovatt. How did that come about and what drew you to his work?
I've been following him for a little while, and my boyfriend actually gifted me a piece of his that he'd commissioned. When I saw it in my living room next to my clothes, I was like, 'OK we need to do something,' because what we explored is so connected. So we started talking and he did the 'Don't ruin my fantasy t-shirt', which I just love. And then he did other drawings on our lace-up jeans. And there are actually two more pieces that aren't in the lookbook, a black leather top with a drawing two boys kissing. And then a pair of boxers with a boxing glove. And then he drew on the eyelet briefs, too.
Looking to the post-pandemic future, has your experience this season changed your perspective on how you'll continue to present your work? 
I do love traditions and there's nothing like the thrill of the show. For this collection, I think it made a lot of sense to show it digitally, especially given the current context. I don't know what January is going to be like, but I'll be coming back to the runway as soon as I can! Maybe it'll take a different shape, I have no idea. Who knows what tomorrow will bring, but what's been really interesting for me this season is learning to live in the present and being able to project and dream.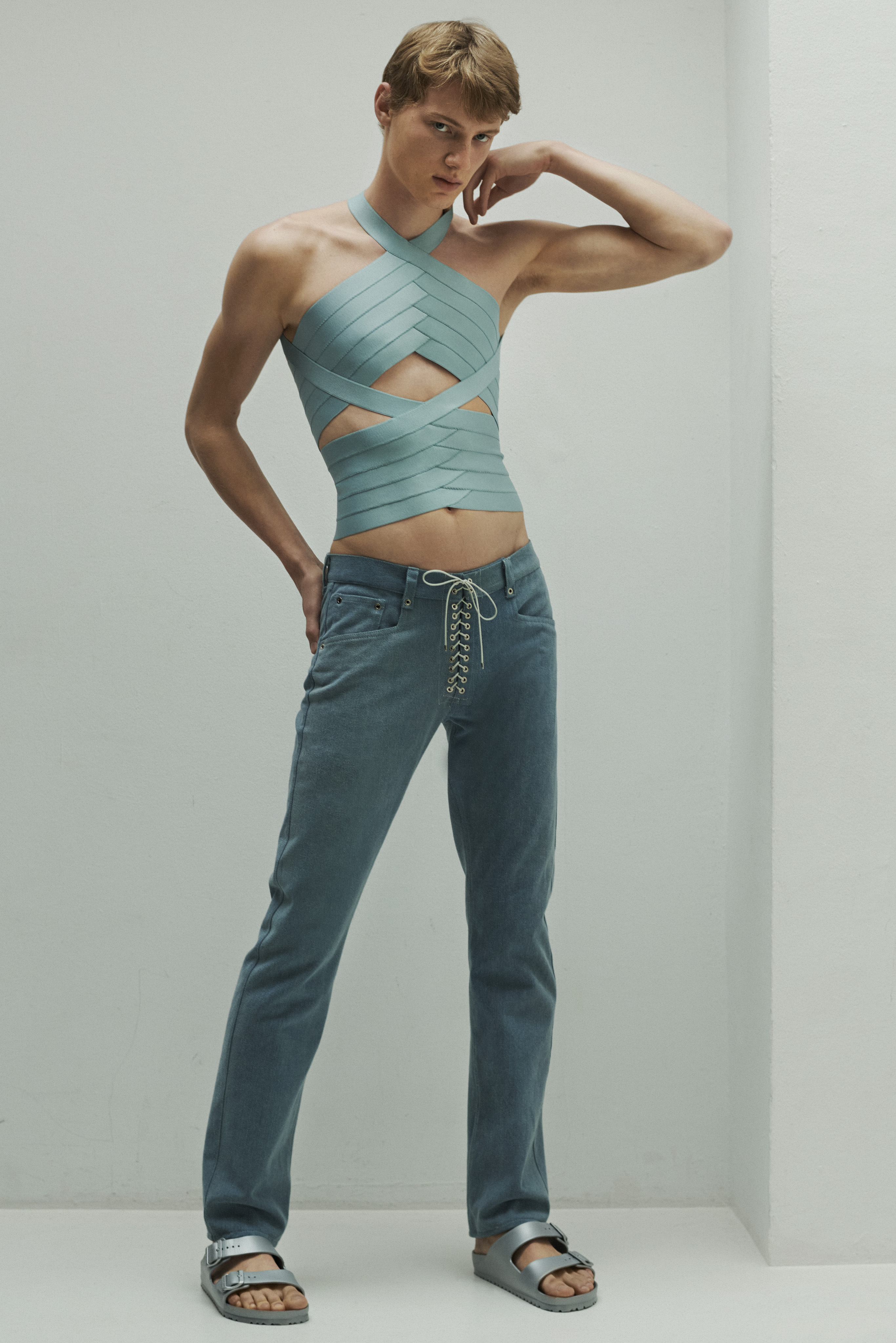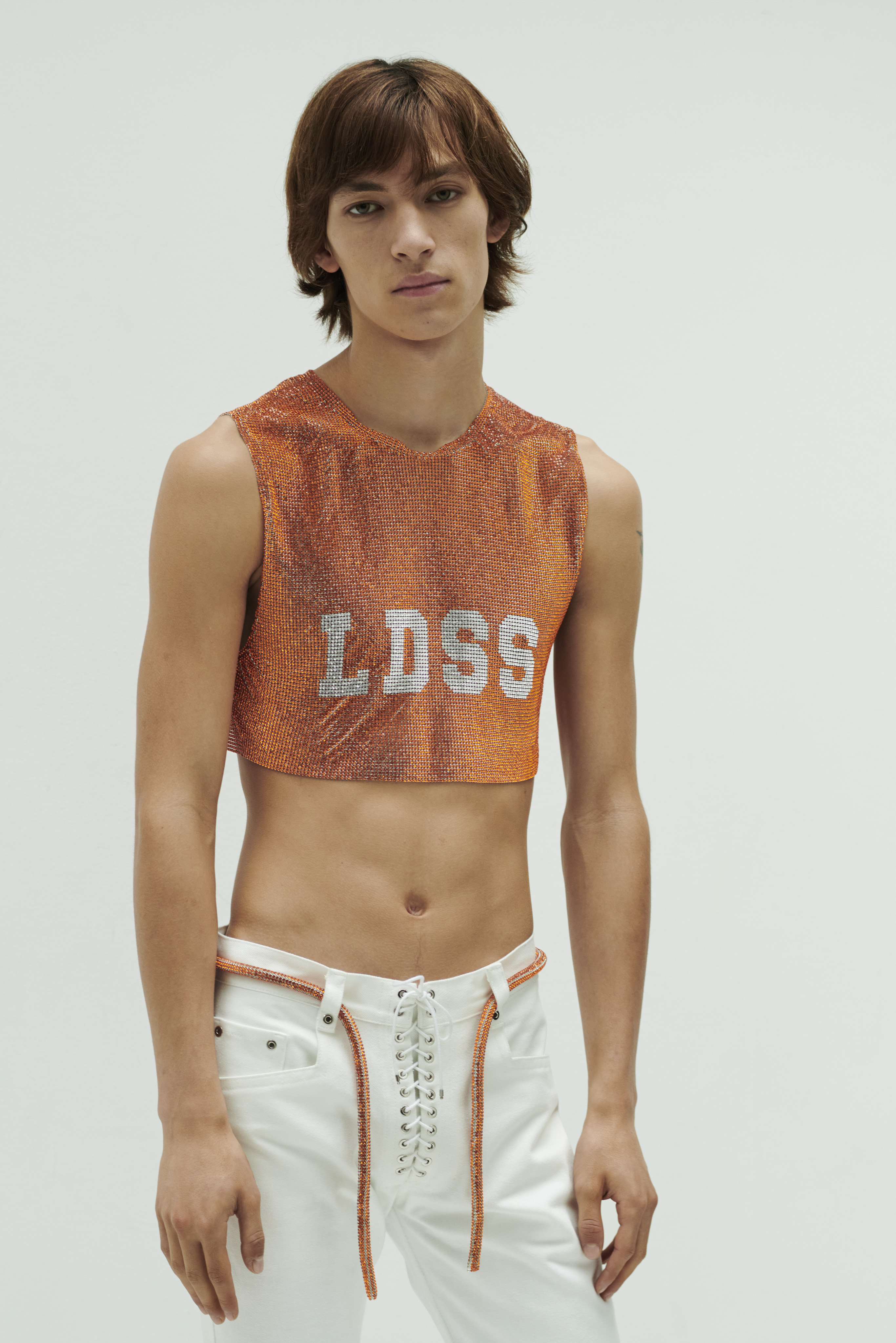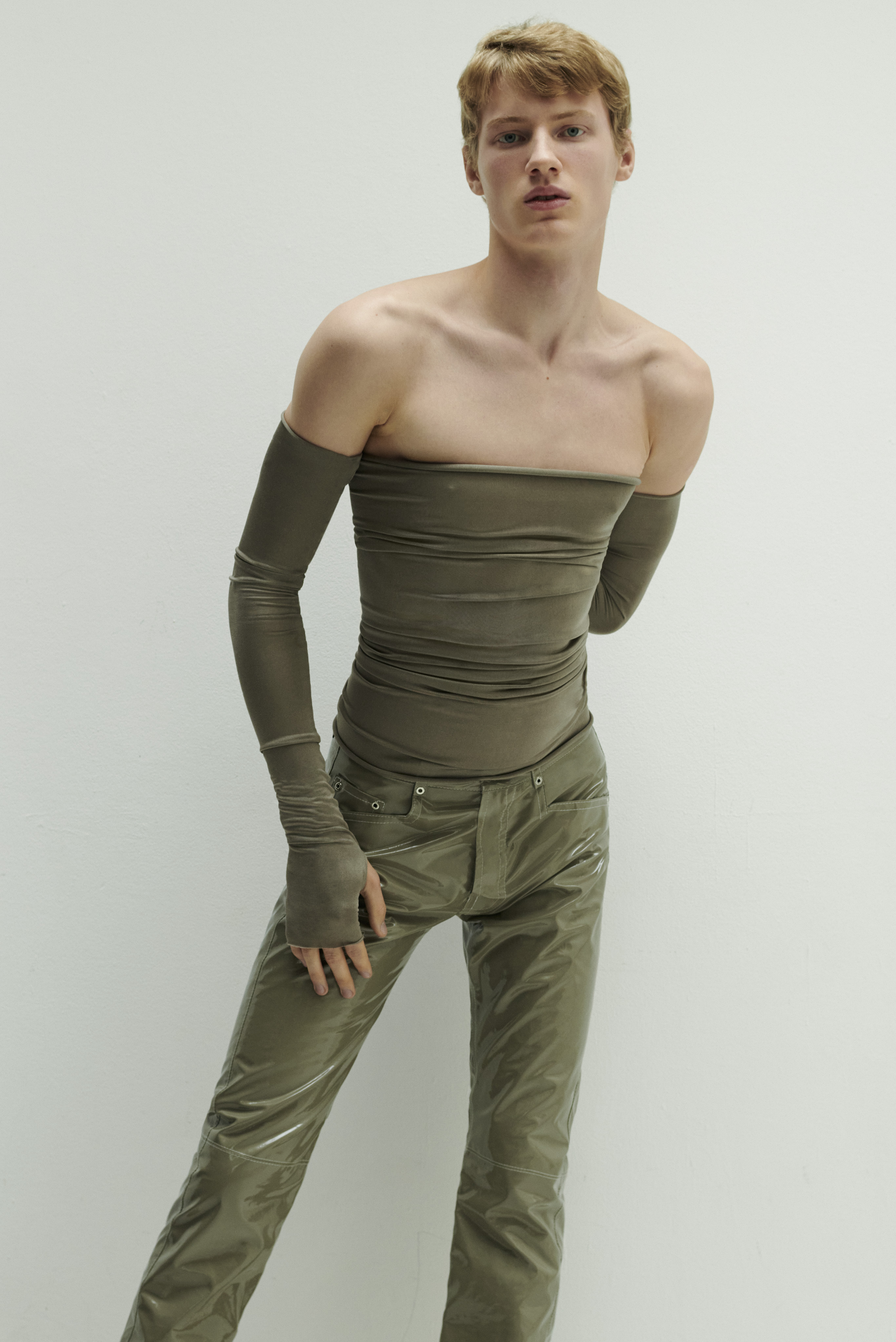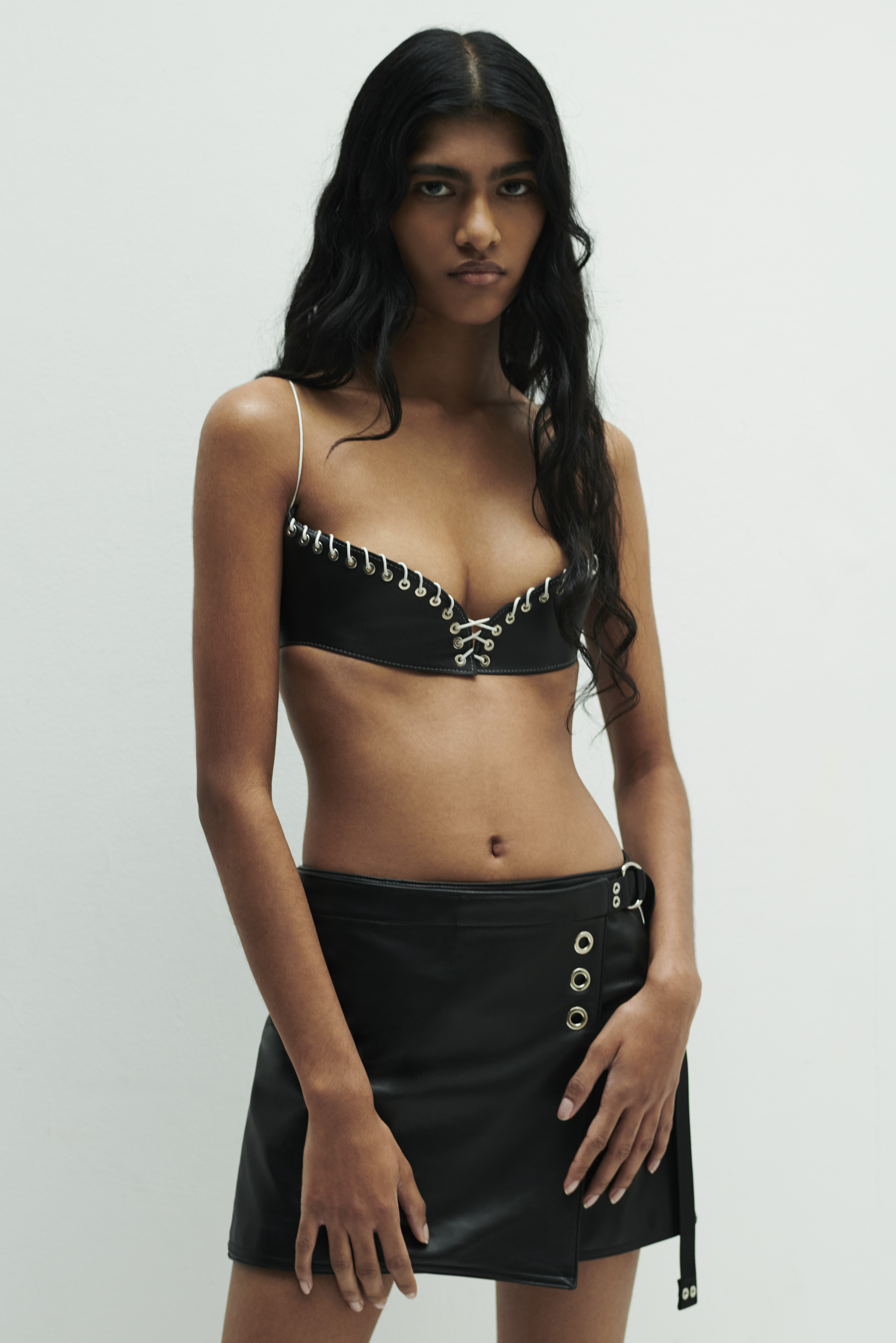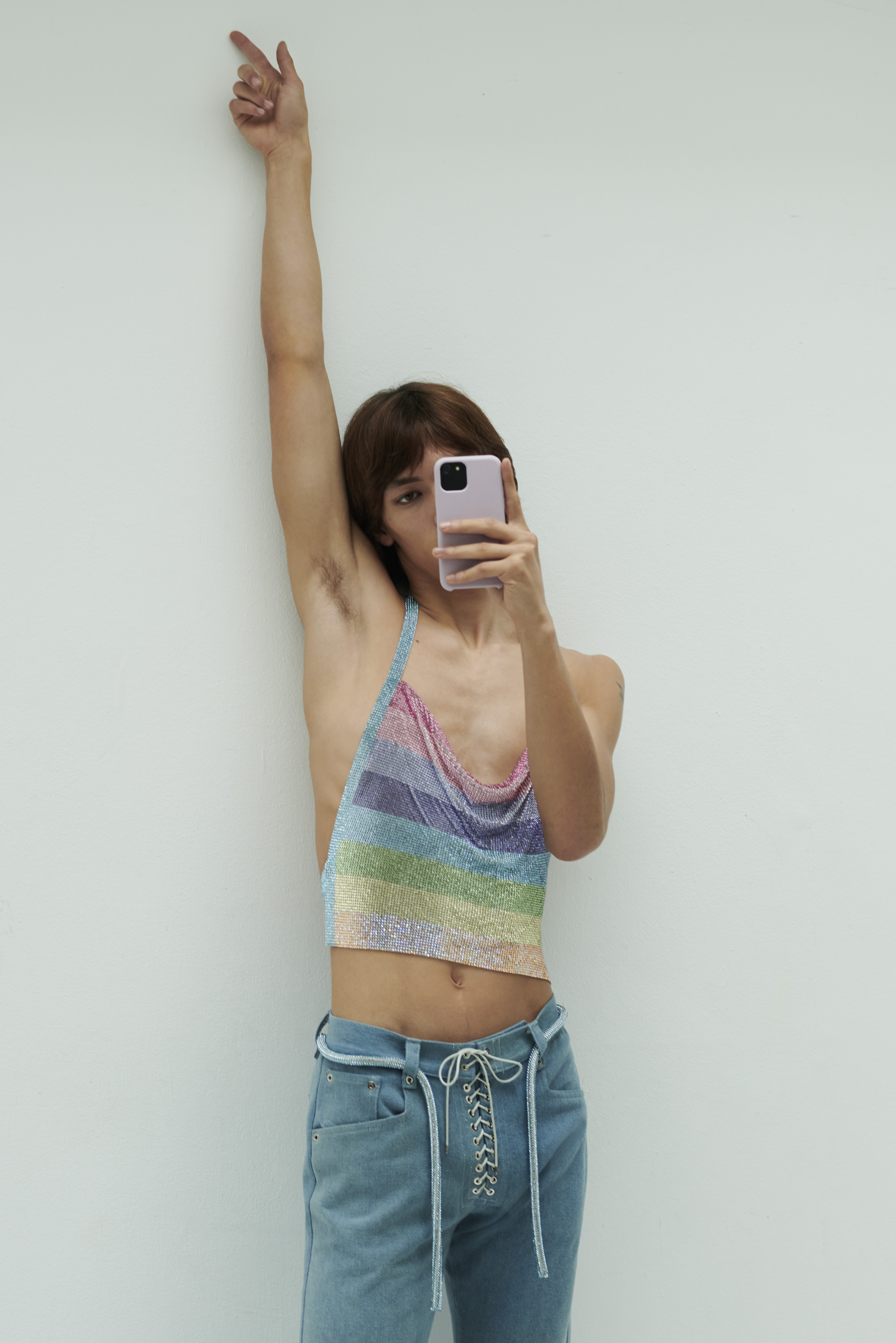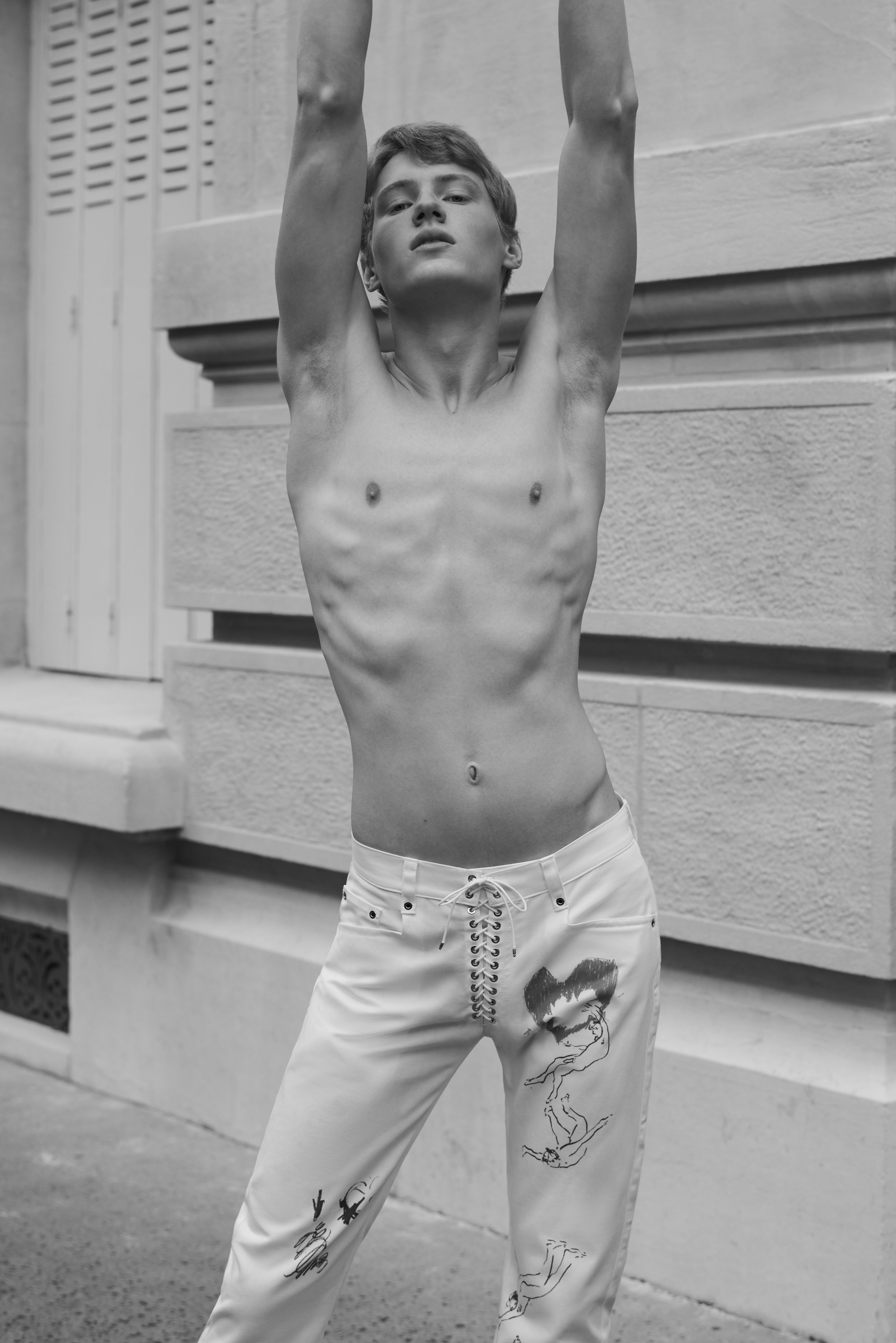 Credits
---
All images courtesy of Ludovic de Saint Sernin