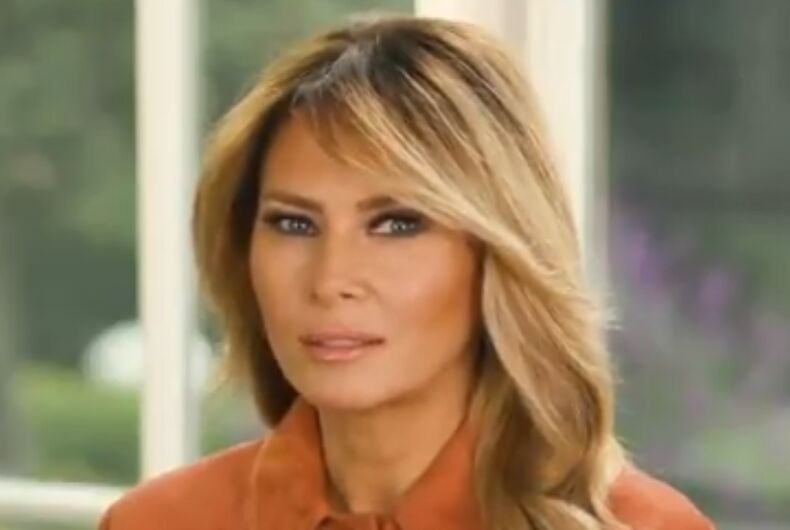 Melania TrumpPhoto: Screenshot/Twitter
Melania Trump is getting mocked online after she showed that she's still bitter about the criticism she got for her "Beverly Hillbillies" changes to the White House Rose Garden a year later.
Last year, presidential historian and author Michael Beschloss went viral last year when he tweeted side-by-side before-and-after pictures of the Rose Garden to show how it changed during the Trump administration.
Related: Melania Trump reveals the Christmas decorations she doesn't "give a f–k" about
On President Joe Biden's Inauguration Day, attention was again focused on the White House and Beschloss went on MSNBC, where he brought up how the Trumps built a tennis pavilion near the space that "looks quite like a mausoleum."
He said that the Trumps wanted a shot of Melania walking in the Rose Garden for the Republican National Convention, but they couldn't get it because of the crabapple trees Jackie Kennedy Onassis had planted. So they had the trees all "yanked out… essentially for a camera shot," as journalists on the channel laughed.
On Twitter, Beschloss said that the pavilion looks like the set of The Beverly Hillbillies.
This weekend he again tweeted about the "evisceration of the White House Rose Garden," and Melania Trump had had enough.
Well, not Melania Trump, but the Office of Melania Trump – even though she does not currently hold any office – said Beschloss "has proven his ignorance by showing a picture of the Rose Garden in its infancy."
"His misleading information is dishonorable & he should never be trusted as a professional historian," she concluded, echoing her husband's years of criticisms of the media, where he would call any reporting he didn't like "fake news."
People on Twitter had fun responding to her.