For any parent, leaving the hospital with the newest edition to your family is nerve-wracking. Figuring out how to manage life with a new baby can feel overwhelming and terrifying, and you try to calm your nerves by planning for just about anything that life may throw at you. But no amount of over-preparing readied me and my family for navigating my baby daughter's medical emergency during a global pandemic.
The events that took place on July 18 this year have changed our lives forever. My daughter Kaylee was just four and a half months old and woke up at her usual time early on that Saturday morning. But almost immediately I noticed that something was off-kilter. She began to make strange movements—almost like a startle reflex—that I had never seen before and continued them for about 15 minutes. At the same time, I noticed her eyes were also making quick, repetitive movements.
At first, I was just confused. I had no prior knowledge of infantile spasms or seizures in infants, so I didn't understand what I was seeing. Kaylee's spasms that morning were so subtle you could blink and miss them. But as they kept happening, I started getting a funny feeling that something wasn't right. Desperate to discover what was wrong, I looked up "infant spasms" online, the only description that seemed to match what was happening to Kaylee.
The first result to come up for me suggested recording a video of Kaylee's movements to take to a doctor, which I did. When my husband woke up a little later, I showed him the video. Initially, he couldn't tell if the movements looked odd or not, until he saw Kaylee start to spasm again a few minutes later.
I started to panic. Before the spasms became more frequent, neither my husband or I really wanted to take her to the emergency room. We were hoping there was something simple going on that we could just ask our pediatrician about the following Monday. Babies do weird stuff sometimes; what if was just reflux? But after she had another cluster of spasms, my husband and I looked at each other and just knew in that moment we had to take her to the ER
Because of COVID-19 rules in place, we knew that only one parent would be able to be in the hospital with Kaylee, so my husband took her, along with the video I had taken of her that morning, to Wolfson Children's Hospital in Jacksonville—a drive that took around 45 minutes from our home. Of course, the possibility of contracting COVID-19 by taking Kaylee to an emergency room was a fear, but our instinct told us something was really wrong with our daughter.
Staying at home was awful for me. I was so scared and anxious—I felt sick. It was hard to function. My husband texted when he could to tell me what was going on, but it would be hours between updates and before the hospital finally decided to admit her.
Prior to this, Kaylee was meeting her developmental milestones and was exhibiting no concerning behaviors that ourselves or her pediatrician could see. So, at the hospital, the staff initially looked at my husband like he was crazy when he brought Kaylee in. It's understandable really, because by then, on the outside she looked like nothing was wrong with her. But, after showing the staff the video, they immediately became concerned about the unusual movements. A neurologist was called in and he ordered an overnight electroencephalogram (EEG) test to be done to evaluate the electrical activity in Kaylee's brain. Doctors then decided to keep Kaylee in the hospital for the entire weekend for additional tests.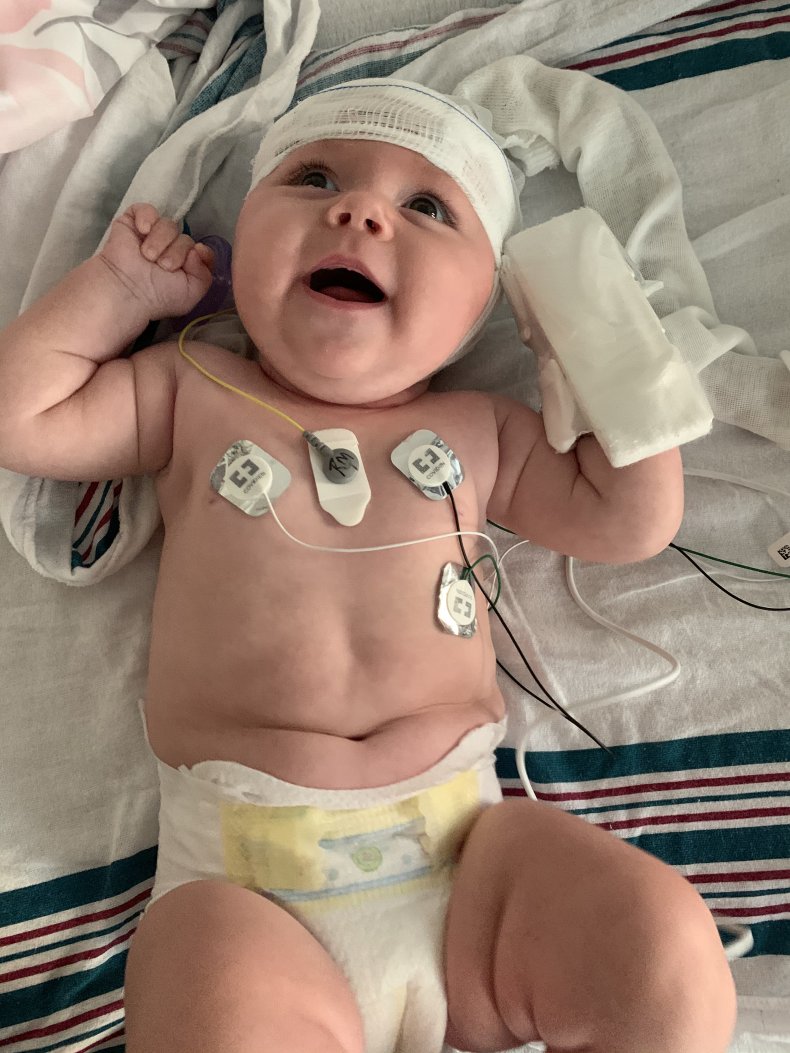 Over the weekend, my husband and I would swap shifts staying with Kaylee at the hospital. We had to meet outside the hospital because only one parent at a time was allowed to be there. So, we would take our older daughter with us in the car and the person leaving the hospital would then take her back home. Our older daughter is four, so she didn't really understand the severity of what was going on. Trying to act normal and take care of her while this was happening was very hard. Our family had just moved 1000 miles away from our family the August before, and with the pandemic we had even more limited resources and caretakers.
After a MRI the following Monday, Kaylee was diagnosed with Pachygyria and Polymicrogyria (PMG) where the brain doesn't develop as it should before birth—which her doctors believe is what has caused the infantile spasms.
Infantile spasms (IS) are a rare, but serious type of seizure, occurring in 1 in 2,000 children. They can cause catastrophic, permanent damage to a child's developing brain. Soon after the spasms begin, children may stop making developmental progress or even lose skills they had previously acquired, causing significant cognitive disabilities if left untreated. Worldwide, it is estimated that a baby is diagnosed with IS every 12 minutes. And while IS are often associated with another cognitive or genetic diagnosis like Polymicrogyria (PMG) or Tuberous Sclerosis Complex (TSC), they can also be cryptogenic—meaning there may be no identifiable cause.
For most parents and caregivers, seeing short, rapid spurts of the arms or body and wide-eye blinks may not seem that odd in infants. It's alarming to think that if we hadn't noticed those symptoms in Kaylee, our lives could be very different—in the worst cases, IS can even result in death.
While we knew our quick thinking may have saved Kaylee's life, our family still struggles with her diagnosis. The risk of relapse for infantile spasms is high (and Kaylee's brain malformations put her at life-long risk for seizures), so we are constantly watching her now and living life on high alert. I spend a lot of time thinking back to "before" and wondering if I missed a sign. Or, watching her eyes and wondering if something she's doing is a spasm. It is scary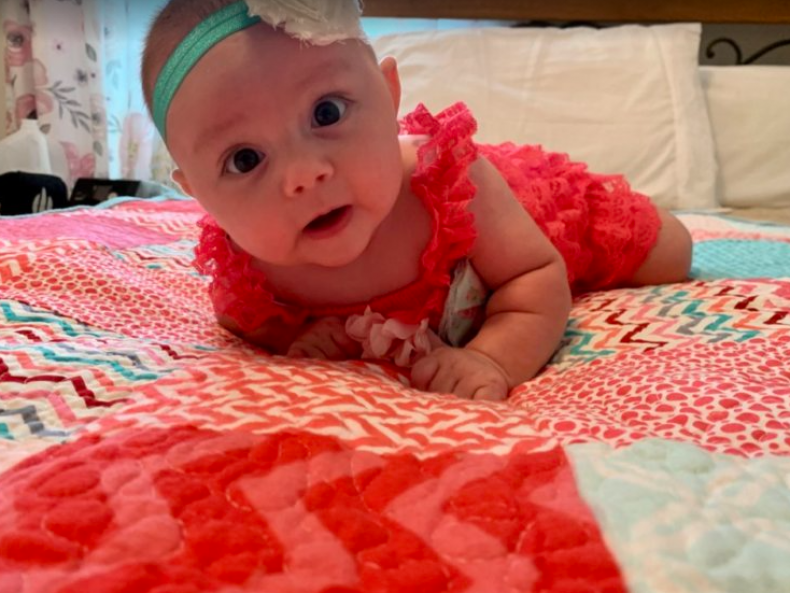 So, we really want to help raise awareness about IS. The onset typically happens between four and eight months of age, although the seizures can begin anytime in the first two years. Of course, there are many considerations as a new parent, but Kaylee was already four and a half months at the time she was diagnosed with PMG and IS, and we knew nothing about it at the time.
Parents will always want to advocate for their child, but our experience has made us realize how important it is to trust your instincts. If you believe your concerns are being overlooked or something is not sitting right with you, consider pursuing a second opinion at a Tuberous Sclerosis Complex (TSC) clinic, a Comprehensive Pediatric Epilepsy Center, or a neurologist with expertise in treating IS.
Kaylee's journey has really only just begun. Thankfully, we have gotten her spasms under control after several months of working with many doctors and specialists. At first, Kaylee treated with an oral steroid medication, but patients cannot take the steroids for a long time due to serious side effects, so although Kaylee's spasms were nearly eliminated while she was on the steroid, but they returned as we weaned off the medicine. During this time her spasms worsened, and she regressed and lost nearly all milestones. She did very little beyond eating and sleeping. But currently, she is responding very well to both her medication and therapy.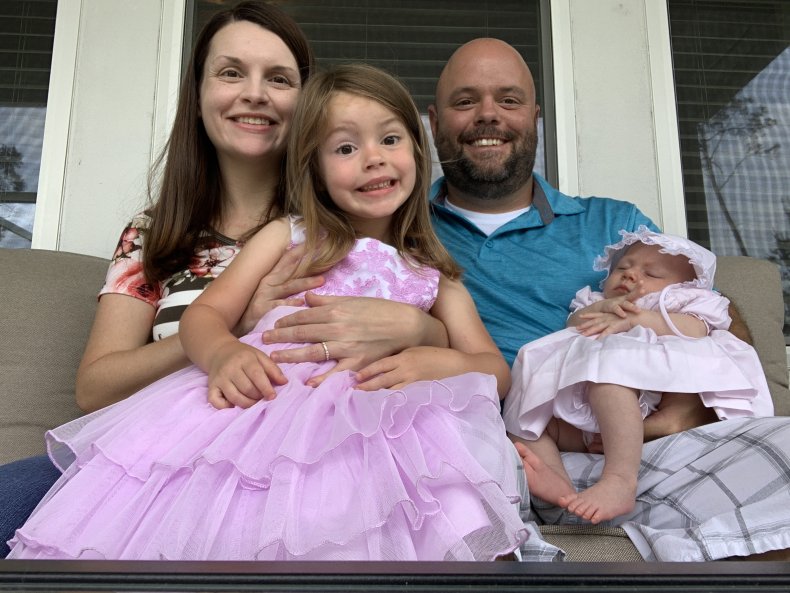 Besides medications, we have Kaylee in physical, occupational, and feeding therapies multiple times a week for the foreseeable future. She is regaining lost skills at a slow but steady rate. Due to Kaylee's brain malformations, her doctors cannot predict what her life will be like or what milestones she will or will not reach. She may not ever walk or talk, but we try not to think about that. We are reaching for the best we can get for her, despite the limitations on in person appointments because of the pandemic. Sometimes children with IS, particularly those who have early diagnosis and treatment, go on to lead perfectly normal lives.
This week is global Infantile Spasms Awareness Week, so we want to remind other parents not to delay doctor's appointments and to immediately seek emergency medical care if their child shows signs of IS. We know that the world is in the grips of a pandemic, but delay in treating your child's illness or injury could cause serious complications, which is something to keep in mind if you are scared of contracting COVID-19 in a doctor's office or hospital. Remember that you and the hospital staff can and will be taking every precaution to remain safe.
It is absolutely heartbreaking to watch your child experiencing a condition like IS and it is easy as a parent to feel lost and hopeless in the face of such a devastating diagnosis. We urge other parents in our position not to stop searching for answers or treatment for their child. There is hope, and a future, for children with IS.
Ashley Callahan is a software developer currently living in sunny St Augustine, Florida. (though she was born and raised in Indiana as a "Hoosier") with her husband and two daughters.
All views expressed in this piece are the author's own.