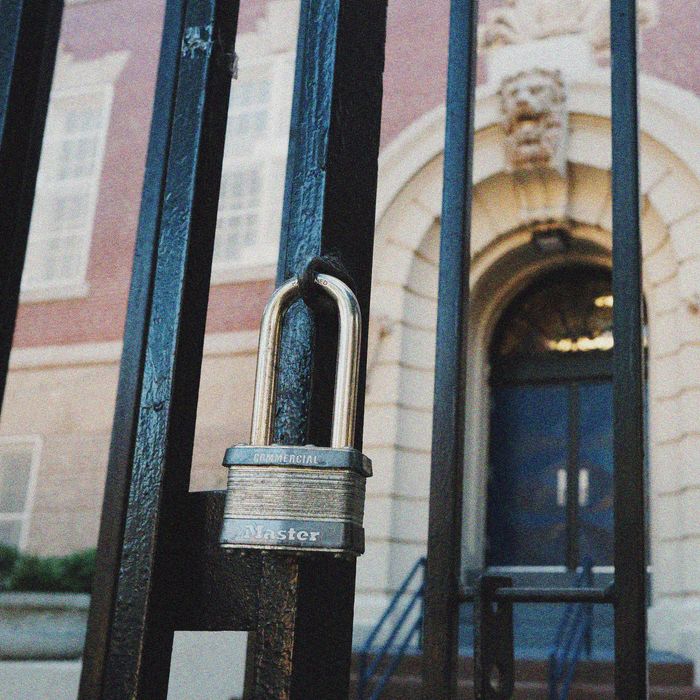 Photo: Spencer Platt/Getty Images
For Christlie, a 33-year-old mother of two living in the Regents Family Residence on the Upper West Side, getting on the internet is an exhausting daily battle.
She and her daughter Amina, 9, both need web access: Christlie is a communications student at Borough of Manhattan Community College, and Amina is in the fourth grade at Success Academy, a charter school. But the city shelter they live in doesn't provide Wi-Fi to its residents. So, every morning, after Christlie puts her 13-month-old son down for a nap, she and Amina sit close to windows in their one-bedroom apartment — she from the living room, Amina from the kitchen — to try and pick up a signal from a Link NYC station on the street, or from a nearby McDonald's. If it's rainy or windy, or if the connection is flooded with other users, they can't get online. Then they rely on Christlie's personal cell phone as a hot spot. With both of them, the data is slow; Christlie often listens to Amina's teacher troubleshooting with her on the other end of a Zoom call. "Let's try and reboot," she says, as Amina sighs.
Lack of wifi access has been plaguing New York City's shelters for unhoused families for seven months now, where some 13,500 school-aged children of the 100,000 students in temporary housing citywide, have been enrolled in remote education since March. When schools initially shut down, the city sent hundreds of thousands of iPads with cell service to kids in shelters, but not all families received them, and those that did quickly began complaining that their connections were spotty, if they worked at all. The problem worsened this summer, and on October 8, Legal Aid sent a letter to city officials demanding that they address the issue, which had been jostled between the Department of Homeless Services and the Department of Education. There was a lot of inter-departmental "finger pointing," says Susan Horwitz, the Supervising Attorney of Legal Aid's Education Law Project. The DOE said they were just responsible for distributing the tablets, while it's DHS's job to get cell service working in shelters; DHS representatives and case workers at shelters, conversely, told residents to talk to the DOE. "You could sort of draw your own conclusions about the fact that getting the people who are living in shelters online is not a priority," says Horwitz.
O'Brien Morris, who is currently living in the Albemarle shelter in Flatbush, had moved back to his native Brooklyn from South Carolina in January, only for COVID-19 to hit. He lost three close family members to the virus. Morris has underlying health issues that make him vulnerable, and he and his wife and son Aaron, 15, rarely go outside, except for long walks to food pantries where they have been getting meals. Ninth grade is Aaron's whole world for the moment — which makes his internet troubles nearly unbearable. Aaron has three devices from the city, none of which reliably get him online. "It makes me kind of mad," he says, especially about missing deadlines when he can't access a reading assignment or finish an essay. Some homeless students have reported being threatened by school administrators or truancy officers with "virtual absences" for missing online classes, but Aaron says his teachers have been understanding. Morris lets Aaron use his phone as a hot spot, but the service has become his biggest expense, and money is already tight. "I try to maintain," he says, "but it's hard. My check ain't doing it by itself." The Morris family is living on $735 a month O'Brien gets in federal disability, plus around $135 every two weeks in public assistance.
That families would not only be burdened by remote schooling during a deadly pandemic but by the lack of something as basic as internet access seems hard to believe in 2020. "You're providing the street, the literal street, Wi-Fi," says Christlie, "but you won't provide the shelters? Not just for the kids' education. The whole purpose [of temporary city shelters] is to help assist residents here to find permanent housing. How do you do that when you can't provide the internet? How do they look for apartments, look for a job?" Especially in the midst of a crisis that has impacted poor Black and brown New Yorkers the hardest, providing Wi-Fi seems like an obvious equalizer. "That little bit of support that would definitely help a lot of people," Christlie says.
Parents and advocates alike worry that the toll of the massive instability and lack of social interaction posed by the continued closure of schools will be permanent. "That has been my fear since this thing started," says Horwitz. "We're already going to have this whole generation of kids who are going to be losing social skills on top of the academic skills." For children in the shelter system, the trauma is magnified. "Sometimes she doesn't even want to get up," Christlie says of Amina, because she's so overwhelmed and frustrated by the prospect of facing a day of internet problems. Success Academy has added extracurricular activities like dancing and crafts via Zoom, but Christlie says Amina is embarrassed by the lack of space. She doesn't want other children to know she's in a shelter, or to focus on her bad connection. "It makes doing certain things difficult for her because she can't move around. It's not like when the teacher says, 'Can you go to another room that has a better connection, Amina?' she can say, 'No, I really can't.'"
A few days after a New York Daily News story appeared last week about the ongoing connectivity issues in city shelters, the DOE sent Aaron a new tablet, which O'Brien Morris says is working better than his old one. And spirits were hesitantly lifted on October 26, when Mayor Bill de Blasio announced in a press conference that he had instructed DHS to "ensure that every shelter gets Wi-Fi." But he did not announce a timeline for implementation, or whether that order extended to only family residences, or all shelters. "I'm happy about it," Morris says, sitting next to Aaron as he was in online class. "But, lord, how long is it gonna take to make that happen?" He had already heard from more parents in the shelter with children who, told they would also be receiving new devices, were still waiting.
This article was updated to clarify that according to DHS, around 13,500 school-aged children sleep in city shelters each night; New York has around 100,000 students in temporary housing city-wide.