After closing for over a year during the COVID-19 pandemic, Saint Kate Arts Hotel signature dining experience has officially reopened to the public, offering an entirely new dining experience for both local guests and Milwaukee visitors.

The former Aria Café & Bar, located on the second floor of the hotel at 139 E. Kilbourn Ave., has been reimagined as ARIA, a mid-scale dining experience which offers guests a creative take on Midwestern-inspired cuisine in a relaxed environment.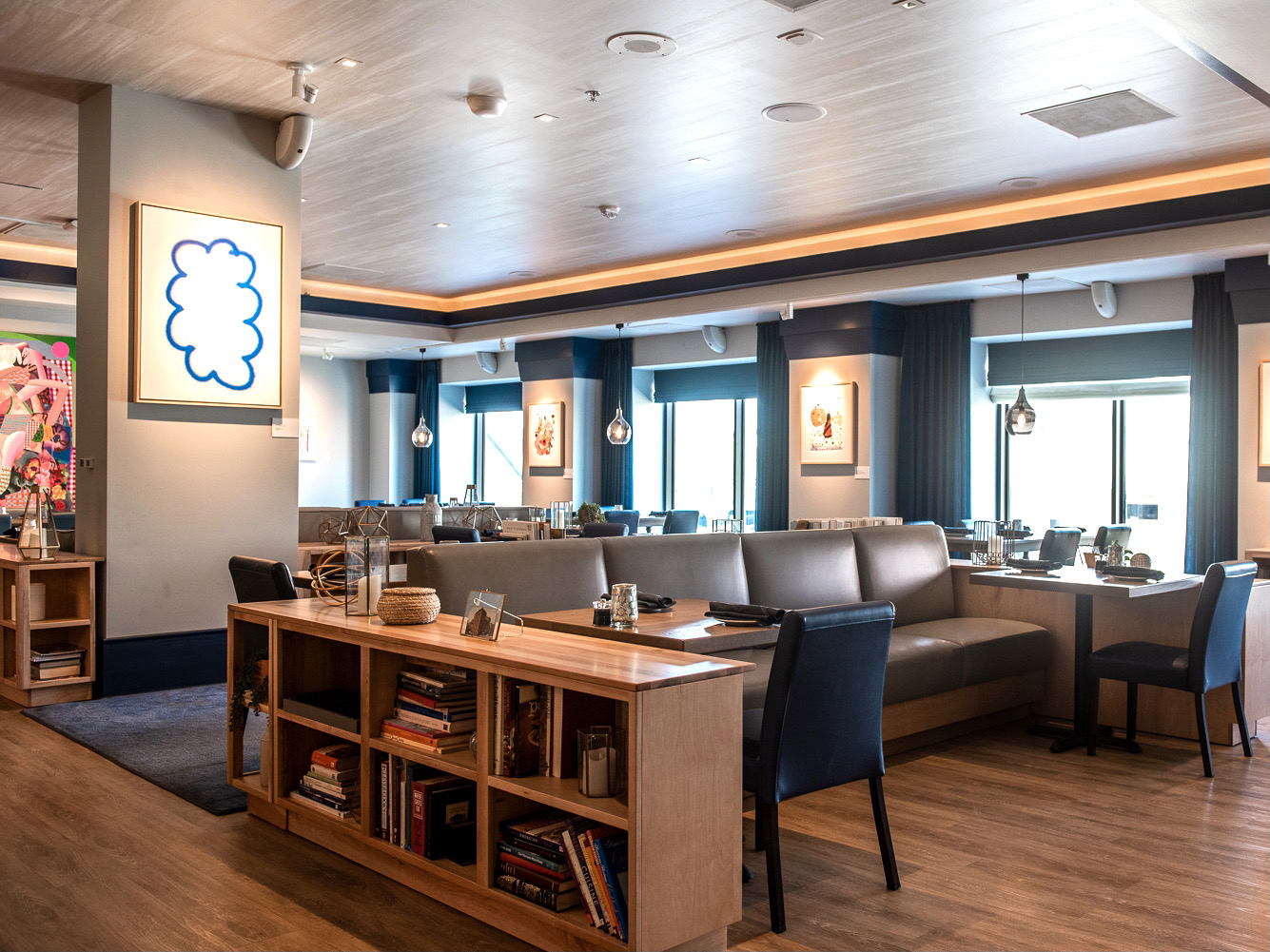 At the helm is Chef Paul Funk, an industry veteran whose approach to cuisine has been shaped by work at restaurants as varied as Toscani da Sempre in Florence Italy, the University Club and Grand Geneva Resorts and Hinterland Milwaukee, where he headed up the restaurant's charcuterie program.

These experiences come together in the menu at ARIA, which Funk says capitalizes on his passion for creating often unexpected and elevated takes on beloved, memorable dishes.

"I'm really proud of the cuisine of the Midwest," says Funk, "But it's something that's often overlooked or misunderstood. So we really wanted this menu to showcase the best of the cuisine in a way that goes well beyond cheese and bratwurst. This is about things I grew up eating, that my grandmother cooked… that other people might remember or have a connection to as well."

Funk says he wants the fare to be simultaneously nostalgic for someone who grew up in Wisconsin and amazing (and potentially unexpected) for someone who is trying it for the first time.

The ARIA experience begins with a tradition which, by and by, has disappeared from restaurants across the nation: complementary bread service.

"That first impression matters," says Funk, who designed the bread service for ARIA to include pumpernickel rolls, honey butter and nods to the Dairy State in  the form of a butter pretzel cracker with cranberry and Widmer's cheddar spread. 

From there, diners will find classic starters like deviled eggs ($7); cheese and charcuterie ($19); ultra crisp fried chicken wings seasoned with signature Red Rock dry rub ($13); as well as the smoked salmon potato pancake, a playful take on the classic latke dish ($16).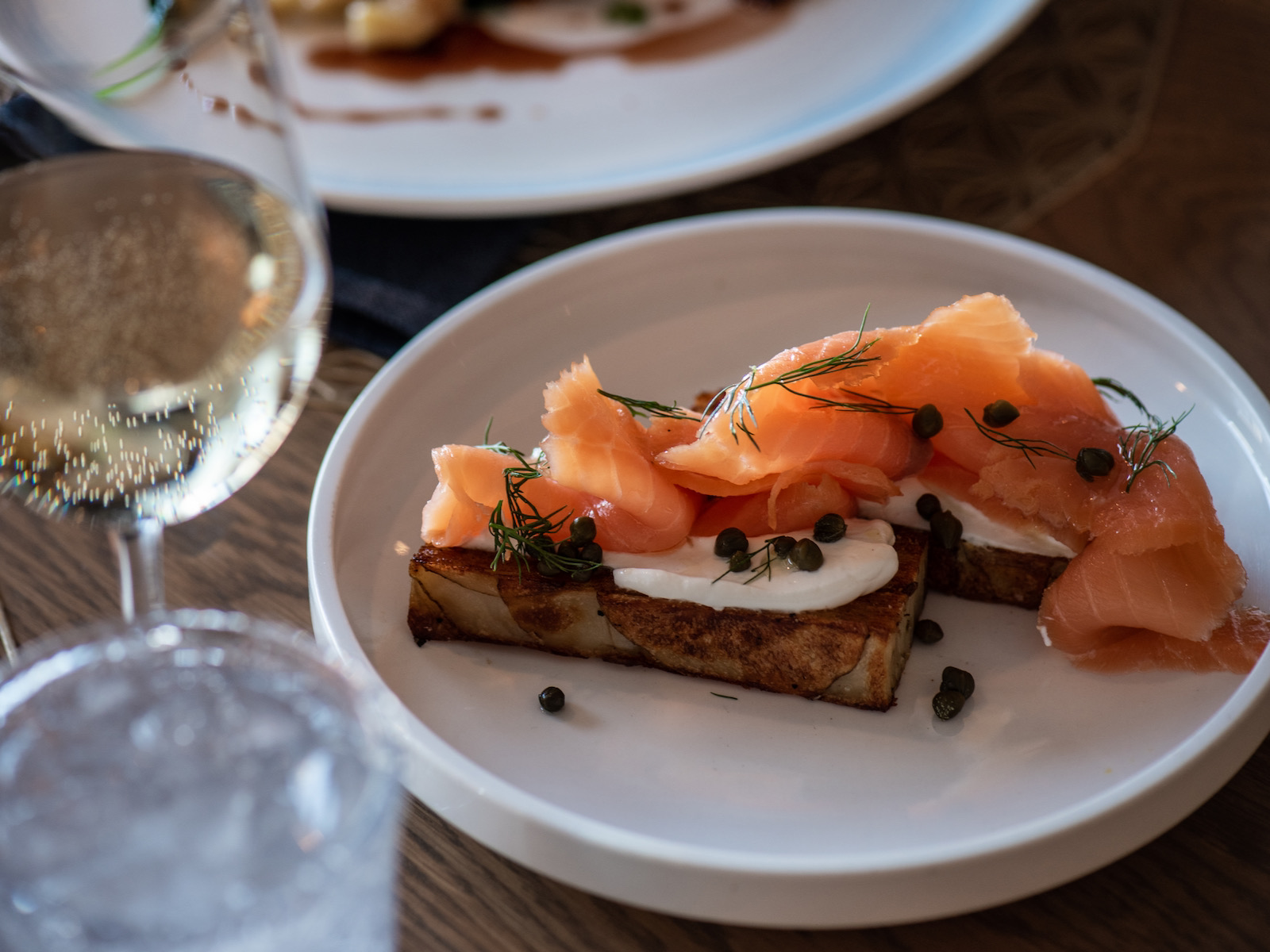 The classic wedge salad has been reimagined as the Iceberg Slab Salad, a nod to the Wisconsin Supper Club served up in an eater-friendly slab format topped with cherry tomatoes, red onion, Hook's Blue Paradise cheese, fried garlic, housemade dressing made with creme fraiche and herbs and an accompanying slab of house cured bacon, which has been smoked, braised in Sprecher root beer.

"The bacon is meaty and complex," says Funk, "The flavor isn't overtly sweet; but you get a sense of the maltiness on the finish."

Numerous dishes on the menu are derived from Funk's personal experiences. Take for example Vern's Chicken &  Dumplings ($7), a family recipe Funk has been making since before he could reach the stovetop without a stool. 

"I'd call my grandmother," he says, "And she'd walk me through the recipe. After every step, I'd hang up, do the thing and then call her back. It's one of the first recipes of hers that I ever made." 

Others were inspired by nostalgia. The most obvious is the Classic Big Boy Burger, straight from the days when the Marcus family operated Marc's Big Boy locations around the state. It's served the same as it ever was with iceberg lettuce, Big Boy sauce, American cheese and French fries.

But there's also Broasted-ish Chicken ($26), which Funk painstakingly researched the process behind broasted chicken and then reverse-engineered it to create a dish that resembles the classic crisp, flavorful broasted chicken found in supper clubs across the state, but with no need for a pressure fryer.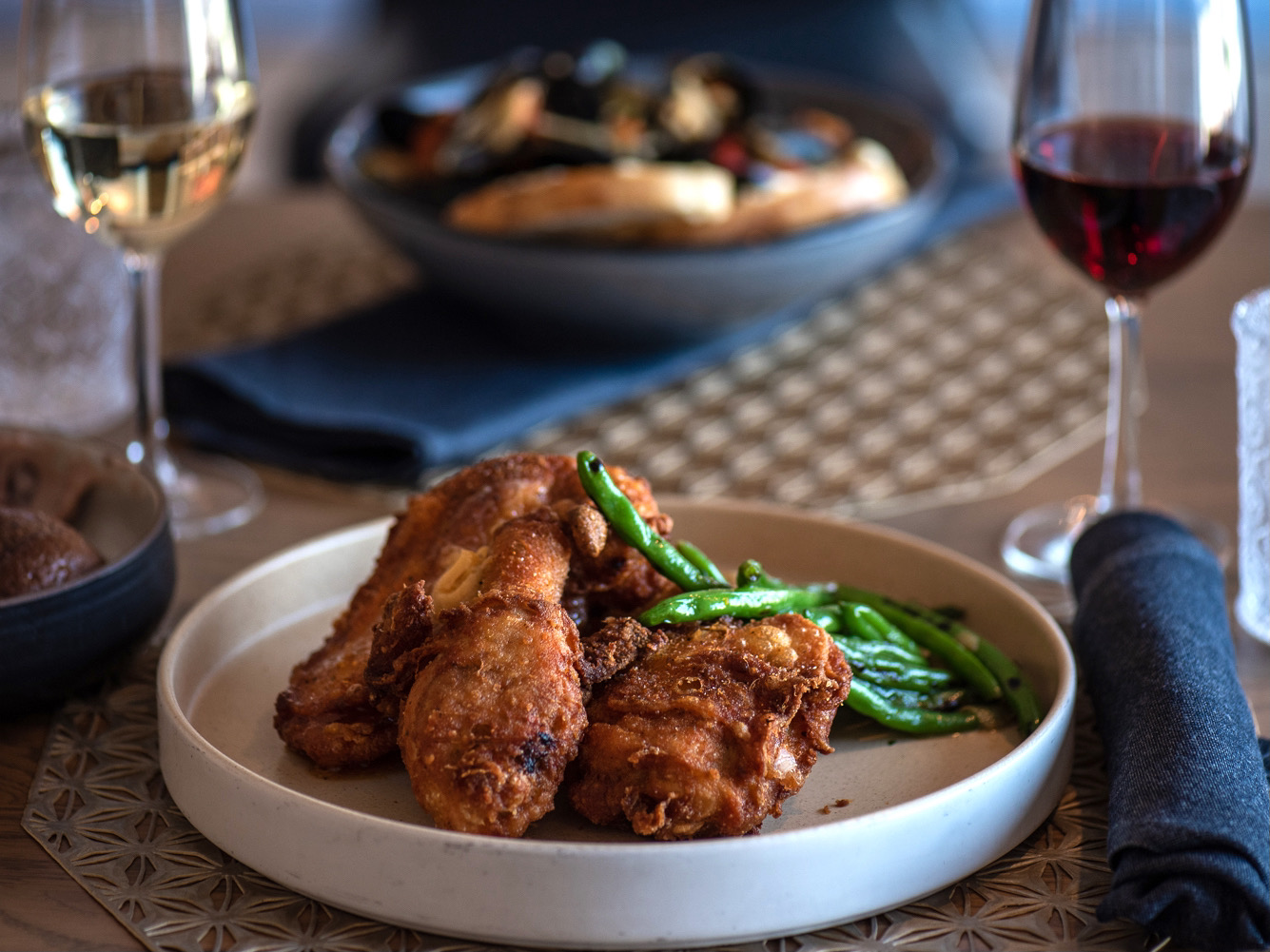 "Most regular fried chicken is heavily breaded or battered," says Funk. "Broasted chicken is crispy and flavorful, but also much lighter. And we discovered a way to get there and give people that experience without a pressure fryer or broaster."

It's a time-consuming three-day process, he says, but it results in chicken that's light and ultra crisp on the exterior while also remaining tender, juicy and flavorful all the way through. The same work went into the accompanying classic potato wedges, which are fluffy on the interior and crisp on the outside.  

As for the vegetable component, Funk  says he couldn't think of anything more classic than green beans, but with a twist.
"I love a dry pan seared green bean," he says. "It has a little smokiness and a really nice texture. We serve the dish with honey butter which intermingles with the juices from the chicken and dresses the green beans."

The Salmon Salsa Verde entree with charred orange, pistachio and bulgur salad ($34) is, for Funk, inspired by time in Italy, along with childhood-inspired creativity.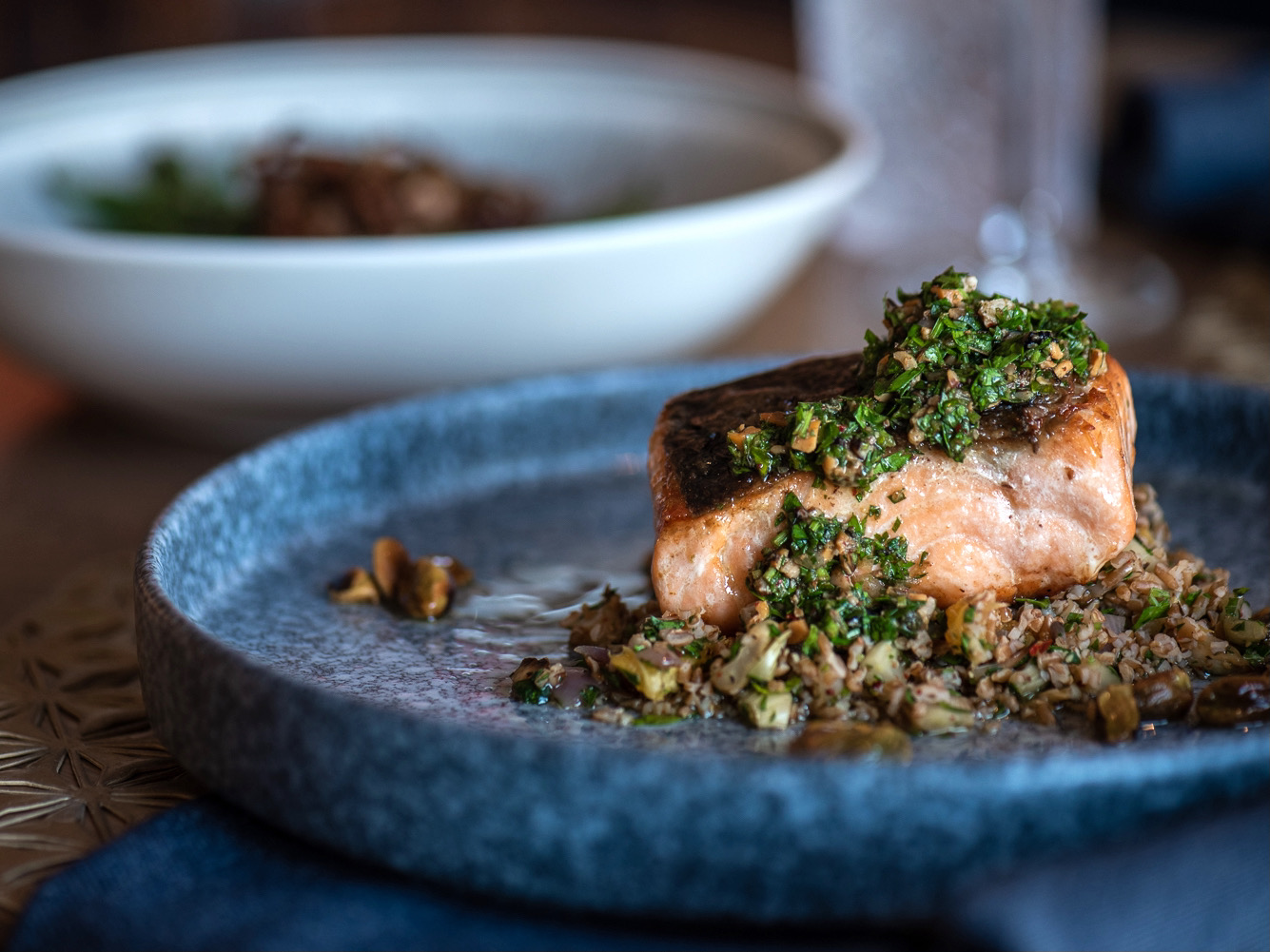 "Orange and pistachio is just a fantastic combination for salmon," he says, "And I love a great tabbouleh salad. But I played a bit with the Italian salsa verde, using house-smoked mussels instead of the traditional anchovy."

The swap hearkens back to Funk's boyhood when his father brought home a tin of smoked oysters from the grocery store. As it turns out, he wasn't so fond of them, but was shocked to find that Funk loved them.

Vegetarian guests will find dishes like blistered green beans with hazelnuts and crispy shallots ($13); tahini roasted carrots with pea tendrils, red peppers, walnut puree and lemon oil ($12); beet salad with  BelGioioso burrata, almonds, arugula, balsamic glaze and lemon oil ($14); and broccoli pesto pasta with peppadews, Romano and lemon oil ($26).

"The menu is definitely heavier on meat dishes," admits Funk. "But I very much enjoy creating great dishes with vegetables. We actually have numerous well thought out dishes that the kitchen can make anytime for folks who observe plant-based or other lifestyle based diets."

Weekends at ARIA also bring special offerings like Friday night fish fry (Fridays only) featuring Company Brewing's Poor Farm Pilsner battered walleye, tartar sauce, celeriac-potato pancake, lemon and rye bread ($27).

Guests can also experience Funk's passion and experience with charcuterie in the Long Bone Short Rib Pastrami, served with sauerkraut gnocchi, baby kale and pearl onion saute and carrot-caraway velvet ($42, limited availability on Friday and Saturday nights).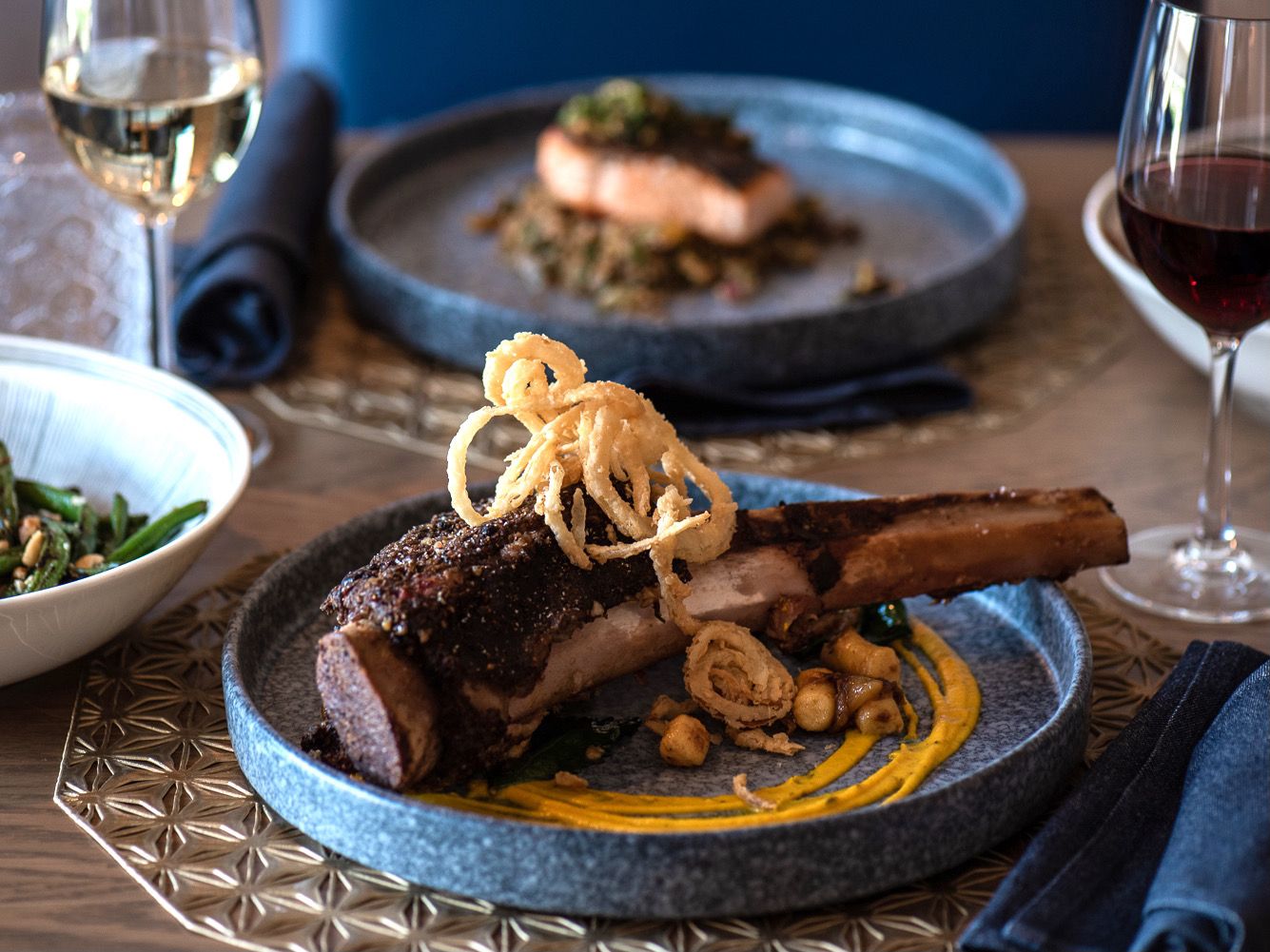 "The way I see it, curing meats is divided into two camps," Funk says. "There are places that are lucky enough to be able to cellar pastrami for two years to preserve it, and then there  are places where they have to smoke it. Germany… Wisconsin… both are on the smoked side." 
The long bone short rib is comprised of the rib section you'd find as part of a tomahawk steak, says Funk.

"Once the steaks are cut away, you're left with about a nine-inch bone, which we brine for 9 days, rub with pastrami spices, smoke with applewood and then steam," he explains. "The meat shrinks throughout the process,  but what you get is this great bone-in piece of delicious cured meat."

Meanwhile, the accompaniments mimic the flavors you might find in a pastrami on rye – pearl onions cooked in beefy tallow; gnocchi made with sauerkraut, mustard and rye crumbs; and carrots pureed with garlic and toasted caraway.

As for desserts, you'll find a trio of them, available for $8 each or a flight of three for $22. Choices include dark chocolate cremeux with maple fudge, sea salt, pistachio ice cream; a strawberry rhubarb tart with chantilly cream;  and bacon and root beer pots de creme with root beer bacon caramel (infused with the flavorful leavings of the aforementioned Sprecher root beer braised bacon slab), Amarena cherries and sugared almonds. 

Aria is open Tuesday through Saturday from 5 to 9 p.m. Reservations are highly recommended and can be made online.

The ARIA dining experience is just one way to experience the offerings at Saint Kate, which features live music seven days a week and a convivial environment for drinks and socialization at Giggly, their second floor champagne bar open Tuesday through Thursday from 5 to 9 p.m. and Friday and Saturday from 5 to 11 p.m.