It's been four centuries since Europeans first arrived on the shores of southeastern Massachusetts, but the people they met have called the region home for 12,000 years. And while for many, the arrival of the Pilgrims to the "New World" is something to remember in celebration, for others, it's another reminder of how drastically their way of life has been attacked and altered since. This Indigenous Peoples' Day, the Peabody Museum of Archaeology and Ethnology at Harvard University is taking the focus away from 1620 and centering the voices of contemporary Wampanoag speakers.
"Listening to Wampanoag Voices: Beyond 1620" features artists, storytellers and researchers, discussing some of their cultural items and photographs that are housed in the museum's collection. "Early on, we decided to blur the focus on the 17th century," says Meredith Vasta, collections steward at the Peabody. "We wanted to look at more contemporary lives and perspectives of Wampanoag people."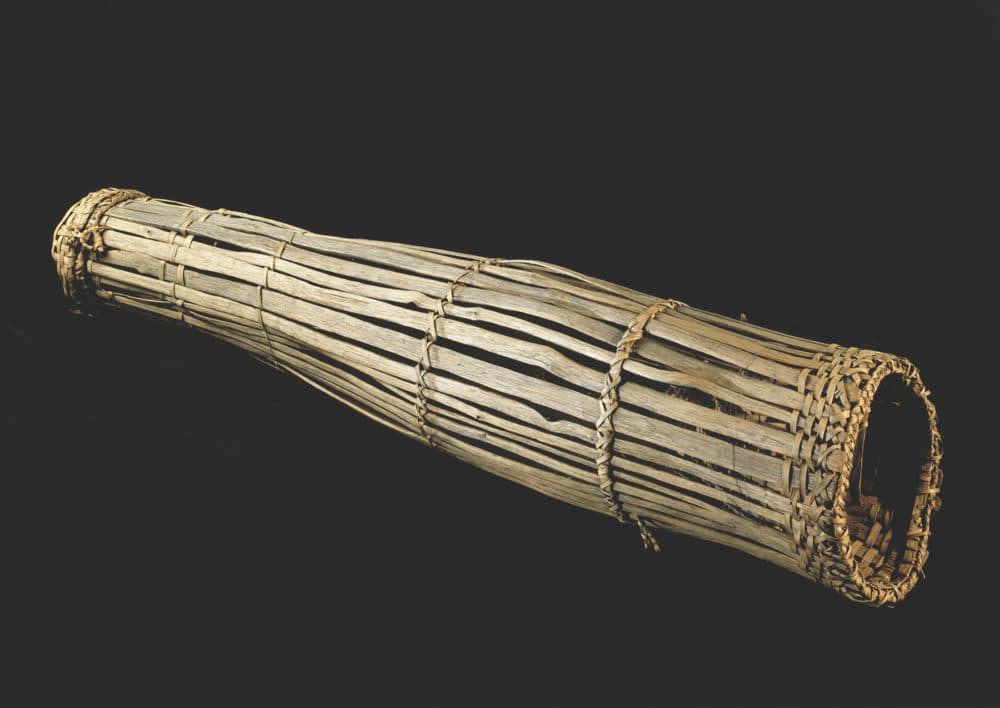 In this exhibit, seven members of the Mashpee and Aquinnah Wampanoag tribes describe objects that were made, held, worn, consumed and otherwise made useful by their ancestors. Their accounts are packed with decades of research and thought and underscore the objects' significance and continued relevance.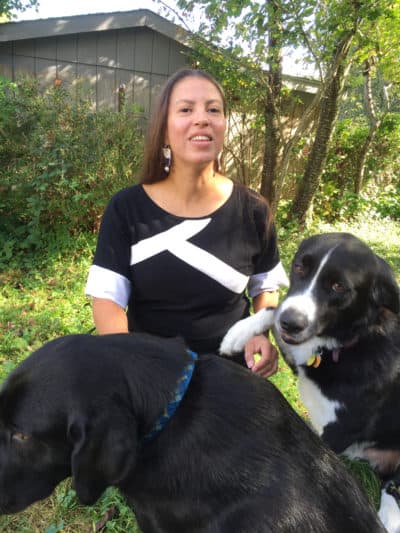 The objects featured include dried and smoked herring, multiple baskets, an anchor, and an eel trap, which was described by Aquinnah Wampanoag artist Elizabeth James-Perry. James-Perry, who has a degree in marine biology and is the federal tribal co-lead of the Northeast Regional Ocean Planning Body, began studying these traps about 20 years ago when she made a replica for Seattle's Northwest Folklife Festival. She says she enjoyed consulting on these items because they're visually striking and familiar. The details of their construction inform her own wampum jewelry design, weavings and fish traps.
James-Perry also consulted on a King Philip's sash that she traced back to the early 18th century and its place in a bloody battle instigated by the English that resulted in the displacement of indigenous people.
"Separation and loss was a big part of the story I uncovered when searching for answers about the sash in particular," said James-Perry. "It's important to consider how much effort in colonization went into separating Northeastern tribal members from our lifeways, arts, from other tribes, and from the land itself. Being united even for a moment is quite special, but it's hard to describe."
In James-Perry's discussion of King Philip's sash, she references the choices human beings make, in particular, the choices that newcomers made that set the course of history in a direction that's been devastating for many. "Loss of humanity is a very real force in shaping attitudes and decision making in the region," James-Perry told WBUR. "That life is seriously less than perfect for a chunk of the population is coming to the broader public's attention, especially in the way we see severe economic distress, climate change effects and the pandemic disproportionally hit tribes and other communities of color. Where is the remedy?"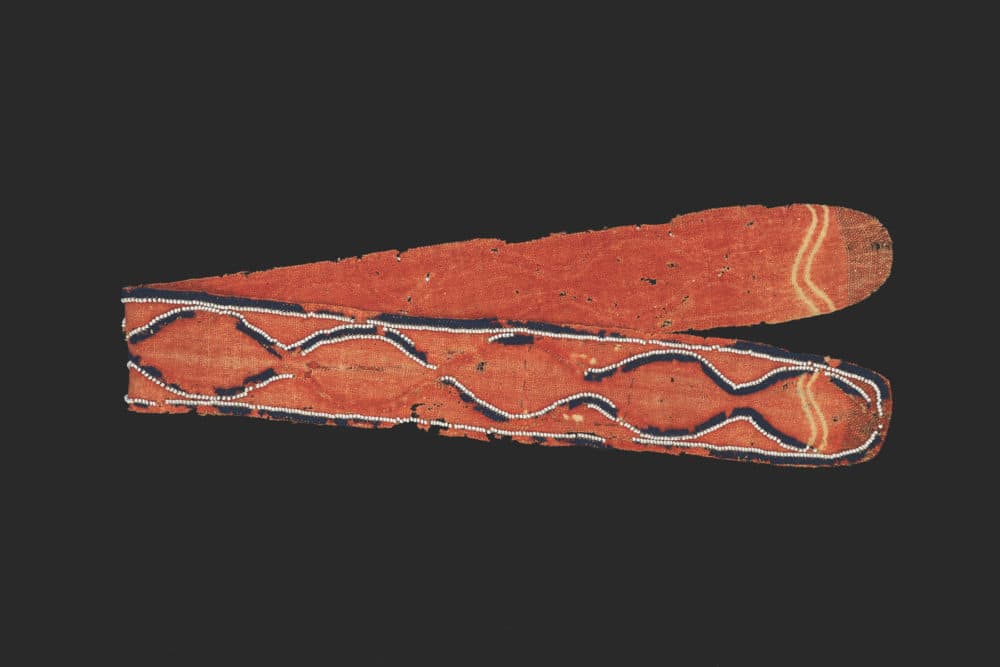 In addition to being disproportionately affected by the COVID-19 pandemic, public health officials have less data collected from Native American communities than from others that have been hit particularly hard, according to a CDC report from August. And in March as the pandemic was shutting down the world, the Trump administration tried and failed to disestablish the Mashpee Wampanoag reservation.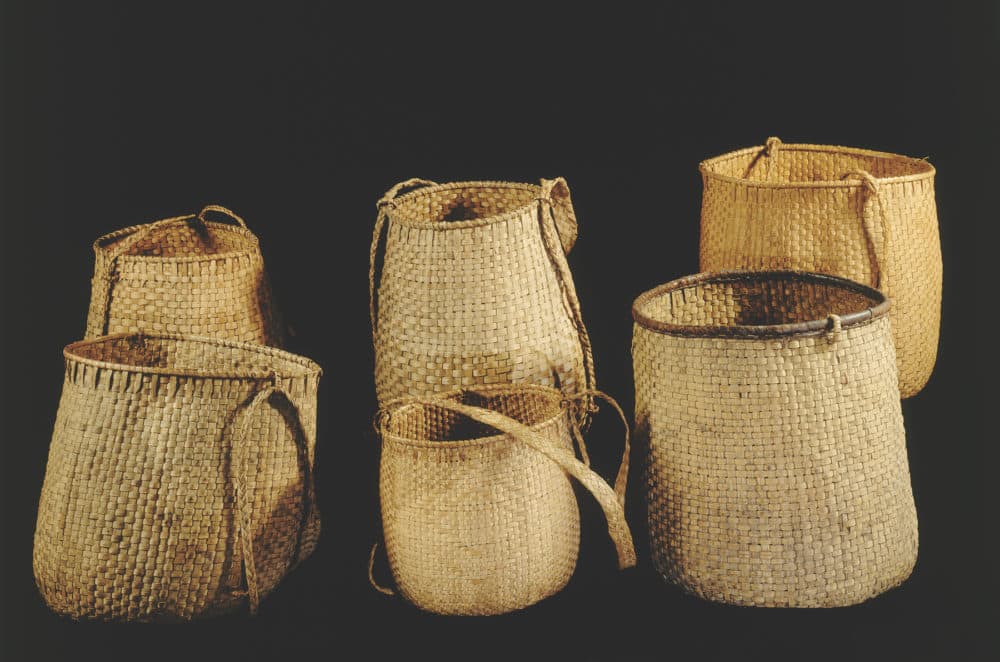 Vasta, who is a member of the Turtle Mountain Band of Chippewa Indians, says everyone needs to do a better job of evolving and acknowledging contemporary Native people and the issues that they're facing now. "When I read things about health disparities, or educational disparities, or other contemporary issues I never see statistics on native people, even though there are lots of indigenous people living in Boston. It's frustrating. You can lose sight of who makes up your community in a very real way."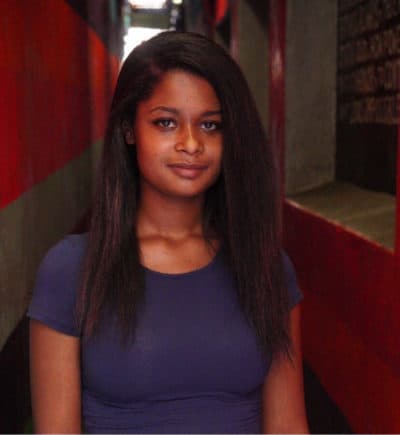 Nineteen-year-old Alyssa Harris described some of the collection's baskets, which were woven by Wampanoag men and women and used as purses or for storage in the home. She says though they weren't used for this purpose, some are tight enough to hold water. Harris graduated from Mashpee High School in 2020 and has worked as an educator at Plimoth Patuxet for four years. She's also part of the Wôpanâak Language Reclamation Project (WLRP), a project that, after more than 150 years of dormancy, is bringing their ancestral language back to life. Harris was the first student in Massachusetts to pursue the State Seal of Biliteracy in an indigenous language.
She said that when she's working at Plimoth Patuxet, visitors sometimes have low expectations of Wampanoags. They don't realize they're still living and practicing their culture in the region, or how massive and complex of a society they had before European colonization. "But we are still here," said Harris. "And our way of survival is just fascinating to me."
---
Peabody Museum of Archaeology and Ethnology's online exhibit "Listening to Wampanoag Voices: Beyond 1620" is now available for viewing.