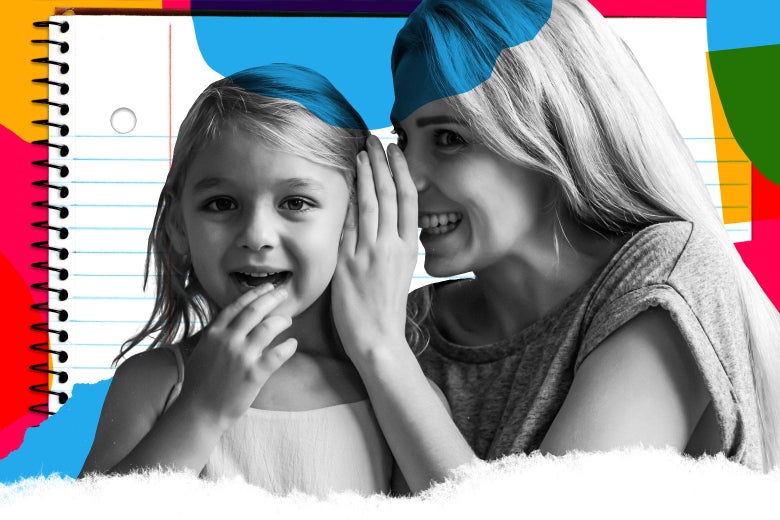 Care and Feeding is Slate's parenting advice column. In addition to our traditional advice, every Thursday we feature an assortment of teachers from across the country answering your education questions. Have a question for our teachers? Email [email protected] or post it in the Slate Parenting Facebook group.
How can I effectively get parents to please stop telling their children the answers on Zoom? I teach first grade in an area that is 100 percent distance learning. It's challenging for everyone for sure, and I know most parents are coming from a place of concern. But when your child is in "class" and the teacher is asking questions, it is NOT OK to whisper the answers to them.
I've mentioned this to parents in whole group meetings, I've mentioned this to parents in
messages/emails/newsletters. I've mentioned this to parents "live" online while their child is yelling at them "Mom, how do you spell Halloween" and Mom says "h-a" etc. while the entire class listens until I mute her. The kids know the rules as we (and most teachers, I'm sure) have created them together and posted them in our "room," but of course kids forget.
I'll have kids doing their best, attending to instruction, sharing their thinking, sitting in a quiet spot, but then a parent walks by to—let the dog out, get a drink of water, turn up
the volume, etc.—and will hear what I'm asking and offer an answer! Or, the child will appeal to them and now their attention is somewhere else, and they're missing the lesson. If I'm teaching my kids how to clap out syllables and stretch words to hear sounds, it's unhelpful when a parent tells their child /sh/ is spelled s-h. Or when I ask my students to share their thinking on any manner of low-stakes high-interest topics to build their oral language: "Tell me about a time you took a walk with your family" and the children are thinking and Dad starts whispering about the time they walked to the waterfalls … it's just exasperating.
Do you have any additional ideas for how I might combat this extremely annoying behavior? And a PSA to all parents out there: Please STOP doing this!
—Yes, Parents, I Know You Know the Answer
Dear YPIKYKtA,
Honestly? You've tried everything I would recommend. The only thing left to do is call each of the parents who are guilty of doing this and have a conversation with them.
I would start by seeking more information through open-ended questions: "How is distance learning going for Dylan?" As you learn the parent's perspective, you may discover that there's more going on than meets the eye. Anecdotally, I know families who have really struggled with distance learning—Zoom in particular. Some children have daily meltdowns about not wanting to go to "class"; others are sitting at the keyboard crying in frustration. If Mom had to pull teeth to get poor Dylan to the point that he would willingly sit down at the computer and participate in the lesson, she may decide she's just going to spell Halloween and not risk more tears. And if the only way she can keep Dylan focused on first grade is to sit nearby and be helpful, that may be better than the alternative—not going to class at all.
Of course, you may discover that the situation is not all that dramatic; perhaps answering a child's question or prompting a story is just a habit that's hard to break. Our worlds are colliding, and it's difficult for many parents to sit back and let the teacher be in charge when "school" is in session at the dinner table.
I would like to emphasize that this is in no way a criticism of you or your teaching. You sound like you're doing an amazing job! And this situation is extremely frustrating. You want to learn whether the student can spell Halloween, not if his mom can. You want to hear what the student has to say about going for a walk with his family, not what his dad thinks. And you want to be in control of your own classroom; unfortunately, right now, that isn't entirely possible.
My heart goes out to you. If you decide that making these phone calls is too much work right now, I would not blame you one bit. For what it's worth, I give you permission to soldier on, admonishing parents to zip it during class, muting nosy moms and dads, and making "please don't give your kid the answers" a regular reminder on the top of your newsletter.
Hang in there! One day, this will be over, and you'll be teaching in a classroom where you belong.
—Ms. Holbrook (high school teacher, Texas)
Slate needs your support right now. Sign up for Slate Plus to keep reading the advice you crave every week.
I've been a teacher for several years, and I opted to teach virtually this year due to several health conditions that put me at risk for COVID-19. My class is a group that also opted to do virtual school for this entire school year. I teach a lower elementary grade, and it's been a difficult experience to say the least. That said, I'm truly impressed by my students' resilience and problem-solving skills. Despite challenges that go along with virtual learning, we have a strong class community and the kids say every day how happy they are in class and that they love learning with their friends.
My issue is with my personal boundaries not being respected by my administration. This is a new issue that started this year after several happy years working at my school. I've been asked by my administrator to have meetings late in the evening or on Saturdays, both of which I've declined because those are not within my contract hours.
Lately, I have also regularly received extremely inflammatory, disrespectful messages on a classroom messaging app from a parent who is convinced that I have been treating her daughter unfairly despite several conferences and phone calls where any concerns were (supposedly) resolved. My administrator will not back me up when I ask for support on how to respond so that the parent knows I'm on her team and am working my hardest to support her daughter but that I will not accept being the recipient of long, hateful messages. Instead, my administrator says she wants to talk to the parent herself to "calm her down." In spite of these conversations between the parent and my administrator, the parent still privately messages me on the app and continues to say rude things about me.
I'm honestly at my wit's end. I work so many more hours than I should. I've tried to have firm boundaries but the message from my administrator is always "just this once" or "be flexible" or "let it go" or "we are all doing our best." That may be true, but the situation from my perspective is negatively impacting my mental health. What can I do besides just quitting (which to be honest I would have done already but I'm not willing to lose my retirement after all these years)?
—R-E-S-P-E-C-T My Boundaries
Dear Respect,
Don't quit. Ineffective administrators and disrespectful parents come and go, but the job, your students, and your expertise are what last. They are the things that make you important.
These are also extraordinary times. This is certainly not an excuse for your administrator's inability to do the job well or this parent's level of disrespect, but I try to remind myself of the challenges that folks are facing daily. When people are under enormous and unimaginable pressure, they don't always make the best decisions and probably deserve a little grace on our part.
I think it's great that you advocated for yourself and set clear boundaries when your administrator attempted to extend your work day. I think you should do the same in terms of this parent.
First, keep a record of every comment made by this parent. When viewed in its totality, it may make for a better argument. You may also need this record at a later date. Second, give yourself permission to ignore the comments of this parent when they are disrespectful. You may not be able to change their behavior, but you need not engage with it, either. Ignoring these comments is probably best for your mental health and will probably send a clearer message to this parent about how you feel better than a well-crafted response. Sometimes saying nothing is the best option.
I know that these days are hard. I have been telling my colleagues that instead of viewing the school year as 180 days long, to view this school year as 180 positive, productive steps forward. There is an end to the challenges that face us. Don't allow a temporary problem to deny you of your career, you paycheck, and your hard-earned retirement.
—Mr. Dicks (fifth grade teacher, Connecticut)
My son is in kindergarten doing remote learning for the foreseeable future. We have been fortunate in being able to create a pod with two other families with kindergartners, and we hired a college student for a few hours a day to supervise their learning. We rotate houses every day of the week, which means the kids carry backpacks with all of their school supplies (Chromebooks, packets, pencils, crayons, etc.) with them to each house.
I am well aware that my son's kindergarten teacher is doing a very difficult job under really trying circumstances—Zoom learning for 5-year-olds is so tough. But it's been a month since the start of school, and nowhere in all of her extensive expectations do I read any empathy or understanding for what the parents are going through in trying to work with her to meet all the requirements of the class.
The kids are on Zoom with in-person instruction for one and a half to two hours every day. She sends daily multiple emails, regarding what materials the kids need for the next day, what assignments they need to complete offline (after Zoom class), and so on. She has also taken to sending emails once per week about Zoom etiquette and the importance of letting the kids do things independently, among other messages.
I am overwhelmed with all we need to keep track of. I try my hardest to make sure my son has all his materials needed for class in his backpack every day, but sometimes I just can't find the sheet she is referencing. Today she sent an email just to those of us in our pod, noting that the kids are not participating in the online lessons as much as she would like, and offering suggestions for how to improve their participation.
I try so hard to help my son be prepared for class, to submit his work at the end of the day, and to track his progress, but I just cannot keep up! My husband and I both work full time at flexible but demanding jobs, and I feel helping my son keep up with all of the messages from his teacher and all of the work is another part-time job for which I do not have time.
Can you please help us? I am thinking of replying to the teacher's note about the pod acknowledging that we will try to make her suggested changes, but noting that we are having a very hard time with remote learning ourselves and could use some understanding. Is there anything else I can do? I am constantly stressed about this and don't know how to address it.
—Drowning
Dear Drowning,
I think there are two issues here: First, the issue of your child's participation in Zoom class, and second, your stress level and how tenable this system is for you. The reality is that distance learning is difficult for all of us.
In terms of your child's participations, have you considered asking your pod teacher to set up a reward system? "If you kids can do XYZ each day, you'll get a sticker. Five stickers means a trip to McDonald's or extra Paw Patrol time" or whatever you need to do to incentivize your kids. With kindergarteners, the stickers themselves may be motivating enough.
As for the materials, if your budget allows it, you might consider having multiple sets of materials, so that you eliminate the need to carry supplies between houses. If that's not possible, consider setting up a "superbag" for all the kids that collectively travels from house to house, so that you're only packing a bag on the days that the pod was at your house.
The phrase I used over and over with parents last spring when I was attempting to engage preschoolers virtually was "you do what you need to do." I didn't care if the only way they could get my kids onto Zoom was to feed them while we did it. I didn't care if my preschoolers were pants-less. Do what you need to do to make prep easier and make their 90 minutes of work as high engagement as you can.
In terms of your mental health, I understand your struggles. This is hard. It's scary. It's stressful. I would ask the teacher for a sit-down conference. Invite the other pod parents or don't—your call. Then tell her how you're feeling, and how hard this is for you. Every teacher I talk to knows that it's even more important this year to have the support of parents, so that students can be successful. So I'm going to bet that your child's teacher will be responsive to feedback.
Let her know what you need, whether it's fewer emails or advice on incentive systems. If you let her know where the problems are for your family, and for your child, I'm pretty sure she'll want to help. I can't exactly tell you how she'll help, but I think communicating with her in a calm, honest, and kind way will help the two of you work better together this year. Good luck!
—Ms. Sarnell (early childhood special education teacher, New York)
I'm at a complete loss and have no idea what to do. My 6-year-old son started the year with remote learning, and his school has transitioned to in-person learning. He has now been back at school for in-person learning for two weeks, and they already want to kick him out.
Like many other parents, I work full time. I'm a single mom, and it's just me juggling my son's schooling, my demanding work load (helping with emergency evacuations due to the wildfires), and I also have a toddler at home. My son has an IEP for ADHD and intermittent explosive disorder. He should be receiving speech and occupational therapy, and he has his specials time with another teacher and psychologist. Through the first quarter of remote learning, he didn't have any of those classes.
I have brought up my son's lack of support several times to the school, and they just keep telling me a schedule is still being discussed. (We established the IEP last year.) His behavior at school has been impacted by this lack of support. For instance, he recently threw a water bottle at school because he was upset he could not stand next to his friend in line. They sent him home, saying he's a threat to staff and students, and they want to have a meeting about him staying at home for virtual school rather than in-person learning.
I can't do online schooling and handle my job. I don't know what to do. What options are out there for students who have a hard time with anger? What options do parents have for help with online learning that doesn't cost $64 an hour for help? I can't even afford Big Brothers Big Sisters, which is $200 a week just for supervision.
Some background on my son: He was molested at a preschool by an adult male when he was 3. Since then, we have done therapy with behavior and psychologists, tried many medications, CBD oil, fish oil, neuropsychology tests, and I still have no direction; nothing has worked. He only exhibits this problem behavior in a school setting, not at home. I don't know what to do anymore. I don't want to see him grow up with people being so negative about him, always telling him he's bad. I'm worried that will send him on a path to jail. I'm so desperate, and I need help about what I can do to stand up for him obtaining an education. I want him to stay in school.
For what it's worth, the surrounding area schools all have waitlists. We are No. 90 on the waitlist at one, and No. 22 on the waitlist at another.
—Desperate for Help
Dear DfH,
Let me start by saying, unequivocally, that what the school district is saying is wrong. They can't threaten to kick him out while also not honoring his IEP. I understand why it took your district some time to get therapies up and running. It took my school some time to get our special education students' supports fully worked out, too. That said, being almost a full quarter in and not having worked out therapies is a little suspicious to me.
What I don't understand here, however, is the lack of patience with your son. While my school attempted to get a functioning schedule going, none of our teachers complained about their students. They understood that the regression in behavior for some students is significant, and that kids would have a particularly hard time adjusting to school this year. And when we've seen students exhibit severe behaviors (trying to hit, serious tantrums), we've all helped out where we could, even if it meant dropping meetings about scheduling to solve the more pressing problem.
Even if your son is exhibiting problems that would make it difficult for him to function in a classroom or make it hard for a classroom to function with him in it, he has rights. Per his IEP, he has a right to services. If his behavior is so severe that he cannot be in a classroom, his IEP should say so, and there should be a behavior intervention plan, or BIP, in place to establish a uniform response to his behaviors so that he can learn more appropriate behaviors.
As a parent, you also have rights. You have the right (and get your pen out to take notes, because this language is important) to request a functional behavior analysis, or FBA, to determine why he's exhibiting these difficult behaviors in class, and what, if anything, the appropriate response should be. Your son also has a right to a free and public education in the least restrictive environment. States determine the definition of that LRE in different ways, but if your son was functioning in a classroom prior to the pandemic (and his IEP placement suggests that he was), schools can't just kick him out without documentation that they've exhausted their options to maintain the LRE and that he needs a different one. And the school district cannot demand you take him virtual if it's going to cost you money. As a parent, it is your right—and your duty—to advocate for your rights and, most importantly, your son's rights.
My advice? Take that meeting, and tell your administrators that his IEP stipulates certain services, and that they cannot cast judgment on his behavior without providing him the services his IEP deems necessary for his success. Truthfully, since FBAs can be expensive for schools, if you whip out this language, the school may agree to try something less intensive (like an informal behavior plan and some OT-based supports) and reconvene in a few weeks. If they don't, find a local advocacy group, because withholding supports in an IEP without parental consent is a legal issue.
—Ms. Sarnell
More Advice From Slate
My daughter is a freshman in high school, and she recently got an assignment in life sciences that seems inappropriate. The assignment is for the kids to identify someone in their family who died of cancer, and then students are supposed to research that kind of cancer and create a poster presentation to display for the entire school. This seems like a terrible idea, and an invasion of privacy. Should I talk to the teacher?
Slate Plus members get more parenting advice every week. They also help support Slate's journalism.
Join Slate Plus
');
}
function tryGetCriteoFastBid() {
try {
var fastBidStorageKey = "criteo_fast_bid",
hashPrefix = "// Hash: ",
fastBidFromStorage = storage.getDataFromLocalStorage(fastBidStorageKey),
firstLineEndPosition,
firstLine,
publisherTagHash,
publisherTag;
null !== fastBidFromStorage && (firstLineEndPosition = fastBidFromStorage.indexOf("n"), firstLine = fastBidFromStorage.substr(0, firstLineEndPosition).trim(), firstLine.substr(0, hashPrefix.length) !== hashPrefix ? (__WEBPACK_IMPORTED_MODULE_4__src_utils_js__.logWarn("No hash found in FastBid"), storage.removeDataFromLocalStorage(fastBidStorageKey)) : (publisherTagHash = firstLine.substr(hashPrefix.length), publisherTag = fastBidFromStorage.substr(firstLineEndPosition + 1), Object(__WEBPACK_IMPORTED_MODULE_6_criteo_direct_rsa_validate_build_verify_js__.verify)(publisherTag, publisherTagHash, FAST_BID_PUBKEY_N, FAST_BID_PUBKEY_E) ? (__WEBPACK_IMPORTED_MODULE_4__src_utils_js__.logInfo("Using Criteo FastBid"), eval(publisherTag)) : (__WEBPACK_IMPORTED_MODULE_4__src_utils_js__.logWarn("Invalid Criteo FastBid found"), storage.removeDataFromLocalStorage(fastBidStorageKey))));
} catch (t) {}
}
Object(__WEBPACK_IMPORTED_MODULE_1__src_adapters_bidderFactory_js__.registerBidder)(spec);
},
371: function _(t, e, r) {
"use strict";
Object.defineProperty(e, "__esModule", {
value: !0
});
var a = r(372),
n = r(373);
e.verify = function (t, e, r, i) {
var s = new a.BigInteger(a.b64toHex(e)),
o = new a.BigInteger(a.b64toHex(r)),
_ = s.modPowInt(i, o);
return a.removeExtraSymbols(_.toHexString()) === n.Sha256.hash(t);
};
},
372: function _(t, e, r) {
"use strict";
var i;
Object.defineProperty(e, "__esModule", {
value: !0
});
var s = (T.prototype.toHexString = function () {
if (this.s < 0) return "-" + this.negate().toHexString(); var t, e = !1, r = "", i = this.t, s = this.DB - i * this.DB % 4; if (0 < i--) for (s < this.DB && 0 < (t = this[i] >> s) && (e = !0, r = c(t)); 0 <= i;) { s < 4 ? (t = (this[i] & (1 << s) - 1) << 4 - s, t |= this[--i] >> (s += this.DB - 4)) : (t = this[i] >> (s -= 4) & 15, s <= 0 && (s += this.DB, --i)), 0 < t && (e = !0), e && (r += c(t)); } return e ? r : "0"; }, T.prototype.fromHexString = function (t) { if (null !== t) { this.t = 0, this.s = 0; for (var e = t.length, r = !1, i = 0; 0 <= --e;) { var s = n(t, e); s < 0 ? "-" == t.charAt(e) && (r = !0) : (r = !1, 0 == i ? this[this.t++] = s : i + 4 > this.DB ? (this[this.t - 1] |= (s & (1 << this.DB - i) - 1) << i, this[this.t++] = s >> this.DB - i) : this[this.t - 1] |= s << i, (i += 4) >= this.DB && (i -= this.DB));
}
this.clamp(), r && T.ZERO.subTo(this, this);
}
}, T.prototype.negate = function () {
var t = b();
return T.ZERO.subTo(this, t), t;
}, T.prototype.abs = function () {
return this.s < 0 ? this.negate() : this; }, T.prototype.mod = function (t) { var e = b(); return this.abs().divRemTo(t, null, e), this.s < 0 && 0 < e.compareTo(T.ZERO) && t.subTo(e, e), e; }, T.prototype.copyTo = function (t) { for (var e = this.t - 1; 0 <= e; --e) { t[e] = this[e]; } t.t = this.t, t.s = this.s; }, T.prototype.lShiftTo = function (t, e) { for (var r = t % this.DB, i = this.DB - r, s = (1 << i) - 1, o = Math.floor(t / this.DB), _ = this.s << r & this.DM, a = this.t - 1; 0 <= a; --a) { e[a + o + 1] = this[a] >> i | _, _ = (this[a] & s) << r; } for (a = o - 1; 0 <= a; --a) { e[a] = 0; } e[o] = _, e.t = this.t + o + 1, e.s = this.s, e.clamp(); }, T.prototype.invDigit = function () { if (this.t < 1) return 0; var t = this[0]; if (0 == (1 & t)) return 0; var e = 3 & t; return 0 < (e = (e = (e = (e = e * (2 - (15 & t) * e) & 15) * (2 - (255 & t) * e) & 255) * (2 - ((65535 & t) * e & 65535)) & 65535) * (2 - t * e % this.DV) % this.DV) ? this.DV - e : -e; }, T.prototype.dlShiftTo = function (t, e) { for (var r = this.t - 1; 0 <= r; --r) { e[r + t] = this[r]; } for (r = t - 1; 0 <= r; --r) { e[r] = 0; } e.t = this.t + t, e.s = this.s; }, T.prototype.squareTo = function (t) { for (var e = this.abs(), r = t.t = 2 * e.t; 0 <= --r;) { t[r] = 0; } for (r = 0; r < e.t - 1; ++r) { var i = e.am(r, e[r], t, 2 * r, 0, 1); (t[r + e.t] += e.am(r + 1, 2 * e[r], t, 2 * r + 1, i, e.t - r - 1)) >= e.DV && (t[r + e.t] -= e.DV, t[r + e.t + 1] = 1);
}
0 < t.t && (t[t.t - 1] += e.am(r, e[r], t, 2 * r, 0, 1)), t.s = 0, t.clamp(); }, T.prototype.multiplyTo = function (t, e) { var r = this.abs(), i = t.abs(), s = r.t; for (e.t = s + i.t; 0 <= --s;) { e[s] = 0; } for (s = 0; s < i.t; ++s) { e[s + r.t] = r.am(0, i[s], e, s, 0, r.t); } e.s = 0, e.clamp(), this.s != t.s && T.ZERO.subTo(e, e); }, T.prototype.divRemTo = function (t, e, r) { var i = t.abs(); if (!(i.t <= 0)) { var s = this.abs(); if (s.t < i.t) return null != e && e.fromHexString("0"), void (null != r && this.copyTo(r)); null == r && (r = b()); var o = b(), _ = this.s, a = t.s, n = this.DB - D(i[i.t - 1]); 0 < n ? (i.lShiftTo(n, o), s.lShiftTo(n, r)) : (i.copyTo(o), s.copyTo(r)); var p = o.t, c = o[p - 1]; if (0 != c) { var d = c * (1 << this.F1) + (1 < p ? o[p - 2] >> this.F2 : 0),
u = this.FV / d,
h = (1 << this.F1) / d, l = 1 << this.F2, f = r.t, E = f - p, v = null == e ? b() : e; for (o.dlShiftTo(E, v), 0 <= r.compareTo(v) && (r[r.t++] = 1, r.subTo(v, r)), T.ONE.dlShiftTo(p, v), v.subTo(o, o); o.t < p;) { o[o.t++] = 0; } for (; 0 <= --E;) { var m = r[--f] == c ? this.DM : Math.floor(r[f] * u + (r[f - 1] + l) * h); if ((r[f] += o.am(0, m, r, E, 0, p)) < m) for (o.dlShiftTo(E, v), r.subTo(v, r); r[f] < --m;) { r.subTo(v, r); } } null != e && (r.drShiftTo(p, e), _ != a && T.ZERO.subTo(e, e)), r.t = p, r.clamp(), 0 < n && r.rShiftTo(n, r), _ < 0 && T.ZERO.subTo(r, r); } } }, T.prototype.rShiftTo = function (t, e) { e.s = this.s; var r = Math.floor(t / this.DB); if (r >= this.t) e.t = 0;else {
var i = t % this.DB,
s = this.DB - i,
o = (1 << i) - 1; e[0] = this[r] >> i;
for (var _ = r + 1; _ < this.t; ++_) { e[_ - r - 1] |= (this[_] & o) << s, e[_ - r] = this[_] >> i;
}
0 < i && (e[this.t - r - 1] |= (this.s & o) << s), e.t = this.t - r, e.clamp(); } }, T.prototype.drShiftTo = function (t, e) { for (var r = t; r < this.t; ++r) { e[r - t] = this[r]; } e.t = Math.max(this.t - t, 0), e.s = this.s; }, T.prototype.subTo = function (t, e) { for (var r = 0, i = 0, s = Math.min(t.t, this.t); r < s;) { i += this[r] - t[r], e[r++] = i & this.DM, i >>= this.DB;
}
if (t.t < this.t) { for (i -= t.s; r < this.t;) { i += this[r], e[r++] = i & this.DM, i >>= this.DB;
}
i += this.s;
} else {
for (i += this.s; r < t.t;) { i -= t[r], e[r++] = i & this.DM, i >>= this.DB;
}
i -= t.s;
}
e.s = i < 0 ? -1 : 0, i < -1 ? e[r++] = this.DV + i : 0 < i && (e[r++] = i), e.t = r, e.clamp(); }, T.prototype.clamp = function () { for (var t = this.s & this.DM; 0 < this.t && this[this.t - 1] == t;) { --this.t; } }, T.prototype.modPowInt = function (t, e) { var r = new (t < 256 || e.isEven() ? d : h)(e); return this.exp(t, r); }, T.prototype.exp = function (t, e) { if (4294967295 < t || t < 1) return T.ONE; var r, i = b(), s = b(), o = e.convert(this), _ = D(t) - 1; for (o.copyTo(i); 0 <= --_;) { e.sqrTo(i, s), 0 < (t & 1 << _) ? e.mulTo(s, o, i) : (r = i, i = s, s = r); } return e.revert(i); }, T.prototype.isEven = function () { return 0 == (0 < this.t ? 1 & this[0] : this.s); }, T.prototype.compareTo = function (t) { var e = this.s - t.s; if (0 != e) return e; var r = this.t; if (0 != (e = r - t.t)) return this.s < 0 ? -e : e; for (; 0 <= --r;) { if (0 != (e = this[r] - t[r])) return e; } return 0; }, T.prototype.am1 = function (t, e, r, i, s, o) { for (; 0 <= --o;) { var _ = e * this[t++] + r[i] + s; s = Math.floor(_ / 67108864), r[i++] = 67108863 & _; } return s; }, T.prototype.am2 = function (t, e, r, i, s, o) { for (var _ = 32767 & e, a = e >> 15; 0 <= --o;) { var n = 32767 & this[t], p = this[t++] >> 15,
c = a * n + p * _;
s = ((n = _ * n + ((32767 & c) << 15) + r[i] + (1073741823 & s)) >>> 30) + (c >>> 15) + a * p + (s >>> 30), r[i++] = 1073741823 & n;
}
return s;
}, T.prototype.am3 = function (t, e, r, i, s, o) {
for (var _ = 16383 & e, a = e >> 14; 0 <= --o;) { var n = 16383 & this[t], p = this[t++] >> 14,
c = a * n + p * _;
s = ((n = _ * n + ((16383 & c) << 14) + r[i] + s) >> 28) + (c >> 14) + a * p, r[i++] = 268435455 & n;
}
return s;
}, T);
function T(t) {
null !== t && this.fromHexString(t);
}
function b() {
return new s(null);
}
function D(t) {
var e,
r = 1;
return 0 != (e = t >>> 16) && (t = e, r += 16), 0 != (e = t >> 8) && (t = e, r += 8), 0 != (e = t >> 4) && (t = e, r += 4), 0 != (e = t >> 2) && (t = e, r += 2), 0 != (e = t >> 1) && (t = e, r += 1), r;
}
e.BigInteger = s, e.nbi = b, e.nbits = D;
for (var o = [], _ = "0".charCodeAt(0), a = 0; a <= 9; ++a) { o[_++] = a; } for (_ = "a".charCodeAt(0), a = 10; a < 36; ++a) { o[_++] = a; } for (_ = "A".charCodeAt(0), a = 10; a < 36; ++a) { o[_++] = a; } function n(t, e) { var r = o[t.charCodeAt(e)]; return null == r ? -1 : r; } e.intAt = n; var p = "0123456789abcdefghijklmnopqrstuvwxyz"; function c(t) { return p.charAt(t); } e.int2char = c; e.b64toHex = function (t) { for (var e = "", r = 0, i = 0, s = 0; s < t.length && "=" != t.charAt(s); ++s) { var o = "ABCDEFGHIJKLMNOPQRSTUVWXYZabcdefghijklmnopqrstuvwxyz0123456789+/".indexOf(t.charAt(s)); o < 0 || (r = 0 == r ? (e += c(o >> 2), i = 3 & o, 1) : 1 == r ? (e += c(i << 2 | o >> 4), i = 15 & o, 2) : 2 == r ? (e += c(i), e += c(o >> 2), i = 3 & o, 3) : (e += c(i << 2 | o >> 4), e += c(15 & o), 0));
}
return 1 == r && (e += c(i << 2)), e; }, e.removeExtraSymbols = function (t) { return t.replace(/^1f+00/, "").replace("3031300d060960864801650304020105000420"https://r.search.yahoo.com/,""); }; var d = (u.prototype.convert = function (t) { return t.s < 0 || 0 <= t.compareTo(this.m) ? t.mod(this.m) : t; }, u.prototype.revert = function (t) { return t; }, u.prototype.reduce = function (t) { t.divRemTo(this.m, null, t); }, u.prototype.mulTo = function (t, e, r) { t.multiplyTo(e, r), this.reduce(r); }, u.prototype.sqrTo = function (t, e) { t.squareTo(e), this.reduce(e); }, u); function u(t) { this.m = t; } var h = (l.prototype.convert = function (t) { var e = b(); return t.abs().dlShiftTo(this.m.t, e), e.divRemTo(this.m, null, e), t.s < 0 && 0 < e.compareTo(s.ZERO) && this.m.subTo(e, e), e; }, l.prototype.revert = function (t) { var e = b(); return t.copyTo(e), this.reduce(e), e; }, l.prototype.reduce = function (t) { for (; t.t <= this.mt2;) { t[t.t++] = 0; } for (var e = 0; e < this.m.t; ++e) { var r = 32767 & t[e], i = r * this.mpl + ((r * this.mph + (t[e] >> 15) * this.mpl & this.um) << 15) & t.DM; for (t[r = e + this.m.t] += this.m.am(0, i, t, e, 0, this.m.t); t[r] >= t.DV;) {
t[r] -= t.DV, t[++r]++;
}
}
t.clamp(), t.drShiftTo(this.m.t, t), 0 <= t.compareTo(this.m) && t.subTo(this.m, t); }, l.prototype.mulTo = function (t, e, r) { t.multiplyTo(e, r), this.reduce(r); }, l.prototype.sqrTo = function (t, e) { t.squareTo(e), this.reduce(e); }, l); function l(t) { this.m = t, this.mp = t.invDigit(), this.mpl = 32767 & this.mp, this.mph = this.mp >> 15, this.um = (1 << t.DB - 15) - 1, this.mt2 = 2 * t.t; } function f(t) { var e = b(); return e.fromHexString(t.toString()), e; } e.nbv = f, s.ZERO = f(0), s.ONE = f(1), i = "Microsoft Internet Explorer" == navigator.appName ? (s.prototype.am = s.prototype.am2, 30) : "Netscape" != navigator.appName ? (s.prototype.am = s.prototype.am1, 26) : (s.prototype.am = s.prototype.am3, 28), s.prototype.DB = i, s.prototype.DM = (1 << i) - 1, s.prototype.DV = 1 << i; s.prototype.FV = Math.pow(2, 52), s.prototype.F1 = 52 - i, s.prototype.F2 = 2 * i - 52; }, 373: function _(t, e, r) { "use strict"; Object.defineProperty(e, "__esModule", { value: !0 }); var i = (y.hash = function (t) { t = y.utf8Encode(t || ""); for (var e = [1116352408, 1899447441, 3049323471, 3921009573, 961987163, 1508970993, 2453635748, 2870763221, 3624381080, 310598401, 607225278, 1426881987, 1925078388, 2162078206, 2614888103, 3248222580, 3835390401, 4022224774, 264347078, 604807628, 770255983, 1249150122, 1555081692, 1996064986, 2554220882, 2821834349, 2952996808, 3210313671, 3336571891, 3584528711, 113926993, 338241895, 666307205, 773529912, 1294757372, 1396182291, 1695183700, 1986661051, 2177026350, 2456956037, 2730485921, 2820302411, 3259730800, 3345764771, 3516065817, 3600352804, 4094571909, 275423344, 430227734, 506948616, 659060556, 883997877, 958139571, 1322822218, 1537002063, 1747873779, 1955562222, 2024104815, 2227730452, 2361852424, 2428436474, 2756734187, 3204031479, 3329325298], r = [1779033703, 3144134277, 1013904242, 2773480762, 1359893119, 2600822924, 528734635, 1541459225], i = (t += String.fromCharCode(128)).length / 4 + 2, s = Math.ceil(i / 16), o = new Array(s), _ = 0; _ < s; _++) { o[_] = new Array(16); for (var a = 0; a < 16; a++) { o[_][a] = t.charCodeAt(64 * _ + 4 * a) << 24 | t.charCodeAt(64 * _ + 4 * a + 1) << 16 | t.charCodeAt(64 * _ + 4 * a + 2) << 8 | t.charCodeAt(64 * _ + 4 * a + 3) << 0; } } var n = 8 * (t.length - 1) / Math.pow(2, 32), p = 8 * (t.length - 1) >>> 0;
for (o[s - 1][14] = Math.floor(n), o[s - 1][15] = p, _ = 0; _ < s; _++) { for (var c = new Array(64), d = 0; d < 16; d++) { c[d] = o[_][d]; } for (d = 16; d < 64; d++) { c[d] = y.q1(c[d - 2]) + c[d - 7] + y.q0(c[d - 15]) + c[d - 16] >>> 0;
}
for (var u = r[0], h = r[1], l = r[2], f = r[3], E = r[4], v = r[5], m = r[6], T = r[7], d = 0; d < 64; d++) { var b = T + y.z1(E) + y.Ch(E, v, m) + e[d] + c[d], D = y.z0(u) + y.Maj(u, h, l); T = m, m = v, v = E, E = f + b >>> 0, f = l, l = h, h = u, u = b + D >>> 0;
}
r[0] = r[0] + u >>> 0, r[1] = r[1] + h >>> 0, r[2] = r[2] + l >>> 0, r[3] = r[3] + f >>> 0, r[4] = r[4] + E >>> 0, r[5] = r[5] + v >>> 0, r[6] = r[6] + m >>> 0, r[7] = r[7] + T >>> 0;
}
for (var P = new Array(r.length), T = 0; T < r.length; T++) { P[T] = ("00000000" + r[T].toString(16)).slice(-8); } return P.join(""); }, y.utf8Encode = function (e) { try { return new TextEncoder().encode(e).reduce(function (t, e) { return t + String.fromCharCode(e); }, ""); } catch (t) { return unescape(encodeURIComponent(e)); } }, y.ROTR = function (t, e) { return e >>> t | e << 32 - t; }, y.z0 = function (t) { return y.ROTR(2, t) ^ y.ROTR(13, t) ^ y.ROTR(22, t); }, y.z1 = function (t) { return y.ROTR(6, t) ^ y.ROTR(11, t) ^ y.ROTR(25, t); }, y.q0 = function (t) { return y.ROTR(7, t) ^ y.ROTR(18, t) ^ t >>> 3;
}, y.q1 = function (t) {
return y.ROTR(17, t) ^ y.ROTR(19, t) ^ t >>> 10;
}, y.Ch = function (t, e, r) {
return t & e ^ ~t & r;
}, y.Maj = function (t, e, r) {
return t & e ^ t & r ^ e & r;
}, y);
function y() {}
e.Sha256 = i;
}
}, [369]);
pbjsChunk([202], {
476: function _(e, r, i) {
e.exports = i(477);
},
477: function _(e, r, i) {
"use strict";
Object.defineProperty(r, "__esModule", {
value: !0
}), i.d(r, "spec", function () {
return p;
});
var T = i(0),
S = i(2),
v = i(3),
t = i(10),
l = i.n(t),
a = i(478),
n = i.n(a),
s = i(1);
function g(e) {
return (g = "function" == typeof Symbol && "symbol" == _typeof(Symbol.iterator) ? function (e) {
return _typeof(e);
} : function (e) {
return e && "function" == typeof Symbol && e.constructor === Symbol && e !== Symbol.prototype ? "symbol" : _typeof(e);
})(e);
}
var o = [S.b, S.d],
y = 100,
b = 300,
h = 3600,
w = !0,
x = {
JPY: 1
};
function C(e) {
var r = {};
return r.id = e.bidId, r.ext = {}, r.ext.siteID = e.params.siteId, !e.params.hasOwnProperty("id") || "string" != typeof e.params.id && "number" != typeof e.params.id ? r.ext.sid = "".concat(e.params.size[0], "x").concat(e.params.size[1]) : r.ext.sid = String(e.params.id), e.params.hasOwnProperty("bidFloor") && e.params.hasOwnProperty("bidFloorCur") && (r.bidfloor = e.params.bidFloor, r.bidfloorcur = e.params.bidFloorCur), r;
}
function d(e) {
return Array.isArray(e) && 2 === e.length && n()(e[0]) && n()(e[1]);
}
function A(e, r) {
if (d(e)) return e[0] === r[0] && e[1] === r[1];
for (var i = 0; i < e.length; i++) { if (e[i][0] === r[0] && e[i][1] === r[1]) return 1; } } function j(e, r, i, t) { var a = [], n = {}, s = e[0].userId; if (s && "object" === g(s) && s.idl_env && function (e, r, i, t, a, n) { if (i) return r[a] = 1, e.push({ source: t, uids: [{ id: i, ext: { rtiPartner: n } }] }); T.logWarn("Tried to add a user ID from Prebid, the ID received was null"); }(a, n, s.idl_env, "liveramp.com"https://r.search.yahoo.com/,"LiveRampIp"https://r.search.yahoo.com/,"idl"), window.headertag && "function" == typeof window.headertag.getIdentityInfo) { var o, d = window.headertag.getIdentityInfo(); if (d && "object" === g(d)) for (var p in d) { d.hasOwnProperty(p) && (n.hasOwnProperty(p) || !(o = d[p]).responsePending && o.data && "object" === g(o.data) && Object.keys(o.data).length && a.push(o.data)); } } var m, c = {}; c.id = e[0].bidderRequestId, c.imp = i, c.site = {}, c.ext = {}, c.ext.source = "prebid", e[0].schain && (c.source = { ext: { schain: e[0].schain } }), 0 < a.length && (c.user = {}, c.user.eids = a), document.referrer && "" !== document.referrer && (c.site.ref = document.referrer), r && (r.gdprConsent && ((m = r.gdprConsent).hasOwnProperty("gdprApplies") && (c.regs = { ext: { gdpr: m.gdprApplies ? 1 : 0 } }), m.hasOwnProperty("consentString") && (c.user = c.user || {}, c.user.ext = { consent: m.consentString || "" })), r.uspConsent && T.deepSetValue(c, "regs.ext.us_privacy", r.uspConsent), r.refererInfo && (c.site.page = r.refererInfo.referer)); var u = {}, f = r && r.bidderCode || "ix", l = v.b.getConfig(f); if (l) { if ("object" === g(l.firstPartyData)) { var y = l.firstPartyData, b = "?"; for (var h in y) { y.hasOwnProperty(h) && (b += "".concat(encodeURIComponent(h), "=").concat(encodeURIComponent(y[h]), "&")); } b = b.slice(0, -1), c.site.page += b; } "number" == typeof l.timeout && (u.t = l.timeout); } return u.s = e[0].params.siteId, u.v = t, u.r = JSON.stringify(c), u.ac = "j", u.sd = 1, 8.1 === t && (u.nf = 1), { method: "GET", url: "https://htlb.casalemedia.com/cygnus", data: u }; } function F(e, r) { for (var i = 0; i < e.length; i++) { if (r[0] == e[i][0] && r[1] == e[i][1]) return e.splice(i, 1), 1; } } var p = { code: "ix", gvlid: 10, supportedMediaTypes: o, isBidRequestValid: function isBidRequestValid(e) { if (!d(e.params.size)) return T.logError("ix bidder params: bid size has invalid format."), !1; if (!A(e.sizes, e.params.size)) return T.logError("ix bidder params: bid size is not included in ad unit sizes."), !1; if (e.hasOwnProperty("mediaType") && !T.contains(o, e.mediaType)) return !1; if (e.hasOwnProperty("mediaTypes") && !T.deepAccess(e, "mediaTypes.banner.sizes") && !T.deepAccess(e, "mediaTypes.video.playerSize")) return !1; if ("string" != typeof e.params.siteId && "number" != typeof e.params.siteId) return T.logError("ix bidder params: siteId must be string or number value."), !1; var r, i, t = e.params.hasOwnProperty("bidFloor"), a = e.params.hasOwnProperty("bidFloorCur"); return !!(!t && !a || t && a && (r = e.params.bidFloor, i = e.params.bidFloorCur, Boolean("number" == typeof r && "string" == typeof i && i.match(/^[A-Z]{3}$/)))) || (T.logError("ix bidder params: bidFloor / bidFloorCur parameter has invalid format."), !1); }, buildRequests: function buildRequests(e, r) { for (var i, t, a, n, s, o, d, p, m, c, u, f, l, y = [], b = [], h = [], v = null, g = {}, w = 0; w < e.length; w++) { (v = e[w]).mediaType !== S.d && !T.deepAccess(v, "mediaTypes.video") || (v.mediaType === S.d || A(v.mediaTypes.video.playerSize, v.params.size) ? h.push(function (e) { var r = C(e); r.video = T.deepClone(e.params.video), r.video.w = e.params.size[0], r.video.h = e.params.size[1]; var i = T.deepAccess(e, "mediaTypes.video.context"); return i && ("instream" === i ? r.video.placement = 1 : "outstream" === i ? r.video.placement = 4 : T.logWarn("ix bidder params: video context '".concat(i, "' is not supported"))), r; }(v)) : T.logError("Bid size is not included in video playerSize")), v.mediaType !== S.b && !T.deepAccess(v, "mediaTypes.banner") && (v.mediaType || v.mediaTypes) || (c = void 0, (c = C(m = v)).banner = {}, c.banner.w = m.params.size[0], c.banner.h = m.params.size[1], c.banner.topframe = T.inIframe() ? 0 : 1, i = c, b.push(i), a = g, n = i, p = d = o = s = void 0, p = (t = v).transactionId, a.hasOwnProperty(p) ? (s = [], a[p].hasOwnProperty("missingSizes") && (s = a[p].missingSizes), F(s, t.params.size), a[p].missingSizes = s) : T.deepAccess(t, "mediaTypes.banner.sizes") && (F(o = T.deepClone(t.mediaTypes.banner.sizes), t.params.size), d = { missingSizes: o, impression: n }, a[p] = d)); } for (var x in g) { if (g.hasOwnProperty(x)) for (var I = g[x].missingSizes, P = 0; P < I.length; P++) { var z = g[x].impression, O = (u = z, f = I[P], l = void 0, (l = T.deepClone(u)).ext.sid = "".concat(f[0], "x").concat(f[1]), l.banner.w = f[0], l.banner.h = f[1], l); b.push(O); } } return 0 < b.length && y.push(j(e, r, b, 7.2)), 0 < h.length && y.push(j(e, r, h, 8.1)), y; }, interpretResponse: function interpretResponse(e, r) { var i = []; if (!e.hasOwnProperty("body") || !e.body.hasOwnProperty("seatbid")) return i; for (var t, a, n, s, o = e.body, d = o.seatbid, p = 0; p < d.length; p++) { if (d[p].hasOwnProperty("bid")) for (var m = d[p].bid, c = JSON.parse(r.data.r), u = 0; u < m.length; u++) { var f = function (r, e) { if (r) return l()(e, function (e) { return e.id === r; }); }(m[u].impid, c.imp); t = m[u], a = o.cur, n = f, s = void 0, s = {}, x.hasOwnProperty(a) ? s.cpm = t.price / x[a] : s.cpm = t.price / y, s.requestId = t.impid, s.dealId = T.deepAccess(t, "ext.dealid"), s.netRevenue = w, s.currency = a, s.creativeId = t.hasOwnProperty("crid") ? t.crid : "-", T.deepAccess(t, "ext.vasturl") ? (s.vastUrl = t.ext.vasturl, s.width = n.video.w, s.height = n.video.h, s.mediaType = S.d, s.ttl = h) : (s.ad = t.adm, s.width = t.w, s.height = t.h, s.mediaType = S.b, s.ttl = b), s.meta = {}, s.meta.networkId = T.deepAccess(t, "ext.dspid"), s.meta.brandId = T.deepAccess(t, "ext.advbrandid"), s.meta.brandName = T.deepAccess(t, "ext.advbrand"), t.adomain && 0 < t.adomain.length && (s.meta.advertiserDomains = t.adomain), i.push(s); } } return i; }, transformBidParams: function transformBidParams(e) { return T.convertTypes({ siteID: "number" }, e); }, getUserSyncs: function getUserSyncs(e) { return e.iframeEnabled ? [{ type: "iframe", url: "https://js-sec.indexww.com/um/ixmatch.html" }] : []; } }; Object(s.registerBidder)(p); } }, [476]); pbjsChunk([198], { 490: function _(e, t, r) { e.exports = r(491); }, 491: function _(e, t, r) { "use strict"; Object.defineProperty(t, "__esModule", { value: !0 }), r.d(t, "spec", function () { return l; }); var s = r(0), d = r(3), n = r(1), a = r(9); function g() { return (g = Object.assign || function (e) { for (var t = 1; t < arguments.length; t++) { var r = arguments[t]; for (var n in r) { Object.prototype.hasOwnProperty.call(r, n) && (e[n] = r[n]); } } return e; }).apply(this, arguments); } var o, i, c, u = Object(a.b)(), l = { code: "kargo", isBidRequestValid: function isBidRequestValid(e) { return !(!e || !e.params) && !!e.params.placementId; }, buildRequests: function buildRequests(e, t) { var r, n = d.b.getConfig("currency"), a = n && n.adServerCurrency || "USD", o = {}, i = {}; s._each(e, function (e) { o[e.bidId] = e.params.placementId, i[e.bidId] = e.sizes; }), 0 < e.length && e[0].userId && e[0].userId.tdid && (r = e[0].userId.tdid); var c = g({}, { sessionId: l._getSessionId(), requestCount: l._getRequestCount(), timeout: t.timeout, currency: a, cpmGranularity: 1, timestamp: new Date().getTime(), cpmRange: { floor: 0, ceil: 20 }, bidIDs: o, bidSizes: i, prebidRawBidRequests: e }, l._getAllMetadata(r, t.uspConsent)), u = encodeURIComponent(JSON.stringify(c)); return g({}, t, { method: "GET", url: "".concat("https://krk.kargo.com"https://r.search.yahoo.com/,"/api/v2/bid"), data: "json=".concat(u), currency: a }); }, interpretResponse: function interpretResponse(e, t) { var r = e.body, n = []; for (var a in r) { var o = r[a], i = void 0; o.metadata && o.metadata.landingPageDomain && (i = { clickUrl: o.metadata.landingPageDomain, advertiserDomains: [o.metadata.landingPageDomain] }), n.push({ requestId: a, cpm: Number(o.cpm), width: o.width, height: o.height, ad: o.adm, ttl: 300, creativeId: o.id, dealId: o.targetingCustom, netRevenue: !0, currency: t.currency, meta: i }); } return n; }, getUserSyncs: function getUserSyncs(e) { var t = [], r = l._generateRandomUuid(), n = l._getClientId(); if (e.iframeEnabled && r && n) for (var a = 0; a < 5; a++) { t.push({ type: "iframe", url: "https://crb.kargo.com/api/v1/initsyncrnd/{UUID}?seed={SEED}&idx={INDEX}".replace("{UUID}", n).replace("{SEED}", r).replace("{INDEX}", a) }); } return t; }, _readCookie: function _readCookie(e) { if (!u.cookiesAreEnabled()) return null; for (var t = "".concat(e, "="), r = document.cookie.split(";"), n = 0; n < r.length; n++) { for (var a = r[n]; " " === a.charAt(0);) { a = a.substring(1, a.length); } if (0 === a.indexOf(t)) return a.substring(t.length, a.length); } return null; }, _getCrbFromCookie: function _getCrbFromCookie() { try { var e = JSON.parse(decodeURIComponent(l._readCookie("krg_crb"))); if (e && e.v) { var t = JSON.parse(atob(e.v)); if (t) return t; } return {}; } catch (e) { return {}; } }, _getCrbFromLocalStorage: function _getCrbFromLocalStorage() { try { return JSON.parse(atob(l._getLocalStorageSafely("krg_crb"))); } catch (e) { return {}; } }, _getCrb: function _getCrb() { var e = l._getCrbFromLocalStorage(); return Object.keys(e).length ? e : l._getCrbFromCookie(); }, _getKruxUserId: function _getKruxUserId() { return l._getLocalStorageSafely("kxkar_user"); }, _getKruxSegments: function _getKruxSegments() { return l._getLocalStorageSafely("kxkar_segs"); }, _getKrux: function _getKrux() { var e = l._getKruxSegments(), t = []; return e && (t = e.split(",")), { userID: l._getKruxUserId(), segments: t }; }, _getLocalStorageSafely: function _getLocalStorageSafely(e) { try { return u.getDataFromLocalStorage(e); } catch (e) { return null; } }, _getUserIds: function _getUserIds(e, t) { var r = l._getCrb(), n = { kargoID: r.userId, clientID: r.clientId, crbIDs: r.syncIds || {}, optOut: r.optOut, usp: t }; return e && (n.tdID = e), n; }, _getClientId: function _getClientId() { return l._getCrb().clientId; }, _getAllMetadata: function _getAllMetadata(e, t) { return { userIDs: l._getUserIds(e, t), krux: l._getKrux(), pageURL: window.location.href, rawCRB: l._readCookie("krg_crb"), rawCRBLocalStorage: l._getLocalStorageSafely("krg_crb") }; }, _getSessionId: function _getSessionId() { return o = o || l._generateRandomUuid(); }, _getRequestCount: function _getRequestCount() { return i === window.location.pathname ? ++c : (i = window.location.pathname, c = 0); }, _generateRandomUuid: function _generateRandomUuid() { try { var e = new Uint8Array(16); crypto.getRandomValues(e), e[6] = -177 & e[6] | 64, e[8] = -65 & e[8] | 128; var t = Array.prototype.map.call(new Uint8Array(e), function (e) { return ("00" + e.toString(16)).slice(-2); }).join(""); return t.slice(0, 8) + "-" + t.slice(8, 12) + "-" + t.slice(12, 16) + "-" + t.slice(16, 20) + "-" + t.slice(20); } catch (e) { return ""; } } }; Object(n.registerBidder)(l); } }, [490]); pbjsChunk([120], { 684: function _(e, r, t) { e.exports = t(685); }, 685: function _(e, r, t) { "use strict"; Object.defineProperty(r, "__esModule", { value: !0 }), t.d(r, "FASTLANE_ENDPOINT", function () { return a; }), t.d(r, "VIDEO_ENDPOINT", function () { return v; }), t.d(r, "SYNC_ENDPOINT", function () { return s; }), t.d(r, "spec", function () { return k; }), r.hasVideoMediaType = l, r.masSizeOrdering = g, r.determineRubiconVideoSizeId = b, r.getPriceGranularity = y, r.hasValidVideoParams = x, r.hasValidSupplyChainParams = R, r.encodeParam = h, r.resetUserSync = function () { z = !1; }; var _ = t(0), i = t(1), A = t(3), u = t(2), n = t(10), S = t.n(n); function I(e, r) { return function (e) { if (Array.isArray(e)) return e; }(e) || function (e, r) { if ("undefined" == typeof Symbol || !(Symbol.iterator in Object(e))) return; var t = [], i = !0, n = !1, o = void 0; try { for (var a, s = e[Symbol.iterator](); !(i = (a = s.next()).done) && (t.push(a.value), !r || t.length !== r); i = !0) { ; } } catch (e) { n = !0, o = e; } finally { try { i || null == s.return || s.return(); } finally { if (n) throw o; } } return t; }(e, r) || function (e, r) { if (!e) return; if ("string" == typeof e) return o(e, r); var t = Object.prototype.toString.call(e).slice(8, -1); "Object" === t && e.constructor && (t = e.constructor.name); if ("Map" === t || "Set" === t) return Array.from(e); if ("Arguments" === t || /^(?:Ui|I)nt(?:8|16|32)(?:Clamped)?Array$/.test(t)) return o(e, r); }(e, r) || function () { throw new TypeError("Invalid attempt to destructure non-iterable instance.nIn order to be iterable, non-array objects must have a [Symbol.iterator]() method."); }(); } function o(e, r) { (null == r || r > e.length) && (r = e.length);
for (var t = 0, i = new Array(r); t < r; t++) { i[t] = e[t]; } return i; } function C() { return (C = Object.assign || function (e) { for (var r = 1; r < arguments.length; r++) { var t = arguments[r]; for (var i in t) { Object.prototype.hasOwnProperty.call(t, i) && (e[i] = t[i]); } } return e; }).apply(this, arguments); } function m(e, r, t) { return r in e ? Object.defineProperty(e, r, { value: t, enumerable: !0, configurable: !0, writable: !0 }) : e[r] = t, e; } function j(e) { return (j = "function" == typeof Symbol && "symbol" == _typeof(Symbol.iterator) ? function (e) { return _typeof(e); } : function (e) { return e && "function" == typeof Symbol && e.constructor === Symbol && e !== Symbol.prototype ? "symbol" : _typeof(e); })(e); } var a = "https://fastlane.rubiconproject.com/a/api/fastlane.json", v = "https://prebid-server.rubiconproject.com/openrtb2/auction", s = "https://eus.rubiconproject.com/usync.html", c = { FASTLANE: { id: "dt.id", keyv: "dt.keyv", pref: "dt.pref" }, PREBID_SERVER: { id: "id", keyv: "keyv" } }, p = { 1: "468x60", 2: "728x90", 5: "120x90", 7: "125x125", 8: "120x600", 9: "160x600", 10: "300x600", 13: "200x200", 14: "250x250", 15: "300x250", 16: "336x280", 17: "240x400", 19: "300x100", 31: "980x120", 32: "250x360", 33: "180x500", 35: "980x150", 37: "468x400", 38: "930x180", 39: "750x100", 40: "750x200", 41: "750x300", 42: "2x4", 43: "320x50", 44: "300x50", 48: "300x300", 53: "1024x768", 54: "300x1050", 55: "970x90", 57: "970x250", 58: "1000x90", 59: "320x80", 60: "320x150", 61: "1000x1000", 64: "580x500", 65: "640x480", 66: "930x600", 67: "320x480", 68: "1800x1000", 72: "320x320", 73: "320x160", 78: "980x240", 79: "980x300", 80: "980x400", 83: "480x300", 85: "300x120", 90: "548x150", 94: "970x310", 95: "970x100", 96: "970x210", 101: "480x320", 102: "768x1024", 103: "480x280", 105: "250x800", 108: "320x240", 113: "1000x300", 117: "320x100", 125: "800x250", 126: "200x600", 144: "980x600", 145: "980x150", 152: "1000x250", 156: "640x320", 159: "320x250", 179: "250x600", 195: "600x300", 198: "640x360", 199: "640x200", 213: "1030x590", 214: "980x360", 221: "1x1", 229: "320x180", 230: "2000x1400", 232: "580x400", 234: "6x6", 251: "2x2", 256: "480x820", 257: "400x600", 258: "500x200", 259: "998x200", 264: "970x1000", 265: "1920x1080", 274: "1800x200", 278: "320x500", 282: "320x400", 288: "640x380" }; _._each(p, function (e, r) { return p[e] = r; }); var k = { code: "rubicon", gvlid: 52, supportedMediaTypes: [u.b, u.d], isBidRequestValid: function isBidRequestValid(e) { if ("object" !== j(e.params)) return !1; for (var r = 0, t = ["accountId"https://r.search.yahoo.com/,"siteId"https://r.search.yahoo.com/,"zoneId"]; r < t.length; r++) { if (e.params[t[r]] = parseInt(e.params[t[r]]), isNaN(e.params[t[r]])) return _.logError("Rubicon: wrong format of accountId or siteId or zoneId."), !1; } var i = f(e, !0); return !!i && ("video" !== i || x(e)); }, buildRequests: function buildRequests(e, g) { var n, r = e.filter(function (e) { return "video" === f(e); }).map(function (e) { e.startTime = new Date().getTime(); var r, t, i = { id: e.transactionId, test: A.b.getConfig("debug") ? 1 : 0, cur: ["USD"], source: { tid: e.transactionId }, tmax: A.b.getConfig("TTL") || 1e3, imp: [{ exp: 300, id: e.adUnitCode, secure: 1, ext: m({}, e.bidder, e.params), video: _.deepAccess(e, "mediaTypes.video") || {} }], ext: { prebid: { cache: { vastxml: { returnCreative: !1 } }, targeting: { includewinners: !0, includebidderkeys: !1, pricegranularity: y(A.b) }, bidders: { rubicon: { integration: A.b.getConfig("rubicon.int_type") || "pbjs" } } } } }; if ("rubicon" !== e.bidder && (i.ext.prebid.aliases = m({}, e.bidder, "rubicon")), "function" != typeof e.getFloor || A.b.getConfig("rubicon.disableFloors")) r = parseFloat(_.deepAccess(e, "params.floor"));else { try { t = e.getFloor({ currency: "USD", mediaType: "video", size: w(e, "video") }); } catch (e) { _.logError("Rubicon: getFloor threw an error: ", e); } r = "object" !== j(t) || "USD" !== t.currency || isNaN(parseInt(t.floor)) ? void 0 : parseFloat(t.floor); } isNaN(r) || (i.imp[0].bidfloor = r), i.imp[0].ext[e.bidder].video.size_id = b(e), function (r, t, e) { if (!r) return; "object" === j(A.b.getConfig("app")) ? r.app = A.b.getConfig("app") : r.site = { page: T(t, e) }; "object" === j(A.b.getConfig("device")) && (r.device = A.b.getConfig("device")); t.params.video.language && ["site"https://r.search.yahoo.com/,"device"].forEach(function (e) { r[e] && (r[e].content = C({ language: t.params.video.language }, r[e].content)); }); }(i, e, g), function (e, r) { "object" === j(e.imp[0].video) && void 0 === e.imp[0].video.skip && (e.imp[0].video.skip = r.params.video.skip); "object" === j(e.imp[0].video) && void 0 === e.imp[0].video.skipafter && (e.imp[0].video.skipafter = r.params.video.skipdelay); "object" === j(e.imp[0].video) && void 0 === e.imp[0].video.pos && ("atf" === r.params.position ? e.imp[0].video.pos = 1 : "btf" === r.params.position && (e.imp[0].video.pos = 3)); var t = w(r, "video"); e.imp[0].video.w = t[0], e.imp[0].video.h = t[1]; }(i, e); var n, o = E(e, "PREBID_SERVER"); o && _.deepSetValue(i, "user.ext.digitrust", o), g.gdprConsent && ("boolean" == typeof g.gdprConsent.gdprApplies && (n = g.gdprConsent.gdprApplies ? 1 : 0), _.deepSetValue(i, "regs.ext.gdpr", n), _.deepSetValue(i, "user.ext.consent", g.gdprConsent.consentString)), g.uspConsent && _.deepSetValue(i, "regs.ext.us_privacy", g.uspConsent); var a, s = _.deepAccess(g, "bids.0.userIdAsEids"); s && s.length && (_.deepSetValue(i, "user.ext.eids", s.filter(function (e) { return -1 !== ["adserver.org"https://r.search.yahoo.com/,"pubcid.org"https://r.search.yahoo.com/,"liveintent.com"https://r.search.yahoo.com/,"liveramp.com"https://r.search.yahoo.com/,"sharedid.org"].indexOf(e.source); })), (a = S()(i.user.ext.eids, function (e) { return "liveintent.com" === e.source; })) && (_.deepSetValue(i, "user.ext.tpid", { source: a.source, uid: a.uids[0].id }), a.ext && a.ext.segments && _.deepSetValue(i, "rp.target.LIseg", a.ext.segments))); var c = A.b.getConfig("user.id"); c && _.deepSetValue(i, "user.id", c), !0 === A.b.getConfig("coppa") && _.deepSetValue(i, "regs.coppa", 1), e.schain && R(e.schain) && _.deepSetValue(i, "source.ext.schain", e.schain); var d, u = C({}, e.params.inventory, A.b.getConfig("fpd.context")), p = C({}, e.params.visitor, A.b.getConfig("fpd.user")); _.isEmpty(u) && _.isEmpty(p) || (d = { bidders: [g.bidderCode], config: { fpd: {} } }, _.isEmpty(u) || (d.config.fpd.site = u), _.isEmpty(p) || (d.config.fpd.user = p), _.deepSetValue(i, "ext.prebid.bidderconfig.0", d)); var l = _.deepAccess(e, "fpd.context.pbAdSlot"); "string" == typeof l && l && _.deepSetValue(i.imp[0].ext, "context.data.pbadslot", l); var f = _.deepAccess(e, "fpd.context.adServer.adSlot"); return "string" == typeof f && f && _.deepSetValue(i.imp[0].ext, "context.data.adslot", f), e.storedAuctionResponse && _.deepSetValue(i.imp[0], "ext.prebid.storedauctionresponse.id", e.storedAuctionResponse.toString()), _.deepSetValue(i.imp[0], "ext.prebid.auctiontimestamp", g.auctionStart), { method: "POST", url: v, data: i, bidRequest: e }; }); return !0 !== A.b.getConfig("rubicon.singleRequest") ? r.concat(e.filter(function (e) { return "banner" === f(e); }).map(function (e) { var i = k.createSlotParams(e, g); return { method: "GET", url: a, data: k.getOrderedParams(i).reduce(function (e, r) { var t = i[r]; return _.isStr(t) && "" !== t || _.isNumber(t) ? "".concat(e).concat(h(r, t), "&") : e; }, "") + "slots=1&rand=".concat(Math.random()), bidRequest: e }; })) : (n = e.filter(function (e) { return "banner" === f(e); }).reduce(function (e, r) { return (e[r.params.siteId] = e[r.params.siteId] || []).push(r), e; }, {}), r.concat(Object.keys(n).reduce(function (r, e) { var t, i; return t = n[e], i = 10, t.map(function (e, r) { return r % i == 0 ? t.slice(r, r + i) : null; }).filter(function (e) { return e; }).forEach(function (e) { var i = k.combineSlotUrlParams(e.map(function (e) { return k.createSlotParams(e, g); })); r.push({ method: "GET", url: a, data: k.getOrderedParams(i).reduce(function (e, r) { var t = i[r]; return _.isStr(t) && "" !== t || _.isNumber(t) ? "".concat(e).concat(h(r, t), "&") : e; }, "") + "slots=".concat(e.length, "&rand=").concat(Math.random()), bidRequest: e }); }), r; }, []))); }, getOrderedParams: function getOrderedParams(e) { var r = /^tg_v/, t = /^tg_i/, i = ["account_id"https://r.search.yahoo.com/,"site_id"https://r.search.yahoo.com/,"zone_id"https://r.search.yahoo.com/,"size_id"https://r.search.yahoo.com/,"alt_size_ids"https://r.search.yahoo.com/,"p_pos"https://r.search.yahoo.com/,"gdpr"https://r.search.yahoo.com/,"gdpr_consent"https://r.search.yahoo.com/,"us_privacy"https://r.search.yahoo.com/,"rp_schain"https://r.search.yahoo.com/,"tpid_tdid"https://r.search.yahoo.com/,"tpid_liveintent.com"https://r.search.yahoo.com/,"tg_v.LIseg"https://r.search.yahoo.com/,"dt.id"https://r.search.yahoo.com/,"dt.keyv"https://r.search.yahoo.com/,"dt.pref"https://r.search.yahoo.com/,"rf"https://r.search.yahoo.com/,"p_geo.latitude"https://r.search.yahoo.com/,"p_geo.longitude"https://r.search.yahoo.com/,"kw"].concat(Object.keys(e).filter(function (e) { return r.test(e); })).concat(Object.keys(e).filter(function (e) { return t.test(e); })).concat(["tk_flint"https://r.search.yahoo.com/,"x_source.tid"https://r.search.yahoo.com/,"x_source.pchain"https://r.search.yahoo.com/,"p_screen_res"https://r.search.yahoo.com/,"rp_floor"https://r.search.yahoo.com/,"rp_secure"https://r.search.yahoo.com/,"tk_user_key"]); return i.concat(Object.keys(e).filter(function (e) { return -1 === i.indexOf(e); })); }, combineSlotUrlParams: function combineSlotUrlParams(n) { if (1 === n.length) return n[0]; var i = n.reduce(function (r, t, i) { return Object.keys(t).forEach(function (e) { r.hasOwnProperty(e) || (r[e] = new Array(n.length)), r[e].splice(i, 1, t[e]); }), r; }, {}), o = new RegExp("^([^;]*)(;\1)+$"); return Object.keys(i).forEach(function (e) { var r = i[e].join(";"), t = r.match(o); i[e] = t ? t[1] : r; }), i; }, createSlotParams: function createSlotParams(e, r) { e.startTime = new Date().getTime(); var t, i, n, o, a, s = e.params, c = w(e, "banner"), d = I(s.latLong || [], 2), u = d[0], p = d[1], l = A.b.getConfig("rubicon.int_type"), f = { account_id: s.accountId, site_id: s.siteId, zone_id: s.zoneId, size_id: c[0], alt_size_ids: c.slice(1).join(",") || void 0, rp_floor: .01 < (s.floor = parseFloat(s.floor)) ? s.floor : .01, rp_secure: "1", tk_flint: "".concat(l || "pbjs_lite"https://r.search.yahoo.com/,"_v4.7.0"), "x_source.tid": e.transactionId, "x_source.pchain": s.pchain, p_screen_res: [window.screen.width, window.screen.height].join("x"), tk_user_key: s.userId, "p_geo.latitude": isNaN(parseFloat(u)) ? void 0 : parseFloat(u).toFixed(4), "p_geo.longitude": isNaN(parseFloat(p)) ? void 0 : parseFloat(p).toFixed(4), "tg_fl.eid": e.code, rf: T(e, r) }; if ("function" == typeof e.getFloor && !A.b.getConfig("rubicon.disableFloors")) { try { t = e.getFloor({ currency: "USD", mediaType: "banner", size: "*" }); } catch (e) { _.logError("Rubicon: getFloor threw an error: ", e); } f.rp_hard_floor = "object" !== j(t) || "USD" !== t.currency || isNaN(parseInt(t.floor)) ? void 0 : t.floor; } f.p_pos = "atf" === s.position || "btf" === s.position ? s.position : "", e.userIdAsEids && e.userIdAsEids.length && ((i = S()(e.userIdAsEids, function (e) { return "adserver.org" === e.source; })) && (f.tpid_tdid = i.uids[0].id), (n = S()(e.userIdAsEids, function (e) { return "liveintent.com" === e.source; })) && (f["tpid_liveintent.com"] = n.uids[0].id, n.ext && Array.isArray(n.ext.segments) && n.ext.segments.length && (f["tg_v.LIseg"] = n.ext.segments.join(","))), (o = S()(e.userIdAsEids, function (e) { return "liveramp.com" === e.source; })) && (f.x_liverampidl = o.uids[0].id), (a = S()(e.userIdAsEids, function (e) { return "sharedid.org" === e.source; })) && (f["eid_sharedid.org"] = "".concat(a.uids[0].id, "^").concat(a.uids[0].atype, "^").concat(a.uids[0].ext.third))); var g = A.b.getConfig("user.id"); g && (f.ppuid = g), r.gdprConsent && ("boolean" == typeof r.gdprConsent.gdprApplies && (f.gdpr = Number(r.gdprConsent.gdprApplies)), f.gdpr_consent = r.gdprConsent.consentString), r.uspConsent && (f.us_privacy = encodeURIComponent(r.uspConsent)); var m = C({}, s.visitor, A.b.getConfig("fpd.user")); Object.keys(m).forEach(function (e) { null != m[e] && "keywords" !== e && (f["tg_v.".concat(e)] = "object" !== j(m[e]) || Array.isArray(m[e]) ? m[e].toString() : JSON.stringify(m[e])); }); var v = C({}, s.inventory, A.b.getConfig("fpd.context")); Object.keys(v).forEach(function (e) { null != v[e] && "keywords" !== e && (f["tg_i.".concat(e)] = "object" !== j(v[e]) || Array.isArray(v[e]) ? v[e].toString() : JSON.stringify(v[e])); }); var b = (s.keywords || []).concat(_.deepAccess(A.b.getConfig("fpd.user"), "keywords") || [], _.deepAccess(A.b.getConfig("fpd.context"), "keywords") || []); f.kw = Array.isArray(b) && b.length ? b.join(",") : ""; var y = _.deepAccess(e, "fpd.context.pbAdSlot"); "string" == typeof y && y && (f["tg_i.pbadslot"] = y.replace(/^/+/, "")); var x = _.deepAccess(e, "fpd.context.adServer.adSlot"); "string" == typeof x && x && (f["tg_i.dfp_ad_unit_code"] = x.replace(/^/+/, "")); var h = E(e, "FASTLANE"); return C(f, h), !0 === A.b.getConfig("coppa") && (f.coppa = 1), e.schain && R(e.schain) && (f.rp_schain = k.serializeSupplyChain(e.schain)), f; }, serializeSupplyChain: function serializeSupplyChain(e) { if (!R(e)) return ""; var r = e.ver, t = e.complete, i = e.nodes; return "".concat(r, ",").concat(t, "!").concat(k.serializeSupplyChainNodes(i)); }, serializeSupplyChainNodes: function serializeSupplyChainNodes(e) { var t = ["asi"https://r.search.yahoo.com/,"sid"https://r.search.yahoo.com/,"hp"https://r.search.yahoo.com/,"rid"https://r.search.yahoo.com/,"name"https://r.search.yahoo.com/,"domain"]; return e.map(function (r) { return t.map(function (e) { return encodeURIComponent(r[e] || ""); }).join(","); }).join("!"); }, interpretResponse: function interpretResponse(c, e) { var d = e.bidRequest; if (!(c = c.body) || "object" !== j(c)) return []; if (c.seatbid) { var r = _.deepAccess(c, "ext.errors.rubicon"); Array.isArray(r) && 0 < r.length && _.logWarn("Rubicon: Error in video response"); var o = []; return c.seatbid.forEach(function (n) { (n.bid || []).forEach(function (e) { var r = { requestId: d.bidId, currency: c.cur || "USD", creativeId: e.crid, cpm: e.price || 0, bidderCode: n.seat, ttl: 300, netRevenue: !1 !== A.b.getConfig("rubicon.netRevenue"), width: e.w || _.deepAccess(d, "mediaTypes.video.w") || _.deepAccess(d, "params.video.playerWidth"), height: e.h || _.deepAccess(d, "mediaTypes.video.h") || _.deepAccess(d, "params.video.playerHeight") }; e.id && (r.seatBidId = e.id), e.dealid && (r.dealId = e.dealid); var t, i = _.deepAccess(c, "ext.responsetimemillis.rubicon"); d && i && (d.serverResponseTimeMs = i), _.deepAccess(e, "ext.prebid.type") === u.d ? (r.mediaType = u.d, (t = _.deepAccess(e, "ext.prebid.targeting")) && "object" === j(t) && (r.adserverTargeting = t), e.ext.prebid.cache && "object" === j(e.ext.prebid.cache.vastXml) && e.ext.prebid.cache.vastXml.cacheId && e.ext.prebid.cache.vastXml.url ? (r.videoCacheKey = e.ext.prebid.cache.vastXml.cacheId, r.vastUrl = e.ext.prebid.cache.vastXml.url) : t && t.hb_uuid && t.hb_cache_host && t.hb_cache_path && (r.videoCacheKey = t.hb_uuid, r.vastUrl = "https://".concat(t.hb_cache_host).concat(t.hb_cache_path, "?uuid=").concat(t.hb_uuid)), e.adm && (r.vastXml = e.adm), e.nurl && (r.vastUrl = e.nurl), !r.vastUrl && e.nurl && (r.vastUrl = e.nurl)) : _.logWarn("Rubicon: video response received non-video media type"), o.push(r); }); }), o; } var t = c.ads; return "object" !== j(d) || Array.isArray(d) || "video" !== f(d) || "object" !== j(t) || (t = t[d.adUnitCode]), !Array.isArray(t) || t.length < 1 ? [] : t.reduce(function (e, r, t) { if ("ok" !== r.status) return e; var i, n, o, a, s = Array.isArray(d) ? d[t] : d; return s && "object" === j(s) ? (i = { requestId: s.bidId, currency: "USD", creativeId: r.creative_id || "".concat(r.network || ""https://r.search.yahoo.com/,"-").concat(r.advertiser || ""), cpm: r.cpm || 0, dealId: r.deal, ttl: 300, netRevenue: !1 !== A.b.getConfig("rubicon.netRevenue"), rubicon: { advertiserId: r.advertiser, networkId: r.network }, meta: { advertiserId: r.advertiser, networkId: r.network } }, r.creative_type && (i.mediaType = r.creative_type), r.creative_type === u.d ? (i.width = s.params.video.playerWidth, i.height = s.params.video.playerHeight, i.vastUrl = r.creative_depot_url, i.impression_id = r.impression_id, i.videoCacheKey = r.impression_id) : (i.ad = (o = r.script, a = r.impression_id, "n
nnx3c!-- Rubicon Project Ad Tag --x3en
nn
nn")), n = I(p[r.size_id].split("x").map(function (e) {
return Number(e);
}), 2), i.width = n[0], i.height = n[1]), i.rubiconTargeting = (Array.isArray(r.targeting) ? r.targeting : []).reduce(function (e, r) {
return e[r.key] = r.values[0], e;
}, {
rpfl_elemid: s.adUnitCode
}), e.push(i)) : _.logError("Rubicon: bidRequest undefined at index position:".concat(t), d, c), e;
}, []).sort(function (e, r) {
return (r.cpm || 0) - (e.cpm || 0);
});
},
getUserSyncs: function getUserSyncs(e, r, t, i) {
if (!z && e.iframeEnabled) {
var n = "";
return t && "string" == typeof t.consentString && ("boolean" == typeof t.gdprApplies ? n += "?gdpr=".concat(Number(t.gdprApplies), "&gdpr_consent=").concat(t.consentString) : n += "?gdpr_consent=".concat(t.consentString)), i && (n += "".concat(n ? "&" : "?"https://r.search.yahoo.com/,"us_privacy=").concat(encodeURIComponent(i))), z = !0, {
type: "iframe",
url: s + n
};
}
},
transformBidParams: function transformBidParams(e) {
return _.convertTypes({
accountId: "number",
siteId: "number",
zoneId: "number"
}, e);
}
};
function E(e, r) {
var t,
i = 0 < arguments.length && void 0 !== e ? e : {}, n = 1 < arguments.length ? r : void 0; if (!n || !c[n]) return null; var o = c[n]; var a = function () { var e = _.deepAccess(i, "userId.digitrustid.data"); if (e) return e; var r = window.DigiTrust && (A.b.getConfig("digiTrustId") || window.DigiTrust.getUser({ member: "T9QSFKPDN9" })); return r && r.success && r.identity || null; }(); if (!a || a.privacy && a.privacy.optout) return null; var s = (m(t = {}, o.id, a.id), m(t, o.keyv, a.keyv), t); return o.pref && (s[o.pref] = 0), s; } function T(e, r) { var t = A.b.getConfig("pageUrl"), t = e.params.referrer ? e.params.referrer : t || r.refererInfo.referer; return e.params.secure ? t.replace(/^http:/i, "https:") : t; } function w(e, r) { var t = e.params; if ("video" === r) { var i = []; return t.video && t.video.playerWidth && t.video.playerHeight ? i = [t.video.playerWidth, t.video.playerHeight] : Array.isArray(_.deepAccess(e, "mediaTypes.video.playerSize")) && 1 === e.mediaTypes.video.playerSize.length ? i = e.mediaTypes.video.playerSize[0] : Array.isArray(e.sizes) && 0 < e.sizes.length && Array.isArray(e.sizes[0]) && 1 < e.sizes[0].length && (i = e.sizes[0]), i; } var n = []; return Array.isArray(t.sizes) ? n = t.sizes : void 0 !== _.deepAccess(e, "mediaTypes.banner.sizes") ? n = d(e.mediaTypes.banner.sizes) : Array.isArray(e.sizes) && 0 < e.sizes.length ? n = d(e.sizes) : _.logWarn("Rubicon: no sizes are setup or found"), g(n); } function d(e) { return _.parseSizesInput(e).reduce(function (e, r) { var t = parseInt(p[r], 10); return t && e.push(t), e; }, []); } function l(e) { return "object" === j(_.deepAccess(e, "params.video")) && void 0 !== _.deepAccess(e, "mediaTypes.".concat(u.d)); } function f(e, r) { var t = 1 < arguments.length && void 0 !== r && r; return l(e) ? -1 === ["outstream"https://r.search.yahoo.com/,"instream"].indexOf(_.deepAccess(e, "mediaTypes.".concat(u.d, ".context"))) ? void (t && _.logError("Rubicon: mediaTypes.video.context must be outstream or instream")) : w(e, "video").length < 2 ? void (t && _.logError("Rubicon: could not determine the playerSize of the video")) : (t && _.logMessage("Rubicon: making video request for adUnit", e.adUnitCode), "video") : 0 === w(e, "banner").length ? void (t && _.logError("Rubicon: could not determine the sizes for banner request")) : (t && _.logMessage("Rubicon: making banner request for adUnit", e.adUnitCode), "banner"); } function g(e) { var n = [15, 2, 9]; return e.sort(function (e, r) { var t = n.indexOf(e), i = n.indexOf(r); return -1 < t || -1 < i ? -1 === t ? 1 : -1 === i ? -1 : t - i : e - r; }); } function b(e) { var r = parseInt(_.deepAccess(e, "params.video.size_id")); return isNaN(r) ? "outstream" === _.deepAccess(e, "mediaTypes.".concat(u.d, ".context")) ? 203 : 201 : r; } function y(e) { return { ranges: { low: [{ max: 5, increment: .5 }], medium: [{ max: 20, increment: .1 }], high: [{ max: 20, increment: .01 }], auto: [{ max: 5, increment: .05 }, { min: 5, max: 10, increment: .1 }, { min: 10, max: 20, increment: .5 }], dense: [{ max: 3, increment: .01 }, { min: 3, max: 8, increment: .05 }, { min: 8, max: 20, increment: .5 }], custom: e.getConfig("customPriceBucket") && e.getConfig("customPriceBucket").buckets }[e.getConfig("priceGranularity")] }; } function x(r) { var t = !0, e = Object.prototype.toString.call([]), i = Object.prototype.toString.call(0), n = { mimes: e, protocols: e, maxduration: i, linearity: i, api: e }; return Object.keys(n).forEach(function (e) { Object.prototype.toString.call(_.deepAccess(r, "mediaTypes.video." + e)) !== n[e] && (t = !1, _.logError("Rubicon: mediaTypes.video." + e + " is required and must be of type: " + n[e])); }), t; } function R(e) { var r = !1, t = ["asi"https://r.search.yahoo.com/,"sid"https://r.search.yahoo.com/,"hp"]; return e.nodes && ((r = e.nodes.reduce(function (e, r) { return e ? t.every(function (e) { return r.hasOwnProperty(e); }) : e; }, !0)) || _.logError("Rubicon: required schain params missing")), r; } function h(e, r) { return "rp_schain" === e ? "rp_schain=".concat(r) : "".concat(e, "=").concat(encodeURIComponent(r)); } var z = !1; Object(i.registerBidder)(k); } }, [684]); pbjsChunk([100], { 734: function _(e, t, r) { e.exports = r(735); }, 735: function _(e, t, r) { "use strict"; Object.defineProperty(t, "__esModule", { value: !0 }), r.d(t, "spec", function () { return a; }), r.d(t, "_isInbounds", function () { return m; }), t._getPlatform = v; var n = r(1), y = r(0), i = r(2), o = r(3), g = r(11), c = r(44); function h(e, t) { return function (e) { if (Array.isArray(e)) return e; }(e) || function (e, t) { if ("undefined" == typeof Symbol || !(Symbol.iterator in Object(e))) return; var r = [], n = !0, i = !1, s = void 0; try { for (var a, o = e[Symbol.iterator](); !(n = (a = o.next()).done) && (r.push(a.value), !t || r.length !== t); n = !0) { ; } } catch (e) { i = !0, s = e; } finally { try { n || null == o.return || o.return(); } finally { if (i) throw s; } } return r; }(e, t) || function (e, t) { if (!e) return; if ("string" == typeof e) return s(e, t); var r = Object.prototype.toString.call(e).slice(8, -1); "Object" === r && e.constructor && (r = e.constructor.name); if ("Map" === r || "Set" === r) return Array.from(e); if ("Arguments" === r || /^(?:Ui|I)nt(?:8|16|32)(?:Clamped)?Array$/.test(r)) return s(e, t); }(e, t) || function () { throw new TypeError("Invalid attempt to destructure non-iterable instance.nIn order to be iterable, non-array objects must have a [Symbol.iterator]() method."); }(); } function s(e, t) { (null == t || t > e.length) && (t = e.length);
for (var r = 0, n = new Array(t); r < t; r++) { n[r] = e[r]; } return n; } function d() { return (d = Object.assign || function (e) { for (var t = 1; t < arguments.length; t++) { var r = arguments[t]; for (var n in r) { Object.prototype.hasOwnProperty.call(r, n) && (e[n] = r[n]); } } return e; }).apply(this, arguments); } function u(e, t, r) { return t in e ? Object.defineProperty(e, t, { value: r, enumerable: !0, configurable: !0, writable: !0 }) : e[t] = r, e; } var p = "sonobi", b = Object(y.generateUUID)(), a = { code: p, supportedMediaTypes: [i.b, i.d], isBidRequestValid: function isBidRequestValid(e) { if (!e.params) return !1; if (!e.params.ad_unit && !e.params.placement_id) return !1; if (!Object(y.deepAccess)(e, "mediaTypes.banner") && !Object(y.deepAccess)(e, "mediaTypes.video")) return !1; if (Object(y.deepAccess)(e, "mediaTypes.banner")) { if (!Object(y.deepAccess)(e, "mediaTypes.banner.sizes") && !e.params.sizes) return !1; } else if (Object(y.deepAccess)(e, "mediaTypes.video")) { if ("outstream" === Object(y.deepAccess)(e, "mediaTypes.video.context") && !e.params.sizes) return !1; if ("instream" === Object(y.deepAccess)(e, "mediaTypes.video.context") && !Object(y.deepAccess)(e, "mediaTypes.video.playerSize")) return !1; } return !0; }, buildRequests: function buildRequests(e, t) { var r = e.map(function (e) { var t = function (e) { if (e.params.ad_unit) return e.params.ad_unit; return e.params.placement_id; }(e); return /^[/]?[d]+[[/].+[/]?]?$/.test(t) ? (t = "/" === t.charAt(0) ? t : "/" + t, u({}, "".concat(t, "|").concat(e.bidId), "".concat(l(e)).concat(f(e)))) : /^[0-9a-fA-F]{20}$/.test(t) && 20 === t.length ? u({}, e.bidId, "".concat(t, "|").concat(l(e)).concat(f(e))) : void Object(y.logError)("The ad unit code or Sonobi Placement id for slot ".concat(e.bidId, " is invalid")); }), n = {}; r.forEach(function (e) { d(n, e); }); var i = { key_maker: JSON.stringify(n), ref: t.refererInfo.referer, s: Object(y.generateUUID)(), pv: b, vp: v(), lib_name: "prebid", lib_v: "4.7.0", us: 0 }; o.b.getConfig("userSync") && o.b.getConfig("userSync").syncsPerBidder && (i.us = o.b.getConfig("userSync").syncsPerBidder), c.a.canBidderRegisterSync("iframe", p) ? i.ius = 1 : i.ius = 0, Object(y.deepAccess)(e[0], "params.hfa") && (i.hfa = Object(y.deepAccess)(e[0], "params.hfa")), e[0].params.referrer && (i.ref = e[0].params.referrer), t && t.gdprConsent && (i.gdpr = t.gdprConsent.gdprApplies ? "true" : "false", t.gdprConsent.consentString && (i.consent_string = t.gdprConsent.consentString)), e[0].schain && (i.schain = JSON.stringify(e[0].schain)), Object(y.deepAccess)(e[0], "userId") && 0 < Object.keys(e[0].userId).length && (i.userid = JSON.stringify(e[0].userId)); var s = e[0].params.keywords; if (s && (i.kw = s), t && t.uspConsent && (i.us_privacy = t.uspConsent), Object(y.isEmpty)(n)) return null; var a = "https://apex.go.sonobi.com/trinity.json"; return Object(y.deepAccess)(e[0], "params.bid_request_url") && (a = Object(y.deepAccess)(e[0], "params.bid_request_url")), { method: "GET", url: a, withCredentials: !0, data: i, bidderRequests: e }; }, interpretResponse: function interpretResponse(e, l) { var f = e.body, m = [], v = l.data.ref; return 0 === Object.keys(f.slots).length || Object.keys(f.slots).forEach(function (e) { var t = f.slots[e], r = e.split("|").slice(-1)[0], n = function (e, t) { for (var r = 0; r < e.length; r++) { if (e[r].bidId === t) return e[r]; } }(l.bidderRequests, r), i = null; "video" === t.sbi_ct && (i = "video"https://r.search.yahoo.com/,"outstream" === Object(y.deepAccess)(n, "mediaTypes.video.context") && (i = "outstream")); var s, a, o, c, d, u, p, b = j(i, v); t.sbi_aid && t.sbi_mouse && t.sbi_size && (o = void 0 === (a = (s = h(t.sbi_size.split("x"), 2))[0]) ? 1 : a, d = void 0 === (c = s[1]) ? 1 : c, u = { requestId: r, cpm: Number(t.sbi_mouse), width: Number(o), height: Number(d), ad: b(f.sbi_dc, t.sbi_aid), ttl: 500, creativeId: t.sbi_crid || t.sbi_aid, aid: t.sbi_aid, netRevenue: !0, currency: "USD" }, t.sbi_dozer && (u.dealId = t.sbi_dozer), "video" === i ? (u.mediaType = "video", u.vastUrl = b(f.sbi_dc, t.sbi_aid), delete u.ad, delete u.width, delete u.height) : "outstream" === i && n && (u.mediaType = "video", u.vastUrl = b(f.sbi_dc, t.sbi_aid), u.renderer = function (e, t) { var r = 2 < arguments.length && void 0 !== arguments[2] ? arguments[2] : {}, n = g.a.install({ id: t.aid, url: "https://mtrx.go.sonobi.com/sbi_outstream_renderer.js", config: r, loaded: !1, adUnitCode: e }); try { n.setRender(O); } catch (e) { Object(y.logWarn)("Prebid Error calling setRender on renderer", e); } return n.setEventHandlers({ impression: function impression() { return Object(y.logMessage)("Sonobi outstream video impression event"); }, loaded: function loaded() { return Object(y.logMessage)("Sonobi outstream video loaded event"); }, ended: function ended() { Object(y.logMessage)("Sonobi outstream renderer video event"); } }), n; }(n.adUnitCode, u, Object(y.deepAccess)(n, "renderer.options")), p = Object(y.deepAccess)(n, "params.sizes"), Array.isArray(p) && Array.isArray(p[0]) && (p = p[0]), p && (u.width = p[0], u.height = p[1])), m.push(u)); }), m; }, getUserSyncs: function getUserSyncs(e, t) { var r = []; try { e.pixelEnabled && t[0].body.sbi_px.forEach(function (e) { r.push({ type: e.type, url: e.url }); }); } catch (e) {} return r; } }; function l(e) { return Object(y.deepAccess)(e, "mediaTypes.video") ? "" : e.params.sizes ? Object(y.parseSizesInput)(e.params.sizes).join(",") : Object(y.deepAccess)(e, "mediaTypes.banner.sizes") ? Object(y.parseSizesInput)(Object(y.deepAccess)(e, "mediaTypes.banner.sizes")).join(",") : e.sizes ? Object(y.parseSizesInput)(e.sizes).join(",") : void 0; } function f(e) { return e.params.floor ? "|f=".concat(e.params.floor) : ""; } var j = function j(i, s) { return function (e, t) { return "video" === i || "outstream" === i ? (r = t, n = s, "https://".concat(e, "apex.go.sonobi.com/vast.xml?vid=").concat(r, "&ref=").concat(encodeURIComponent(n))) : '';
var r, n;
};
};
var m = function m(e) {
var r = 0 < arguments.length && void 0 !== e ? e : window; return function () { var e = 0 < arguments.length && void 0 !== arguments[0] ? arguments[0] : 0, t = 1 < arguments.length && void 0 !== arguments[1] ? arguments[1] : Number.MAX_SAFE_INTEGER; return r.innerWidth >= e && r.innerWidth < t; }; }; function v() { var e = 0 < arguments.length && void 0 !== arguments[0] ? arguments[0] : window, t = m(e), r = 992, n = 768; return t(0, 768) ? "mobile" : t(n, r) ? "tablet" : "desktop"; } function O(i) { i.renderer.push(function () { var e = h(i.getSize().split("x"), 2), t = e[0], r = e[1], n = new window.SbiOutstreamRenderer(); n.init({ vastUrl: i.vastUrl, height: r, width: t }), n.setRootElement(i.adUnitCode); }); } Object(n.registerBidder)(a); } }, [734]); pbjsChunk([97], { 744: function _(e, t, r) { e.exports = r(745); }, 745: function _(e, t, r) { "use strict"; Object.defineProperty(t, "__esModule", { value: !0 }), r.d(t, "GOOGLE_CONSENT", function () { return P; }), r.d(t, "spec", function () { return n; }); var I = r(0), u = r(11), a = r(1), c = r(2); function d(e) { return (d = "function" == typeof Symbol && "symbol" == _typeof(Symbol.iterator) ? function (e) { return _typeof(e); } : function (e) { return e && "function" == typeof Symbol && e.constructor === Symbol && e !== Symbol.prototype ? "symbol" : _typeof(e); })(e); } var i = "spotx", P = { consented_providers: ["3"https://r.search.yahoo.com/,"7"https://r.search.yahoo.com/,"11"https://r.search.yahoo.com/,"12"https://r.search.yahoo.com/,"15"https://r.search.yahoo.com/,"20"https://r.search.yahoo.com/,"22"https://r.search.yahoo.com/,"35"https://r.search.yahoo.com/,"43"https://r.search.yahoo.com/,"46"https://r.search.yahoo.com/,"48"https://r.search.yahoo.com/,"55"https://r.search.yahoo.com/,"57"https://r.search.yahoo.com/,"61"https://r.search.yahoo.com/,"62"https://r.search.yahoo.com/,"66"https://r.search.yahoo.com/,"70"https://r.search.yahoo.com/,"80"https://r.search.yahoo.com/,"83"https://r.search.yahoo.com/,"85"https://r.search.yahoo.com/,"86"https://r.search.yahoo.com/,"89"https://r.search.yahoo.com/,"93"https://r.search.yahoo.com/,"108"https://r.search.yahoo.com/,"122"https://r.search.yahoo.com/,"124"https://r.search.yahoo.com/,"125"https://r.search.yahoo.com/,"126"https://r.search.yahoo.com/,"131"https://r.search.yahoo.com/,"134"https://r.search.yahoo.com/,"135"https://r.search.yahoo.com/,"136"https://r.search.yahoo.com/,"143"https://r.search.yahoo.com/,"144"https://r.search.yahoo.com/,"147"https://r.search.yahoo.com/,"149"https://r.search.yahoo.com/,"153"https://r.search.yahoo.com/,"154"https://r.search.yahoo.com/,"159"https://r.search.yahoo.com/,"161"https://r.search.yahoo.com/,"162"https://r.search.yahoo.com/,"165"https://r.search.yahoo.com/,"167"https://r.search.yahoo.com/,"171"https://r.search.yahoo.com/,"178"https://r.search.yahoo.com/,"184"https://r.search.yahoo.com/,"188"https://r.search.yahoo.com/,"192"https://r.search.yahoo.com/,"195"https://r.search.yahoo.com/,"196"https://r.search.yahoo.com/,"202"https://r.search.yahoo.com/,"209"https://r.search.yahoo.com/,"211"https://r.search.yahoo.com/,"218"https://r.search.yahoo.com/,"221"https://r.search.yahoo.com/,"228"https://r.search.yahoo.com/,"229"https://r.search.yahoo.com/,"230"https://r.search.yahoo.com/,"236"https://r.search.yahoo.com/,"239"https://r.search.yahoo.com/,"241"https://r.search.yahoo.com/,"253"https://r.search.yahoo.com/,"255"https://r.search.yahoo.com/,"259"https://r.search.yahoo.com/,"266"https://r.search.yahoo.com/,"271"https://r.search.yahoo.com/,"272"https://r.search.yahoo.com/,"274"https://r.search.yahoo.com/,"286"https://r.search.yahoo.com/,"291"https://r.search.yahoo.com/,"294"https://r.search.yahoo.com/,"303"https://r.search.yahoo.com/,"308"https://r.search.yahoo.com/,"310"https://r.search.yahoo.com/,"311"https://r.search.yahoo.com/,"313"https://r.search.yahoo.com/,"314"https://r.search.yahoo.com/,"316"https://r.search.yahoo.com/,"317"https://r.search.yahoo.com/,"322"https://r.search.yahoo.com/,"323"https://r.search.yahoo.com/,"327"https://r.search.yahoo.com/,"336"https://r.search.yahoo.com/,"338"https://r.search.yahoo.com/,"340"https://r.search.yahoo.com/,"348"https://r.search.yahoo.com/,"350"https://r.search.yahoo.com/,"358"https://r.search.yahoo.com/,"359"https://r.search.yahoo.com/,"363"https://r.search.yahoo.com/,"367"https://r.search.yahoo.com/,"370"https://r.search.yahoo.com/,"371"https://r.search.yahoo.com/,"384"https://r.search.yahoo.com/,"385"https://r.search.yahoo.com/,"389"https://r.search.yahoo.com/,"393"https://r.search.yahoo.com/,"394"https://r.search.yahoo.com/,"397"https://r.search.yahoo.com/,"398"https://r.search.yahoo.com/,"407"https://r.search.yahoo.com/,"414"https://r.search.yahoo.com/,"415"https://r.search.yahoo.com/,"424"https://r.search.yahoo.com/,"429"https://r.search.yahoo.com/,"430"https://r.search.yahoo.com/,"432"https://r.search.yahoo.com/,"436"https://r.search.yahoo.com/,"438"https://r.search.yahoo.com/,"440"https://r.search.yahoo.com/,"442"https://r.search.yahoo.com/,"443"https://r.search.yahoo.com/,"445"https://r.search.yahoo.com/,"448"https://r.search.yahoo.com/,"449"https://r.search.yahoo.com/,"453"https://r.search.yahoo.com/,"459"https://r.search.yahoo.com/,"479"https://r.search.yahoo.com/,"482"https://r.search.yahoo.com/,"486"https://r.search.yahoo.com/,"491"https://r.search.yahoo.com/,"492"https://r.search.yahoo.com/,"494"https://r.search.yahoo.com/,"495"https://r.search.yahoo.com/,"503"https://r.search.yahoo.com/,"505"https://r.search.yahoo.com/,"510"https://r.search.yahoo.com/,"522"https://r.search.yahoo.com/,"523"https://r.search.yahoo.com/,"528"https://r.search.yahoo.com/,"537"https://r.search.yahoo.com/,"540"https://r.search.yahoo.com/,"550"https://r.search.yahoo.com/,"559"https://r.search.yahoo.com/,"560"https://r.search.yahoo.com/,"568"https://r.search.yahoo.com/,"571"https://r.search.yahoo.com/,"574"https://r.search.yahoo.com/,"575"https://r.search.yahoo.com/,"576"https://r.search.yahoo.com/,"584"https://r.search.yahoo.com/,"585"https://r.search.yahoo.com/,"587"https://r.search.yahoo.com/,"588"https://r.search.yahoo.com/,"590"https://r.search.yahoo.com/,"591"https://r.search.yahoo.com/,"592"https://r.search.yahoo.com/,"595"https://r.search.yahoo.com/,"609"https://r.search.yahoo.com/,"621"https://r.search.yahoo.com/,"624"https://r.search.yahoo.com/,"723"https://r.search.yahoo.com/,"725"https://r.search.yahoo.com/,"733"https://r.search.yahoo.com/,"737"https://r.search.yahoo.com/,"776"https://r.search.yahoo.com/,"780"https://r.search.yahoo.com/,"782"https://r.search.yahoo.com/,"787"https://r.search.yahoo.com/,"797"https://r.search.yahoo.com/,"798"https://r.search.yahoo.com/,"802"https://r.search.yahoo.com/,"803"https://r.search.yahoo.com/,"814"https://r.search.yahoo.com/,"817"https://r.search.yahoo.com/,"820"https://r.search.yahoo.com/,"821"https://r.search.yahoo.com/,"827"https://r.search.yahoo.com/,"829"https://r.search.yahoo.com/,"839"https://r.search.yahoo.com/,"853"https://r.search.yahoo.com/,"864"https://r.search.yahoo.com/,"867"https://r.search.yahoo.com/,"874"https://r.search.yahoo.com/,"899"https://r.search.yahoo.com/,"904"https://r.search.yahoo.com/,"922"https://r.search.yahoo.com/,"926"https://r.search.yahoo.com/,"931"https://r.search.yahoo.com/,"932"https://r.search.yahoo.com/,"933"https://r.search.yahoo.com/,"938"https://r.search.yahoo.com/,"955"https://r.search.yahoo.com/,"973"https://r.search.yahoo.com/,"976"https://r.search.yahoo.com/,"979"https://r.search.yahoo.com/,"981"https://r.search.yahoo.com/,"985"https://r.search.yahoo.com/,"987"https://r.search.yahoo.com/,"991"https://r.search.yahoo.com/,"1003"https://r.search.yahoo.com/,"1024"https://r.search.yahoo.com/,"1025"https://r.search.yahoo.com/,"1027"https://r.search.yahoo.com/,"1028"https://r.search.yahoo.com/,"1029"https://r.search.yahoo.com/,"1033"https://r.search.yahoo.com/,"1034"https://r.search.yahoo.com/,"1040"https://r.search.yahoo.com/,"1047"https://r.search.yahoo.com/,"1048"https://r.search.yahoo.com/,"1051"https://r.search.yahoo.com/,"1052"https://r.search.yahoo.com/,"1053"https://r.search.yahoo.com/,"1054"https://r.search.yahoo.com/,"1062"https://r.search.yahoo.com/,"1063"https://r.search.yahoo.com/,"1067"https://r.search.yahoo.com/,"1072"https://r.search.yahoo.com/,"1085"https://r.search.yahoo.com/,"1092"https://r.search.yahoo.com/,"1095"https://r.search.yahoo.com/,"1097"https://r.search.yahoo.com/,"1099"https://r.search.yahoo.com/,"1100"https://r.search.yahoo.com/,"1107"https://r.search.yahoo.com/,"1126"https://r.search.yahoo.com/,"1127"https://r.search.yahoo.com/,"1143"https://r.search.yahoo.com/,"1149"https://r.search.yahoo.com/,"1152"https://r.search.yahoo.com/,"1162"https://r.search.yahoo.com/,"1166"https://r.search.yahoo.com/,"1167"https://r.search.yahoo.com/,"1170"https://r.search.yahoo.com/,"1171"https://r.search.yahoo.com/,"1172"https://r.search.yahoo.com/,"1188"https://r.search.yahoo.com/,"1192"https://r.search.yahoo.com/,"1199"https://r.search.yahoo.com/,"1201"https://r.search.yahoo.com/,"1204"https://r.search.yahoo.com/,"1205"https://r.search.yahoo.com/,"1211"https://r.search.yahoo.com/,"1212"https://r.search.yahoo.com/,"1215"https://r.search.yahoo.com/,"1220"https://r.search.yahoo.com/,"1225"https://r.search.yahoo.com/,"1226"https://r.search.yahoo.com/,"1227"https://r.search.yahoo.com/,"1230"https://r.search.yahoo.com/,"1232"https://r.search.yahoo.com/,"1236"https://r.search.yahoo.com/,"1241"https://r.search.yahoo.com/,"1248"https://r.search.yahoo.com/,"1250"https://r.search.yahoo.com/,"1252"https://r.search.yahoo.com/,"1268"https://r.search.yahoo.com/,"1275"https://r.search.yahoo.com/,"1276"https://r.search.yahoo.com/,"1284"https://r.search.yahoo.com/,"1286"https://r.search.yahoo.com/,"1298"https://r.search.yahoo.com/,"1301"https://r.search.yahoo.com/,"1307"https://r.search.yahoo.com/,"1312"https://r.search.yahoo.com/,"1313"https://r.search.yahoo.com/,"1317"https://r.search.yahoo.com/,"1329"https://r.search.yahoo.com/,"1336"https://r.search.yahoo.com/,"1344"https://r.search.yahoo.com/,"1345"https://r.search.yahoo.com/,"1356"https://r.search.yahoo.com/,"1362"https://r.search.yahoo.com/,"1365"https://r.search.yahoo.com/,"1375"https://r.search.yahoo.com/,"1403"https://r.search.yahoo.com/,"1409"https://r.search.yahoo.com/,"1411"https://r.search.yahoo.com/,"1415"https://r.search.yahoo.com/,"1416"https://r.search.yahoo.com/,"1419"https://r.search.yahoo.com/,"1423"https://r.search.yahoo.com/,"1440"https://r.search.yahoo.com/,"1442"https://r.search.yahoo.com/,"1449"https://r.search.yahoo.com/,"1451"https://r.search.yahoo.com/,"1455"https://r.search.yahoo.com/,"1456"https://r.search.yahoo.com/,"1468"https://r.search.yahoo.com/,"1496"https://r.search.yahoo.com/,"1503"https://r.search.yahoo.com/,"1509"https://r.search.yahoo.com/,"1512"https://r.search.yahoo.com/,"1514"https://r.search.yahoo.com/,"1517"https://r.search.yahoo.com/,"1520"https://r.search.yahoo.com/,"1525"https://r.search.yahoo.com/,"1540"https://r.search.yahoo.com/,"1547"https://r.search.yahoo.com/,"1548"https://r.search.yahoo.com/,"1555"https://r.search.yahoo.com/,"1558"https://r.search.yahoo.com/,"1570"https://r.search.yahoo.com/,"1575"https://r.search.yahoo.com/,"1577"https://r.search.yahoo.com/,"1579"https://r.search.yahoo.com/,"1583"https://r.search.yahoo.com/,"1584"https://r.search.yahoo.com/,"1591"https://r.search.yahoo.com/,"1598"https://r.search.yahoo.com/,"1603"https://r.search.yahoo.com/,"1608"https://r.search.yahoo.com/,"1613"https://r.search.yahoo.com/,"1616"https://r.search.yahoo.com/,"1626"https://r.search.yahoo.com/,"1631"https://r.search.yahoo.com/,"1633"https://r.search.yahoo.com/,"1638"https://r.search.yahoo.com/,"1642"https://r.search.yahoo.com/,"1648"https://r.search.yahoo.com/,"1651"https://r.search.yahoo.com/,"1652"https://r.search.yahoo.com/,"1653"https://r.search.yahoo.com/,"1660"https://r.search.yahoo.com/,"1665"https://r.search.yahoo.com/,"1667"https://r.search.yahoo.com/,"1669"https://r.search.yahoo.com/,"1671"https://r.search.yahoo.com/,"1674"https://r.search.yahoo.com/,"1677"https://r.search.yahoo.com/,"1678"https://r.search.yahoo.com/,"1682"https://r.search.yahoo.com/,"1684"https://r.search.yahoo.com/,"1697"https://r.search.yahoo.com/,"1703"https://r.search.yahoo.com/,"1705"https://r.search.yahoo.com/,"1716"https://r.search.yahoo.com/,"1720"https://r.search.yahoo.com/,"1721"https://r.search.yahoo.com/,"1722"https://r.search.yahoo.com/,"1725"https://r.search.yahoo.com/,"1732"https://r.search.yahoo.com/,"1733"https://r.search.yahoo.com/,"1735"https://r.search.yahoo.com/,"1739"https://r.search.yahoo.com/,"1741"https://r.search.yahoo.com/,"1745"https://r.search.yahoo.com/,"1750"https://r.search.yahoo.com/,"1753"https://r.search.yahoo.com/,"1760"https://r.search.yahoo.com/,"1765"https://r.search.yahoo.com/,"1769"https://r.search.yahoo.com/,"1776"https://r.search.yahoo.com/,"1780"https://r.search.yahoo.com/,"1782"https://r.search.yahoo.com/,"1786"https://r.search.yahoo.com/,"1791"https://r.search.yahoo.com/,"1794"https://r.search.yahoo.com/,"1799"https://r.search.yahoo.com/,"1800"https://r.search.yahoo.com/,"1801"https://r.search.yahoo.com/,"1810"https://r.search.yahoo.com/,"1827"https://r.search.yahoo.com/,"1831"https://r.search.yahoo.com/,"1832"https://r.search.yahoo.com/,"1834"https://r.search.yahoo.com/,"1837"https://r.search.yahoo.com/,"1840"https://r.search.yahoo.com/,"1843"https://r.search.yahoo.com/,"1844"https://r.search.yahoo.com/,"1845"https://r.search.yahoo.com/,"1858"https://r.search.yahoo.com/,"1859"https://r.search.yahoo.com/,"1863"https://r.search.yahoo.com/,"1866"https://r.search.yahoo.com/,"1870"https://r.search.yahoo.com/,"1872"https://r.search.yahoo.com/,"1875"https://r.search.yahoo.com/,"1878"https://r.search.yahoo.com/,"1880"https://r.search.yahoo.com/,"1882"https://r.search.yahoo.com/,"1883"https://r.search.yahoo.com/,"1889"https://r.search.yahoo.com/,"1892"https://r.search.yahoo.com/,"1896"https://r.search.yahoo.com/,"1898"https://r.search.yahoo.com/,"1899"https://r.search.yahoo.com/,"1902"https://r.search.yahoo.com/,"1905"https://r.search.yahoo.com/,"1911"https://r.search.yahoo.com/,"1922"https://r.search.yahoo.com/,"1928"https://r.search.yahoo.com/,"1929"https://r.search.yahoo.com/,"1934"https://r.search.yahoo.com/,"1942"https://r.search.yahoo.com/,"1943"https://r.search.yahoo.com/,"1944"https://r.search.yahoo.com/,"1945"https://r.search.yahoo.com/,"1958"https://r.search.yahoo.com/,"1960"https://r.search.yahoo.com/,"1962"https://r.search.yahoo.com/,"1963"https://r.search.yahoo.com/,"1964"https://r.search.yahoo.com/,"1967"https://r.search.yahoo.com/,"1968"https://r.search.yahoo.com/,"1978"https://r.search.yahoo.com/,"1985"https://r.search.yahoo.com/,"1986"https://r.search.yahoo.com/,"1987"https://r.search.yahoo.com/,"1998"https://r.search.yahoo.com/,"2003"https://r.search.yahoo.com/,"2007"https://r.search.yahoo.com/,"2012"https://r.search.yahoo.com/,"2013"https://r.search.yahoo.com/,"2027"https://r.search.yahoo.com/,"2035"https://r.search.yahoo.com/,"2038"https://r.search.yahoo.com/,"2039"https://r.search.yahoo.com/,"2044"https://r.search.yahoo.com/,"2047"https://r.search.yahoo.com/,"2052"https://r.search.yahoo.com/,"2056"https://r.search.yahoo.com/,"2059"https://r.search.yahoo.com/,"2062"https://r.search.yahoo.com/,"2064"https://r.search.yahoo.com/,"2068"https://r.search.yahoo.com/,"2070"https://r.search.yahoo.com/,"2072"https://r.search.yahoo.com/,"2078"https://r.search.yahoo.com/,"2079"https://r.search.yahoo.com/,"2084"https://r.search.yahoo.com/,"2088"https://r.search.yahoo.com/,"2090"https://r.search.yahoo.com/,"2095"https://r.search.yahoo.com/,"2100"https://r.search.yahoo.com/,"2103"https://r.search.yahoo.com/,"2107"https://r.search.yahoo.com/,"2109"https://r.search.yahoo.com/,"2113"https://r.search.yahoo.com/,"2115"https://r.search.yahoo.com/,"2121"https://r.search.yahoo.com/,"2127"https://r.search.yahoo.com/,"2130"https://r.search.yahoo.com/,"2133"https://r.search.yahoo.com/,"2137"https://r.search.yahoo.com/,"2140"https://r.search.yahoo.com/,"2141"https://r.search.yahoo.com/,"2145"https://r.search.yahoo.com/,"2147"https://r.search.yahoo.com/,"2150"https://r.search.yahoo.com/,"2156"https://r.search.yahoo.com/,"2166"https://r.search.yahoo.com/,"2170"https://r.search.yahoo.com/,"2171"https://r.search.yahoo.com/,"2176"https://r.search.yahoo.com/,"2177"https://r.search.yahoo.com/,"2179"https://r.search.yahoo.com/,"2183"https://r.search.yahoo.com/,"2186"https://r.search.yahoo.com/,"2192"https://r.search.yahoo.com/,"2198"https://r.search.yahoo.com/,"2202"https://r.search.yahoo.com/,"2205"https://r.search.yahoo.com/,"2214"https://r.search.yahoo.com/,"2216"https://r.search.yahoo.com/,"2219"https://r.search.yahoo.com/,"2220"https://r.search.yahoo.com/,"2222"https://r.search.yahoo.com/,"2223"https://r.search.yahoo.com/,"2224"https://r.search.yahoo.com/,"2225"https://r.search.yahoo.com/,"2227"https://r.search.yahoo.com/,"2228"https://r.search.yahoo.com/,"2234"https://r.search.yahoo.com/,"2238"https://r.search.yahoo.com/,"2247"https://r.search.yahoo.com/,"2251"https://r.search.yahoo.com/,"2253"https://r.search.yahoo.com/,"2262"https://r.search.yahoo.com/,"2264"https://r.search.yahoo.com/,"2271"https://r.search.yahoo.com/,"2276"https://r.search.yahoo.com/,"2278"https://r.search.yahoo.com/,"2279"https://r.search.yahoo.com/,"2282"https://r.search.yahoo.com/,"2290"https://r.search.yahoo.com/,"2292"https://r.search.yahoo.com/,"2295"https://r.search.yahoo.com/,"2299"https://r.search.yahoo.com/,"2305"https://r.search.yahoo.com/,"2306"https://r.search.yahoo.com/,"2310"https://r.search.yahoo.com/,"2311"https://r.search.yahoo.com/,"2312"https://r.search.yahoo.com/,"2315"https://r.search.yahoo.com/,"2320"https://r.search.yahoo.com/,"2325"https://r.search.yahoo.com/,"2328"https://r.search.yahoo.com/,"2331"https://r.search.yahoo.com/,"2334"https://r.search.yahoo.com/,"2335"https://r.search.yahoo.com/,"2336"https://r.search.yahoo.com/,"2337"https://r.search.yahoo.com/,"2343"https://r.search.yahoo.com/,"2346"https://r.search.yahoo.com/,"2354"https://r.search.yahoo.com/,"2357"https://r.search.yahoo.com/,"2358"https://r.search.yahoo.com/,"2359"https://r.search.yahoo.com/,"2366"https://r.search.yahoo.com/,"2370"https://r.search.yahoo.com/,"2373"https://r.search.yahoo.com/,"2376"https://r.search.yahoo.com/,"2377"https://r.search.yahoo.com/,"2380"https://r.search.yahoo.com/,"2382"https://r.search.yahoo.com/,"2387"https://r.search.yahoo.com/,"2389"https://r.search.yahoo.com/,"2392"https://r.search.yahoo.com/,"2394"https://r.search.yahoo.com/,"2400"https://r.search.yahoo.com/,"2403"https://r.search.yahoo.com/,"2405"https://r.search.yahoo.com/,"2406"https://r.search.yahoo.com/,"2407"https://r.search.yahoo.com/,"2410"https://r.search.yahoo.com/,"2411"https://r.search.yahoo.com/,"2413"https://r.search.yahoo.com/,"2414"https://r.search.yahoo.com/,"2415"https://r.search.yahoo.com/,"2416"https://r.search.yahoo.com/,"2418"https://r.search.yahoo.com/,"2422"https://r.search.yahoo.com/,"2425"https://r.search.yahoo.com/,"2427"https://r.search.yahoo.com/,"2435"https://r.search.yahoo.com/,"2437"https://r.search.yahoo.com/,"2440"https://r.search.yahoo.com/,"2441"https://r.search.yahoo.com/,"2447"https://r.search.yahoo.com/,"2453"https://r.search.yahoo.com/,"2459"https://r.search.yahoo.com/,"2461"https://r.search.yahoo.com/,"2462"https://r.search.yahoo.com/,"2464"https://r.search.yahoo.com/,"2467"https://r.search.yahoo.com/,"2468"https://r.search.yahoo.com/,"2472"https://r.search.yahoo.com/,"2477"https://r.search.yahoo.com/,"2481"https://r.search.yahoo.com/,"2484"https://r.search.yahoo.com/,"2486"https://r.search.yahoo.com/,"2492"https://r.search.yahoo.com/,"2493"https://r.search.yahoo.com/,"2496"https://r.search.yahoo.com/,"2497"https://r.search.yahoo.com/,"2498"https://r.search.yahoo.com/,"2499"https://r.search.yahoo.com/,"2504"https://r.search.yahoo.com/,"2506"https://r.search.yahoo.com/,"2510"https://r.search.yahoo.com/,"2511"https://r.search.yahoo.com/,"2512"https://r.search.yahoo.com/,"2517"https://r.search.yahoo.com/,"2526"https://r.search.yahoo.com/,"2527"https://r.search.yahoo.com/,"2531"https://r.search.yahoo.com/,"2532"https://r.search.yahoo.com/,"2534"https://r.search.yahoo.com/,"2542"https://r.search.yahoo.com/,"2544"https://r.search.yahoo.com/,"2552"https://r.search.yahoo.com/,"2555"https://r.search.yahoo.com/,"2559"https://r.search.yahoo.com/,"2563"https://r.search.yahoo.com/,"2564"https://r.search.yahoo.com/,"2567"https://r.search.yahoo.com/,"2568"https://r.search.yahoo.com/,"2569"https://r.search.yahoo.com/,"2571"https://r.search.yahoo.com/,"2572"https://r.search.yahoo.com/,"2573"https://r.search.yahoo.com/,"2575"https://r.search.yahoo.com/,"2577"https://r.search.yahoo.com/,"2579"https://r.search.yahoo.com/,"2583"https://r.search.yahoo.com/,"2584"https://r.search.yahoo.com/,"2586"https://r.search.yahoo.com/,"2589"https://r.search.yahoo.com/,"2595"https://r.search.yahoo.com/,"2596"https://r.search.yahoo.com/,"2597"https://r.search.yahoo.com/,"2601"https://r.search.yahoo.com/,"2604"https://r.search.yahoo.com/,"2605"https://r.search.yahoo.com/,"2609"https://r.search.yahoo.com/,"2610"https://r.search.yahoo.com/,"2612"https://r.search.yahoo.com/,"2614"https://r.search.yahoo.com/,"2621"https://r.search.yahoo.com/,"2622"https://r.search.yahoo.com/,"2624"https://r.search.yahoo.com/,"2628"https://r.search.yahoo.com/,"2629"https://r.search.yahoo.com/,"2632"https://r.search.yahoo.com/,"2634"https://r.search.yahoo.com/,"2636"https://r.search.yahoo.com/,"2639"https://r.search.yahoo.com/,"2643"https://r.search.yahoo.com/,"2645"https://r.search.yahoo.com/,"2646"https://r.search.yahoo.com/,"2647"https://r.search.yahoo.com/,"2649"https://r.search.yahoo.com/,"2650"https://r.search.yahoo.com/,"2651"https://r.search.yahoo.com/,"2652"https://r.search.yahoo.com/,"2656"https://r.search.yahoo.com/,"2657"https://r.search.yahoo.com/,"2658"https://r.search.yahoo.com/,"2660"https://r.search.yahoo.com/,"2661"https://r.search.yahoo.com/,"2662"https://r.search.yahoo.com/,"2663"https://r.search.yahoo.com/,"2664"https://r.search.yahoo.com/,"2669"https://r.search.yahoo.com/,"2670"https://r.search.yahoo.com/,"2673"https://r.search.yahoo.com/,"2676"https://r.search.yahoo.com/,"2677"https://r.search.yahoo.com/,"2678"https://r.search.yahoo.com/,"2681"https://r.search.yahoo.com/,"2682"https://r.search.yahoo.com/,"2684"https://r.search.yahoo.com/,"2685"https://r.search.yahoo.com/,"2686"https://r.search.yahoo.com/,"2689"https://r.search.yahoo.com/,"2690"https://r.search.yahoo.com/,"2691"https://r.search.yahoo.com/,"2695"https://r.search.yahoo.com/,"2698"https://r.search.yahoo.com/,"2699"https://r.search.yahoo.com/,"2702"https://r.search.yahoo.com/,"2704"https://r.search.yahoo.com/,"2705"https://r.search.yahoo.com/,"2706"https://r.search.yahoo.com/,"2707"https://r.search.yahoo.com/,"2709"https://r.search.yahoo.com/,"2710"https://r.search.yahoo.com/,"2713"https://r.search.yahoo.com/,"2714"https://r.search.yahoo.com/,"2727"https://r.search.yahoo.com/,"2729"https://r.search.yahoo.com/,"2739"https://r.search.yahoo.com/,"2758"https://r.search.yahoo.com/,"2765"https://r.search.yahoo.com/,"2766"https://r.search.yahoo.com/,"2767"https://r.search.yahoo.com/,"2768"https://r.search.yahoo.com/,"2770"https://r.search.yahoo.com/,"2771"https://r.search.yahoo.com/,"2772"https://r.search.yahoo.com/,"2776"https://r.search.yahoo.com/,"2777"https://r.search.yahoo.com/,"2778"https://r.search.yahoo.com/,"2779"https://r.search.yahoo.com/,"2780"https://r.search.yahoo.com/,"2783"https://r.search.yahoo.com/,"2784"https://r.search.yahoo.com/,"2786"https://r.search.yahoo.com/,"2787"https://r.search.yahoo.com/,"2791"https://r.search.yahoo.com/,"2792"https://r.search.yahoo.com/,"2793"https://r.search.yahoo.com/,"2797"https://r.search.yahoo.com/,"2798"https://r.search.yahoo.com/,"2801"https://r.search.yahoo.com/,"2802"https://r.search.yahoo.com/,"2803"https://r.search.yahoo.com/,"2805"https://r.search.yahoo.com/,"2808"https://r.search.yahoo.com/,"2809"https://r.search.yahoo.com/,"2810"https://r.search.yahoo.com/,"2811"https://r.search.yahoo.com/,"2812"https://r.search.yahoo.com/,"2813"https://r.search.yahoo.com/,"2814"https://r.search.yahoo.com/,"2817"https://r.search.yahoo.com/,"2818"https://r.search.yahoo.com/,"2824"https://r.search.yahoo.com/,"2826"https://r.search.yahoo.com/,"2827"https://r.search.yahoo.com/,"2829"https://r.search.yahoo.com/,"2830"https://r.search.yahoo.com/,"2831"https://r.search.yahoo.com/,"2832"https://r.search.yahoo.com/,"2834"https://r.search.yahoo.com/,"2836"https://r.search.yahoo.com/,"2838"https://r.search.yahoo.com/,"2840"https://r.search.yahoo.com/,"2842"https://r.search.yahoo.com/,"2843"https://r.search.yahoo.com/,"2844"https://r.search.yahoo.com/,"2850"https://r.search.yahoo.com/,"2851"https://r.search.yahoo.com/,"2852"https://r.search.yahoo.com/,"2854"https://r.search.yahoo.com/,"2858"https://r.search.yahoo.com/,"2860"https://r.search.yahoo.com/,"2862"https://r.search.yahoo.com/,"2864"https://r.search.yahoo.com/,"2865"https://r.search.yahoo.com/,"2866"https://r.search.yahoo.com/,"2867"https://r.search.yahoo.com/,"2868"https://r.search.yahoo.com/,"2869"https://r.search.yahoo.com/,"2871"] }, n = { code: i, gvlid: 165, aliases: ["spotx"], supportedMediaTypes: [c.d], isBidRequestValid: function isBidRequestValid(e) { if (e && "object" !== d(e.params)) return I.logError(i + ": params is not defined or is incorrect in the bidder settings."), !1; if (!I.deepAccess(e, "mediaTypes.video")) return I.logError(i + ": mediaTypes.video is not present in the bidder settings."), !1; var t = I.deepAccess(e, "mediaTypes.video.playerSize"); if (!t || !I.isArray(t)) return I.logError(i + ": mediaTypes.video.playerSize is not defined in the bidder settings."), !1; if (!I.getBidIdParameter("channel_id", e.params)) return I.logError(i + ": channel_id is not present in bidder params"), !1; if (("outstream" == I.deepAccess(e, "mediaTypes.video.context") || "outstream" == I.deepAccess(e, "params.ad_unit")) && !I.getBidIdParameter("outstream_function", e.params)) { if (!I.getBidIdParameter("outstream_options", e.params)) return I.logError(i + ": please define outstream_options parameter or override the default SpotX outstream rendering by defining your own Outstream function using field outstream_function."), !1; if (!I.getBidIdParameter("slot", e.params.outstream_options)) return I.logError(i + ": please define parameters slot outstream_options object in the configuration."), !1; } return !0; }, buildRequests: function buildRequests(e, h) { var y = h.refererInfo.referer, b = !!y.match(/^https:/); return e.map(function (e) { var t = I.getBidIdParameter("channel_id", e.params), r = null, a = I.deepAccess(e, "mediaTypes.video.playerSize"), d = a[0][0], i = a[0][1], n = b || (I.getBidIdParameter("secure", e.params) ? 1 : 0), o = { sdk_name: "Prebid 1+", versionOrtb: "2.3" }; if ("" != I.getBidIdParameter("hide_skin", e.params) && (o.hide_skin = +!!I.getBidIdParameter("hide_skin", e.params)), "" != I.getBidIdParameter("ad_volume", e.params) && (o.ad_volume = I.getBidIdParameter("ad_volume", e.params)), "" != I.getBidIdParameter("ad_unit", e.params) && (o.ad_unit = I.getBidIdParameter("ad_unit", e.params)), "" != I.getBidIdParameter("outstream_options", e.params) && (o.outstream_options = I.getBidIdParameter("outstream_options", e.params)), "" != I.getBidIdParameter("outstream_function", e.params) && (o.outstream_function = I.getBidIdParameter("outstream_function", e.params)), "" != I.getBidIdParameter("custom", e.params) && (o.custom = I.getBidIdParameter("custom", e.params)), "" != I.getBidIdParameter("pre_market_bids", e.params) && I.isArray(I.getBidIdParameter("pre_market_bids", e.params))) { var s = I.getBidIdParameter("pre_market_bids", e.params); for (var p in (o.pre_market_bids = [], s)) { var m = s[p], u = ""; m.vast_url ? u = '' + m.vast_url + "" : m.vast_string && (u = m.vast_string), o.pre_market_bids.push({
id: m.deal_id,
seatbid: [{
bid: [{
impid: Date.now(),
dealid: m.deal_id,
price: m.price,
adm: u
}]
}],
cur: m.currency,
ext: {
event_log: [{}]
}
});
}
}
var c = I.getBidIdParameter("mimes", e.params) || ["application/javascript"https://r.search.yahoo.com/,"video/mp4″https://r.search.yahoo.com/,"video/webm"],
g = {
id: e.bidId,
secure: n,
video: {
w: d,
h: i,
ext: o,
mimes: c
}
};
"" != I.getBidIdParameter("price_floor", e.params) && (g.bidfloor = I.getBidIdParameter("price_floor", e.params)), "" != I.getBidIdParameter("start_delay", e.params) && (g.video.startdelay = 0 + Boolean(I.getBidIdParameter("start_delay", e.params))), "" != I.getBidIdParameter("min_duration", e.params) && (g.video.minduration = I.getBidIdParameter("min_duration", e.params)), "" != I.getBidIdParameter("max_duration", e.params) && (g.video.maxduration = I.getBidIdParameter("max_duration", e.params)), "" != I.getBidIdParameter("placement_type", e.params) && (g.video.ext.placement = I.getBidIdParameter("placement_type", e.params)), "" != I.getBidIdParameter("position", e.params) && (g.video.ext.pos = I.getBidIdParameter("position", e.params)), e.crumbs && e.crumbs.pubcid && (r = e.crumbs.pubcid);
var _ = navigator.language ? "language" : "userLanguage",
l = {
h: screen.height,
w: screen.width,
dnt: I.getDNT() ? 1 : 0,
language: navigator[_].split("-")[0],
make: navigator.vendor ? navigator.vendor : "",
ua: navigator.userAgent
},
v = {
id: t,
imp: g,
site: {
id: "",
page: y,
content: "content"
},
device: l,
ext: {
wrap_response: 1
}
};
I.getBidIdParameter("number_of_ads", e.params) && (v.ext.number_of_ads = I.getBidIdParameter("number_of_ads", e.params));
var f = {};
return 1 == I.getBidIdParameter("spotx_all_google_consent", e.params) && (f.consented_providers_settings = P), h && h.gdprConsent && (f.consent = h.gdprConsent.consentString, void 0 !== h.gdprConsent.gdprApplies && I.deepSetValue(v, "regs.ext.gdpr", h.gdprConsent.gdprApplies ? 1 : 0)), h && h.uspConsent && I.deepSetValue(v, "regs.ext.us_privacy", h.uspConsent), e && e.userId && e.userId.id5id && (f.eids = f.eids || [], f.eids.push({
source: "id5-sync.com",
uids: [{
id: e.userId.id5id
}]
})), r && (f.fpc = r), e && e.schain && (v.source = {
ext: {
schain: e.schain
}
}), e && e.userId && e.userId.tdid && (f.eids = f.eids || [], f.eids.push({
source: "adserver.org",
uids: [{
id: e.userId.tdid,
ext: {
rtiPartner: "TDID"
}
}]
})), I.isEmpty(f) || (v.user = {
ext: f
}), {
method: "POST",
url: "https://search.spotxchange.com/openrtb/2.3/dados/" + t,
data: v,
bidRequest: h
};
});
},
interpretResponse: function interpretResponse(e, s) {
var p = [],
m = e.body;
return m && I.isArray(m.seatbid) && I._each(m.seatbid, function (e) {
I._each(e.bid, function (t) {
var e = {};
for (var r in s.bidRequest.bids) {
t.impid == s.bidRequest.bids[r].bidId && (e = s.bidRequest.bids[r]);
}
I._each(e.params.pre_market_bids, function (e) {
e.deal_id == t.id && (t.price = e.price, m.cur = e.currency);
});
var a = {
requestId: e.bidId,
currency: m.cur || "USD",
cpm: t.price,
creativeId: t.crid || "",
ttl: 360,
netRevenue: !0,
channel_id: m.id,
cache_key: t.ext.cache_key,
vastUrl: "https://search.spotxchange.com/ad/vast.html?key=" + t.ext.cache_key,
videoCacheKey: t.ext.cache_key,
mediaType: c.d,
width: t.w,
height: t.h
};
a.meta = a.meta || {}, t && t.adomain && 0 < t.adomain.length && (a.meta.advertiserDomains = t.adomain); var d = I.deepAccess(e, "mediaTypes.video.context"), i = I.deepAccess(e, "params.ad_unit"); if ("outstream" == d || "outstream" == i) { var n = I.deepAccess(e, "mediaTypes.video.playerSize"), o = u.a.install({ id: 0, url: "//", config: { adText: "SpotX Outstream Video Ad via Prebid.js", player_width: n[0][0], player_height: n[0][1], content_page_url: I.deepAccess(s, "data.site.page"), ad_mute: +!!I.deepAccess(e, "params.ad_mute"), hide_skin: +!!I.deepAccess(e, "params.hide_skin"), outstream_options: I.deepAccess(e, "params.outstream_options"), outstream_function: I.deepAccess(e, "params.outstream_function") } }); try { o.setRender(g), o.setEventHandlers({ impression: function impression() { return I.logMessage("SpotX outstream video impression event"); }, loaded: function loaded() { return I.logMessage("SpotX outstream video loaded event"); }, ended: function ended() { I.logMessage("SpotX outstream renderer video event"); } }); } catch (e) { I.logWarn("Prebid Error calling setRender or setEve,tHandlers on renderer", e); } a.renderer = o; } p.push(a); }); }), p; } }; function g(e) { var t = function (e) { var t = I.getBidIdParameter("slot", e.renderer.config.outstream_options); I.logMessage("[SPOTX][renderer] Handle SpotX outstream renderer"); var r = window.document.createElement("script"); r.type = "text/javascript", r.src = "https://js.spotx.tv/easi/v1/" + e.channel_id + ".js"; var a = {}; a["data-spotx_channel_id"] = "" + e.channel_id, a["data-spotx_vast_url"] = "" + e.vastUrl, a["data-spotx_content_page_url"] = e.renderer.config.content_page_url, a["data-spotx_ad_unit"] = "incontent", I.logMessage("[SPOTX][renderer] Default beahavior"), I.getBidIdParameter("ad_mute", e.renderer.config.outstream_options) && (a["data-spotx_ad_mute"] = "1"), a["data-spotx_collapse"] = "0", a["data-spotx_autoplay"] = "1", a["data-spotx_blocked_autoplay_override_mode"] = "1", a["data-spotx_video_slot_can_autoplay"] = "1"; var d, i, n, o, s, p, m = I.getBidIdParameter("playersize_auto_adapt", e.renderer.config.outstream_options); m && I.isBoolean(m) && !0 === m && (e.width && I.isNumber(e.width) && e.height && I.isNumber(e.height) ? (d = e.width / e.height, i = window.document.getElementById(t).clientWidth, n = e.renderer.config.player_width, o = e.renderer.config.player_height, p = s = 0, i < n && (o = (n = i) / d), p = d <= 1 ? (s = Math.round(o * d), o) : (s = n, Math.round(n / d)), a["data-spotx_content_width"] = "" + s, a["data-spotx_content_height"] = "" + p) : I.logWarn("[SPOTX][renderer] PlayerSize auto adapt: bid.width and bid.height are incorrect")); var u = I.getBidIdParameter("custom_override", e.renderer.config.outstream_options); if (u && I.isPlainObject(u)) for (var c in (I.logMessage("[SPOTX][renderer] Custom beahavior."), u)) { u.hasOwnProperty(c) && ("channel_id" === c || "vast_url" === c || "content_page_url" === c || "ad_unit" === c ? I.logWarn("[SPOTX][renderer] Custom beahavior: following option cannot be overrided: " + c) : a["data-spotx_" + c] = u[c]); } for (var g in a) { a.hasOwnProperty(g) && r.setAttribute(g, a[g]); } return r; }(e); if (null != e.renderer.config.outstream_function && "function" == typeof e.renderer.config.outstream_function) e.renderer.config.outstream_function(e, t);else try { var r, a, d, i = I.getBidIdParameter("in_iframe", e.renderer.config.outstream_options); i && "IFRAME" == window.document.getElementById(i).nodeName ? (!(a = (r = window.document.getElementById(i)).contentDocument) && r.contentWindow && (a = r.contentWindow.document), a.body.appendChild(t)) : (d = I.getBidIdParameter("slot", e.renderer.config.outstream_options)) && window.document.getElementById(d) ? window.document.getElementById(d).appendChild(t) : window.document.getElementsByTagName("head")[0].appendChild(t); } catch (e) { I.logError("[SPOTX][renderer] Error:" + e.message); } } Object(a.registerBidder)(n); } }, [744]); pbjsChunk([91], { 758: function _(e, t, r) { e.exports = r(759); }, 759: function _(e, t, r) { "use strict"; Object.defineProperty(t, "__esModule", { value: !0 }), r.d(t, "spec", function () { return i; }); var n = r(1), a = r(0), p = 12, c = 11, u = 0, g = 22, i = { code: "teads", supportedMediaTypes: ["video"https://r.search.yahoo.com/,"banner"], isBidRequestValid: function isBidRequestValid(e) { var t, r, n = !1; return void 0 !== e.params && (t = s(a.getValue(e.params, "placementId")), r = s(a.getValue(e.params, "pageId")), n = t && r), n || a.logError("Teads placementId and pageId parameters are required. Bid aborted."), n; }, buildRequests: function buildRequests(e, t) { var r, n = e.map(f), i = { referrer: function (e) { var t = ""; e && e.refererInfo && e.refererInfo.referer && (t = e.refererInfo.referer); return t; }(t), pageReferrer: document.referrer, networkBandwidth: (r = window.navigator) && r.connection && 0 <= r.connection.downlink ? r.connection.downlink.toString() : "", timeToFirstByte: function (e) { var t = e.performance || e.webkitPerformance || e.msPerformance || e.mozPerformance, r = t && "function" == typeof t.getEntriesByType && "[object Function]" === Object.prototype.toString.call(t.getEntriesByType) && t.getEntriesByType("navigation")[0] && t.getEntriesByType("navigation")[0].responseStart && t.getEntriesByType("navigation")[0].requestStart && 0 <= t.getEntriesByType("navigation")[0].responseStart && 0 <= t.getEntriesByType("navigation")[0].requestStart && Math.round(t.getEntriesByType("navigation")[0].responseStart - t.getEntriesByType("navigation")[0].requestStart); if (r) return r.toString(); var n = t && t.timing.responseStart && t.timing.requestStart && 0 <= t.timing.responseStart && 0 <= t.timing.requestStart && t.timing.responseStart - t.timing.requestStart; return n ? n.toString() : ""; }(window), data: n, deviceWidth: screen.width, hb_version: "4.7.0" }; e[0].schain && (i.schain = e[0].schain); var a, s, o, d = t.gdprConsent; return t && d && (a = "boolean" == typeof d.gdprApplies, s = "string" == typeof d.consentString, o = a ? function (e, t, r) { var n = p; e ? function (e, t) { return e && 1 === t ? e.hasGlobalScope || e.hasGlobalConsent : !(!e || 2 !== t) && !e.isServiceSpecific; }(t, r) && (n = c) : n = u; return n; }(d.gdprApplies, d.vendorData, d.apiVersion) : g, i.gdpr_iab = { consent: s ? d.consentString : "", status: o, apiVersion: d.apiVersion }), t && t.uspConsent && (i.us_privacy = t.uspConsent), { method: "POST", url: "https://a.teads.tv/hb/bid-request", data: JSON.stringify(i) }; }, interpretResponse: function interpretResponse(e) { var r = []; return (e = e.body).responses && e.responses.forEach(function (e) { var t = { cpm: e.cpm, width: e.width, height: e.height, currency: e.currency, netRevenue: !0, ttl: e.ttl, ad: e.ad, requestId: e.bidId, creativeId: e.creativeId, placementId: e.placementId }; e.dealId && (t.dealId = e.dealId), r.push(t); }), r; } }; function f(e) { var t, r = {}, n = a.getValue(e.params, "placementId"), i = a.getValue(e.params, "pageId"); return r.sizes = (t = e, a.parseSizesInput(function (e) { var t = a.deepAccess(e, "mediaTypes.video.playerSize"), r = a.deepAccess(e, "mediaTypes.video.sizes"), n = a.deepAccess(e, "mediaTypes.banner.sizes"); return a.isArray(n) || a.isArray(t) || a.isArray(r) ? [n, r, t].reduce(function (t, e) { return a.isArray(e) && (a.isArray(e[0]) ? e.forEach(function (e) { t.push(e); }) : t.push(e)), t; }, []) : e.sizes; }(t))), r.bidId = a.getBidIdParameter("bidId", e), r.bidderRequestId = a.getBidIdParameter("bidderRequestId", e), r.placementId = parseInt(n, 10), r.pageId = parseInt(i, 10), r.adUnitCode = a.getBidIdParameter("adUnitCode", e), r.auctionId = a.getBidIdParameter("auctionId", e), r.transactionId = a.getBidIdParameter("transactionId", e), r; } function s(e) { return 0 < parseInt(e); } Object(n.registerBidder)(i); } }, [758]); pbjsChunk([82], { 778: function _(e, r, t) { e.exports = t(779); }, 779: function _(e, r, t) { "use strict"; Object.defineProperty(r, "__esModule", { value: !0 }), t.d(r, "tripleliftAdapterSpec", function () { return y; }); var n = t(2), i = t(1), u = t(0), o = t(3); function p(e) { return (p = "function" == typeof Symbol && "symbol" == _typeof(Symbol.iterator) ? function (e) { return _typeof(e); } : function (e) { return e && "function" == typeof Symbol && e.constructor === Symbol && e !== Symbol.prototype ? "symbol" : _typeof(e); })(e); } function a(r, e) { var t, n = Object.keys(r); return Object.getOwnPropertySymbols && (t = Object.getOwnPropertySymbols(r), e && (t = t.filter(function (e) { return Object.getOwnPropertyDescriptor(r, e).enumerable; })), n.push.apply(n, t)), n; } function c(i) { for (var e = 1; e < arguments.length; e++) { var o = null != arguments[e] ? arguments[e] : {}; e % 2 ? a(Object(o), !0).forEach(function (e) { var r, t, n; r = i, n = o[t = e], t in r ? Object.defineProperty(r, t, { value: n, enumerable: !0, configurable: !0, writable: !0 }) : r[t] = n; }) : Object.getOwnPropertyDescriptors ? Object.defineProperties(i, Object.getOwnPropertyDescriptors(o)) : a(Object(o)).forEach(function (e) { Object.defineProperty(i, e, Object.getOwnPropertyDescriptor(o, e)); }); } return i; } function d(e) { return function (e) { if (Array.isArray(e)) return s(e); }(e) || function (e) { if ("undefined" != typeof Symbol && Symbol.iterator in Object(e)) return Array.from(e); }(e) || function (e, r) { if (!e) return; if ("string" == typeof e) return s(e, r); var t = Object.prototype.toString.call(e).slice(8, -1); "Object" === t && e.constructor && (t = e.constructor.name); if ("Map" === t || "Set" === t) return Array.from(e); if ("Arguments" === t || /^(?:Ui|I)nt(?:8|16|32)(?:Clamped)?Array$/.test(t)) return s(e, r); }(e) || function () { throw new TypeError("Invalid attempt to spread non-iterable instance.nIn order to be iterable, non-array objects must have a [Symbol.iterator]() method."); }(); } function s(e, r) { (null == r || r > e.length) && (r = e.length);
for (var t = 0, n = new Array(r); t < r; t++) { n[t] = e[t]; } return n; } var f = !0, l = null, y = { code: "triplelift", supportedMediaTypes: [n.b, n.d], isBidRequestValid: function isBidRequestValid(e) { if (e.mediaTypes.video) { var r = m(e); if (!r.w || !r.h) return !1; } return void 0 !== e.params.inventoryCode; }, buildRequests: function buildRequests(e, r) { var t, n = "https://tlx.3lift.com/header/auction?", i = function (e) { var r = {}, t = e[0].schain; r.imp = e.map(function (e, r) { var t = { id: r, tagid: e.params.inventoryCode, floor: function (e) { var r = null; { var t; "function" == typeof e.getFloor && ("object" !== p(t = e.getFloor({ currency: "USD", mediaType: "banner", size: g(e.sizes) })) || "USD" !== t.currency || isNaN(parseFloat(t.floor)) || (r = parseFloat(t.floor))); } return null !== r ? r : e.params.floor; }(e) }; return e.mediaTypes.video ? t.video = m(e) : e.mediaTypes.banner && (t.banner = { format: g(e.sizes) }), t; }); var n = [].concat(d(function (e) { return b(e, "tdid"https://r.search.yahoo.com/,"adserver.org"https://r.search.yahoo.com/,"TDID"); }(e)), d(function (e) { return b(e, "idl_env"https://r.search.yahoo.com/,"liveramp.com"https://r.search.yahoo.com/,"idl"); }(e)), d(function (e) { return b(e, "criteoId"https://r.search.yahoo.com/,"criteo.com"https://r.search.yahoo.com/,"criteoId"); }(e))); 0 < n.length && (r.user = { ext: { eids: n } }); t && (r.ext = { schain: t }); return r; }(e); return n = u.tryAppendQueryString(n, "lib"https://r.search.yahoo.com/,"prebid"), n = u.tryAppendQueryString(n, "v"https://r.search.yahoo.com/,"4.7.0"), r && r.refererInfo && (t = r.refererInfo.referer, n = u.tryAppendQueryString(n, "referrer", t)), r && r.timeout && (n = u.tryAppendQueryString(n, "tmax", r.timeout)), r && r.gdprConsent && (void 0 !== r.gdprConsent.gdprApplies && (f = r.gdprConsent.gdprApplies, n = u.tryAppendQueryString(n, "gdpr", f.toString())), void 0 !== r.gdprConsent.consentString && (l = r.gdprConsent.consentString, n = u.tryAppendQueryString(n, "cmp_cs", l))), r && r.uspConsent && (n = u.tryAppendQueryString(n, "us_privacy", r.uspConsent)), !0 === o.b.getConfig("coppa") && (n = u.tryAppendQueryString(n, "coppa", !0)), n.lastIndexOf("&") === n.length - 1 && (n = n.substring(0, n.length - 1)), u.logMessage("tlCall request built: " + n), { method: "POST", url: n, data: i, bidderRequest: r }; }, interpretResponse: function interpretResponse(e, r) { var t = r.bidderRequest; return (e.body.bids || []).map(function (e) { return function (e, r) { var t = {}, n = r.width || 1, i = r.height || 1, o = r.deal_id || "", u = r.crid || "", p = e.bids[r.imp_id]; 0 != r.cpm && r.ad && (t = { requestId: p.bidId, cpm: r.cpm, width: n, height: i, netRevenue: !0, ad: r.ad, creativeId: u, dealId: o, currency: "USD", ttl: 300, tl_source: r.tl_source }, p.mediaTypes.video && (t.vastXml = r.ad, t.mediaType = "video")); return t; }(t, e); }); }, getUserSyncs: function getUserSyncs(e, r, t, n) { var i = function (e) { if (!e) return; if (e.iframeEnabled) return "iframe"; if (e.pixelEnabled) return "image"; }(e); if (i) { var o = "https://eb2.3lift.com/sync?"; return "image" === i && (o = u.tryAppendQueryString(o, "px", 1), o = u.tryAppendQueryString(o, "src"https://r.search.yahoo.com/,"prebid")), null !== l && (o = u.tryAppendQueryString(o, "gdpr", f), o = u.tryAppendQueryString(o, "cmp_cs", l)), n && (o = u.tryAppendQueryString(o, "us_privacy", n)), [{ type: i, url: o }]; } } }; function m(e) { var r = c(c({}, e.params.video), e.mediaTypes.video); return r.w || (r.w = r.playerSize[0][0]), r.h || (r.h = r.playerSize[0][1]), "instream" === r.context && (r.placement = 1), delete r.playerSize, r; } function b(e, r, t, n) { return e.map((u = r, function (e) { return e && e.userId && e.userId[u]; })).filter(function (e) { return !!e; }).map((i = t, o = n, function (e) { return { source: i, uids: [{ id: e, ext: { rtiPartner: o } }] }; })); var i, o, u; } function g(e) { return e.filter(v).map(function (e) { return { w: e[0], h: e[1] }; }); } function v(e) { return 2 === e.length && "number" == typeof e[0] && "number" == typeof e[1]; } Object(i.registerBidder)(y); } }, [778]); pbjsChunk([80], { 782: function _(e, r, t) { e.exports = t(783); }, 783: function _(e, r, t) { "use strict"; Object.defineProperty(r, "__esModule", { value: !0 }), t.d(r, "spec", function () { return v; }); var m = t(0), s = t(1), o = t(11), c = t(2), f = "Bid from response has no auid parameter - ", l = "Bid from response has no adm parameter - ", p = "Array of bid objects is empty", g = "Can't find in requested bids the bid with auid - ", u = "Seatbid array from response has empty item", y = "Response is empty", b = "Response has empty seatbid array", h = "Seatbid from response has no array of bid objects - ", v = { code: "trustx", supportedMediaTypes: [c.b, c.d], isBidRequestValid: function isBidRequestValid(e) { return !!e.params.uid; }, buildRequests: function buildRequests(e, r) { var a, o, p = [], u = {}, c = {}, f = {}, l = "net"; (e || []).forEach(function (e) { "gross" === e.params.priceType && (l = "gross"), o = e.bidderRequestId; var r = e.params.uid, t = e.adUnitCode; p.push(r); var s, n = m.parseSizesInput(e.sizes); a || m.isEmpty(e.params.keywords) || (0 < (s = m.transformBidderParamKeywords(e.params.keywords)).length && s.forEach(E), a = s), c[r] || (c[r] = {}); var d = c[r]; d[t] ? d[t].bids.push(e) : d[t] = { adUnitCode: t, bids: [e], parents: [] }; var i = d[t]; n.forEach(function (e) { f[e] = !0, u[r] || (u[r] = {}), u[r][e] ? u[r][e].push(i) : u[r][e] = [i], i.parents.push({ parent: u[r], key: e, uid: r }); }); }); var t = { pt: l, auids: p.join(","), sizes: m.getKeys(f).join(","), r: o, wrapperType: "Prebid_js", wrapperVersion: "4.7.0" }; return a && (t.keywords = JSON.stringify(a)), r && (r.refererInfo && r.refererInfo.referer && (t.u = r.refererInfo.referer), r.timeout && (t.wtimeout = r.timeout), r.gdprConsent && (r.gdprConsent.consentString && (t.gdpr_consent = r.gdprConsent.consentString), t.gdpr_applies = "boolean" == typeof r.gdprConsent.gdprApplies ? Number(r.gdprConsent.gdprApplies) : 1), r.uspConsent && (t.us_privacy = r.uspConsent)), { method: "GET", url: "https://sofia.trustx.org/hb", data: m.parseQueryStringParameters(t).replace(/&$/, ""), bidsMap: u }; }, interpretResponse: function interpretResponse(e, r, t) { var s = 2 < arguments.length && void 0 !== t ? t : o.a; e = e && e.body; var n, d = [], i = r.bidsMap, a = r.data.pt; return e ? e.seatbid && !e.seatbid.length && (n = b) : n = y, !n && e.seatbid && e.seatbid.forEach(function (e) { !function (e, d, r, t, s) { if (!e) return; var n; e.auid || (n = f + JSON.stringify(e)); { var i, a, o, p, u; e.adm ? (i = d[e.auid]) ? (a = "".concat(e.w, "x").concat(e.h), i[a] && (o = i[a][0], p = o.bids.shift(), u = { requestId: p.bidId, bidderCode: v.code, cpm: e.price, width: e.w, height: e.h, creativeId: e.auid, currency: "USD", netRevenue: "gross" !== r, ttl: 360, dealId: e.dealid }, "video" === e.content_type ? (u.vastXml = e.adm, u.mediaType = c.d, u.adResponse = { content: u.vastXml }, p.renderer || p.mediaTypes && p.mediaTypes.video && "outstream" !== p.mediaTypes.video.context || (u.renderer = function (e, r) { var t = r.install({ id: e.id, url: e.url, loaded: !1 }); try { t.setRender(w); } catch (e) { m.logWarn("Prebid Error calling setRender on renderer", e); } return t; }({ id: p.bidId, url: "https://acdn.adnxs.com/video/outstream/ANOutstreamVideo.js" }, s))) : (u.ad = e.adm, u.mediaType = c.b), t.push(u), o.bids.length || o.parents.forEach(function (e) { var r = e.parent, t = e.key, s = e.uid, n = r[t].indexOf(o); -1 < n && r[t].splice(n, 1), r[t].length || (delete r[t], m.getKeys(r).length || delete d[s]); }))) : n = g + e.auid : n = l + JSON.stringify(e); } n && m.logError(n); }(function (e) { e ? e.bid ? e.bid[0] || m.logError(p) : m.logError(h + JSON.stringify(e)) : m.logError(u); return e && e.bid && e.bid[0]; }(e), i, a, d, s); }), n && m.logError(n), d; }, getUserSyncs: function getUserSyncs(e) { if (e.pixelEnabled) return [{ type: "image", url: "https://sofia.trustx.org/push_sync" }]; } }; function E(e) { var r; r = e.value, m.isArray(r) && 0 < r.length && "" === e.value[0] && delete e.value; } function w(e) { e.renderer.push(function () { window.ANOutstreamVideo.renderAd({ targetId: e.adUnitCode, adResponse: e.adResponse }); }); } Object(s.registerBidder)(v); } }, [782]); pbjs.processQueue(); }, {}]; window.modules["via.legacy"] = [function(require,module,exports){"use strict"; DS.service("via", function () { "use strict"; // remove `via` from url, to be used after amplitude logs it to prevent users from sharing such urls function removeFromLocation() { var url = new URL(location.href); url.searchParams.delete("via"); history.replaceState(null, "", url.toString()); } // and add `via` param to any outbound links function addViaToUrl(href, via) { if (!href || href.substr(0, 1) === "#") { return href; // don't add to jumps on the current page, e.g. "Skip to main content" } var url = new URL(href); var apexDomain = new URL(location.href).hostname.split(".").slice(-2).join("."); if (url.hostname.indexOf(apexDomain) === -1) { return href; // don't add it to external links } url.searchParams.set("via", via); return url.toString(); } // keys correspond to "page_types" in editable_components.yml var PREFIXES = { article: "article", homepage: "homepage", "vertical front": "section", "rubric front": "rubric" }; var pageType; function setPageType(amplitudePageType) { pageType = PREFIXES[amplitudePageType]; } var DELIMITER = "_"; function concatVia(node, via) { var tag = node.dataset && node.dataset.via; if (tag) { via = (via.length ? tag + DELIMITER : tag) + via; } return via; } function addToClickedLinks() { document.documentElement.addEventListener("click", function (e) { var a; var via = ""; // detect link nodes and collect via directives to append to the href var node = e.target; // the element where this event originated may have been removed from the dom, e.g. in the case of the OIL CMP which disappears after you interact with it while (node && node !== e.currentTarget) { if (node.tagName === "A") { a = node; } via = concatVia(node, via); node = node.parentNode; } if (a && via) { if (pageType) { via = pageType + DELIMITER + via; } a.href = addViaToUrl(a.href, via); } }); } function addToSubmittedForms() { document.documentElement.addEventListener("submit", function (e) { var form = e.target; // collect via directives var via = ""; var node = e.target; while (node !== e.currentTarget) { via = concatVia(node, via); node = node.parentNode; } if (via) { if (pageType) { via = pageType + DELIMITER + via; } // dynamically create a hidden input for the form url var input = document.createElement("input"); input.type = "hidden"; input.name = "via"; input.value = via; form.appendChild(input); } }); } // start listening only once, when first injected addToClickedLinks(); addToSubmittedForms(); return { setPageType: setPageType, removeFromLocation: removeFromLocation }; }); }, {}]; window.modules["visibility.legacy"] = [function(require,module,exports){"use strict"; DS.service("$visibility", ["$document"https://r.search.yahoo.com/,"$window"https://r.search.yahoo.com/,"_throttle"https://r.search.yahoo.com/,"Eventify", function ($document, $window, _throttle, Eventify) { var list = [], Visible, VisibleEvent; /** * @param {number} a * @param {number} b * @returns {*} * @see http://jsperf.com/math-min-vs-if-condition-vs/8 */ function min(a, b) { return a < b ? a : b; } /** * @param {number} a * @param {number} b * @returns {*} * @see http://jsperf.com/math-min-vs-if-condition-vs/8 */ function max(a, b) { return a > b ? a : b;
}
/**
* Fast loop through watched elements
*/
function onScroll() {
list.forEach(updateVisibility);
}
/**
* updates seen property
* @param {Visble} item
* @param {{}} evt
* @fires Visible#shown
* @fires Visible#hidden
*/
function updateSeen(item, evt) {
var px = evt.visiblePx,
percent = evt.visiblePercent; // if some pixels are visible and we're greater/equal to threshold
if (px && percent >= item.shownThreshold && !item.seen) {
item.seen = true;
setTimeout(function () {
item.trigger("shown", new VisibleEvent("shown", evt));
}, 15); // if no pixels or percent is less than threshold
} else if ((!px || percent < item.hiddenThreshold) && item.seen) { item.seen = false; setTimeout(function () { item.trigger("hidden", new VisibleEvent("hidden", evt)); }, 15); } } /** * sets preload property * @param {Visible} item * @param {{}} evt * @param {Number} innerHeight * @fires Visible#preload */ function updatePreload(item, evt, innerHeight) { if (!item.preload && item.preloadThreshhold && shouldBePreloaded(evt.target, evt.rect, item.preloadThreshhold, innerHeight)) { item.preload = true; setTimeout(function () { item.trigger("preload", new VisibleEvent("preload", evt)); }, 15); } } /** * Trigger events * @param {Visible} item */ function updateVisibility(item) { var rect = item.el.getBoundingClientRect(), innerHeight = $window.innerHeight || $document.documentElement.clientHeight, px = getVerticallyVisiblePixels(rect, innerHeight), percent = px / (rect.height || innerHeight), evt = { target: item.el, rect: rect, visiblePx: px, visiblePercent: percent }; updateSeen(item, evt); updatePreload(item, evt, innerHeight); } /** * Return normalized viewport height * @return {number} */ function getViewportHeight() { return $window.innerHeight || $document.documentElement.clientHeight || $document.body.clientHeight; } /** * Return normalized viewport width * @return {number} */ function getViewportWidth() { return $window.innerWidth || $document.documentElement.clientWidth || $document.body.clientWidth; } /** * make sure an element isn't hidden by styles or etc * @param {Element} el * @return {Boolean} */ function isElementNotHidden(el) { return el && el.offsetParent !== null && !el.getAttribute("hidden") && getComputedStyle(el).display !== "none" && getComputedStyle(el).visibility !== "hidden"; } /** * Apparently the fastest way... * @param {Element} el * @returns {boolean} * @example if (!$visibility.isElementInViewport(el)) { ... } */ function isElementInViewport(el) { var rect = el.getBoundingClientRect(); return rect.top >= 0 && rect.left >= 0 && rect.bottom <= ($window.innerHeight || $document.documentElement.clientHeight) && rect.right <= ($window.innerWidth || $document.documentElement.clientWidth); } /** * @param {Element} el * @param {ClientRect} rect * @param {Number} preloadThreshhold * @param {Number} innerHeight * @return {Boolean} */ function shouldBePreloaded(el, rect, preloadThreshhold, innerHeight) { return rect.top <= innerHeight + preloadThreshhold && isElementNotHidden(el); } /** * Create a one-dimensional spacial hash of x * @param {number} x * @param {number} stepSize * @param {number} optimalK * @param {number} base * @return {number} */ function getLinearSpacialHash(x, stepSize, optimalK, base) { var index = Math.floor(x / (stepSize || 1)), remainder = x % stepSize, result = index.toString(base); if (optimalK > 1) {
result += getLinearSpacialHash(remainder, Math.floor(stepSize / base), optimalK – 1, base);
}
return result;
}
/**
* @param {ClientRect} rect
* @param {number} innerHeight
* @returns {number}
*/
function getVerticallyVisiblePixels(rect, innerHeight) {
return min(innerHeight, max(rect.bottom, 0)) – min(max(rect.top, 0), innerHeight);
}
/**
* Get offset of element relative to entire page
*
* @param {Element} el
* @returns {{left: number, top: number}}
* @see http://jsperf.com/offset-vs-getboundingclientrect/7
*/
function getPageOffset(el) {
var offsetLeft = el.offsetLeft,
offsetTop = el.offsetTop;
while (el = el.offsetParent) {
offsetLeft += el.offsetLeft;
offsetTop += el.offsetTop;
}
return {
left: offsetLeft,
top: offsetTop
};
}
/**
* Create a new Visible class to observe when elements enter and leave the viewport
*
* Call destroy function to stop listening (this is until we have better support for watching for Node Removal)
* @param {Element} el
* @param {{shownThreshold: number, hiddenThreshold: number}} [options]
* @class
* @example this.visible = new $visibility.Visible(el);
*/
Visible = function Visible(el, options) {
options = options || {};
this.el = el;
this.seen = false;
this.preload = false;
this.preloadThreshhold = options && options.preloadThreshhold || 0;
this.shownThreshold = options && options.shownThreshold || 0;
this.hiddenThreshold = options && min(options.shownThreshold, options.hiddenThreshold) || 0;
list.push(this);
updateVisibility(this); // set immediately to visible or not
};
Visible.prototype = {
/**
* Stop triggering.
*/
destroy: function destroy() {
// remove from list
list.splice(list.indexOf(this), 1);
}
/**
* @name Visible#on
* @function
* @param {'shown'|'hidden'} e EventName
* @param {function} cb Callback
*/
/**
* @name Visible#trigger
* @function
* @param {'shown'|'hidden'} e
* @param {{}}
*/
};
Eventify.enable(Visible.prototype);
VisibleEvent = function VisibleEvent(type, options) {
var _this = this;
this.type = type;
Object.keys(options).forEach(function (key) {
_this[key] = options[key];
});
}; // listen for scroll events (throttled)
$document.addEventListener("scroll", _throttle(onScroll, 200)); // public
this.getPageOffset = getPageOffset;
this.getLinearSpacialHash = getLinearSpacialHash;
this.getVerticallyVisiblePixels = getVerticallyVisiblePixels;
this.getViewportHeight = getViewportHeight;
this.getViewportWidth = getViewportWidth;
this.isElementNotHidden = isElementNotHidden;
this.isElementInViewport = isElementInViewport;
this.Visible = Visible;
}]);
}, {}];
require=(function e(t,n,r){function s(o,u){if(!n[o]){if(!t[o]){var a=typeof require=="function"&&require;if(!u&&a)return a(o,!0);if(i)return i(o,!0);var f=new Error("Cannot find module '"+o+"'");throw f.code="MODULE_NOT_FOUND",f}var l=n[o]={exports:{}};t[o][0].call(l.exports,function(e){var n=t[o][1][e];return s(n?n:e)},l,l.exports,e,t,n,r)}return n[o].exports}var i=typeof require=="function"&&require;for(var o=0;o