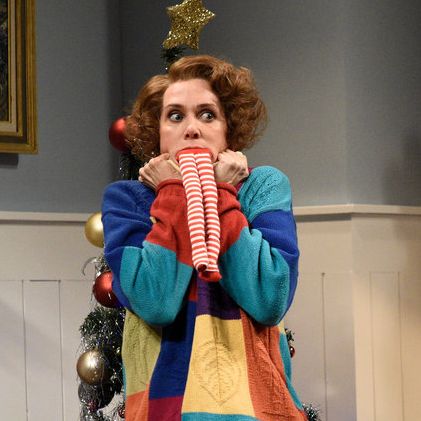 Photo: NBC/Will Heath/NBC
When SNL returned in the spring of this year, delivering its first-ever remote shows, it felt as much like a public service as anything. The distanced format made comedic and technical experimentation necessary, while friendly faces including Kristen Wiig made unnerved viewers feel as comfortable as possible. Last night, with vaccines on the way and a long stretch of live, surprisingly routine shows at 8H under SNL's belt, Wiig returned and once again brought with her a sense of comfort and something like normalcy. Her familiar presence undoubtedly made things a bit more fun for the writers: They know her, love her, she made many drop-ins possible, and, in a pinch, they could call up Dooneese or the Target Lady to work for them. The twists this week: Jim Carrey retired from his gig as Joe Biden, and musical guest Dua Lipa got in on the action.
As usual, this week's sketches are presented here from best to worst.
This week's supersize Update starts with a montage reviewing four years of Trump's ostensible greatest hits — e.g., hugging flags, honking truck horns — set to Semisonic's "Closing Time." It's not a joke, but it's funny? Sad? Both? The best bit in this segment includes Michael Che's joke about protesters burning Black Lives Matter signs outside Black churches. Though the audience should be able to guess Che's perspective here, the finesse is clear in that he doesn't telegraph the punchline. The first Update character is Smokey Robinson (Chris Redd), who apparently is just learning about Jewish people after wishing a fan a "Happy Chanookuh" IRL. Primarily, this exchange is a lot of mispronunciations, but Redd delivers a charming sort of guilelessness that makes it work.
While the Update anchors aren't quite sure how some of the jokes are going to go over in the second half, there are nice takes on the Utah Jazz and the allegations of sexual harassment leveled at Andrew Cuomo. (The latter works in part because it's easy to imagine Cuomo saying the phrase, "broad with dynamite bazoombas.") Then Kenan Thompson comes on as Michael Che's neighbor, the ever-optimistic Willie. Willie can't wait to get the vaccine, so much so he's hunting for any old used needle in the park and ready to believe that anyone who says they're from Pfizer is, in fact, from Pfizer. It's the sweetness of Thompson's demeanor that makes the terrible things coming out of his mouth seem somehow manageable.
The last segment kicks off with a smart trio of jokes before Heidi Gardner comes on as Instagram influencer Landis Trotter. Though she swears that none of her recommendations for products and services are spon-con, it's hard to imagine her boyfriend managing to put "Private Banking from Merrill Lynch" in a box. Gardner conjures another excellent character portrait here; and if it is actually SNL spon-con, it's about as good as it can be. At Update's close, Che and Jost again force one another to tell jokes they haven't yet seen. As usual, Jost's all paint him as a racist while Che's make him look like a pedophile, among other things. It proves itself another highlight in the Update calendar.
On a set reminiscent of the beginning of White Christmas, American troops take a break from battling Nazis to enjoy wholesome holiday entertainment. Well, it's all genial tap dancing until nurse Abra July (Kristen Wiig) takes the stage with "Love Bite," a number about cheating she performs with a magically prepared volunteer soldier (Bowen Yang). While the sketch fits squarely into SNL's popular Well-this-is-NOT-the-performance-I-expected category, there's a gleeful dissonance between the cast's '40s yammering and the song's gender-bending storytelling. Yang is definitely in his element with the dramatic, naughty choreography, pushing even Wiig to greater heights of flamboyance. Dua Lipa, who shows up as another piece of the "Love Bite" puzzle, comes on a bit stiff but quickly finds her place in doing body waves and spanking Yang. The emergence of the Nazi-bashing ethos? Just icing on the cake.
In this sneak peek for season two of the Hulu series A Teacher, the kid (Andrew Dismukes) stays after class in hopes of seducing his teacher. Unlike the actual series, the teacher (Ego Nwodim) is an adult with a life she is not interested in losing over his "limp-ass little neenor." The no-nonsense tone, the swift dismissal of all the student's hopeful plans, and the matter-of-fact confessions ("I've got that swagger you have when you're not a pedophile … God, I hate kids.") are all really well done. Both Nwodim and the writing really shine here, and by the time the smitten principal (Kristen Wiig) arrives, the suggestion that anyone could throw their lives away for a stupid kid seems ridiculous. This isn't a flashy sketch bound to get lots of clicks in its digital afterlife, but it's well imagined and well executed.
Wooden, pasty Mike Pence (Beck Bennett) gets vaccinated on TV, to prove that it is safe and effective despite the president's unwillingness to take or talk about the shot. There are some of the usual shots about Pence's weirdly puritanical notions, his presumed kinks, and the dispassionate interior it must require to play sidekick to Trump. None are surprising, but they work. After an energetic entrance from Kamala Harris (Maya Rudolph), Alex Moffat gets his first shot at playing Joe Biden. It's a brief appearance, and the biggest hint about Moffat's Biden seems to be the somersault he does upon entering. The impression is more muted than Jim Carrey's broad interpretation, but it seems less a take on Biden than nods toward Biden's outward appearance. Things liven up with a drop-in from Rudy Giuliani (Kate McKinnon), proving that the ladies are the ones giving life to the opens these days.
This video piece is a cheery, fast-paced rap recounting all of the amazing gifts one family (Kristen Wiig, Beck Bennett, Chloe Fineman, Kyle Mooney) received on Christmas morning. That is, everybody but the long-suffering mom, who gets only a robe and then assigns herself to make breakfast. As far as this season's holiday sketches go, this one deserves points for creating a tiny world rather than relying on the audience's knowledge of an existing film franchise. The pacing, set decoration, and videography are all really well done here — and that's saying nothing of Wiig's loaded glances to the camera. Given the responses in the studio, and early comments online, there are a lot of people who recognize this mom's pain. With that said, there are still four shopping days left before Christmas.
This ongoing sketch brings back the bewitching, brainless actor Mindy Elise Grayson (Kristen Wiig), who utterly fails at this edition of the '60s game show opposite a gloomy Austrian star (Kate McKinnon). Hard to believe, but writers have kept this sketch running for over a decade now. Thanks to carefully crafted specifics, Wiig's play on classic Hollywood self-absorption, and a series of rotating oddballs opposite Wiig, it continues to have legs. With this beat of the sketch, gags about an unusual version of All's Well That Ends Well and a peculiar reading of the word "trimming" hit the mark. Strangely, the pairing of Wiig and McKinnon isn't as magical as might be expected. Maybe it's the fact that McKinnon would be the one playing the Mindy type if Wiig weren't around, and writers chose a very different energy to differentiate McKinnon's character. Unfortunately, McKinnon doesn't find all that much to do with her dour, European brooder.
For this alternate ending of the comedic Christmas caper, Kevin McCallister (Melissa Villaseñor) revisits the homeless lady with the pigeons (Kristen Wiig) in Central Park. As Kevin has been blowing his dad's money on pizza and limousines, much of the comedy is related to Kevin's careless bragging — but the turn the sketch takes in its last third makes it. Across the board, the performances are solid: Villaseñor gives a good blank stare, Wiig gives off a nice, quiet desperation, and Kyle Mooney does a surprisingly good Joe Pesci voice. Once the lady starts battering her ostensible competition, it only gets better. The shock of the violence is part of the fun, but it's even better watching jets of blood shower Wiig's face a little too aggressively.
Surprise-loving Sue (Kristen Wiig) is back, trying to keep mum about a nurse (Lauren Holt) who traveled to see the family patriarch (Alex Moffat) after receiving the vaccine. The formula is a simple one, and it would feel like sacrilege to go too far afield, so the only new elements in the writing are the COVID reference and some novel props, e.g., a Jell-O mold. But this sketch isn't about the writing, it's an excuse to watch Wiig screw herself into the ceiling. She delivers on that front — squirming, wriggling, yanking her sweater over her head until it's time for her to crash through the wall. It's nothing that SNL lovers haven't seen before, on many occasions, but Wiig's playfulness makes the material feel worthy of another go.
Even though 2020 was an "icky year," Wiig sings "My Favorite Things" from The Sound of Music to help everyone remember the delights of life. This version, however, features babies with whiskers, guys named Tony, and showing up in court in some kind of Lord of the Rings costume. Once Maya Rudolph and Kate McKinnon show up, the three of them iron it out: During such a crazy year, it's better to skip the real lyrics in favor of your craziest, favorite things. The weirdly specific images are the fuel in this creative dismantling of the family favorite; well, that and the charm of the three SNL champs together on stage. The piece cheerfully sets the tone for the night to come, while providing the secondary benefit of some emotional exorcism.
This How the Grinch Stole Christmas parody takes place after the Grinch's change of heart — and after a couple of sexually adventurous Whoville parents (Mikey Day, Kristen Wiig) got liquored up and invited the Grinch (Pete Davidson) to stay over. Davidson, nearly unrecognizable in Grinch drag, just kind of plops down on the couch, free of Grinch-like affectation. As the confused Who kids trying to figure out what happened to their parents, Chloe Fineman and Kyle Mooney might be too good at playing the innocents; the parents come off as pretty callous by comparison, and because of that, they distract from the jokes. In all the innuendo, though, there are some fun lines. ("Punish me, my green king.")
Like every other person on the planet, SNL has been desperate to find some joy in 2020. For weeks, the show has been drowning its sorrows in the rum-spiked eggnog of Christmas sketches. Still, it seems as though the writers saved many of their best ideas for last — or maybe they collectively decided to focus on familiar characters and franchises that most people watching would know. In any case, with the exuberance and expertise of Wiig supporting everything, much of it works. There are no new live shows announced in January as of yet, but presumably they're on the way. Really, from the outside, SNL has returned to something like normal with surprising ease. While we know Wiig's prediction that everything will go back to normal as of 1/1/21 just isn't plausible, here's hoping there's even more ease and comfort in the proceedings at 8H in the new year.