Restaurants have more options for outdoor dining thanks to a recent adjustment to the state's COVID-19 rules.
Earlier this week, the state released new guidelines for "open-air" seating in restaurants. The guidelines permit restaurants to seat patrons inside buildings as long as there is adequate outdoor airflow and ventilation to reduce COVID-19 risk.
In some cases, carbon dioxide (CO2) monitors are required to ensure spaces do not become too stuffy.
The issue of what should be allowed came to the forefront last week after the state Department of Labor & Industries (L&I) told Burlington's Railroad Pub & Pizza its open-air dining room didn't count as outdoor dining because it occurred in a permanent structure.
The restaurant was at risk of citations and fines for violating the state's indoor dining ban, L&I said.
After the owner said the rules were unfair, the state acknowledged a need to adjust the guidelines.
The new guidelines, released this week by Gov. Jay Inslee's office, broadened the definition of outdoor dining to include both well-ventilated permanent and temporary structures.
"Open-air seating occurs in a structure with one or more permeable exterior walls, allowing outside air to easily exchange within occupied seating areas," the guidelines state.
Examples of permeable walls include open bay doors, multiple open windows, screened openings, open tent panels, ventilation holes in side panels, and uncovered lattice, according to the guidelines.
Single windows and interior, entrance or emergency exit doors do not count.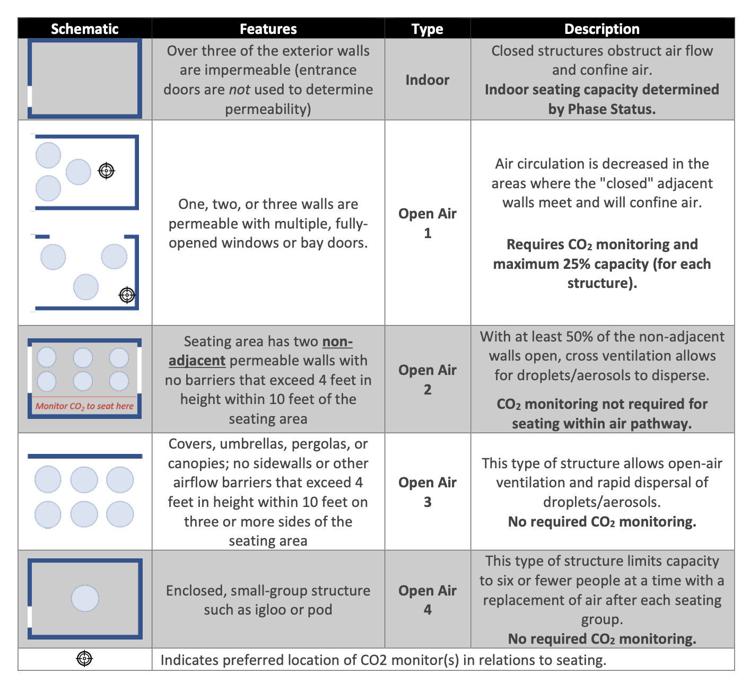 The guidelines also require restaurants offering open-air seating to maintain CO2 levels below 450 parts per million (ppm).
"People release CO2 in their exhaled breath, so if air movement is enough to maintain levels below 450 ppm, this indicates that there is enough air flow to dilute respiratory droplets and particles," the guidelines state.
Businesses must continue to follow other industry-specific rules, such as ensuring that tables are at least 6 feet apart and that patrons wear facial coverings when not seated, the guidelines state.
Occupancy is limited to 25% capacity for some open-air seating arrangements, according to the rules.
Railroad Pub & Pizza was able to reopen its dining room under the new guidelines earlier this week.
Other restaurants are doing the same.
Terramar Brewstillery in Edison has seating for 25 (25% of building occupancy) inside its dining room, which has large garage-door-size windows, similar to at Railroad Pub & Pizza.
"We have more ventilation than a lot of people had in outdoor tents," said owner Chris Barker.
The new guidelines arrived at a good time. The brewery and distillery's large outdoor tent — a $3,000 investment — was destroyed in Tuesday night's windstorm and the business can't afford to replace it, Barker said.
"At least we will be able to have covered seating now that our tent is gone," he said.
Barker said he bought a CO2 monitor online for $150 and installed it Thursday.
"We're doing everything we can to be safe for ourselves and our patrons," he said.
He said business has been slow during the pandemic and the restaurant has had to lay off about 80% of its staff.
He hopes Skagit County will soon reach Phase 2 of the state's reopening plan, which would allow indoor dining at 25% capacity. He said that would allow the restaurant to seat patrons in other areas of its building.
The state's guidelines advise restaurants wishing to offer open-air seating to make sure their plans comply with local building codes, local health departments, L&I, and the state Liquor and Cannabis Board, and do not create hazards.