After President Joe Biden signed executive orders ending several "zero-tolerance" anti-immigration policies instated by former Republican President Donald Trump, a surge of immigrants have begun arriving along the U.S. southern border. Some wearing t-shirts that read, "Biden Let Us In."
In response, Texas Governor Greg Abbott has deployed the Texas Guard, a state military force, to crack down on any associated cartels and human smuggling. The brewing confrontation will test Biden just as he and the Democratic-led Congress prepare to introduce comprehensive immigration reform, a key campaign promise.
Video footage shot Monday at the San Ysidro crossing port in Tijuana, Baja California state—just south of the California border—showed a group of migrants, some of them wearing the "Biden Let Us In" t-shirts.
While it's unclear where the migrants got the shirts, similar shirts are available on several websites. The English-language apparel seemingly strives to send a message directly to Biden, Democrats and the English-speaking Americans—a protest message pressuring Biden to make good on his promise to create a more humane immigration system.
But before Biden can deliver, his administration will have to address the growing unrest between immigrants and leaders of southern states.
"Today I met with Border Patrol Officers," Abbott wrote in a Tuesday afternoon tweet. "Last year, they apprehended about 90,000 people crossing the border illegally in the RGV (Rio Grand Valley). This year that number already exceed 100,000."
Abbott blamed the surge on Biden's rollback of Trump's "Remain in Mexico" policy in a Tuesday interview with Fox News. The policy required migrants claiming asylum at the border to stay in Mexico while awaiting court hearings.
"The Border Patrol officers told me themselves, they informed the Biden administration about this all along," Abbott said. "The Biden administration has known exactly what was going to happen if they refuse to continue to implement the policies that were previously in place."
An annual surge of immigrants typically arrive at the U.S. southern border each spring as the weather warms. The surge mostly contains young people and families fleeing violence and poor living conditions in Central and South American countries, according to Sarah Sherman-Stokes, an immigration lawyer and professor at the Boston University School of Law.
Migrants awaiting their trials in Mexican border towns live in "inhumane" conditions and are "preyed upon by criminal organizations," a spokesman for Doctors Without Borders told Border Report on Tuesday. Drug cartel operatives recruit or kidnap migrants, holding them for ransom and murdering them if their families don't comply.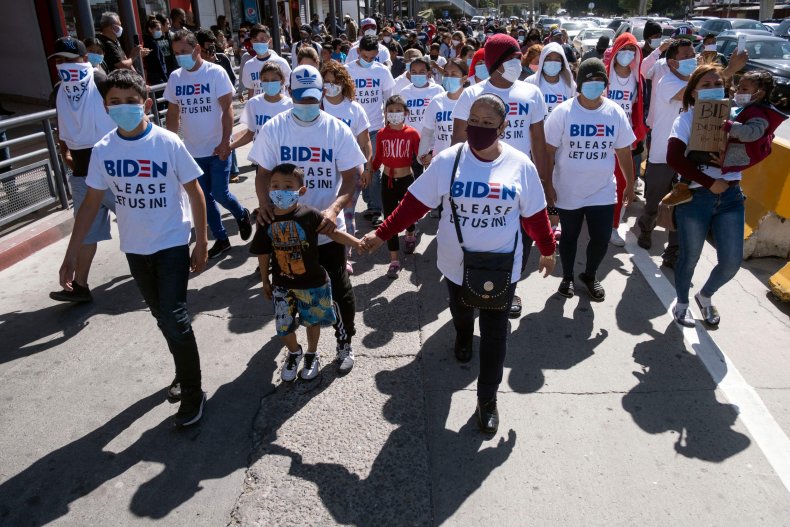 Biden now faces a tough choice as he's criticized by the right for allegedly facilitating "open borders" and blasted by the left for allegedly continuing the inhumane treatment of migrants.
On February 12, the Biden administration pledged to begin processing nearly 25,000 of the estimated 70,000 asylum seekers forced to wait in Mexico due to Trump's 2019 Migration Protection Protocols (MPP) program.
Biden ended enrolments in the MPP program—also known as "Remain in Mexico"—and established new guidelines requiring migrants to register for a court hearing online or via phone. Before their court hearings, asylum seekers must get tested for COVID-19 in Mexico and then appear at a U.S. port of entry on a specific date, Reuters reported.
Soon after the White House announced its changes to the MPP program, however, Homeland Security Secretary Alejandro Mayorkas said that migrants should not respond by flocking to the U.S. border.
"Individuals who are not eligible under this initial phase should wait for further instructions and not travel to the border," Mayorkas said in a statement. "Due to the current pandemic, restrictions at the border remain in place and will be enforced."
Mayorkas' statement showed the delicate balance the Biden administration must strike. The more humane his administration's immigration policies are, the more likely they are to attract further migration.
Immigration reform advocates have also been pressuring Biden to end or change another Trump-era program known as Title 42. Instated by Trump on March 2020 as an ostensible COVID-19 prevention measure, the order allows U.S. authorities to rapidly deport any immigrants caught trying to cross the southern border.
Over 400,000 migrants have been expelled under Title 42, Reuters reported, some of them repeat offenders who were counted twice. Critics say that the order denies due process to asylum seekers. Biden hasn't said whether he will end it.
How Biden handles the surge could set the tone for the eventual legislative debate on comprehensive immigration reform.
Biden's US Citizenship Act of 2021 represents the most sweeping modern reforms to the nation's immigration system. It provides an eight-year path to citizenship for undocumented immigrants while making asylum, immigrant worker protections, green cards and visas more accessible.
The legislation also contains proposals addressing foreign social issues that drive migration and additional funding for technology and infrastructure at points of entry. However, the bill doesn't address border security or interior enforcement measures meant to discourage immigration.
As such, it may have trouble attracting the 10 Republican senators it will need to become law, especially if a humanitarian crisis breaks out along the border before bill negotiations formally begin.
"You need to take care of the current situation before there's a surge in the coming months in order to keep the politics, especially in the Senate, out of the way in order to pass policy," Jose Parra, a former senior advisor to former U.S. Senator Harry Reid, told Newsweek.
Newsweek contacted the White House for comment.