The 2022 Toyota Tundra has officially broken cover following an image leak earlier this week. The automaker made a series of social media posts on Friday evening showing off the new full-size truck captioning each with, "Some people don't know how to keep a secret".
Toyota's 2022 Tundra, which was scheduled to be revealed this autumn, was viewed by select media a few weeks ago during a private viewing at Toyota's Dallas-area headquarters and dealers recently viewed the model remotely. The leaked images that were posted to the Toyota Tundra Forum are screenshots purportedly from a dealership representative.
A fresh photo reveals the 2022 Toyota Tundra TRD Pro wearing a white paint job. The tall truck has the hallmark exterior equipment and finishes of the TRD Pro lineup: a lift, a black grille, black tube steps, black fender flares, TRD badging on the front and black window surrounds.
There's an LED light strip underneath the "Toyota" in the middle of the grille and LED marker lights at the corners and front. The headlights and daytime running lights feature full LED illumination in the TRD Pro trim level.
There are some unique features as well. The word "Tundra" is stamped into the waterfall area of the front bumper, which is made from the same textured black material that the fender flares area. Horizontal, single-line LED fog lights sit at the bottom of the grille flanking the "Tundra" and above the black skid plate. The A-pillar is black, giving the roof of the Tundra a peninsula effect.
Look rearward and you can see a functional dual-exhaust outlet out the driver's side of the truck. Glancing downward you'll see BBS Forged TRD Pro wheels wrapped in Falken Wildpeak A/T tires and a bed step at the back corner.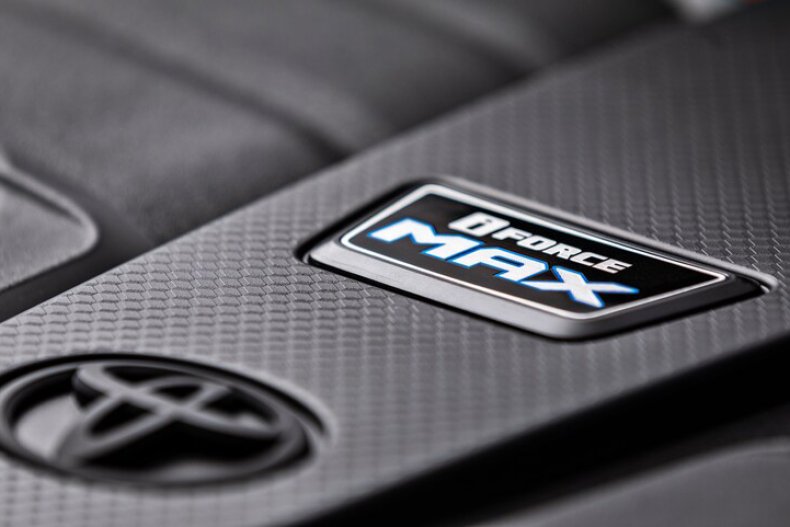 Toyota has already teased a new version of its V8 engine, the iForce Max, which is expected to be a hybrid power plant based on the blue surround of the word "Max" in the logo. Toyota traditionally uses blue logo surrounds and inlays to differentiate between internal combustion engine and hybrid vehicles.
Safety technology is hidden in plain sight on the Tundra. Forward-facing radar and a camera are at the front, sensing technology sits behind the rearview mirror, and cameras can be seen on the undersides of the side mirrors. Federal guidelines require a rearview camera on new vehicles.
Toyota hasn't shown images of the interior of the truck yet, but from the photo provided today, leather/leatherette upholstery is seen on the seats in the crew cab model.
The 2022 Toyota Tundra is expected to go on sale later this year. Additional information, including more specifics about the powertrain, drivetrain, seating, cargo space, safety features, fuel economy and pricing are expected to be revealed closer to the truck's on-sale date.