Apple's new watchOS 7 introduces some new watch faces. One of them is called GMT watch face. It's about time we took a look at that one.
Apple Watch GMT Face
First of all, Apple did not just make this up, in name or design. There is a pre-existing "GMT watch" design that was previously created for specific travel/aviation/astronomy needs. See: "What is a GMT Watch and How Does it Work?"
From the above article:
The GMT watch function is just a second hour hand on the same watch face that's geared to rotate once every 24 hours — or exactly half as fast as the other hour hand. The second hour hand points to a second time scale that reads to 24 instead of 12, typically located on the innermost portion of the watch dial.
Here's a look at a physical GMT watch. The red hour hand points to the GMT hour.
Now, from Apple's support page for watch faces, we have:
This watch face has two dials: a 12-hour inner dial that displays local time, and a 24-hour outer dial that lets you track a second time zone. This watch face is available only on Apple Watch SE and Apple Watch Series 4 and later.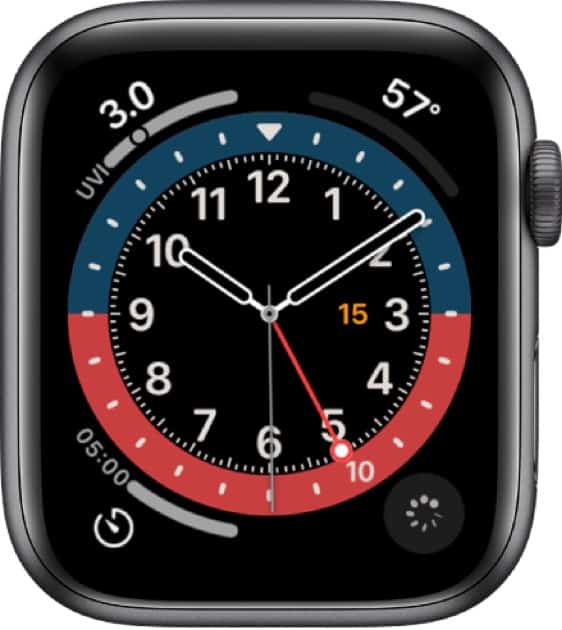 As you can see, it duplicates the design of a classic GMT watch. But because it can, the GMT ring, which actually can be any other time zone, shows the period of daytime and nighttime.
Configuration
There are two edit modes.
The first edit mode is the standard edit of a watch face. Touch and hold the watch face to go into edit mode. Tap the Edit button. There's where you can use the Digital Crown to select the color scheme for day/night. This is also where you can add complications, as usual. When done, press the Digital Crown.
The second edit mode is entered by a light touch to the face. Use the Digital Crown to scroll and select the second time zone. Like this: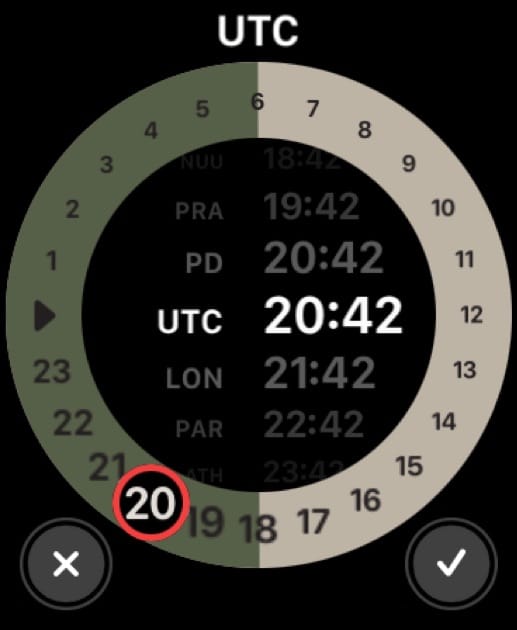 Tap the checkmark when done. Note that if you don't see UTC in the list, you may have to add it to your World Clock in the Clock app of your paired iPhone. (For simplicity, here, GMT = UTC. This is no place to get into the technical distinction.)
Notes
1. If you have your default time presentation set to 24-hour time, the GMT ring will honor that. But the inner dial will still honor the GMT watch standard of 12-hour time.
2. To set 12- or 24-hour time on your Apple Watch, use the Watch app on your iPhone: My Watch (tab) > Clock > 24-hour Time > on/off.
3. To be clear about the daytime/nighttime ring, verify that the nightime segment, in the first edit mode above, is a darker color than the daytime segment. Like this:
The GMT face is very cool. Let me know if you find anything I didn't cover.