Are you looking forward to spending the holiday with a couple of friends this season? Think again. A pair of researchers from MIT created a mathematical model to predict the likelihood of someone contracting COVID-19 when in the same room as an infected person.
According to their model, at a holiday gathering of five people in a 2,000 square foot house with standard AC and closed windows where no one is wearing a mask, it would take approximately three hours to contract the virus. So if you're planning to meet up with family and friends, this Christmas, make sure you are wearing the right protective gear.
What is an N95 mask?
An N95 mask is a type of respirator. It offers more protection than a surgical mask because of its ability to filter out both large and small particles above 0.3 microns. While regular face masks create a physical barrier against fluids, they are not designed to filter out smaller particles or prevent the spread of photogens such as viruses. On the contrary, an N95 mask, as the name suggests, is designed to block out 95% of particles and liquids that may come into contact with your face. N95 masks are made of multiple layers of nonwoven fabric like polypropylene.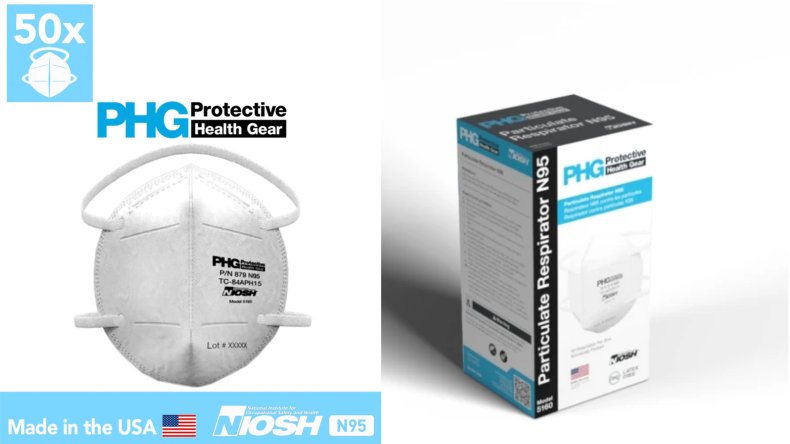 N: This is a Respirator Rating Letter Class. Masks are rated depending on their ability to block out the oil. N in the N95 mask stands for "Non-Oil" which means that if no oil-based particulates are present, then the mask can be used in this environment. Other masks ratings are R (resistant to oil for 8 hours) and P (oil proof).
95: Masks ending in a 95, have a 95 percent efficiency. Masks ending in a 99 have a 99 percent efficiency. Masks ending in 100 are 99.97 percent efficient and which is equivalent to a HEPA quality filter.
.3 microns: The masks filter out contaminants like dust, mist, and fumes. According to the Centers for Disease Control and Prevention, the minimum size of .3 microns of particulates and large droplets won't pass through the barrier (CDC.)
Some N95 masks are built with valves to make it easier for the wearer to breathe through. They are made with strong and flexible material with a seal around the rim that contours to your face.
How Effective are They Against the COVID-19 Virus?
Since the N95 mask is designed to achieve a "very close facial fit," according to the Food and Drug Administration, it blocks out even the smallest of particles. With its 95% grading, you'll be protected against the COVID-19 virus and other infectious particles.
Are They Reusable?
All N95 masks are labeled as "single-use" disposable devices. If you've visited crowded areas packed with people, such as the grocery, mall, and the like, you should make sure to discard your respirator – there is a high chance that infectious particles have contaminated your masks. And cleaning your mask through conventional ways may compromise the structure of the mask. Spraying them with a disinfectant is not enough to clean them and may also possibly damage the material, which is why it would be best to simply stock up on supply.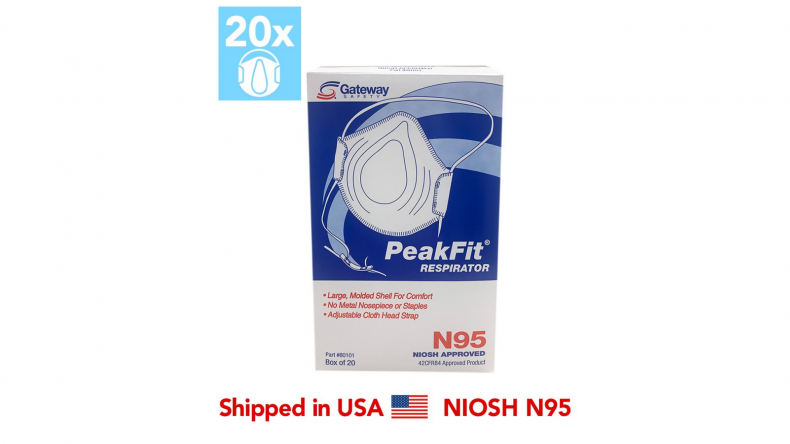 Where Can N95 Masks be Purchased?
With the onset of the pandemic, there has been a surge of suppliers providing faulty and ineffective N95 masks. Make sure that your N95 masks are authentic and designed to be 95% effective. DMB Supply has a full stock of N95 masks made in the United States that can be shipped directly to your doorstep.
A box of N95 masks from DMB Supply contains fifty (50) NIOSH Approved masks. They've made it easier for consumers to keep safe by providing ready to be shipped masks so that you don't have to leave the safety of homes.
They offer safe and fast shipping with 24/7 customer support available to help answer any product-related concerns. All of their products are shipped from the United States; on average, it will take one to two days for you to receive your purchase.
Here are some testimonials from some of their satisfied customers:
Peter H.
Verified purchase
11/27/2020
"These masks are the best made I have seen. They also fit better because the straps go around your neck and on the back of your head so the mask is much more secure and comfortable than the masks that go over your ears. They seal so well that you can even avoid condensation forming on your glasses. I have recommended these masks to all my friends. These are true N95 masks and they will protest the wearer better than the paper or cloth masks. This is just my opinion but I have been looking at and ordering masks online for many months and I think these are well worth the price."
Sarah S.
Verified purchase
11/30/2020
"Most comfortable straps of any N95 I have worn since March of 2020"
Stefanie S.
11/5/2020
"I have ordered many different types of masks this one was the best. Great fit excellent quality and made in the USA"
So, what are you waiting for? Purchase a box of 50 of

DMB Supply's N95 mask for only $199.95

. Stocks are limited, so make sure that you check out their website and add to cart now.
We may earn a commission from links on this page, but we only recommend products we back. Newsweek AMPLIFY participates in various affiliate marketing programs, which means we may get paid commissions on editorially chosen products purchased through our links to retailer sites.