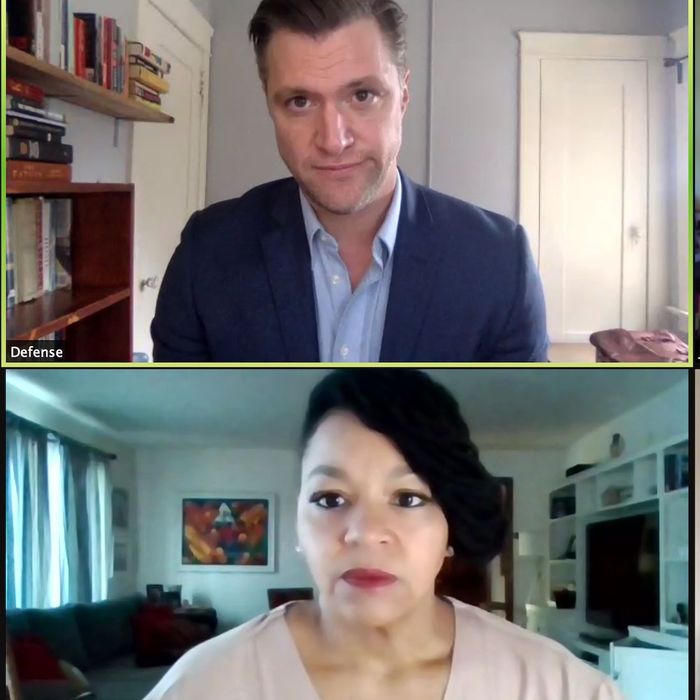 From Why Would I Dare: The Trial of Crystal Mason, which starts streaming tonight.
Photo: The Commissary
In 2016, during her federally supervised release from prison — a shadowy period of so-called "preliminary freedom" after a person serves time — a woman named Crystal Mason, in Tarrant County, Texas, filled out a provisional ballot. No one had told Mason that her post-release status did not include her enfranchisement, the poll worker saw nothing wrong with helping her, and the ballot was eventually rejected so no vote was actually cast. But Texas Republicans had been making wild claims of voter fraud, and after some public embarrassments on the topic, prosecutors needed an example. Mason was arrested for casting an illegal ballot in 2018. Elsewhere in the county, a white judge who had forged signatures to get onto a ballot got probation; in Iowa, a white voter who had deliberately tried to vote twice got a fine. But this March, Mason, who is Black, lost her appeal. In the middle of a pandemic, and barring intervention from the governor, the mother of three is going back to prison for five years.
Her example will no doubt frighten others who may be uncertain of their status. In defiance, Mason has become a voting-rights advocate, and her name has become a rallying cry, the banner on a petition with half a million signatures and fundraising power as she tries to keep her family fed. So what can the theater offer her? In-person productions are shut down; there's no time to write a drama about her struggles. But the newly formed vérité company the Commissary believes it is uniquely positioned to extend Mason's reach. Tonight, Rattlestick Playwrights Theater will begin streaming the Commissary's Why Would I Dare: The Trial of Crystal Mason, a documentary performance taken entirely from the 45-minute transcript of Mason's 2018 trial. It will be available until November 2. At that point, in a couple of ways, time runs out.
A few days ago, I spoke to one of the founders of the Commissary, the actor Marin Ireland, and the group's resident director, Tyler Thomas. (Ireland and her other co-founders, Reggie D. White and Peter Mark Kendall, call themselves "the interns" so they won't get caught up in hierarchy, and she shifts between "I" and "we" when talking about the group, which now numbers 30.) In a time when online theater can seem self-doubting, even defensive, the two were blazing with excitement. At last, here is work. It isn't just what they need — it needs them.
 
In January 2020, Ireland had already convened a loose affiliation of performers just for fun. She wasn't working and wanted to hang out with her friends, so she did play readings. "It was basically the cast of Blue Ridge at the Atlantic Theater at my house," she says. "Then I got sick with COVID in March, and by the time I got better in mid-April, I reached out to the same people I'd been doing readings with in my apartment, asking if [they] wanted to do this but on Zoom." They formed a kind of virtual book club for performers, many of whom have never met in person. They read new plays and chatted about them. And then George Floyd was killed.
It was a call to action. People started suggesting performable works for the "syllabus," reading thinkers like James Baldwin and Nikki Giovanni and looking for wisdom. Ireland has worked with the avant-garde Wooster Group, which uses in-ear speakers to feed a text to actors, allowing them to "channel" rather than perform it. The technique felt right for the moment. "We want to have the experience of speaking the words," says Ireland, "but we don't want to feel like it's about our own ego."
Some of their "channeling" performances of great texts (by Bayard Rustin, Fannie Lou Hamer, Audre Lorde, and more) are streamable via another downtown theater, the Vineyard, as the series Lessons in Survival. But the group had also become interested in Crystal Mason, having read her trial transcript at the recommendation of participating playwright Dan Aibel. For the performers in the Commissary, the unadorned words of the hearing, in which a three-judge panel agreed with a prosecutor who wanted to make an "example" of Mason, have been eye-opening. Ireland notes that it places the self-conscious theatricality of the system itself in horrifying relief. The electoral importance of Tarrant County — a teeter-totter area in a knife's-edge state — lends the story further urgency. "We see it unfold like a story," says Ireland. "The characters were so clear, the drama was so clear, the exploitation, the manipulation … it was all there, and it was real. When you listen to it, it feels like any rational person would listen to this and it would go another way. You could not write a better play."
In using their verbatim method, the performers found themselves deliberately treading in the footsteps of one of the last big pre-shutdown Off Broadway game changers, Is This a Room, which staged the transcript of Reality Winner's arrest and confession. Is This a Room had an electric quality of witnessing the truth rather than consuming a dramatic story. "This movement from 'watching' to 'witnessing' shifts the terms," says Thomas, "but it also shifts the role. If I'm a witness to something, that automatically means there is a relationship there of responsibility." If you witness injustice and don't speak up, you're complicit. They reached out to Mason's lawyer, and eventually Mason herself joined some of the virtual rehearsals. "It's quite emotional on everyone's part," says Ireland. "The first meeting when Crystal met the whole cast, the artists were saying, 'We will do this for you; we will do this with you.' She broke into tears." Ireland pauses. "She is such a strong light, truly."
"What could possibly be essential about the work of an artist at this time?" asks Taylor. "It is the power to give voice to something, and it is the active speaking and calling witnesses to that act." Ireland adds, "We know we could simply distribute the trial, but is someone going to watch a YouTube video that's 45 minutes long? Or is someone going to read 35 pages of a trial transcript? I'm not sure." By turning it into a performance, particularly with the charismatic actor Crystal Dickinson playing Mason, they can emphasize and underline — and lift up. Says Tyler, "It proves that artists can be separated and still have something vital to offer. Our field is collapsing in its traditional manifestations, but we actually have basic tools that can actually plug into a revolutionary moment." The moment, they both insist, is now now now. Mason is not yet behind bars. Audiences can still write a letter to Governor Greg Abbott pleading for clemency. "We talk about the online space aspiring toward being a real civic space," says Ireland. She also notes that actors often talk about being of service. This is that chance, she says. "This is touching the thing directly."